Paleo Beef With Broccoli
Tender flavorful Chinese style Paleo Beef and Broccoli recipe, made keto, low carb, and easy! This Keto Beef and Broccoli stir-fry will satisfy your takeout cravings with perfectly seared beef and crunchy broccoli. This dish comes together quickly and with simple ingredients and a deeply savory and little sweet stir-fry sauce. When you need good fast, this is it!
Prefer a different protein? Check out my Chicken Broccoli recipe and Shrimp Broccoli recipe or the summer bbq version Beef Broccoli Kabobs!
Better than take-out: Paleo Beef with Broccoli
Similar to my Paleo Mongolian Beef and Thai Basil Beef, I prefer to thin slice the beef against the grain then marinate it before stir-frying. This simple step will add some much more flavor to your dish. And one very special trick – adding a bit of baking soda to the beef will make it tender and juicy as opposed to tough and chewy.
Is baking soda Paleo and Whole30? Yes. Here's a link to the member discussion on the Whole30 website, moderated by Whole30 forum moderators.
For the best Chinese Beef and Broccoli Stir-Fry
Layer the marinated beef in one thin layer in a hot sauté pan. You should hear a sizzling sound and the heat will create a nice sear and slightly charred surface to make the beef irresistibly delicious. Do the same thing for the flip side of the beef. Trust me, it's going to be A-mazing !! Also check out how to make the best beef stir-fry to learn the basic Chinese stir-fry technique. It goes hand-in-hand with this beef and broccoli recipe!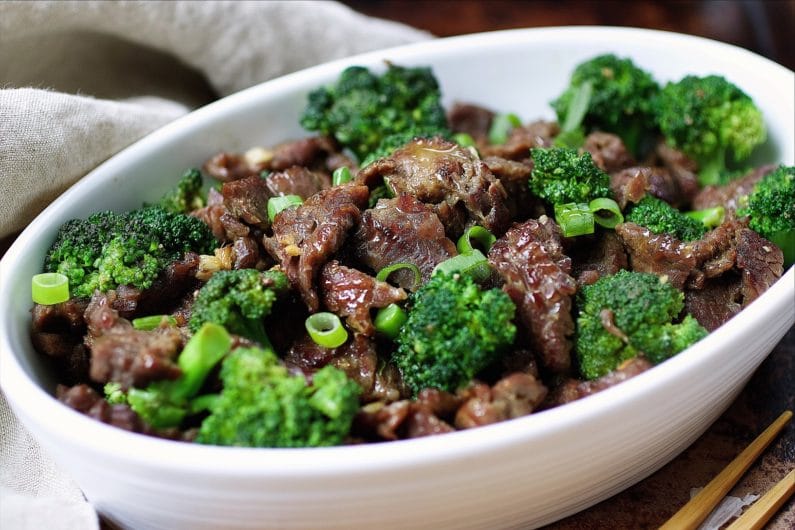 To make a great Chinese beef stir-fry, follow these principles –
Select the right cut of beef. I prefer skirt steak, beef flap, flank, or sirloin.
Thin slice against the grain and marinade for at least 15 minutes.
Use a stainless skillet skillet and pre-heat the skillet well.
Sear the beef in one layer without disturbing for about 2 minutes and the flip side about 30 seconds.
Pair it with vegetables and serve hot or in room temperature.
Temperature of the skillet
The temperature of your skillet plays an important part in Chinese stir-fry. Watch my Youtube video on how to properly preheat your skillet for stir-fry two ways and be sure to subscribe to I Heart Umami Youtube channel!
Are you connected with me on Instagram ? A few nights ago I made my No. 1 recipe PALEO BEEF WITH BROCCOLI and this is a live cooking demo, captured with my iPhone. This dish is So Good & I had a lot of fun making and eating it :D. I cook on my Instagram account almost daily so come find and follow me here – https://www.instagram.com/iheartumami.ny and if you are on YouTube, check out more of my Asian-Inspired Paleo cooking videos here.
Complete The Meal With
There's a reason why this recipe is so popular on my website. The beef is juicy and tender, paired with crisp broccoli florets. A simple and quick (no chopping required) beef marinade with a naturally sweet and savory stir-fry sauce. This broccoli and beef stir-fry comes together in minutes and every bite is bursting with flavor. No wonder everyone loves this dish so much. Did I mention it's not only Paleo but also Keto and Whole30?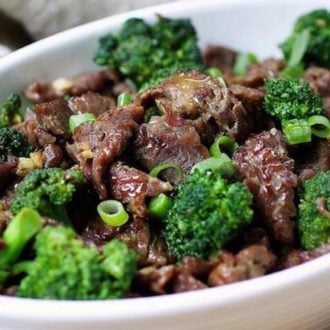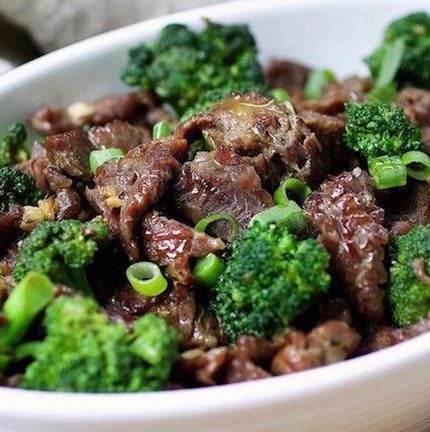 Paleo Beef with Broccoli Recipe
Chinese beef and broccoli stir-fry recipe with tender beef and crunchy broccoli, made keto, paleo, whole30 and ready in minutes!
Print
Pin
Rate
Ingredients
1 lb beef (sirloin, skirt steak, boneless short ribs…etc.)
1 to 2 heads broccoli, break into florets
2 cloves garlic, minced
2 pieces thin sliced ginger, finely chopped
Ghee or cooking fat of your choice
Beef marinade:
2 tbsp coconut aminos
1/2 tsp coarse sea salt
1 tbsp sesame oil
1/4 tsp black pepper
1 tsp arrowroot/sweet potato powder
1/4 tsp baking soda
Instructions
Slice beef into about ¼ inch thin. Marinate thin sliced beef with ingredients under "beef marinade". Mix well. Place broccoli florets in a microwave safe container. Add 1-2 tbsp water. Loosely covered with a lid or wet paper towel and microwave for 2 mins. Cook until broccoli is tender but still crunchy. Set aside.

Heat a wok over medium heat w/ 1 ½ tbsp ghee. When hot, lower the heat to medium, add garlic and ginger. Season w/ a small pinch of salt & stir-fry until fragrant (about 10 secs).

Turn up the heat to medium-high, add marinated beef. Spread beef evenly over the bottom of the saute pan and cook until the edge of the beef is slightly darkened and crispy. Do the same thing for flip slide – about ¾ way cooked through with slightly charred and crispy surface.

Add "Sauce Combo". Stir-fry about 1 min. Add broccoli. Stir-fry another 30 secs. Toss everything to combine.
Nutrition
Serving: 177g, Calories: 273kcal, Carbohydrates: 3g, Protein: 24g, Fat: 17g, Saturated Fat: 3g, Cholesterol: 71mg, Sodium: 932mg, Potassium: 344mg, Sugar: 1g, Vitamin C: 0.7mg, Calcium: 10mg, Iron: 2mg
More Paleo Chinese Takeout Recipes (Whole30, gluten-free)!