Sha cha beef
Sha cha beef is a beef-stir fry full of garlic and ginger flavors. Ready in 10 minutes, this dish will take you to Taiwan with its super savory flavors.
Made with everyday ingredients, this authentic Taiwanese dish is combined with umami-filled shacha sauce. Read on to find out how to get perfectly tender wok-seared beef. If you're not partial to beef, my sha cha chicken is the perfect flavorful alternative.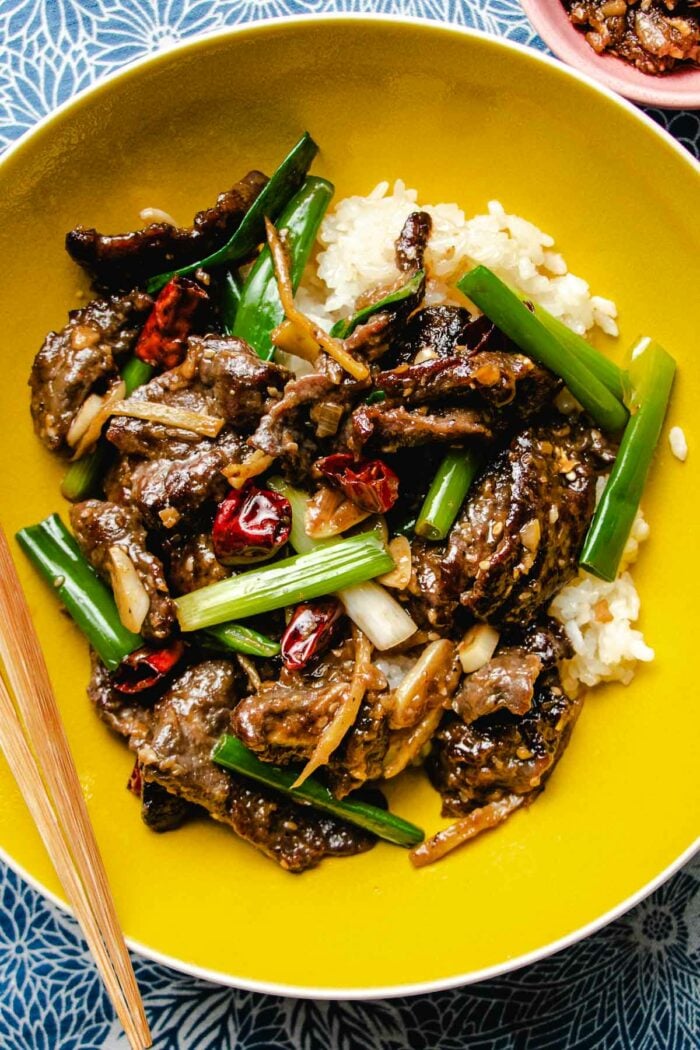 What is sha cha sauce
It's a popular Asian condiment loaded with garlic, ginger, and a touch of dried shrimp seafood flavor. Originating in Fujian, China, it's a Taiwanese peanut-free version of the Malaysian satay sauce. The sauce gives an instant flavor boost to any dish — stir-fries, soups, and BBQ marinade, and it's most often used in hot pot sauces.
See my homemade shacha sauce recipe for more information and how to use it in your everyday meals.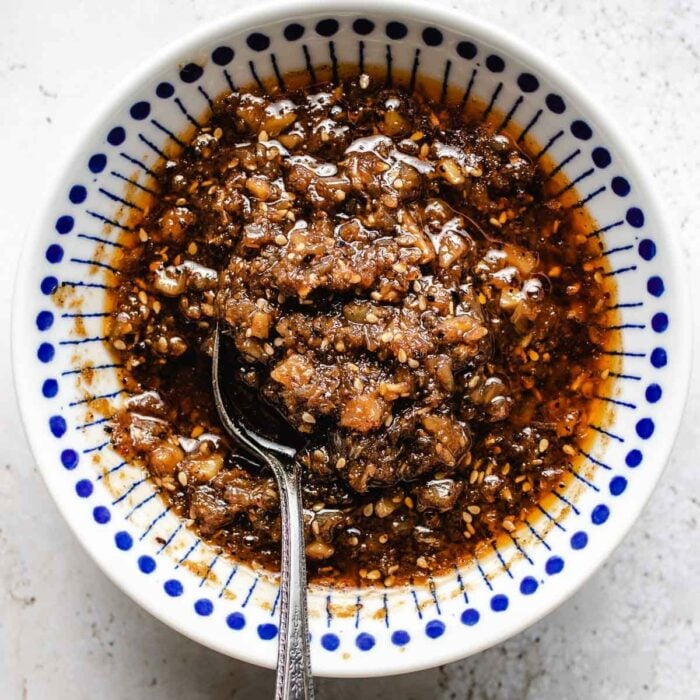 Why this will be your favorite beef stir-fry
You'll find yourself cooking this good-tasting recipe on repeat. Wanna know why sa cha beef is such a popular homemade dish?
Flavorful: The savory and umami flavors combo makes it a deeply satisfying meal.
Made with simple ingredients: You mainly need beef, scallions, and sha cha sauce.
Fast: With sauce at the ready, the dish comes together quickly.
Ingredients
You can easily make shacha beef with pantry ingredients. Here's everything you'll need:
For the beef: Skirt steak, coconut aminos, fish sauce, toasted sesame oil, black pepper, baking soda, and starch.
Aromatics: Garlic, ginger, bulb scallions, dried red chili peppers, avocado oil, coarse sea salt.
Sauce: Sa cha sauce and coconut aminos.
Ingredient substitutions
Use different cuts of beef: You can also use flank steak, hanger steak, or sirloin instead of skirt steak.
Change the protein: Besides chicken or beef, swap the protein with other meat to make sa cha pork or prawn.
Want to use a different sauce? Use store-bought Chinese bbq sauce or XO sauce.
Prefer soy sauce over coconut aminos? You can use organic soy sauce but make sure to balance the sodium with a touch of sugar.
How to make the dish
Once you have all the ingredients laid out, your sacha beef will be ready in just 10 minutes!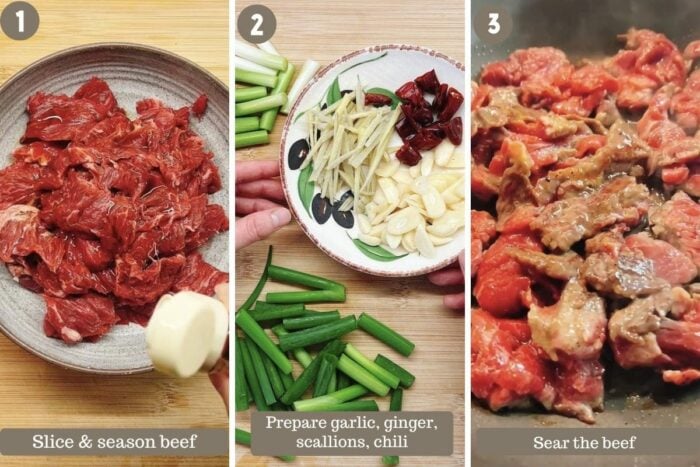 Slice the beef thinly. Stir them with the seasonings in a bowl and set aside in the fridge.
Prepare the garlic, ginger, scallions, and red chili peppers.
Add oil to a preheated wok. Lightly sear the beef strips until golden brown. Set them aside with the pan juice.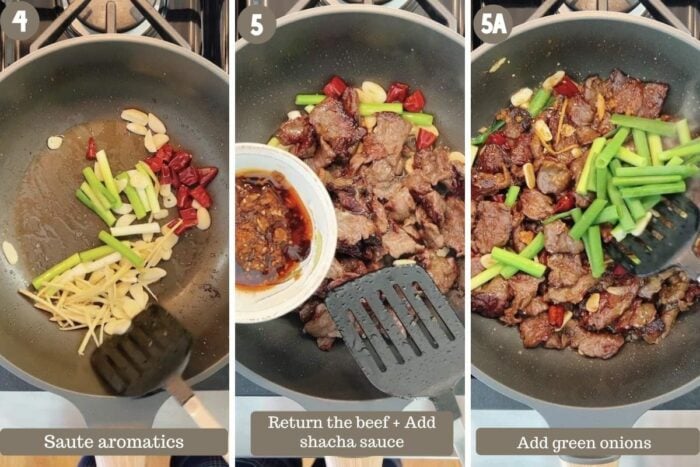 Saute the aromatics for 15 seconds over medium heat.
Return the beef and pan juice, and add the cha cha sauce mixture over medium-high heat. Add the green scallion. Turn off the heat.
Tips for tender beef stir-fry
Slice the beef as thinly as possible and make sure to slice against the grain.
A mixture of starch with a bit of baking soda will help to tenderize the meat.
Use a large stir-fry pan or wok so that the food is not accidentally steamed in the pan.
Keep your pan hot and make sure to not overcook the beef.
Here are more tips on how to make stir fry beef tender.
Variations
Sa-cha beef can be enjoyed as it is, but here are a few ideas and twists to be creative with the flavors of this recipe:
Serving suggestions
Take your meal to the next level by serving sha cha beef stir-fry with these equally delectable dishes:
You can never go wrong by pairing stir fry dishes together. Give this easy, buttery shirataki fried rice or white rice a try.
If you prefer fresh vegetable side dishes, I've got you covered. My mung bean sprouts recipe comes together in minutes. You can also try this Chinese cucumber salad if you crave something fresh but also full of flavor.
Common FAQ
Q1: What does sha cha beef taste like?
A: Garlicky, gingery, deeply savory, and umami flavor, combined with thinly sliced beef stir-fried in a hot wok.
Q2: What is sa cha made of?
A: It's made of super savory ingredients like garlic, shallots, ginger, and dried shrimp powder.
Q3: Sha cha beef vs mongolian beef
A: Although both dishes are quite similar, Mongolian beef is made without sha cha sauce.
Storage and make-ahead
The cooked sha-cha beef should be stored in an airtight container and be kept in the fridge, where it's good for 5 days.
When you're ready to eat it, simply reheat it in a microwave before serving.
If you use homemade Taiwan BBQ sauce, I highly recommend you make the sauce ahead to save time. It'll last for 2-3 weeks in the fridge.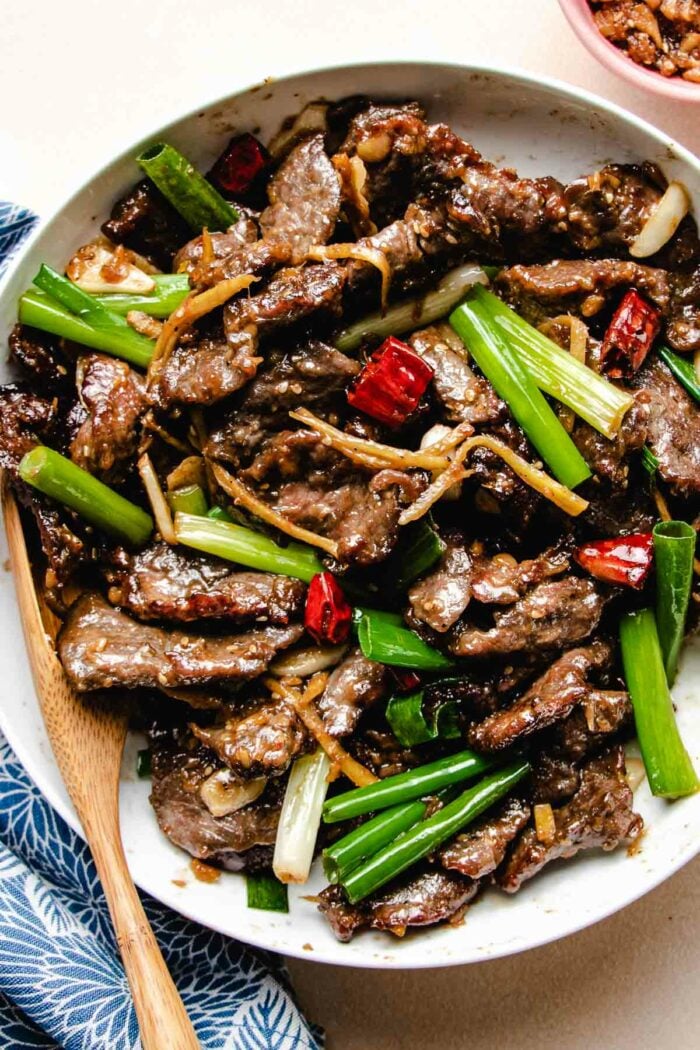 Related recipes
If you love bull head bbq sauce recipe, you'll also love these authentic Chinese beef dishes!
For a flavorful option, this beef with oyster sauce is a great alternative to a takeaway.
Another healthy takeout recipe that you could try is the wholesome Chinese pepper steak that comes with vegetables. If you are in the mood for something with a spicy taste, try out paleo-friendly Hunan beef.
Umami Tips
Make-ahead: Prepare the homemade sacha sauce in advance to save time when cooking the dish.
Store-bought: You can also use store-bought bullhead bbq sauce from either a local Chinese grocery store or on Amazon. (product)
Get your pan hot: Use a large saute pan or wok and make sure it's preheated before you start stir-frying.
Quick stir-fry: Keep the cooking time short and don't overcook the beef.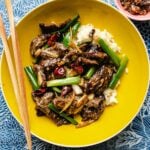 Sha cha beef recipe
Sha cha beef with homemade sha cha sauce is a quick one-pot beef stir-fry loaded with flavor and healthy, gluten-free, and delicious!
Print
Pin
Rate
Ingredients
Other:
0.85 oz garlic cloves, sliced, 6 cloves
0.5 oz ginger, julienned
3-4 bulb scallions, dice to 2-inch sections, and separate green and white parts
3-4 whole Chinese dried red chili peppers, cut into 1-inch (3cm) sections with seeds removed, optional
2 tbsp avocado oil, divided
2-3 pinches coarse sea salt, or to taste
For the sha cha beef sauce:
Instructions
Thinly slice the beef against the grain. In a bowl, season the beef from coconut aminos to starch. Stir-well. Set aside in the fridge for 15-20 minutes while you prepare other ingredients.

Prepare garlic, ginger, scallions, and red chili peppers, if using.

Preheat a large wok or skillet over medium-low heat until it feels warm when placing your palm near it. Add 1 tbsp oil. Pan-sear the beef over medium-high heat in a single layer without disturbing for about 2 minutes or until the beef is in golden brown color. Use a spatula with a firm tip to flip and cook the flip side for 30 seconds. Off heat, set the beef aside in one bowl along with the pan juices.

Add another tbsp of oil, and saute the garlic, ginger, white scallion parts, and chili peppers with 2 pinches of salt over medium heat for 15 seconds.

Turn the heat up to medium-high, return the beef to the pan along with the pan juice and pour in the sha cha sauce mixture. Keep stir-frying and tossing for another 10 seconds. Add in the green scallion parts and give it another quick toss. Turn off the heat.

Transfer the beef onto a large serving plate. Serve hot.
Notes
Make-ahead: Prepare the homemade sacha sauce in advance to save time when cooking the dish.
Store-bought: You can also use store-bought bullhead bbq sauce from either a local Chinese grocery store or on Amazon. (product)
Nutrition
Serving: 1serving, Calories: 388kcal, Carbohydrates: 7g, Protein: 33g, Fat: 25g, Saturated Fat: 5g, Polyunsaturated Fat: 2g, Monounsaturated Fat: 10g, Trans Fat: 0.5g, Cholesterol: 89mg, Sodium: 919mg, Potassium: 462mg, Fiber: 1g, Sugar: 1g, Vitamin A: 39IU, Vitamin C: 2mg, Calcium: 22mg, Iron: 3mg
Made a dish and love it? Please remember to rate the recipe and leave a comment in the comment section below! It helps my blog grow organically so I can continue sharing free and awesome content with you. Thank you!