Sparkling Iced Matcha Mango Tea
Iced Matcha Mango Tea!! There is no better way to celebrate summer than with super refreshing mango matcha iced tea. Made with matcha powder, mango orange juice, fresh kiwi slices, and sparkling water. Make these straight up, without a blender, for a tropical twist on iced matcha!
Iced Matcha Recipe with Mango and Kiwi…look at that vibrant color!
Inspired by Starbucks Asia Mango Matcha Freeze, this tropical twist on the traditional matcha recipe is super refreshing and easy to make! The rich orange/yellow hue from the mango and orange juice pairs beautifully with deep emerald green color matcha …a vibrant color combo that totally screams of summer!
And it's not just gorgeous to look at but also easy to make and drink, plus healthy!
What goes into the Iced Matcha Tea?
Ceremonial grade matcha green tea powder (product link in my recipe card)
Crushed ice
Mango orange juice
Sparkling water
Rosemary sprigs (garnish)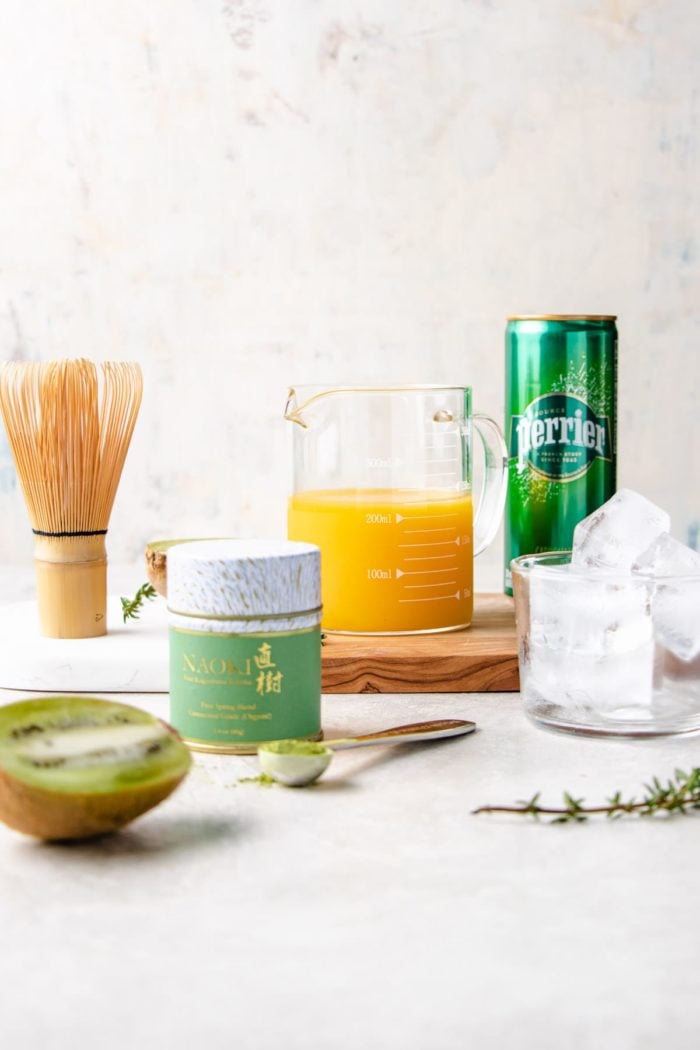 Tools I use to make the Iced Matcha Drink
Matcha whisk or a wide-mouth mason jar with an air-tight lid
Tall drinking glass
Crushed ice (or small ice cubes that can fit into your glass)
How to select Matcha green tea powder?
Check the label: Look for ceremonial grade matcha. Ceremonial grade means it's high quality matcha that's good enough to enjoy on it's own when mixed with water.
Look at the color: It should be in bright and lustrous green color and once you mix with the water it should be in a rich emerald green hue. Dull yellow/brown-ish color means the matcha is either not in good quality or it's oxidized.
Look at the texture: The matcha tea powder should be fine grain, smooth, and no lumps so that it will infuse with water well.
Smell the fragrance: The classic kyoto style matcha green tea powder emphasizes a well-rounded flavor that's not bitter or astringent. The tea from the south Japan region tends to taste lighter and sweeter.
Taste: If possible, ask for a sample. A good cup of matcha tea should taste smooth, well-rounded, and balanced. It shouldn't be too bitter.
One thing I learned from our trip to kyoto is that there is no single best flavor matcha when you compare among good quality matcha brands. It comes down to personal preference. The matcha powder I use today is from the Naoki Matcha (product link in the recipe card) and I'm also interested to try Ippudo's green tea powder next time. 🙂
Does matcha go bad?
No. Matcha powder doesn't go bad but it does lose freshness and will change color. The "expired" matcha powder also tastes bitter. If you notice that your tea doesn't smell as fresh and fragrant or the color turns dull yellow-brown-ish hue that means the tea has passed its prime time or oxidized.
Once you open the matcha powder bag, it's best to finish it within 3-4 weeks. Store the powder in an airtight container and away from sun, moisture, and heat. Some people also store it in the fridge to extend the freshness.
If the matcha tea powder passes its prime time, the flavor turns bitter and astringent. So look for a good quality matcha and buy small quantities so you can finish it sooner.
How to make the Iced matcha green tea with mango and kiwi
A good quality matcha powder makes all the difference so after we learn how to select the best matcha (see points above)… let's make the drink!
Whisk the matcha with room temperature water. You can also shake it in a mason jar with a tight lid.
Fill the glass about ⅔ way up with crushed ice
Add the mango orange juice and dash of sparkling water
Pour the matcha tea over
Garnish with rosemary sprigs
Look at how pretty it is!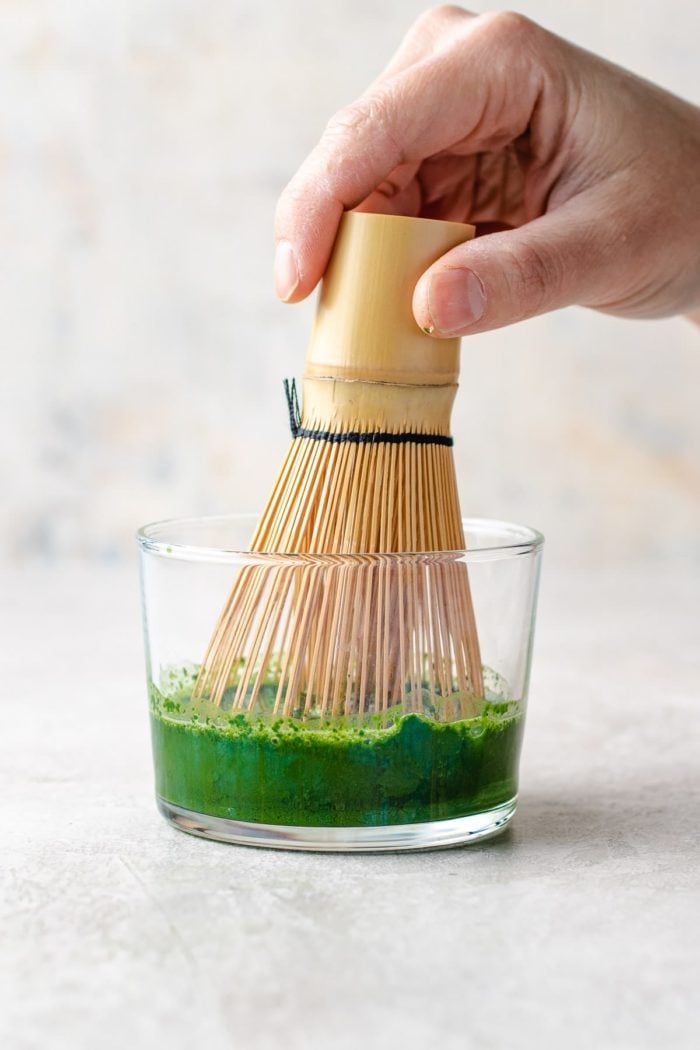 Dishes that go well with the Iced Matcha Mango Drink
To keep the semi-Asian/tropical theme :), pair the Matcha Iced Tea with appetizers/finger food like my bang bang shrimp, Chinese low carb scallion pancakes, or Keto egg rolls. It'll also go fantastically well with BBQ dishes like my Honey sriracha chicken, Chicken yakitori, Grilled Thai beef salad, Thai chicken satay, Tsukune, Vietnamese lemongrass pork, or Kalbi short ribs. Browse more paleo summer recipes.
More summer iced drinks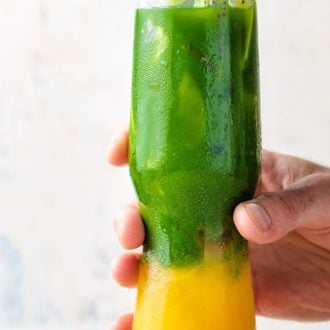 Iced Matcha Mango Tea
Iced Matcha Mango Tea recipe for hot summer! Super refreshing and easy Matcha Iced Tea blend with mango orange juice. Make these straight up, without a blender, for a tropical twist on iced matcha!
Print
Pin
Rate
Ingredients
1 tsp matcha powder, I use Naoki organic ceremonial grade
3 oz (6 tbsp) room temperature water
Crushed ice
8 oz (1 cup) mango orange juice, chilled, I use Natalie's brand
4 oz (0.5 cup) sparkling water, plain, chilled
2 whole kiwi, sliced
2 sprigs rosemary, garnish
Equipment
Matcha whisk

Matcha bowl or glass to whisk
Instructions
In a bowl, whisk matcha powder with water until it's fully combined. You can also shake it in a mason jar or water bottle with a tight lid.

Fill each glass about ⅔ way up with crushed ice. Add the mango orange juice and sparkling water.

Add about half of one whole sliced kiwi to each glass. Whisk (or shake) the matcha tea again before pouring it into the glass.

Top the drink with more kiwi slices and garnish with rosemary.
Notes
The drink tastes better with mango orange juice – a blend of orange juice with mango puree. I've tried it with orange juice only (without the mango) and the flavor is more tart and less sweet. If you use mango orange smoothie, please dilute the smoothie first or the flavor will overpower the matcha.
Here's how I enjoy the drink – Stir and sip the iced cold matcha mango tea then eat the fresh kiwi slices with a spoon! 😀
Nutrition
Serving: 1drink, Calories: 58kcal, Carbohydrates: 12g, Protein: 2g, Fat: 1g, Saturated Fat: 1g, Polyunsaturated Fat: 1g, Monounsaturated Fat: 1g, Sodium: 13mg, Potassium: 232mg, Fiber: 1g, Sugar: 10g, Vitamin A: 331IU, Vitamin C: 58mg, Calcium: 17mg, Iron: 1mg