Sake Grapefruit Cocktail
My Sake Grapefruit Cocktail is the perfect drink to elevate your holiday party! Made with sake, grapefruit juice, gin, and a touch of ginger, this elegant sake cocktail is super easy to make and incredibly refreshing. Not to mention, it looks gorgeous!
This sake cocktail recipe is ideal for happy hour, holidays, or to take your home-cooked Japanese meal over the top! Try pairing it with my tsukune (meatball skewer) or Japanese potato salad for a proper Japanese feast.
Quick Sake 101
Sake literally means "alcoholic beverage" in Japanese. The word Nihoneshu is a more specific way of ordering rice wine sake. ("Nihon" means Japan and "shu" means alcohol.)
Sake is often enjoyed straight, but there are many Japanese cocktails with sake as well. Nigori cocktails are quite popular in Japanese restaurants and sushi bars.
Ingredients
This sake gin cocktail comes together easily with just a few delicious ingredients!
Sake – Nigori Sake (cloudy sake) or Junmai sake (clear sake)
Gin – pure, distilled gin
Grapefruit juice – Tropicana or fresh squeezed
Ginger root
Grapefruit-flavored sparkling water
Others: Ice cubes, Shaker with a strainer, Ground nutmeg (optional), Rosemary sprigs (optional)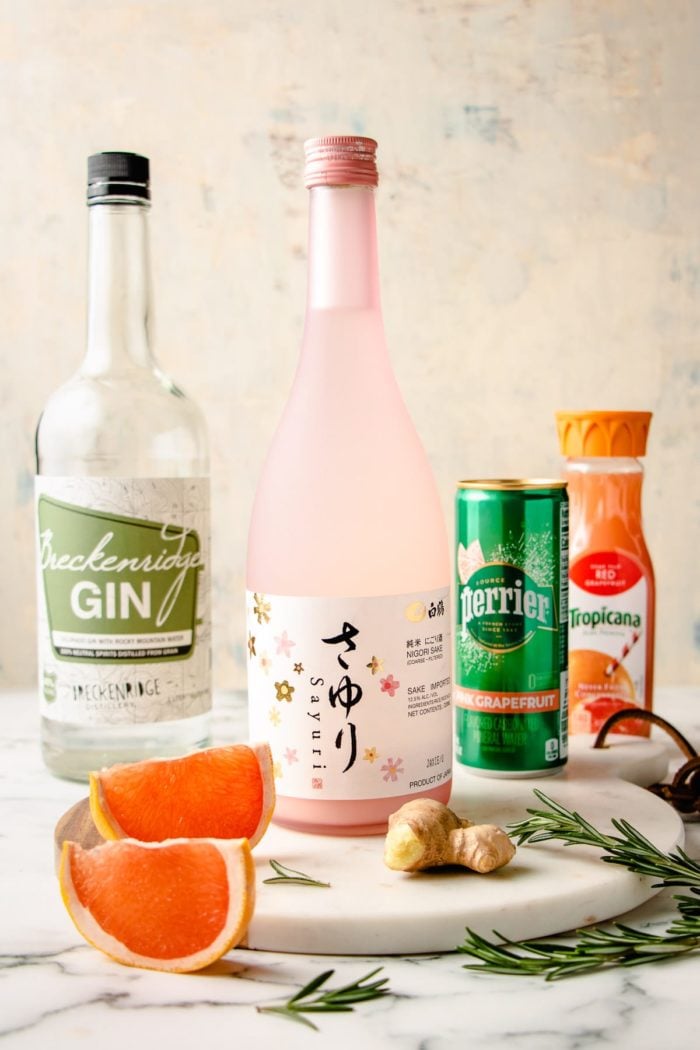 Types of Sake
There are many types of sake, and they're classified by several factors — rice type, rice polishing ratio, and brewing process, just to name a few. To keep it simple, here are the four types of sake that I like best for sake cocktails:
Daiginjo
This ultra-premium sake is slowly fermented at low temperatures. The flavor is very delicate and mild.
Ginjo
Another premium sake, ginjo is carefully fermented to produce a mild, fruity flavor. It's refreshing with a nice aroma.
Junmai-shu
Junmai-shu means "pure rice sake." This sake is made only from rice and water, and the flavor profile ranges from light and mild to full-bodied.
Daiginjo or Ginjo brewed without additional alcohol is called Junmai Daiginjo or Junmai Ginjo.
Nigori
This cloudy sake is my favorite type of sake! Considered a type of junmai-shu, Nigori sake is roughly filtered after fermentation leaving a milk appearance and subtly sweet flavor.
This is a great chart with more info on sake.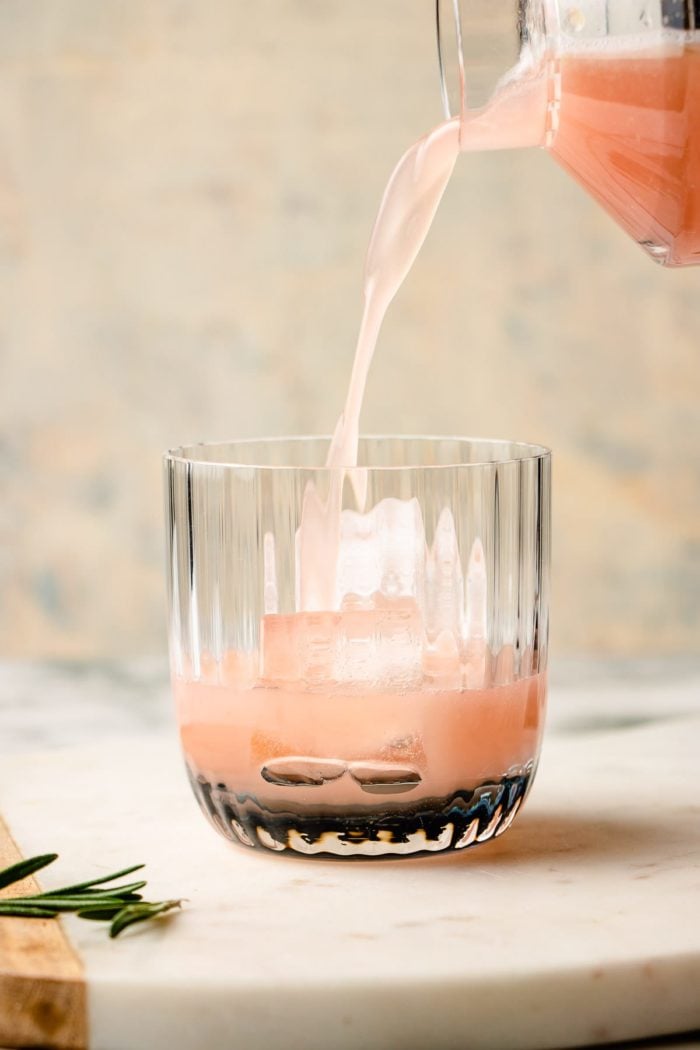 How to make the drink
Sake drinks are great because they taste and feel fancy, but they're super easy to make! Here's how to make my sake grapefruit cocktail in just three steps.
In a cocktail shaker, add the sake, gin, grapefruit juice, ginger, a tiny dash of ground nutmeg powder, and 4-5 medium size ice cubes. Shake for 30-40 seconds.
Strain and pour into two cocktail glasses.
Add a splash of grapefruit sparkling water. Garnish with rosemary sprigs. Add more ice cubes to the serving glass if your sake wasn't chilled.
Variations
Easy sake cocktails are delicious and endlessly versatile! Want some ideas for how to make sake taste better? Here are some tips to take your sake cocktail recipes to the next level.
Fruit juices: Sake pairs really well with citrus. Try fresh lemon juice, lime juice, or orange juice instead of grapefruit. You could also try pomegranate juice!
Whole fruit: Use a muddler or blender to incorporate fresh cherries, mango, or lychee. Many sake cocktails recipes use strawberries as well.
Liquor options: Don't like gin? Use vodka or whisky to change up the flavor profile.
Other sake mixers: Ginger ale or club soda would work in place of sparkling water to give a sake mixed drink some fizz.
Make it sweeter: Add a bit of tropical fruit juice, like mango. Or for a sweet, creamy cocktail, you could use Yakult, a sweet Japanese yogurt drink. You could also add a dash of simple syrup or agave nectar.
Mint Garnish: Muddle some fresh mint leaves or just garnish the drink with them before serving.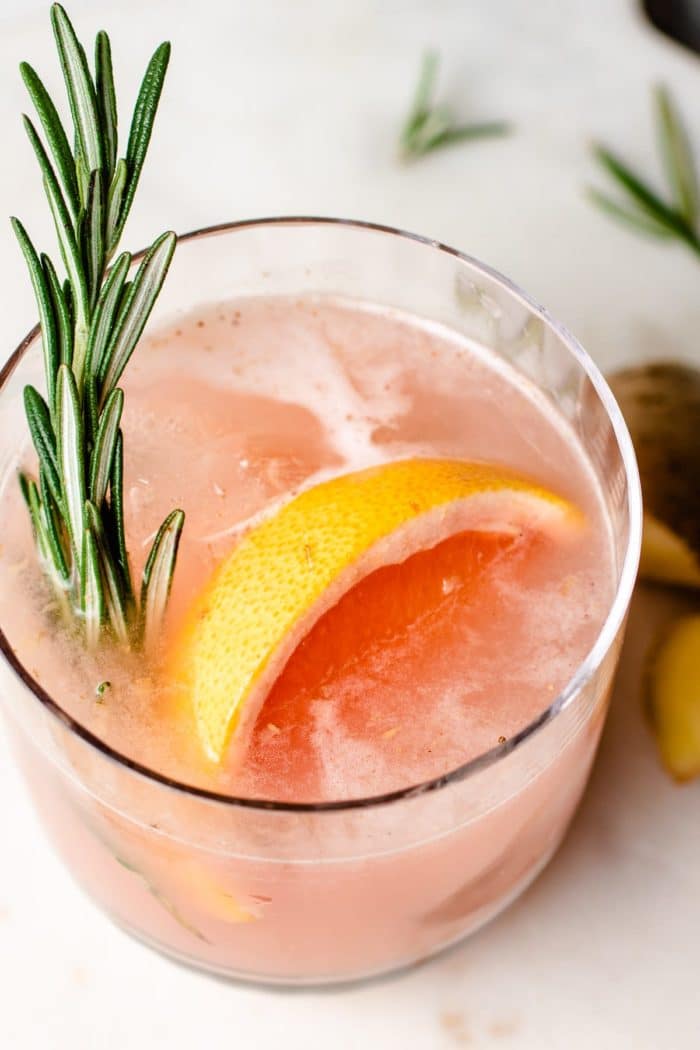 Which flavor of sake should I choose?
Nigori Sake – Nigori style of sake is my personal favorite for easy sake mixed drinks. The flavor is milky, creamy, smooth, and subtly sweet. The cloudiness gives sake mixed drinks extra depth.
Daiginjo Sake – Daiginjo is ultra-premium sake that's slowly fermented at low temperatures. The flavor is very delicate with a beautiful aroma and mild flavor.
Ginjo Sake – Ginjo is also a premium sake that's carefully fermented to create a refreshingly fruity aroma and mild flavor.
In my opinion, both daiginjo and ginjo sake have a clean aftertaste. They are a bit less sweet than nigori sake and will make a clear as opposed to milky drink. I love all three types and recommend using any one of these for cocktails with sake.
Food pairing suggestions
This sake drink recipe is perfect anytime you want to add a little elegance to your evening! Drink it on its own or use it to elevate a meal or holiday party menu.
Sake grapefruit cocktail is delicious with fresh fruit salads, like my watermelon fruit salad or Japanese cucumber salad.
Or use it to balance out rich-flavored meat dishes and spicy food. This gin sake drink pairs really well with my air fryer lemon chicken bites and air fryer bang bang shrimp.
For a well-rounded Japanese feast, don't forget to try my Omurice (Japanese omelet) recipe too!
Common FAQ
Is Sake Gluten-Free?
Junmai sake is gluten-free. Junmai means "pure rice" sake with no starches, brewer's alcohol, or sugars other than rice added to the fermenting mixture. Stick to junmai sake cocktails if you are sensitive to gluten.

Daiginjo, ginjo, junmai sake, junmai daiginjo, junmai ginjo, junmai nigori are all considered gluten-free. (Source)
What to mix with sake
Many saki cocktail recipes use citrus (like sake lemonade or sake and orange juice) for a bit of sweetness, and a strawberry sake cocktail is popular as well. Ginger helps the flavor to pop, so you could try sake and ginger ale. Sake and soda or sparkling water are also common sake recipes. For a creamier drink, try sake Yakult.

You can also mix with another alcohol to make a gin, vodka, or sake whiskey cocktail.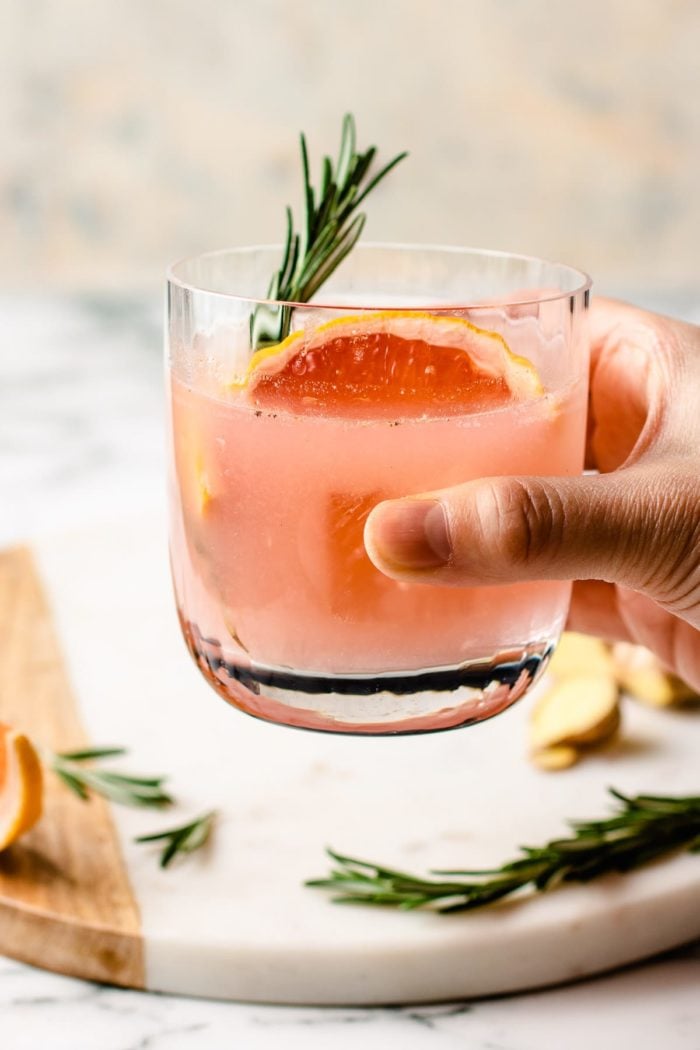 More delicious drinks
Do you love this beautiful drink as much as I do? Read on for some more delicious drink ideas to serve up this holiday season!
For a non-alcoholic happy hour hero, try my Whole30 mocktail — it's light and fruit, with no added sugar and a delicious pink color that will really pop in photos!
Or, if you're looking for something decadent and creamy to serve as a dessert drink, try my black sesame latte, Paleo hot chocolate, and Paleo golden milk recipes. They are kid-friendly, too!
Need a bit of caffeine in your life? You're going to love my vegan Vietnamese coffee!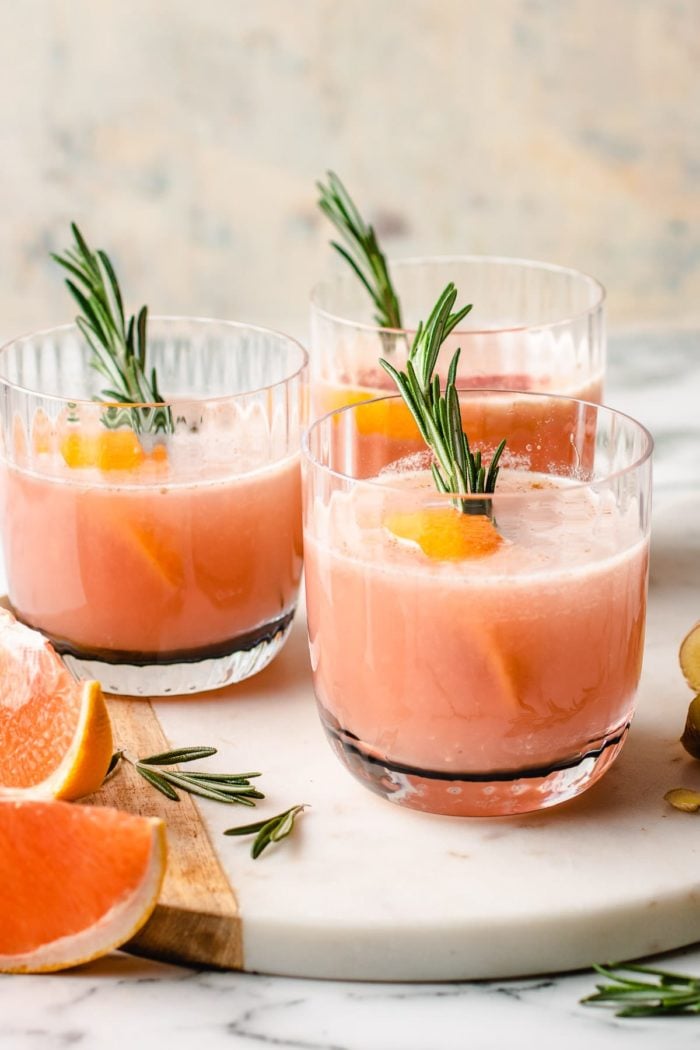 Sake cocktail recipe with grapefruit
Sake Grapefruit Cocktail with a touch of gin and ginger is an elegant sake cocktail recipe that's super refreshing and gluten-free!
Print
Pin
Rate
Ingredients
3 oz Junmai sake, Nigori or Daiginjo or Ginjo Sake
2.5 oz gin, pure, distilled. We use Breckenridge gin.
3 oz grapefruit juice, Tropicana preferred
⅛ tsp grated fresh ginger root
Tiny pinch ground nutmeg, optional
4-5 medium size Ice cubes, plus extra for serving
Splash grapefruit sparkling water, chilled
2 sprigs fresh rosemary , garnish, optional
2 slices fresh grapefruit, garnish, optional
Instructions
In a shaker, add the sake, gin, grapefruit juice, ginger, a tiny dash of ground nutmeg powder, if using, and 4-5 medium size ice cubes. Shake 30-40 seconds.

Pour the cocktail through a strainer filter into two cocktail glasses.

Add a splash of grapefruit sparkling water. Garnish with rosemary sprigs and grapefruit slice, if using.
Notes
You can use chilled or non-chilled sake as long as you have ice cubes ready.
My husband prefers to enjoy the beverage with an ice cube in the glass and I prefer not. It's up to you. 🙂
Sake flavor profile and which one to use:

Junmai Nigori Sake (cloudy sake). I prefer this type of sake. I use either Kamoizumi brand "Summer snow" or Hakutsuru brand "Sayuri"
Junmai daiginjo sake or ginjo sake (clear sake).

Nigori sake tastes milky, smooth, and a little sweeter.
Daiginjo and Ginjo sake taste very clean, drier, and less sweet than Nigori.
Why use Tropicana grapefruit juice: Tropicana grapefruit juice tastes naturally sweeter than fresh squeezed grapefruit juice. If you use fresh squeezed, you'll need a touch of simple syrup to balance the drink.
Nutrition
Serving: 1serving, Calories: 159kcal, Carbohydrates: 7g, Protein: 1g, Fat: 1g, Saturated Fat: 1g, Sodium: 4mg, Potassium: 82mg, Fiber: 1g, Sugar: 5g, Vitamin A: 6IU, Vitamin C: 12mg, Calcium: 8mg, Iron: 1mg