Panda Express honey sesame chicken
My take on panda express honey sesame chicken is the best at-home takeout experience! Crispy, chunky, and juicy chicken bites with equally crunchy veggies. Tossed with finger-licking honey sesame sauce, it cuts through the richness with its sweetness and tanginess.
The chicken coating is so good, you can use it for other recipes, like this black pepper chicken that's an all-time favorite. My wide selection of Chinese American dishes is full of ideas to help you prep your next meal.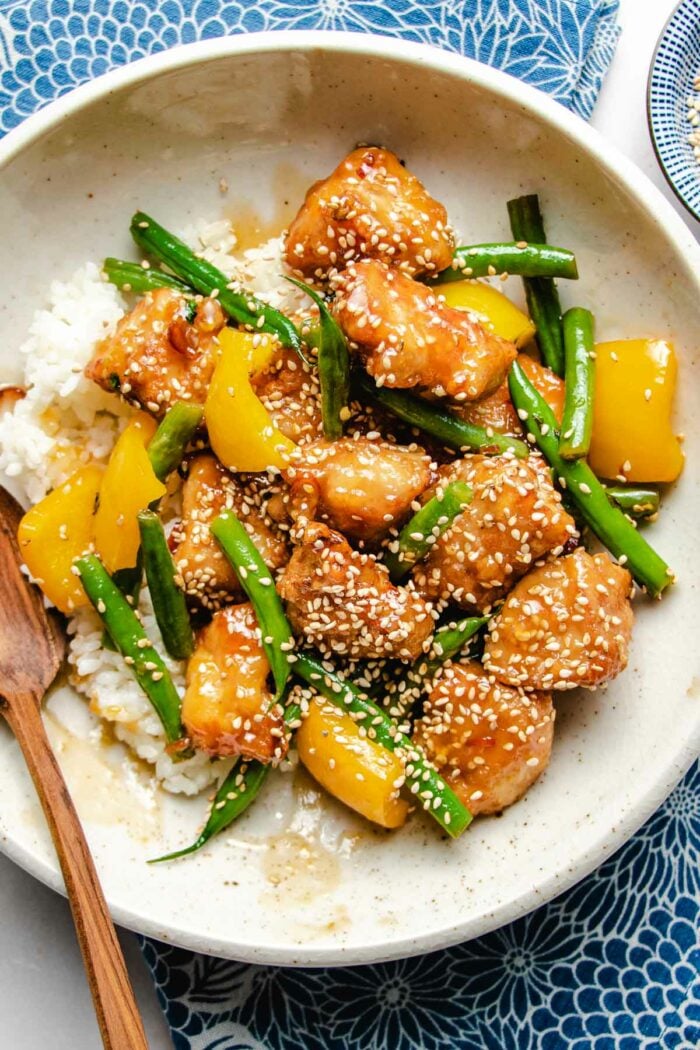 Why you'll love this chicken stir-fry
This honey sesame chicken panda express is a staple for me. I make it at least once a week, and now, you will too!
Perfectly balanced flavor: It's savory but also a little sweet, tangy, and vinegary, which makes the dish super addictive!
One pan meal: You'll only need this one dish for a perfect weeknight meal — juicy protein with crisp green beans and bell peppers, making it both balanced and wholesome.
Healthier: As the recipe calls for pan-fried or air-fried chicken breast, it's way healthier compared to the ones made in a restaurant. Plus, it's both gluten-free and paleo-friendly!
ChihYu's personal notes
Even though this is a Chinese-American takeout copycat dish, it reminds me of dishes I grew up eating in Asia. If you are familiar with Chinese banquet dishes, this will remind you of sweet and sour fried whole fish or sweet and sour pork.
I took inspiration from my black pepper chicken with juicy chunky chicken bites and tossed them in a sweet and vinegary honey sesame sauce. This pungent sauce cuts through the richness of the dish while brightening the flavors.
It's a classic Chinese takeout dish made easier and a lot healthier at home. I highly recommend it!
Ingredients
Make your own honey sesame chicken breast panda express with these stellar ingredients: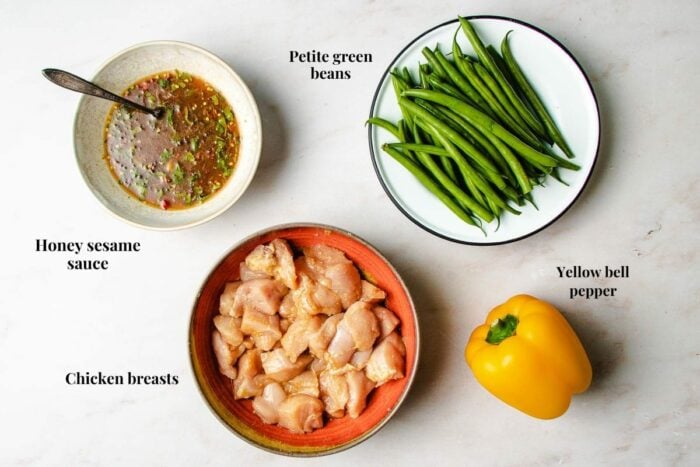 Chicken breasts: boneless skinless chicken breast, coconut aminos, coarse sea salt, baking soda, garlic powder, tapioca or potato starch
Vegetables: Yellow bell pepper, French petite green beans
Honey sesame sauce: Sweet chili sauce, honey, apple cider or white vinegar, coconut aminos, coarse sea salt, tapioca starch
Other: Avocado oil or oil spray, toasted white sesame seeds (for garnish)
Ingredient substitutions
Lemon juice or rice vinegar can be used instead of white vinegar. Just note that the sauce won't taste as tart.
You can also use store-bought sweet chili sauce, but make sure to taste and adjust.
If you prefer using soy sauce, start with half of the recipe quantity as it tends to be saltier.
Tapioca and arrowroot starches are interchangeable. Cornstarch also works if you tolerate it.
You don't need to use eggs or egg mixture to coat the chicken.
Starch works better than flour as it's lighter and makes the panda honey sesame chicken more crispy.
How to make the dish
There are 3 parts when making panda express sesame chicken, and here's how you can make it at home: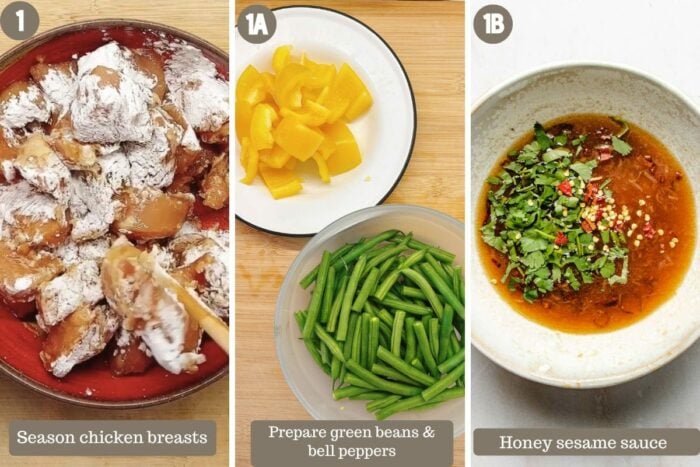 Prepare the ingredients
Cube the chicken breast and mix them with seasonings. Prepare the green beans and the sauce in separate bowls.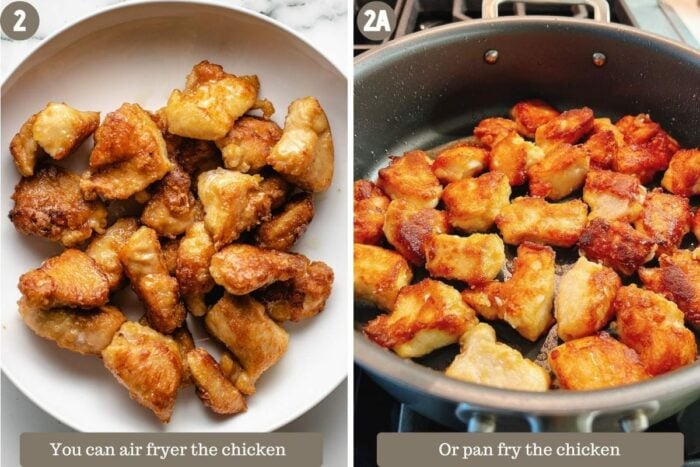 Cook the chicken
From here, you can either pan-fry the chicken or air-fry them until golden brown. Please see my recipe for detailed instructions.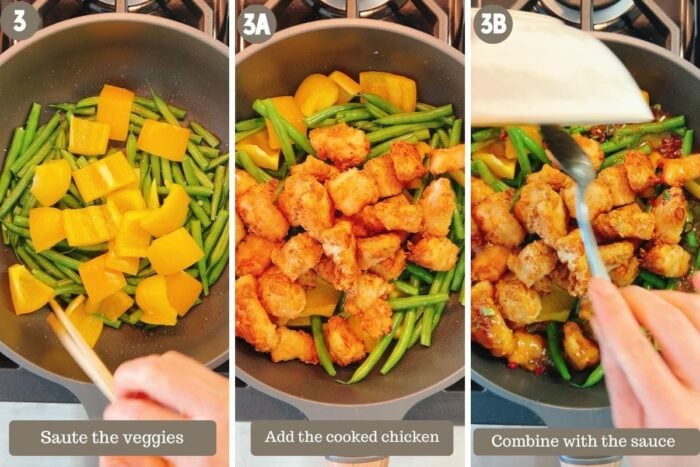 Combine the ingredients
Sauté the green beans and pepper in a heated pan. Then, add the chicken pieces before adding the sauce mixture. Toss and coat well and serve.
Notes:
Some recipes call for adding toasted sesame oil. I don't find it necessary for this recipe.
Variations
This panda express honey sesame chicken recipe is perfect on its own, but here are some fun twists and variations that you can try:
Sweet chili sauce: You can use store-bought or homemade sauce. For homemade, I recommend using my sweet chili sauce in my Vietnamese chicken wings recipe.
Add some crunch: Add thinly sliced onion, toasted almonds, cashews, or peanuts to the stir-fry for an extra crunchy texture. You can also add chopped green onions as garnish.
Different protein: Swap chicken for thinly sliced beef strips, or make the dish vegetarian by using crispy tofu.
A little spicy: Garnish the dish with a touch of my garlic chili sauce.
Frozen vegetables: If fresh vegetables aren't available, a blend of frozen veggies works as well.
Serving suggestions
Panda express honey sesame chicken can be served with other dishes, like stir-fries, and salads, as well as other proteins.
Pair this dish with delicious stir-fries, like garlicky shirataki fried rice for a wholesome dinner. If you love your greens, you can never go wrong with 3-ingredient bok choy stir fry or panda express super greens that are crunchy and ready in no time!
If you prefer simple but tasty side dishes, Chinese smashed cucumber salad is both appetizing and easy to prepare. Alternatively, the Japanese-style hibachi vegetables dish is so flavorful and buttery, you'll have it on heavy rotation.
For a full Chinese takeaway experience at home, this one-pan General tso shrimp is guaranteed to impress.
Common FAQ
Does panda express have sesame chicken
Yes. It is now a permanent dish on their menu. The dish was briefly introduced and removed from the menu, but now it's back on the menu.
Which panda express chicken is white meat
Most panda express chicken dishes use white meat. For example, chicken with string beans, mushroom chicken, honey sesame chicken, and black pepper chicken.
What is the difference between orange chicken and sesame chicken at Panda Express?
Both dishes use breaded and deep-fried white meat chicken. Orange chicken sauce contains orange juice whereas sesame chicken does not.
What is the nutrition and calorie of honey sesame chicken panda express?
According to the restaurant webpage with deep fried chicken, 1 serving (5.3 oz | 0.7 cup) contains 490 calories, 40g carbs, 19g sugar, and 16g protein.
Storage, make-ahead, and reheat
Make this copycat recipe in advance by prepping the chicken, dicing up the vegetables, and combining the sauce in advance.
You can portion the dish and store them in individual airtight containers, where they can be kept in the fridge for 3 to 4 days. In a freezer, this dish is good for 2 months.
Reheat any leftovers in the microwave. Although the chicken won't be as crispy, the flavors and texture will remain excellent.
---
Umami Tips
You do not need a large wok. You can use any pan that's at least 12 inches wide.
Healthier: This dish does not need to be deep-fried. It's more suitable for home cooks to make the chicken in an air fryer or on a stovetop.
Preparation is the key to Chinese stir-fries. This dish is perfect for make-ahead meals and meal prep.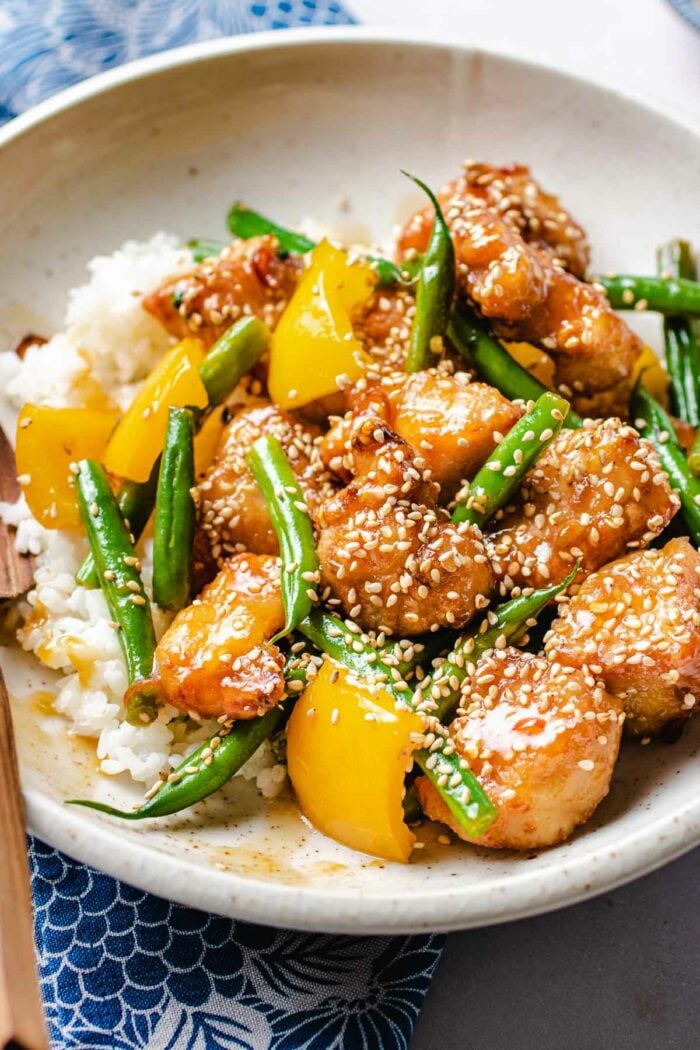 Panda express honey sesame chicken recipe
Healthy and easy Panda Express honey sesame chicken breast copycat recipe made in an air fryer or stovetop, plus homemade honey sesame sauce!
Print
Pin
Rate
Ingredients
For the chicken:
1 lb. chicken breasts, dice to 1-inch cubes
1 tbsp coconut aminos
¼ tsp coarse sea salt
½ tsp baking soda
¼ tsp garlic powder
4 tbsp tapioca starch, or potato starch (for stovetop), use 6 tbsp for air fryer
For the vegetables:
1 whole yellow bell pepper, diced into 1-inch cubes
8 oz. French petite green beans, trimmed and diced into 2.5-inch sections
For the honey sesame sauce:
Other:
¼ cup + 1 tbsp avocado oil, For stovetop
Avocado oil spray, For air fryer
Sprinkle toasted white sesame seeds
Instructions
To prep:
Slice the chicken breasts into 1-inch cubes and in a bowl mix well with the seasonings from coconut aminos to starch. Set aside in the fridge while you prepare other items.

Prepare the bell pepper and green beans. Place the green beans in a microwave-safe container, add 1 tbsp water and microwave on high for 1 minute. Drain the water and set them aside to cool. In a separate bowl, stir well the sauce.
To pan fry:
In a 12-inch saute pan, add the avocado oil and preheat over medium heat for about 3 minutes. Test the temperature with a wooden chopstick, if it shows bubbles around the chopstick when inserting it into the oil, the temperature is hot enough. You can also use a thermometer to reach 350F/177C.

Add the chicken piece-by-piece into the pan. Turn up the heat to medium-high. Pan-fry them in a single layer without disturbing them for about 3 minutes on the first side. Then use a chopstick or tong to cook the flip side for about 2 minutes. Transfer them out to a separate plate.
To air-fry:
Preheat the air fryer to 380F. Spray the basket with avocado oil and place the chicken piece-by-piece into the basket with some space between them. Spray with more oil on top of each piece. Air fry at 380F for 8 minutes total. The chicken should be cooked through. Repeat the process until you finish the batch.
To combine:
Add 1 tablespoon of oil to a well-heated large saute pan, when warm saute the pepper and green beans with 2 pinches of salt over medium-high heat for 1 minute.

Return the chicken to the pan and pour in the honey chili sauce. Turn the heat up to high and toss to coat the sauce over for 1 minute.

Turn off the heat. Transfer the food to a serving plate. Garnish with sesame seeds. Serve hot with steamed rice.
Notes
To make-ahead, I highly recommend you prepare the sweet chili sauce in advance if you are making the sauce from scratch as I do. You can also use any store-bought Thai or Vietnamese sweet chili sauce if preferred.
To make ahead: You can slice and season the chicken in advance BUT NOT add the starch. Only add the starch when you are ready to cook.
Please note the recipe instructions – if you use an air fryer you'll need more starch to coat the chicken so that it will crisp and puff up evenly. The upside is that you'll use less oil and no oil splatter.
If you prefer more sauce, you can easily double the sauce quantity. Please taste and adjust. It should be sweet, sour, and savory and with a strong vinegary aroma.
Nutrition
Serving: 1serving, Calories: 335kcal, Carbohydrates: 21g, Protein: 25g, Fat: 17g, Saturated Fat: 2g, Polyunsaturated Fat: 2g, Monounsaturated Fat: 10g, Trans Fat: 0.01g, Cholesterol: 73mg, Sodium: 671mg, Potassium: 552mg, Fiber: 2g, Sugar: 10g, Vitamin A: 426IU, Vitamin C: 9mg, Calcium: 28mg, Iron: 1mg
Made a dish and love it? Please remember to rate the recipe and leave a comment in the comment section below! It helps my blog grow organically so I can continue sharing free and awesome content with you. Thank you!