Forest Mushroom Salad with Parsley and Mint
Paleo Forest Mushroom Salad with Parsley and Mint – a delicious Thai-style Asian mushroom salad recipe made Paleo-friendly!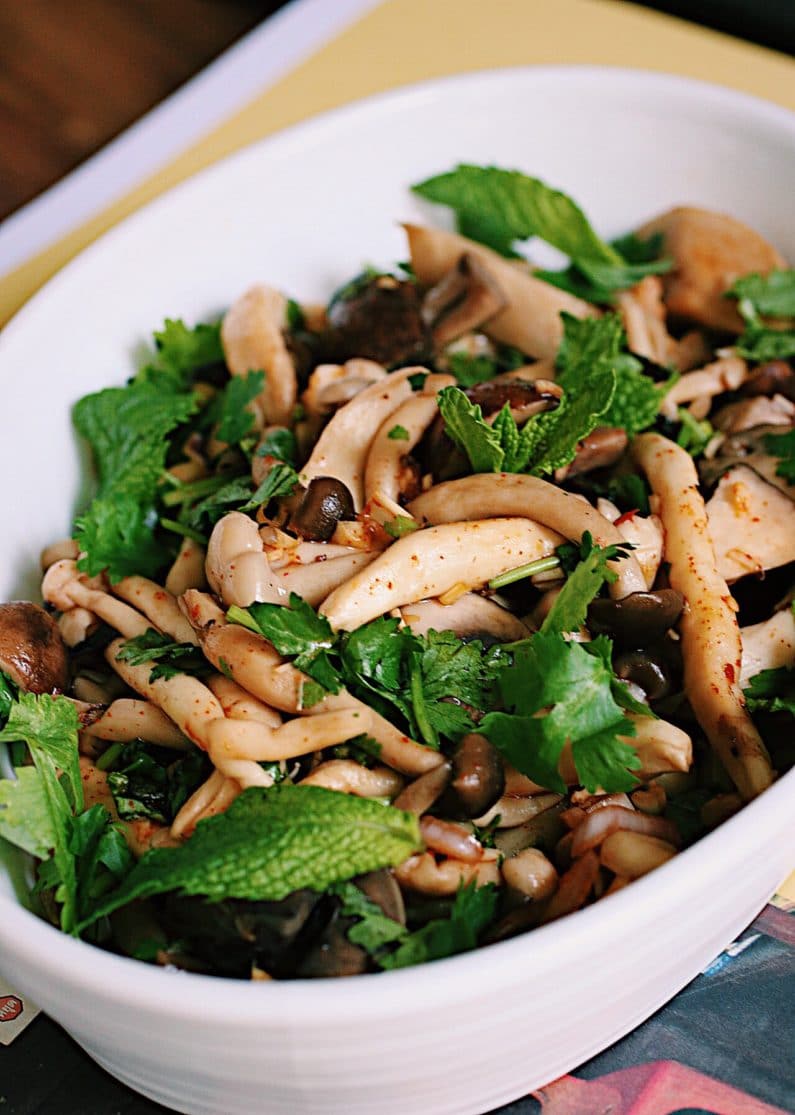 Is there any way to describe my love for mushrooms without sounding like a drug addict? :))
I love finding excuses to add mushrooms to my cooking so it makes sense that when I discovered this Thai forest mushroom salad with parsley and mint in Andy Ricker's cookbook – Pok Pok – I immediately made a bookmark and decided to try it ASAP.
The original recipe uses sugar to balance the citrus of lime. I decided to skip the sugar and replaced it with more herbs, spices, and a few minced garlic cloves to bring a different dimension to this dish.
The result?  It screams nothing but the flavor of southeast Asia –
The acidity of lime, even better key lime juice, is like a tequila without the alcohol to awaken your palate.
The mint, parsley, and chili powder remind me of a herb salad from a famous restaurant in NYC called Xi'an.
Do you love mushroom salad?
Are you curious about how Thai people prepare them?
Hesitate no further.
You now can enjoy this dish straight from southeast Asia – Thailand – in the comfort of your own home.
Paleo Forest Mushroom Salad with Parsley and Mint
Paleo Forest Mushroom Salad with Parsley and Mint ! This is a Thai-inspired mushroom salad that's perfect go with any main and rich dishes.
Print
Pin
Rate
Ingredients
2 cups meaty mixed mushrooms – Bottom trimmed. I use cremini, shiitake, clamshell, and king oyster mushrooms today), about 16 oz.
¼ cup shallots, thinly sliced
¼ cup coarsely chopped mint leaves
¼ cup coarsely chopped parsley
A generous drizzle of olive oil to coat the mushrooms
Salt and black pepper to taste
Dressing:
2 tbsp fresh lime juice
2 tbsp coconut aminos
1 tbsp water
1 tsp garlic, crushed
1 ½ tsp chilli powder
1 ½ tbsp grated ginger
2 tbsp lemon zest
1 tbsp lime zest
Instructions
Mushrooms:
Heat a large saute pan over medium heat. Toss the mushrooms in a bowl along with olive oil to coat them.

Saute the mushrooms until they are cooked but not soaked (about 5 to 10 mins, depending on the size of the mushrooms). Season with salt and black pepper. Set aside to cool.
Dressing:
In a small sauce pan, mix well ingredients under "Dressing". Cook over medium heat until the dressing is slightly warm to the touch (about 15-30 seconds).

Assemble the Salad:
Combine the mushrooms with shallots, cilantro, mint leaves, and dressing. Toss well and taste and see if more salt and black pepper are needed.
Nutrition
Serving: 1serving, Calories: 161kcal, Carbohydrates: 14g, Protein: 3g, Fat: 11g, Saturated Fat: 1g, Sodium: 162mg, Potassium: 434mg, Fiber: 4g, Sugar: 4g, Vitamin A: 409IU, Vitamin C: 9mg, Calcium: 16mg, Iron: 1mg