23+ Best sauces for grilled chicken (Asian-inspired)
Here are my very best Asian-inspired sauces for grilled chicken that my family and I have been using for summer BBQs! There's a great list of sauces for chicken you can pick and choose – from Chinese to Thai, Korean to Japanese, and more! These homemade sauces are healthy and easy, and they are not only great for barbeque but also as a dipping sauce
Let's spice up your grill with my Asian-inspired sauces to make your grilled chicken recipe sizzle!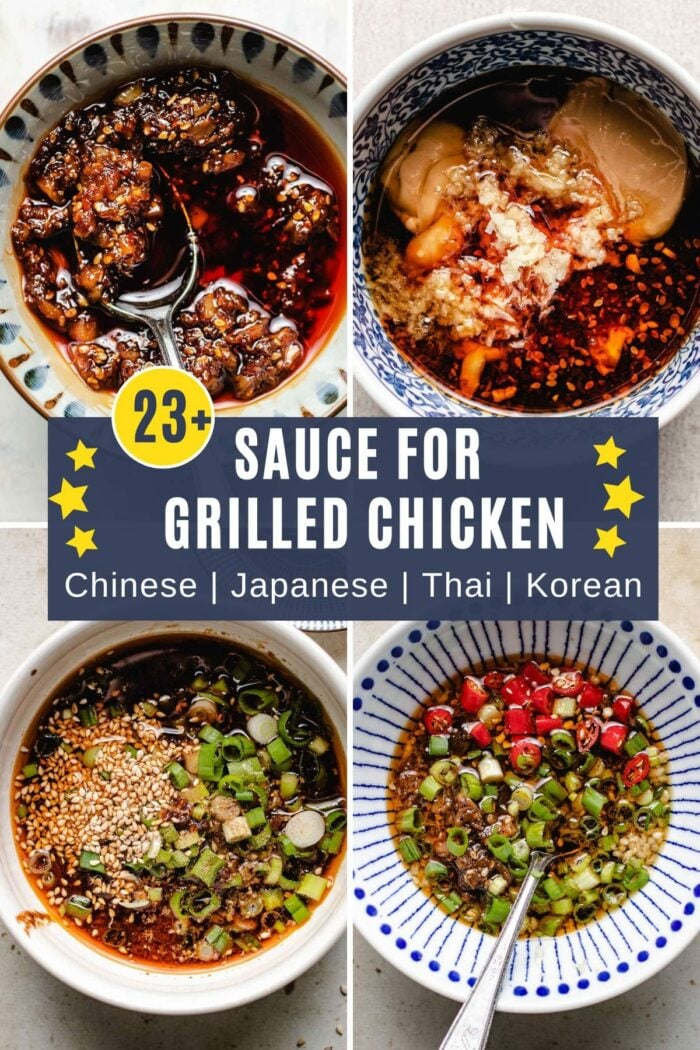 Chinese sauces
If you are looking for a list of delicious chicken sauce ideas beyond Peruvian chicken sauce, these homemade sauces will wow your taste buds! They are simple sauces to make for chicken with a blend of soy sauce, garlic, ginger, and a touch of chili pepper. You can use these sauces for grilled chicken breasts and thighs or brush them on when grilling.
Japanese sauces
Growing up in Taiwan, Japanese cuisine is always close to my heart. 🙂 Here are some of my favorite Japanese-inspired easy sauces for chicken. Use them for dipping sauce on the side of your grilled chicken or brush it on when you grill.
Thai sauces
These Thai-inspired sauces are a real gem when it comes to sauce recipes for chicken. You can whip up a simple sauce for chicken using fish sauce, lime juice, coconut sugar, and a touch of red chili pepper. Add some crushed and toasted peanuts and tamarind paste (if you have a jar at home), these grilled chicken sauces will tenderize the meat and give them a tangy kick.
Thai chili sauce – Nam Jim Jaew
This is one of my favorite Thai dipping sauces. It's a little funky, salty, acidic, and a little sweet and spicy. Use it as a marinade and dipping sauce. Great for chicken breasts or thighs.
Get the recipe
Thai peanut sauce
Unlike the sweeter version of Chinese peanut sauce, this is an authentic Thai version. It tastes fruity, tangy, and tart. This is a creamy sauce that's great for dipping and put it on the chicken when you grill.
Get the recipe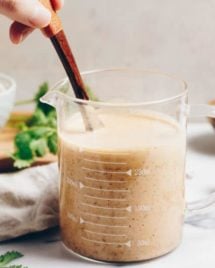 Thai chicken satay
Probably the best sauce chicken marinade Thai style! My readers love this chicken dish and there's a reason why. Easy to assemble and tastes amazing! I recommend using chicken thighs either bone-in or boneless and marinate the chicken overnight before you grill!
Get the recipe
Vietnamese sauces
If you love fresh and zesty flavors, these Vietnamese-inspired sauces for grilled chicken are written for you! Nuoc Cham is a classic dipping sauce for chicken and my Vietnamese sweet chili sauce isn't just a good sauce for chicken, it's great with pretty much everything!
Vietnamese dipping sauce – nuoc cham
Love Vietnamese spring rolls and that delicious condiment sauce served on the side? This homemade version will satisfy your craving! It's perfect for grilled chicken skewers with perfectly charred chicken!
Get the recipe
Grilled chicken drumsticks with sweet chili sauce
Grilled chicken drumsticks with sweet chili bbq sauce are jam-packed with flavor! The chicken is perfectly tender and pair it with the sweet chili sauce on the side!
Get the recipe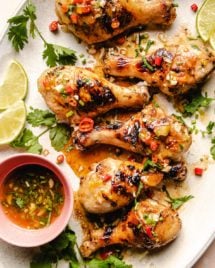 Vietnamese lemongrass chicken
Meant to pair the Nuoc Cham sauce on the side, this marinated Vietnamese lemongrass chicken sauce is perfect for charcoal grill! I recommend marinating the chicken overnight for the best flavor!
Get the recipe
Korean sauces
If you love a good sauce for chicken, these Korean-inspired sauces are moughwatering blend of spicy, sweet, and umami flavors. Gochujang paste is a must-have for Korean style barbeque chicken. My faux-gochujang is made without soy and fast to blend. It will have your taste buds dancing!
Gluten free gochujang paste
My homemade gochujang paste is soy-free and gluten-free. You can use it for everything! From pasta sauce to salad dressing, and from kimchi marinade to Korean bbq sauce chicken grill!
Get the recipe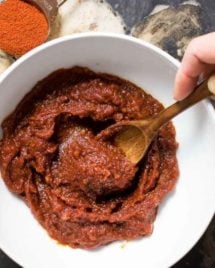 Kalbi marinade
If you think kalbi marinade is only for short ribs, think again! This delicious Korean-inspired sauce is great for chicken, too! With a blend of kiwi and pear, you know it's going to be DELICIOUS! I recommend marinate the chicken for at least 24 hours and up to 2 days.
Get the recipe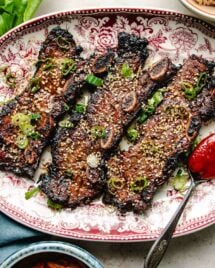 FAQs
Which sauce is best for chicken?
Grilled chicken has a natural smokey flavor. If the chicken is not marinated and only lightly seasoned, a creamy sauce or a sauce balanced with sweet, saovry, and acidity will work best.
Do you put sauce on chicken before grilling?
It depends on the type of sauce. If the chicken is marinated in a thick sauce such as sweet barbecue sauce, lightly drench the chicken before grilling. Most often, marinated chicken will taste more flavorful before grilling.
How do you make the sauce stick to grilled chicken?
You want to marinate the chicken for at least 30 minutes to 1 hour before grilling. During cooking, dip or brush the bbq chicken with more sauce on all sides until the chicken is cooked through.
Pairing your sauce
Now you have different sauces for chicken, what's next? I always like to think about what type of chicken I will pair them with. For example, a thicker and more robust gochujang paste would work well with grilled chicken thighs, while a light Vietnamese nuoc cham would be perfect for grilled chicken breast.
You can use these chicken sauces for marinating or dipping. I recommend marinating thick-cut chicken breasts in one of these sauces before grilling so that the chicken will be more flavorful. For thin-cut or chicken skewers like my yakitori skewers, you can lightly season them with some salt and black pepper and brush the sauce on as you grill.
For food safety from USDA, the internal temperature of cooked chicken should be cooked to 165F. And always separate the dipping sauce that you served on the side from the sauce you used for marinating. Discard the marinade after using it.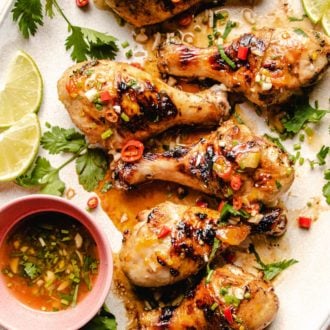 23+ Best sauces for grilled chicken (Asian-inspired)
Fire up the grill with the best sauce for grilled chicken. With my homemade easy and healthy Asian sauce recipes for chicken like this Vietnamese grilled chicken drumsticks!
Print
Pin
Rate
Ingredients
1.5 lb chicken drumsticks, about 6 drumsticks
1-1.5 tsp coarse sea salt
½ tsp black pepper
1 tsp garlic powder
Vietnamese sweet chili sauce:
1 whole serrano or fresno red chili pepper, or 1-2 Thai chilies
0.1 oz clove garlic, finely minced, about 2 small cloves
2 tbsp lime, or key lime juice
2-2.5 tbsp peach jam, or orange jam, keto honey, regular honey, or maple syrup
2 tbsp fish sauce
1 tsp toasted sesame oil
2 tsp chopped cilantro, or scallions, plus more for garnish
Instructions
Preheat the grill to 425°F-450°F (218°C-232°C) degrees on your grill lid thermometer. That is medium-high heat on a standard gas grill. Clean and oil the grates.

Use your fingers and carefully create a little space (little pocket) between the meat and the skin. Season the chicken with coarse sea salt, black pepper, and garlic powder on all sides and the inner pockets.

Combine the sweet chili sauce in a bowl and marinate the drumsticks with 6 tbsp sweet chili sauce for 30-40 minutes. I use about 1 tbsp sauce per leg. Save the remainder of the sauce for dipping use.

Check grill temp if possible and place chicken on the grill. Flip about every 5 minutes with lid closed until internal temp of 180°F-185°F (82°C-85°C) degrees. About 30-35 minutes.

If there are flare-ups, move the chicken away from the direct flames for a few seconds.

Once the chicken internal temperature reaches 180°F-185°F (82°C-85°C) degrees. Brush with more sweet bbq chili sauce and continue grilling a few minutes more.

Let rest for 5-10 minutes before serving. Serve with the chili dipping sauce on the side.
Notes
Use a clean and well-oiled grill.
Don't turn or flip the chicken too early so that each piece gets beautiful grill marks.
Keep the lid closed on your grill to keep the temperature so that the chicken cooks evenly.
You must use a thermometer to ensure the internal temp reaches 180°F-185°F (82°C-85°C) degrees.
Remember size and thickness of the drumsticks matter so when in doubt, go by the internal temperature not the cook time.
To Air Fry: Preheat the fryer at 400°F (204°C) for 5 minutes. Air fry the chicken legs at 380°F(193°C) for 20-25 minutes. Flip once half-way through.
To Bake: Preheat the oven to 425°F (218°C). Place the chicken on a sheet pan lined with parchment. Bake for 40-45 minutes, or until they reach an internal temperature of 175ºF, flipping the drumsticks once half-way through.
Nutrition
Serving: 1drumstick, Calories: 139kcal, Carbohydrates: 4g, Protein: 14g, Fat: 8g, Saturated Fat: 2g, Polyunsaturated Fat: 2g, Monounsaturated Fat: 3g, Trans Fat: 1g, Cholesterol: 70mg, Sodium: 938mg, Potassium: 203mg, Fiber: 1g, Sugar: 2g, Vitamin A: 41IU, Vitamin C: 1mg, Calcium: 14mg, Iron: 1mg
Made a dish and love it? Please remember to rate the recipe and leave a comment in the comment section below! It helps my blog grow organically so I can continue sharing free and awesome content with you. Thank you!