Gochujang Pasta
Gochujang Pasta is an Italian-Korean lovechild that brings together the absolute best of these cuisines—tender al dente noodles are slathered in a creamy, umami-rich sauce that ticks all the flavor boxes: It's cheesy, garlicky, sweet, and a bit spicy.
This trending TikTok recipe is almost effortless and comes together in under 20 minutes! My soy and gluten-free Paleo gochujang paste adds a serious depth of flavor. Don't have time to make the sauce? I provide a great store-bought alternative!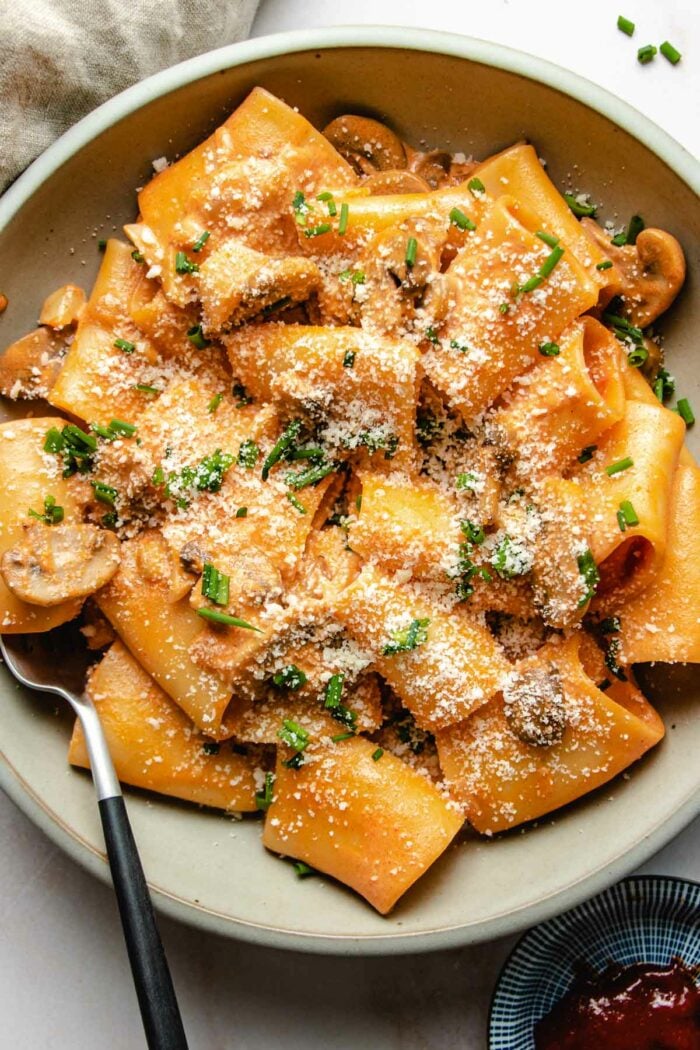 Why you'll love this pasta!
This Korean pasta dish is reminiscent of a spicy vodka sauce but with a depth of flavor so unique to Asian cuisines! It's inspired by the trending TikTok Gochujang pasta recipe created by Tina Choi aka Doobydobap (link), but I make some tweaks to give this fusion dish even more flavor!
Minimal effort and FAST: This amazingly simple recipe uses few ingredients and is ready in under 20 minutes. Cleanup is pretty minimal, too!
Packed with flavor: The creamy Vegan gochujang sauce delivers a smokey, sweet, and spicy flavor bomb! Garlic, parmesan cheese, and fresh chives kick things up another notch.
Perfect texture: The thick and tender al dente noodles are so satisfying with every bite! The cheesy, velvety sauce together with the crunch of fresh garnish is such a sensory treat.
Ingredients
This cheesy Korean pasta delivers an incredible depth of flavor without a ton of ingredients! Here's what you'll need to make this simple yet delicious gochujang cream pasta: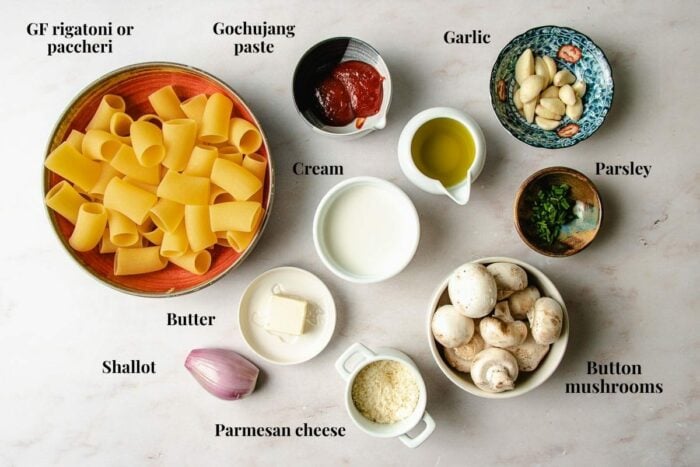 Pasta: I use gluten-free paccheri or rigatoni
Aromatics: Garlic, shallot
Gochujang Pasta Sauce: White button or crimini mushrooms, olive oil, sea salt, gochujang paste, half-and-half or heavy cream, butter
Garnish: Parmesan cheese, chopped chives
Ingredient Notes
Cream: Heavy cream will yield a slightly richer taste than half-and-half.
Gochujang: I found a great one on Amazon from South Korea that's gluten-free and doesn't have corn syrup (most do!). See my recipe card for more info.
What is gochujang?
Gochujang is a fermented red chili paste used in Korean cooking. Made from red chili powder, glutinous rice, fermented soybeans, and salt, the flavor profile of this thick red paste is sweet, savory, smokey, and a little bit spicy. It's used in soups, stir-fries, marinades, rubs, pasta, or as a dip.
Ingredient substitutions
Pasta: You can make this with any pasta you prefer. Gochujang spaghetti, rigatoni, rotini, or penne are also great—just make sure they're al dente!
Parmesan: Try my cashew parmesan cheese to keep this Paleo!
Cream: For dairy-free eaters, I recommend an original flavor dairy-free creamer. Coconut cream or cashew cream would also work, though the taste will change a bit.
Butter: Similarly, you can swap out the dairy butter for a vegan alternative or just use olive oil.
Garnish: In place of or in addition to chive, try parsley, basil, green onion, or cilantro!
How to make the dish
These creamy gochujang noodles could not be easier! Here are the simple steps to make this flavorful Korean pasta recipe.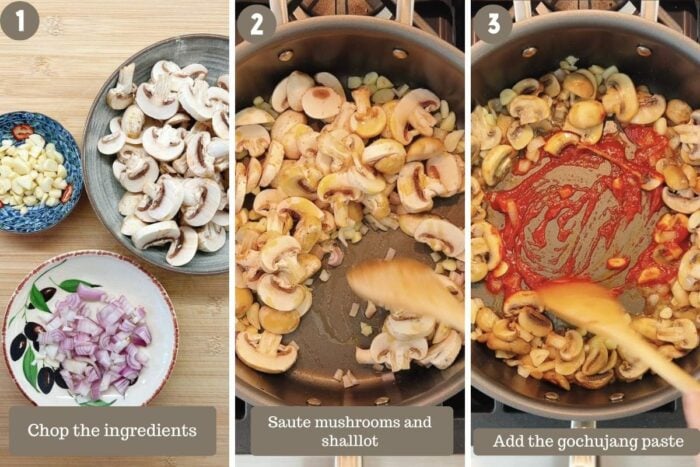 In a large pot, boil water and follow the package instructions to cook the pasta al dente. While the pasta is cooking, prepare the garlic, shallot, and mushrooms.
In a large skillet, sauté the garlic, shallot, and mushrooms in olive oil and salt on medium-high heat.
Push the aromatics aside and pan-roast the gochujang paste.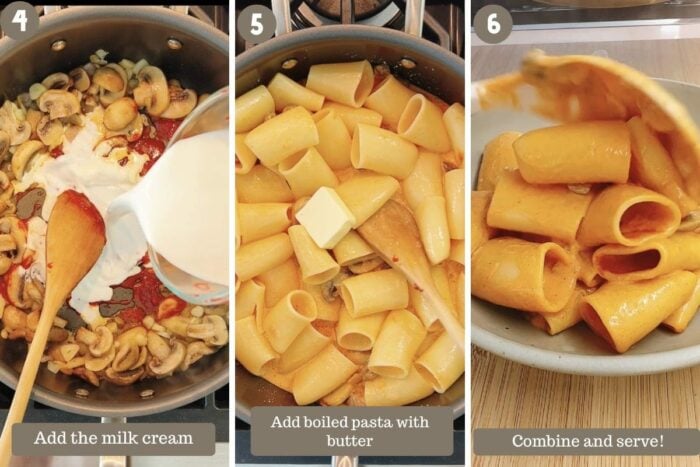 Mix in the cream until fully incorporated and bring to a simmer. If you're still waiting for the pasta to cook, turn off the heat so as not to over-reduce the sauce.
Drain the pasta, reserving ¼ of the cooking water, and add the noodles to the pan.
Add the pad of butter and reserved pasta water. Transfer to a serving plate, add the garnish ingredients, and serve hot.
How to get the perfect consistency in creamy gochujang pasta
Be mindful of timing: The sauce and al dente pasta should finish around the same time. If the sauce is done first, turn off the heat so it doesn't reduce too much.
Save some pasta water: For a thick and creamy sauce, reserve a bit of the pasta water to add in at the end of cooking, and don't rinse your pasta before adding to the sauce!
Pan roast the gochujang: Move the veggies to the side before adding the gochujang so it can roast, releasing the aroma and maximum flavor from the paste (similar to tomato paste.)
Finish with a knob of butter: Adding butter at the end is the magic sauce ingredient! It gives the sauce a glossy shine and helps it to better coat the pasta.
Variations
These cheesy gochujang noodles truly are perfection! The Korean chili paste is really an essential flavor to this dish, so I don't recommend swapping out the sauce. But here are some delicious and healthful variations you can try without changing the flavor profile of your meal:
Make it vegan: You'll need to use vegan butter and paleo parmesan. Swap out the dairy cream for non-dairy creamer, cashew cream, or coconut cream.
Add some protein: Bulk up this dish with a protein of your choice. I really enjoy these noodles with shrimp/prawns, chicken, or tofu.
Serving suggestions
Slurp up this incredible gojujang pasta by itself or make it a full meal by adding some protein, like salmon or chicken, and your favorite vegetables!
For a perfect protein pairing, I recommend my Whoe30 gochujang salmon, glazed in a similar red chili sauce. Moist, flavorful, and juicy, it takes only 15 minutes to bake! Another great protein option is my Kalbi short ribs, marinated in fresh fruit and savory coconut aminos. Delish!
To complete your Korean feast, serve it with Korean zucchini banchan and this mung bean sprouts recipe. And of course, you can't enjoy a Korean meal without kimchi! Try my Paleo kimchi recipe for a quick, easy, and crunchy side!
Common FAQ
What does gochujang taste like?
Gochujang tastes spicy, slightly sweet, and a little salty, with a subtle hint of smokiness.
Where to buy gochujang paste?
Many conventional grocery stores are starting to carry gochujang, or you can visit your local Asian grocery store. You can also buy it online. I link to my favorite brand that's gluten and corn-syrup-free in the recipe.
What is Korean gochujang sauce used for?
This super versatile condiment is used as a base for stews and soups, to spice up sauces, as a marinade or glaze for meats, and to add some punch to stir-fry dishes.
Should Gochujang be refrigerated?
Similar to miso, this fermented product should be sealed and stored in the refrigerator or it can grow mold.
Storage and make-ahead
Leftovers are just as amazing the next day! Store extras in an airtight container in the refrigerator for up to 5 days.
To reheat, add a bit of water or oil to a pan and cook on medium heat until warmed through. The microwave will also work but be sure to stir it periodically to prevent the sauce from curdling.
Related recipes
If you enjoy this cheesy Asian pasta dish as much as I do, be sure to check out some of my other pasta dishes!
This shrimp pasta in pink sauce is a luscious, dairy-free meal on its own, and this delightful tuna spaghetti is light, lemony, and Paleo-friendly. I also love this broccoli pesto pasta salad, especially in the warmer months!
For more flavorful and healthy Korean recipes, head over to my K-cuisine page!
Umami Tips
Noodle choice: For maximum sauciness, use a type of noodle that has ridges and grooves to hold the sauce better, like rigatoni or penne.
Save some pasta water: For a perfectly thickened sauce, save a bit of the pasta water to add in at the end of cooking, and don't rinse your al dente pasta before adding to the sauce!
Bulk it up: Add your favorite vegetables and protein to take this from a delicious dish to a full meal!
Gochujang paste: use my paleo homemade version or a great one I found online that's gluten and corn-syrup-free. Links in my recipe.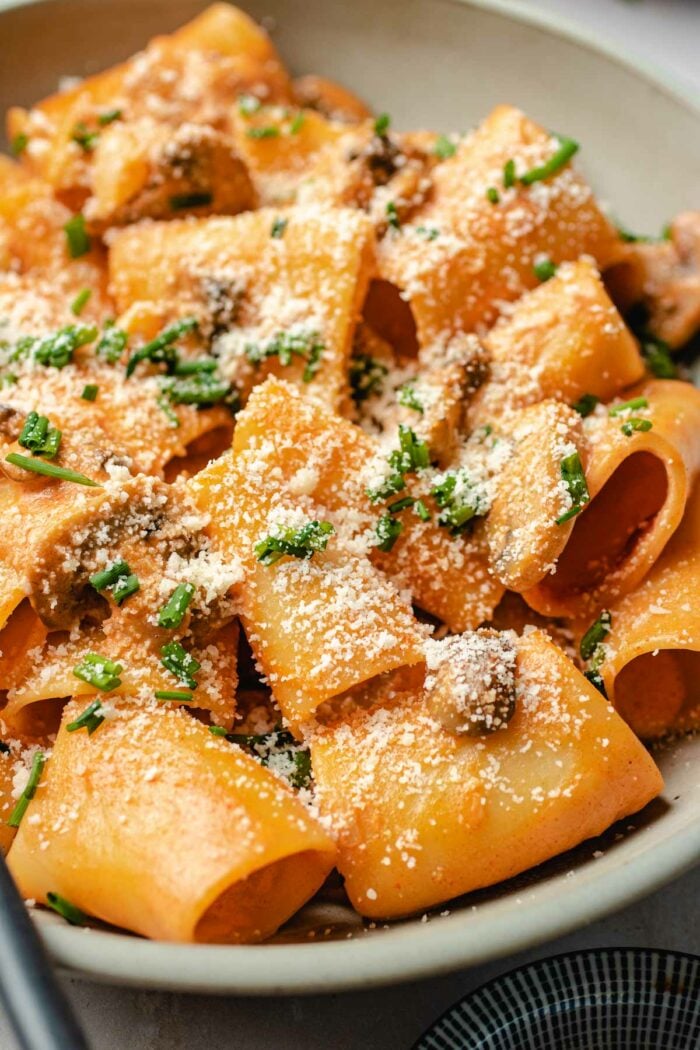 Gochujang pasta recipe
Extra creamy Gochujang Pasta is the Korean take on Italian vodka sauce pasta. Garlicky, cheesy, ultra-creamy smooth, and ready in 20 minutes!
Print
Pin
Rate
Ingredients
8.8 oz Gluten-free paccheri, or rigatoni
1 oz. garlic clove, thinly sliced, 6 large
1 oz. shallot, finely chopped
10 oz. white button mushrooms, or cremini, sliced
3 tbsp olive oil
2 pinches coarse sea salt, or more to taste
2-3 tbsp gochujang paste, or store bought (see notes)
1 cup half-and-half, heavy cream, or dairy-free creamer
1 tbsp butter
Sprinkle grated parmesan cheese, or my cashew parmesan cheese
Sprinkle Chopped chive, or parsley
Instructions
Bring a large pot of water to a boil. Salt the water and follow the package instructions to cook the noodles to al dente.

In the meantime, prepare the garlic, shallot, and mushrooms.

In a large skillet (12-inch), preheat it over medium until it feels warm. Add 2 tbsp oil, garlic, shallot, and a pinch of salt. Saute for 15 seconds.

Add mushrooms, 1 tbsp oil, and another pinch of salt. Saute until the mushrooms turn slightly softer, about 3 minutes.

Push the mushrooms to the side of the pan and add the gochujang paste to the center. Stir and saute for 10 seconds to release the aroma.

Add the milk cream. Stir with a wooden spoon until the paste and the cream are fully incorporated, about 1 minute. Turn off the heat if you are still waiting for the noodles to get boiled so that the sauce is not over reduced

Once the noodles are cooked to al dente, drain the pasta and reserve ¼ cup of noodle water. Add the pasta to the pan, stir, and coat to combine with the sauce for 30 seconds.

Add the butter, continue to stir, and allow it to melt. The butter will give the noodles a shine and the sauce will turn thicker and glossier in about 3 minutes. If it feels dry, add the reserved noodle water.

To serve, transfer the pasta to a large serving plate. Sprinkle with parmesan and chive. Serve hot or warm.
Notes
Feel free to use store-bought gochujang paste. There are many gluten-free versions available but most of them contain corn starch. If you'd like to avoid cornstarch, I found this great one on Amazon from South Korea.
Types of pasta – you can use any types of pasta you prefer – spaghetti, rigatoni, rotini, or penne works great, too.
Boil the noodles to al dente – we finish cooking them in the pan so don't overcook the noodles.
You can also use heavy cream to replace half-and-half for a richer taste. For dairy-free users, I recommend using original-flavored dairy-free creamer.
Save ¼ cup of pasta noodle water. You might not need it to thin the sauce but if you do, use the noodle water.
Be mindful of timing: The sauce and al dente pasta should finish around the same time. If the sauce is done first, turn off the heat so it doesn't reduce too much.
Nutrition
Serving: 1serving, Calories: 312kcal, Carbohydrates: 38g, Protein: 9g, Fat: 14g, Saturated Fat: 5g, Polyunsaturated Fat: 1g, Monounsaturated Fat: 7g, Trans Fat: 0.1g, Cholesterol: 19mg, Sodium: 176mg, Potassium: 351mg, Fiber: 2g, Sugar: 5g, Vitamin A: 212IU, Vitamin C: 4mg, Calcium: 65mg, Iron: 1mg
Made a dish and love it? Please remember to rate the recipe and leave a comment in the comment section below! It helps my blog grow organically so I can continue sharing free and awesome content with you. Thank you!