Creamed Chinese Napa Cabbage (奶油白菜)
Creamed Napa Cabbage Casserole tastes extra juicy and delicious in the cold winter. This Chinese cabbage casserole is economical, easy to make, and great to feed a crowd. With 8 ingredients only, this is the dish beloved by kids and adults all over Asia.
In this post I share two versions of the creamed Napa cabbage recipe – one without dairy which is Paleo and Whole30 and the other version with cheese which is Keto friendly so you can pick-and-choose! What a great way to enjoy sweet Chinese Napa Cabbage a whole new way!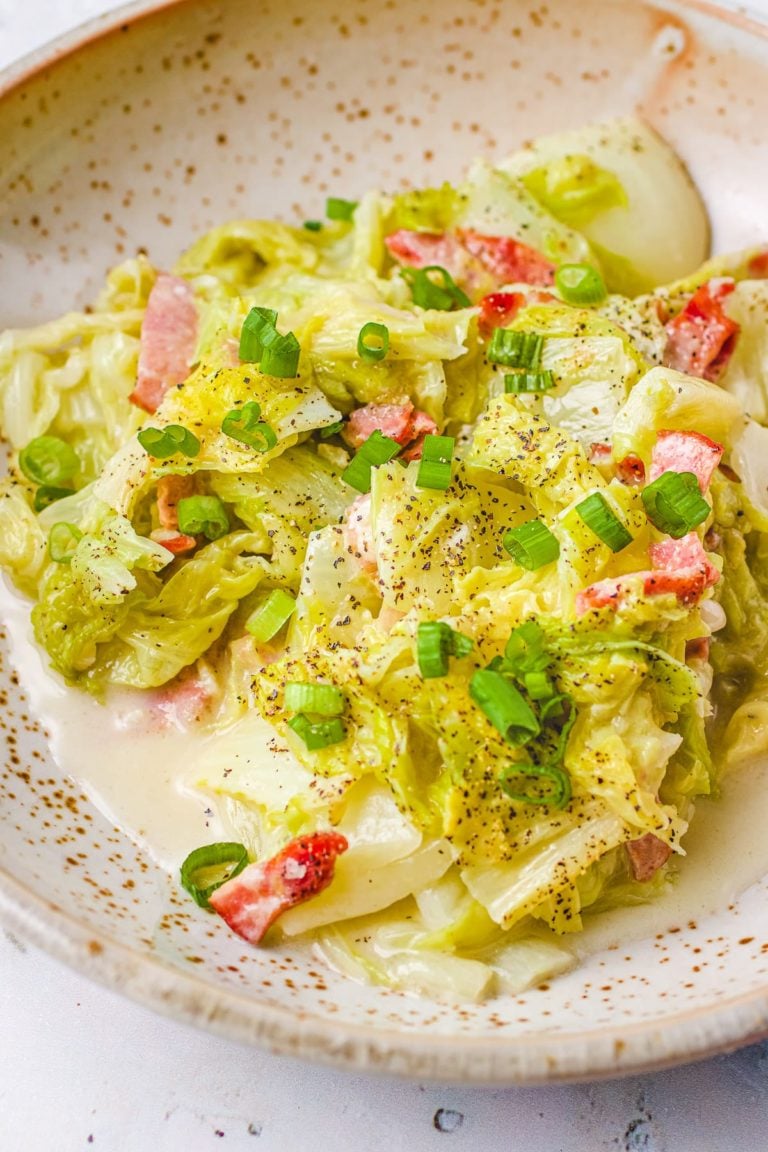 Naturally Sweet and Crisp Napa Cabbage
I love cabbage especially during the winter months. I learn from my family that cabbages, including Chinese Napa Cabbage, taste extra crisp and sweet in cold weather and this is a true fact backed by food science. As a matter of fact, "cold sweetening" is the phenomenon in which the plants turn the starches they have stored over the summer into sugars in the winter to prevent them from freezing therefore when we harvest them in cold weather, these beautiful veggies taste extra crisp and sweet! Learn more about Chinese greens here.
Creamed Napa Cabbage Casserole (奶油白菜)
This Creamed Napa Cabbage Casserole recipe originally is a Shanghainese dish, seasoned with salty ham and green onions. You can use Virginia ham, Southern country ham, or bacon. You can also skip the ham and serve it as a side dish.
It's creamy, naturally sweet, and undeniably delicious. If you love Napa cabbage, this is the Napa Cabbage Casserole dish that you simply cannot miss. And if you are new to Napa, this is a great opportunity to try something new and different. It's one of those very few Western-influenced Chinese dishes that everyone loves and you'll find yourself shoveling bite after bite into your mouth long past the end of the meal!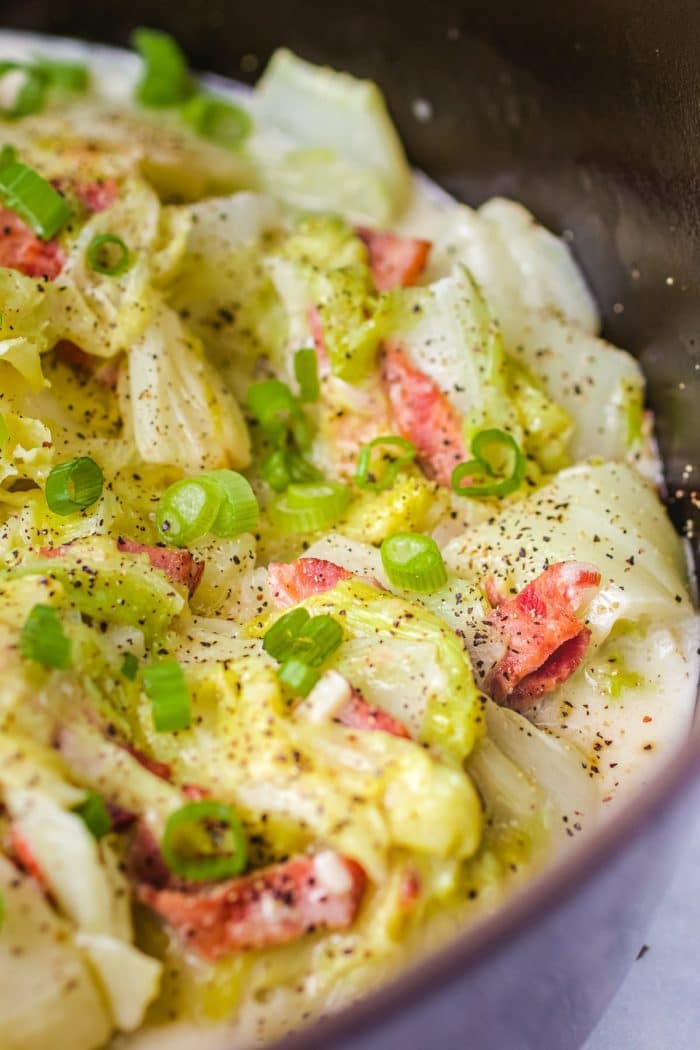 It's not common for Chinese people to cook with dairy and cream because most of us are lactose intolerant so when I discovered that I could use coconut cream to make equally delicious, if not even better, Chinese Creamed Cabbage, I secretly made the version without dairy and gave it to Nate, my husband, for dinner one evening. In my mind, if Nate (who grew up in Montana) loved it chances are my Western audience should love it, too! 🙂
That's just say that he was Mmmmm and Wow the whole time and apparently according to him Chinese Creamed Napa Cabbage Casserole tastes similar to French onion soup (but with less liquid) to him…ha!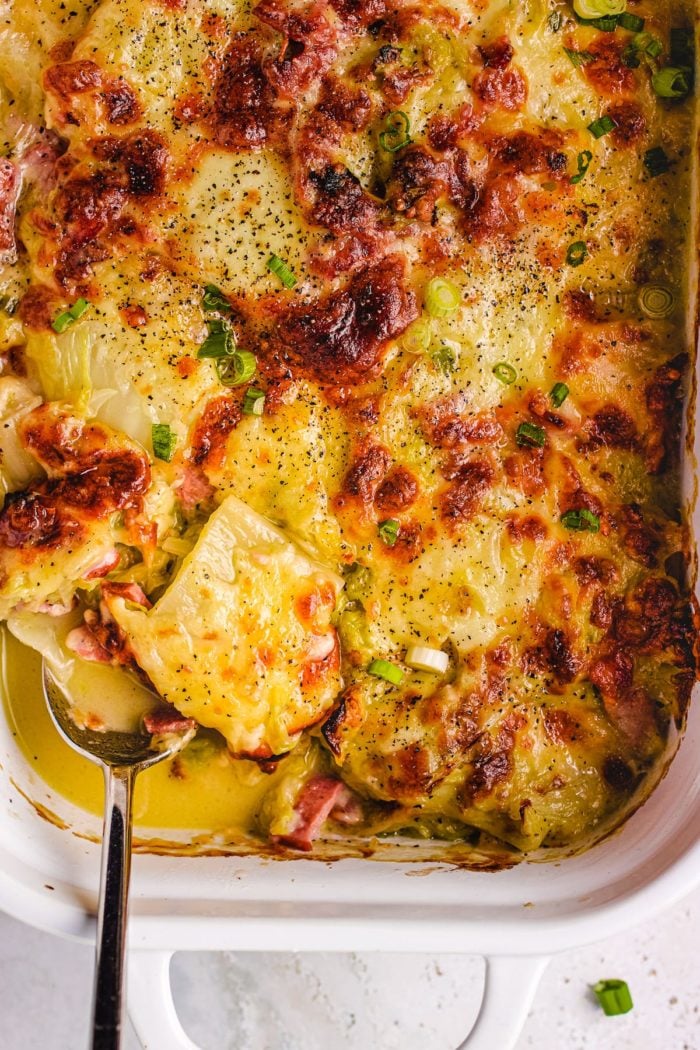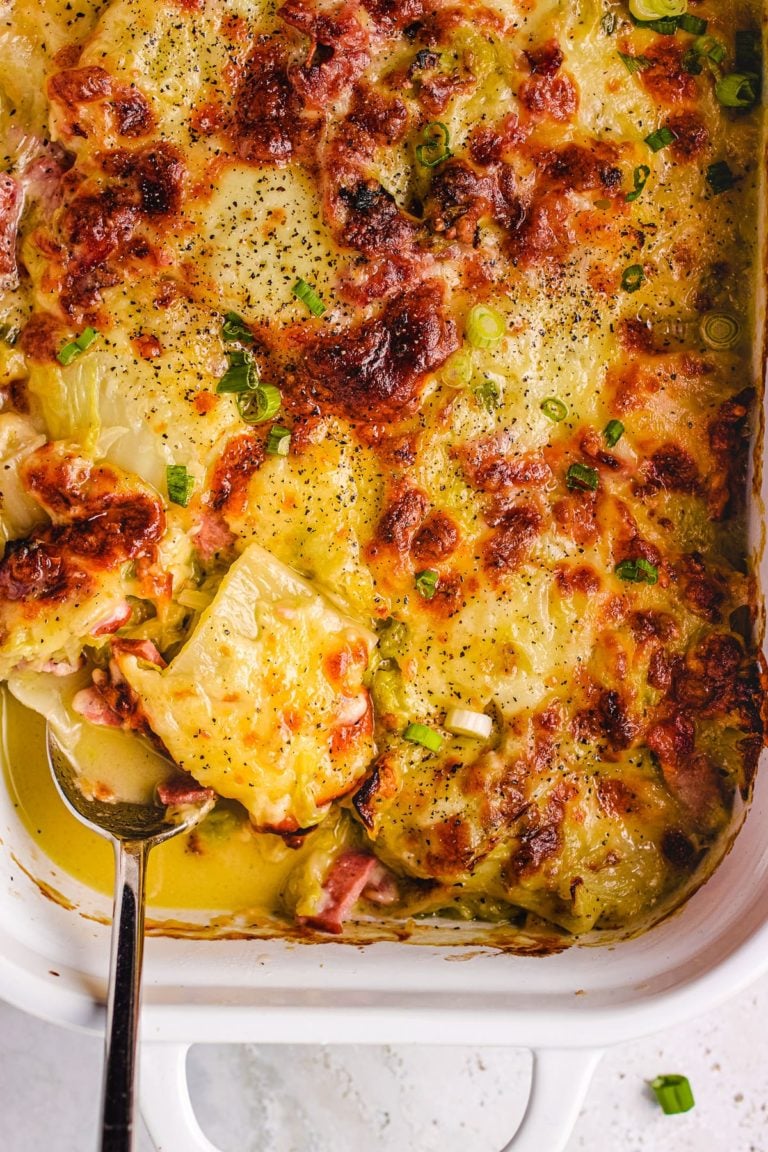 How to make Creamed Napa Cabbage and Casserole (Paleo, Whole30, Keto)
I have two versions to share with you – one without dairy (Paleo and Whole30) and the other version with cheese sprinkled on top to make a cabbage casserole. They follow the same steps so you can easily make a variety.
Dice Napa cabbage and rinse well.
Dice bacon or ham to bite sizes and mince the garlic.
Fry the bacon and garlic with ghee (clarified butter).
Add Napa cabbage and coconut cream.
Once the cabbage turns softer, thicken the sauce with starch of choice.
If adding cheese, spread the cabbage over a casserole baking dish with cheese on top. Bake until golden delicious.
More Paleo Cabbage Recipes –
Pair the Creamed Cabbage with –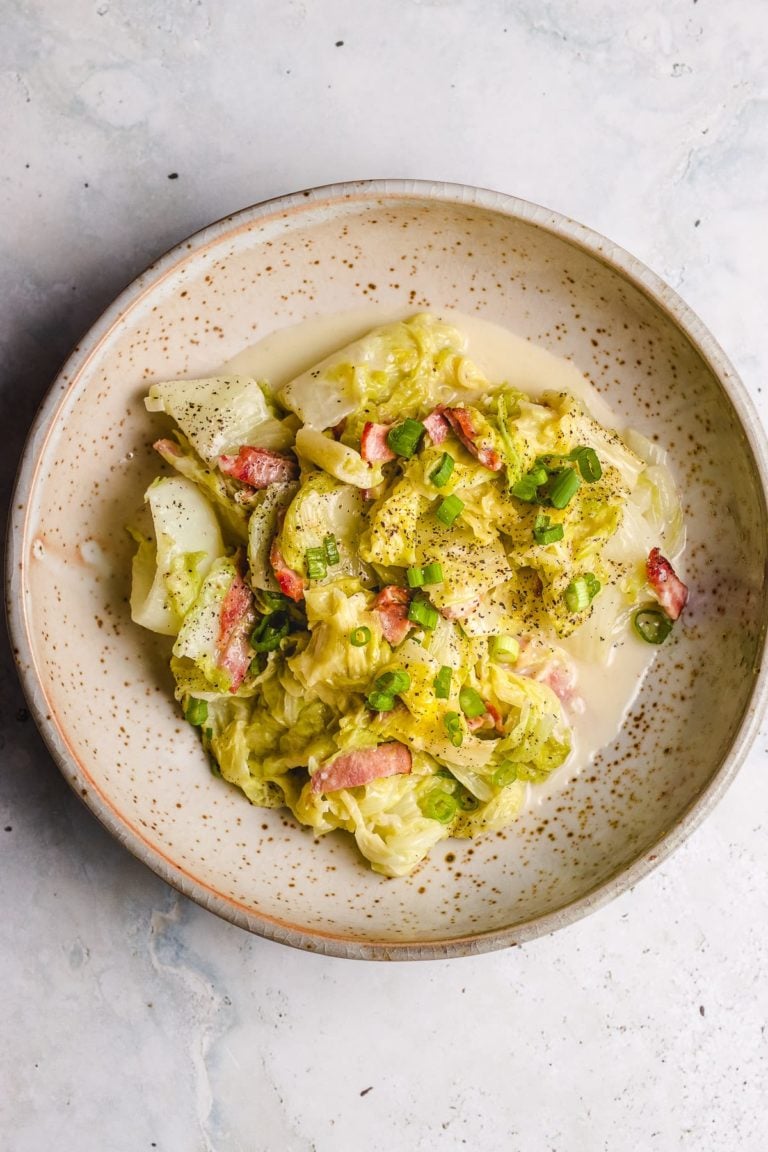 This Chinese cabbage in cream sauce casserole dish is unbelievably delicious. It's one of those dishes that inspires you to keep going back for more. The Napa cabbage is lightly sauteed with ghee and garlic and then simmered in coconut milk cream just long enough for the flavors to meld. This is a simple dish loved by my family which has always been a crowd favorite at potluck suppers. It certainly has earned a spot on my family's dinner table and should have a place on yours, too!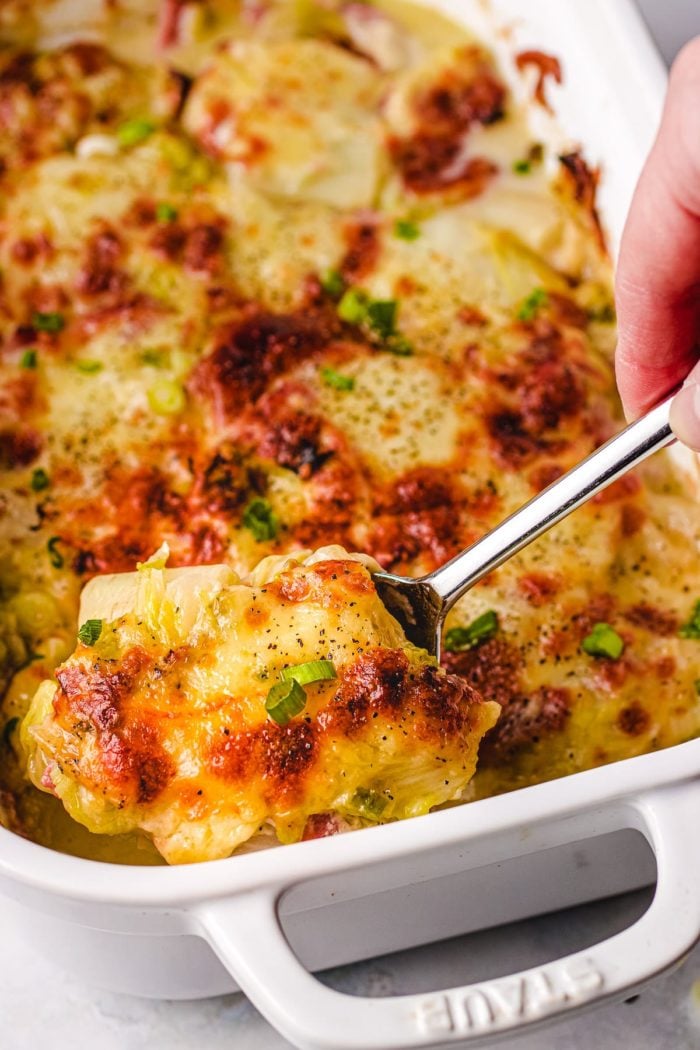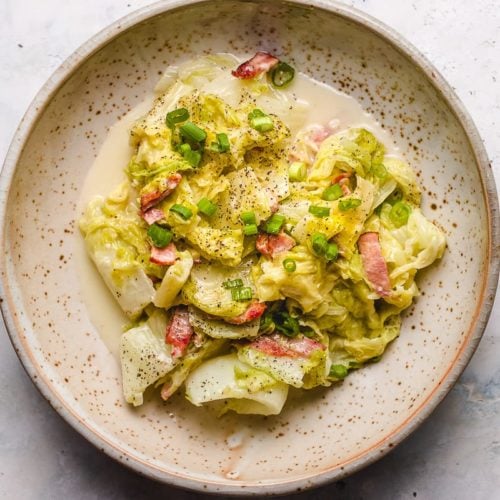 Creamed Napa Cabbage Casserole
Creamed Napa Cabbage Casserole tastes juicy delicious in winter. This Chinese cabbage casserole is economical and easy to make. There are two versions for Paleo/Whole30 and Keto users.
Print
Pin
Rate
Ingredients
2.5 lbs. Napa cabbage
5 pieces Turkey bacon or regular bacon or salted ham
0.5 oz. Garlic clove, finely minced
2 tbsp ghee, or butter
½+1/4 tsp Takii Umami Mushroom Powder, or coarse sea salt
⅛ to 1/4 tsp ground black pepper, plus more for garnish
5.4 oz. coconut cream
2-3 tsp cassava flour, or 2-3 tsp arrowroot starch or 1 tsp xanthan gum
4 oz. shredded mozzarella, optional for cheesy casserole. Omit for whole30
Chopped chives or green scallions, garnish
Instructions
Dice the Napa cabbage stems to 1 to 1.25-inch in width. Dice the cabbage leaves to 2-inch in width. Rinse and set aside to drain.

Dice bacon or ham to bite sizes and finely mince garlic.

In a well-heated wok or Dutch oven, melt ghee and add the bacon. Saute for about 1 minute over medium heat.

Add garlic and saute for 10-15 seconds or until you can smell the fragrance.

Add Napa cabbage. Turn high heat and season with Takii mushroom powder or salt. Saute for about 3 minutes, then cover it with a lid. Lower the heat to medium and cook for about 4 minutes additional or until the cabbage stems turn softer but not mushy.

Stir-in the coconut cream and turn heat to medium-high. Once the cream is melted and starts bubbling, sprinkle in thichner of choice 1 tsp a time (Cassava, arrowroot, or xanthan gum). Keep stirring and tossing to mix the thickener with the sauce. The sauce should become thicker in about 1-2 minutes.

Off heat. Taste and adjust with more salt and black pepper if desired. Sprinkle chives or scallions. Serve warm.

If adding cheese to make a casserole dish. Preheat oven to 400F for convection oven or 425F for regular oven (without the fan). Pour the cabbage into a medium size casserole dish and sprinkle the cheese evenly on top. Bake for 10-15 minutes or until the top is golden brown color. Serve hot or warm.
Notes
You can also use Virginia ham or Southern country ham to replace bacon. If no meat, season with more salt to taste.
In my experiment, cassava flour lands the most delicious cream sauce flavor if you are okay with a bit higher carb count.
I recommend using a 6-quart Dutch oven or an oven safe wok pan that's large enough to hold the cabbage volume until it cooks down a bit.
The nutritional label is calculated with cassava flour. 
Nutrition
Serving: 1serving, Calories: 341kcal, Carbohydrates: 16g, Protein: 12g, Fat: 28g, Saturated Fat: 20g, Cholesterol: 43mg, Sodium: 262mg, Potassium: 835mg, Fiber: 4g, Sugar: 4g, Vitamin A: 1093IU, Vitamin C: 79mg, Calcium: 376mg, Iron: 2mg
Also check out Creamy Chicken Mushroom Casserole and my Creamy Ham and Potato Soup!