Korean Zucchini Side Dish
This Korean Zucchini Side Dish (also known as hobak bokkeum, or stir-fried zucchini) is a simple and healthy Korean classic that will please even your pickiest eaters! Light, crunchy, and refreshing, this popular "banchan" (side dish) is vegan-friendly, simple to make, and uses just a few ingredients.
This garlicky homestyle dish tastes even better the next day, making it perfect for meal prep. For a delicious Korean-style feast, serve it with my Vegetarian Bibimbap and Zucchini Carrot Fritters!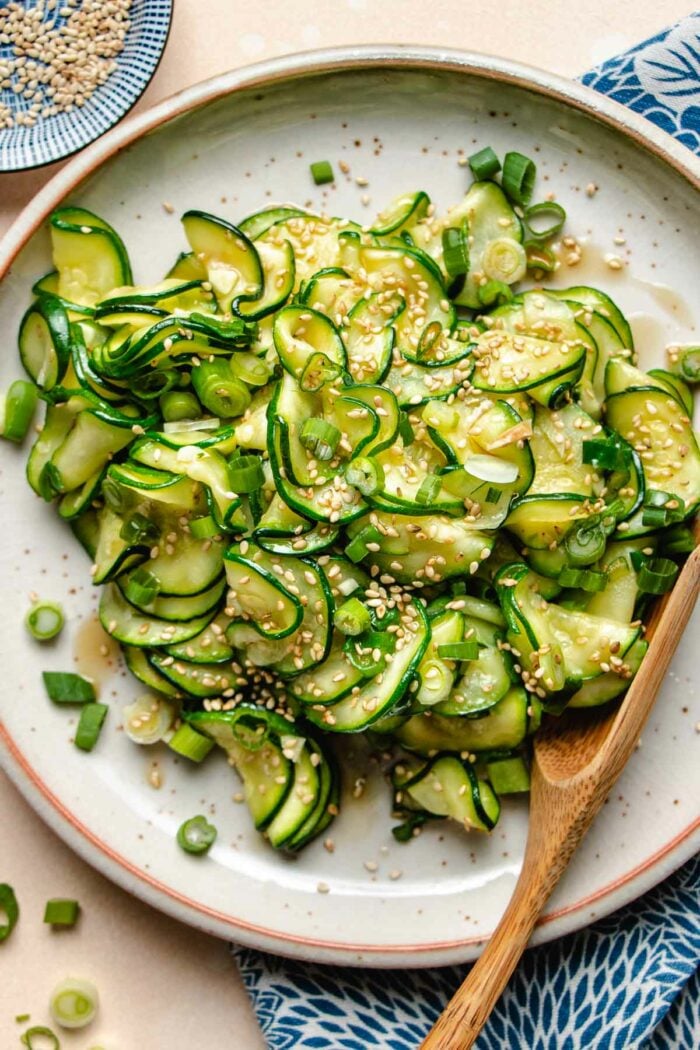 Why this will be your go-to side dish
This Korean zucchini dish could take home the gold! It's a simple yet delicious side that delights the tastebuds and gets along well with others (other dishes, that is). Why you'll love this Korean zucchini recipe:
So Simple: Not only is it easy to make, but it uses just a handful of common ingredients.
Flavor and Texture: It's crunchy and refreshing, garlicky with a touch of sesame, and tastes even better when it's chilled. Eating it is a sensory experience!
Nutritious: Zucchini is packed with vitamins, minerals, and nutrients! This vegan-friendly recipe uses minimal ingredients that pack a healthy punch.
What is hobak bokkeum?
Before we get into the ingredients for this Korean squash recipe, let's learn a few helpful Korean terms.
The Korean name of this banchan (or side dish) is hobak bokkeum or hobak namul.
Hobak = zucchini
Bokkeum = stir-fried
Namul = vegetable side dish
Hobak can mean pumpkin as a general term. I use regular zucchini for this recipe but traditionally, Korean squash (zucchini), called Aehobak is used. Aehobak looks very similar to zucchini and has a thinner skin and more tender, juicy flesh.
Tip: When you google the name of this dish you might also see Hobak jeun (or hobak jun) – a fried side dish of Korean zucchini fritters that's different from our stir fry version.
Ingredients
I promise, this zucchini banchan could not be simpler! Here's what you need to get started: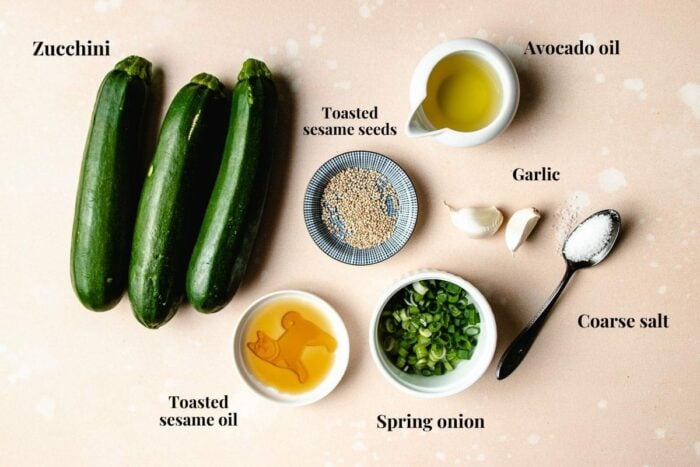 Zucchini, Garlic, and Green Onion
Coarse sea Salt
Avocado and Sesame Oil
Toasted white Sesame Seeds
Ingredient substitutions
Korean zucchini – I use regular zucchini, but traditionally, Korean zucchini (aehobak) is used. If you can find it, give it a try! Its delicate flesh is slightly sweeter.
Scallions – These can be used in place of the more pungent green onions if you prefer. The two are quite interchangeable and are often considered the same thing.
Cooking oil – untoasted sesame or olive oil can be used in place of avocado oil for stir-frying.
How to make the dish
It may look like this Korean fried zucchini requires a lot of work, but all the steps are super simple. After prepping the zucchini, it has a cook time of only one minute (Yes, ONE!)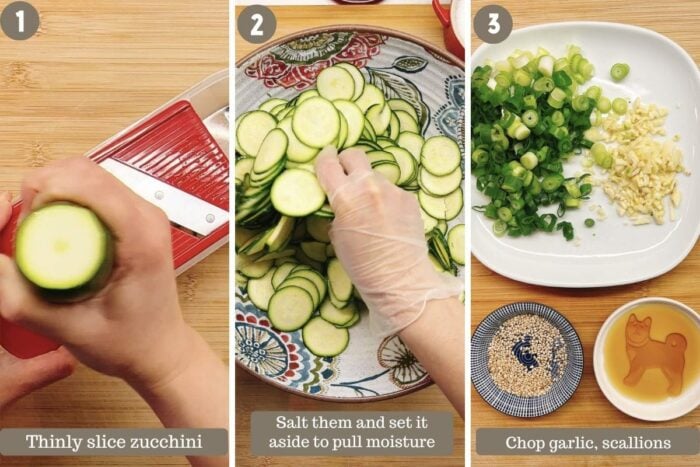 Thinly slice the zucchini (I use a mandoline for speed and precision.)
In a bowl, salt the zucchini, use your hand to rub it in and set it aside to pull out excess moisture
Mince garlic and chop green onion
Use your hands to squeeze out extra water from the zucchini
Sauté in a skillet for one min on medium to medium-high heat
Add garlic, green onion, sesame oil, and sesame seeds. For best results, chill before serving
Tips on slicing the zucchini
Easy slicing: Use a mandoline for easy, consistent slicing.
Thickness: The zucchini rounds should be less than a quarter-inch thick per disk. (Too thin, they will turn mushy. Too thick, they will hold too much moisture.)
Variations
Korean zucchini recipes are magical because although they are so simple, they look and taste just beautiful. And they're easy to make your own! Here are a few traditional variations for this Korean zucchini salad:
Make it spicy: Add gochugaru (Korean red pepper flakes) or jalapeño, or mix it in my Paleo Gochujang sauce after chilling.
Seasoning: Fish sauce is a common ingredient in this dish. You can use soy sauce (Remember to use less salt.)
Add saeujeot: These tiny salted and fermented shrimp are traditionally used in this dish. (Be aware, these have a strong fermented taste and are high in sodium.)
Serving suggestions
Korean cuisine (or "K-food") typically includes rice, vegetables, seafood, and some meat. Oh, and kimchi at every meal!
Here are some suggestions to turn your Korean fried zucchini into a full-on K-feast.
For protein options, try pairing it with my Kimchi Chicken or Kimchi Beef recipe. Another great option is my Whole30 baked salmon — yum!
Did I mention kimchi is served at every meal? My Keto Kimchi Pancake and Gluten Free Kimchi recipes are definitely part of a balanced K-diet!
Common FAQ
What does Korean zucchini taste like?
Korean zucchini, or aehobak, is similar to regular zucchini. It has lighter green skin, more delicate flesh, and a slightly sweeter flavor.
What is the famous Korean side dish
There are many banchan, or side dish, options in Korean cuisine. Some of the most common are kimchi, bean sprouts, spicy cucumber salad, and Korean zucchini pancake.
Is zucchini good for you?
Zucchini is packed with many important vitamins and minerals, like Vitamin A, Vitamin C, Potassium, and Calcium. It's high in fiber and low in calories and carbohydrates. (Source)
Storage and make-ahead
This Korean pan fried zucchini actually tastes better after it's chilled in the fridge. So yes, it can and should be made ahead of time! Stored in an airtight container in the refrigerator, it's freshest when served within 2 days but will last up to 4 days.
Umami Tips
Use a mandoline: For easy and consistent slices, uses a mandoline to cut the zucchini.
Salt and wring out the zucchini: This step is important to remove extra moisture (and lots of it) from the squash before cooking.
Chill before serving: This dish tastes even better after it's chilled, making it perfect for meal prep! Serve cold or at room temperature.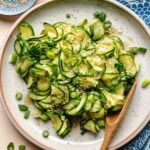 Korean zucchini side dish recipe
Korean zucchini side dish (hobak bokkeum or hobak namul) with stir-fried Korean zucchini is crunchy & refreshing. An easy-to-make side dish!
Print
Pin
Rate
Ingredients
30 oz zucchini, 4 medium size
2.5 tsp coarse sea salt
0.4 oz garlic clove, 2 large cloves
2 bulb green onions, chopped, plus more for garnish
1 tbsp avocado oil
2-3 tsp toasted sesame oil, plus more for garnish
1 tbsp toasted white sesame seeds, plus more for garnish
Instructions
Trim away both ends of the zucchini and use a mandoline slicer to slice the zucchini into thin and round discs.

In a large mixing bowl, add the zucchini slices and sprinkle in salt and use your hands to gently rub the salt evenly into each slice. Set it aside for about 20 minutes. This will pull out excess moisture.

In the meantime, finely mince the garlic and chop the scallions.

After 20 minutes, Use your hands to gently squeeze out extra water from the zucchini and set it aside on a large plate.

In a large saute pan, preheat it over medium heat until it feels warm. Add the avocado oil and turn the heat up to medium-high, add the zucchini and saute for 1 minute.

Add the garlic, green onions, and sesame oil and seeds, saute for 1 minute and turn off the heat.

Transfer the zucchini onto a large serving plate and garnish with more scallion, sesame seeds, and oil. Serve at room temperature or chilled.
Notes
This dish tastes even better after it's chilled, making it perfect for meal prep! Serve cold or at room temperature.
Nutrition
Serving: 1serving, Calories: 68kcal, Carbohydrates: 5g, Protein: 2g, Fat: 5g, Saturated Fat: 1g, Polyunsaturated Fat: 1g, Monounsaturated Fat: 3g, Sodium: 981mg, Potassium: 385mg, Fiber: 2g, Sugar: 4g, Vitamin A: 287IU, Vitamin C: 26mg, Calcium: 40mg, Iron: 1mg
Made a dish and love it? Please remember to rate the recipe and leave a comment in the comment section below! It helps my blog grow organically so I can continue sharing free and awesome content with you. Thank you!