Hearty Chinese Egg Drop Soup (Paleo, Whole30)
Paleo Hearty Chinese Egg Drop Soup – a modern twist to the traditional Chinese Egg Drop Soup that's Whole30 and Keto friendly!
I'm surprised that before this week it hadn't occurred to me to share this simple yet super flavorful Paleo Hearty Egg Drop Soup with you.
Egg drop soup is such a common item in many Asian households and if you travel to Asia – especially China, Taiwan, Hong Kong – Egg drop soup is often a complimentary item almost like an appetizer soup to get your stomach settled before the food comes.
Each household and region has a slightly different take on the egg drop soup. Some like to use chicken broth, while some use vegetable broth.
In Taiwan, people love adding chopped tomatoes to the broth for a touch of citrus.
I decided to make this soup more hearty so that when you are hungry after work, a bowl of hearty Chinese egg drop soup is very quick to put together and will fill you up in a hurry.
I use a store-bought chicken broth with low sodium. If you use homemade chicken stock – kudos to you ! -, please adjust the salt quantity and start by adding a small pinch of salt first because you can always add more but not the other way around !
In the video, I share how to make the most fluffy and beautiful egg drops with one simple technique and this iconic Chinese soup dish is low carb, Paleo, and Whole30!
Watch the 1-minute video below because I really want you to enjoy the most beautiful and hearty egg drop soup. Can you imagine your family's face when you bring out the soup ?!?
P.s. If you are on pinterest, click the Pinterest bottom to the left side of your computer screen (or to the top of your screen if you are on a mobile). There are hidden long and beautiful pinterest only images waiting for you to pin and discover ! 🙂
More Healthy Asian Soup Recipes!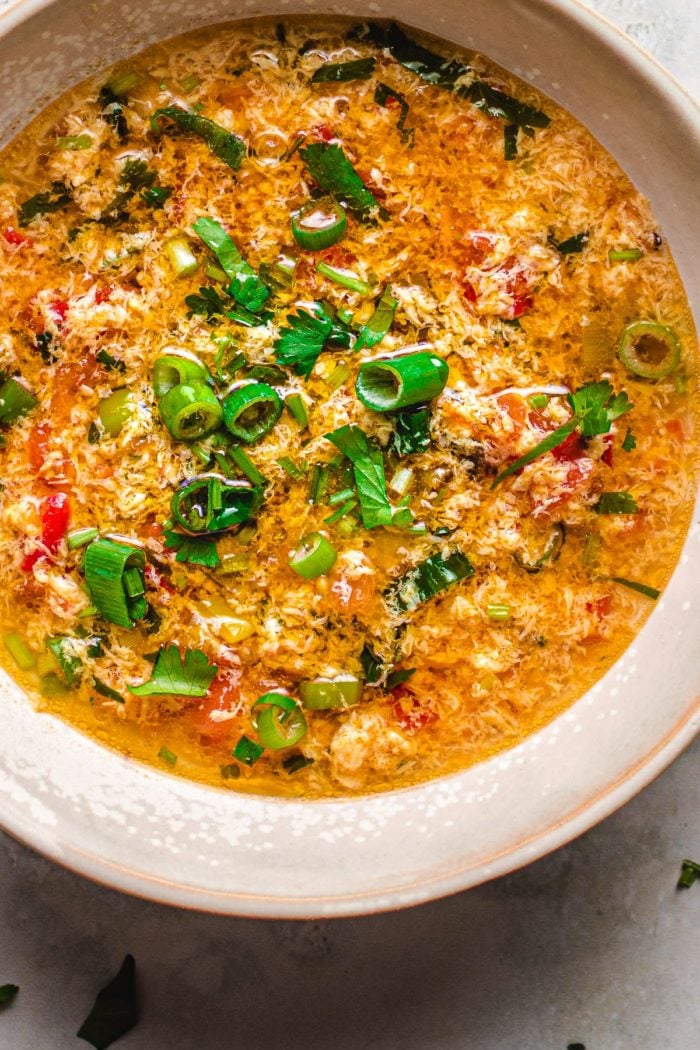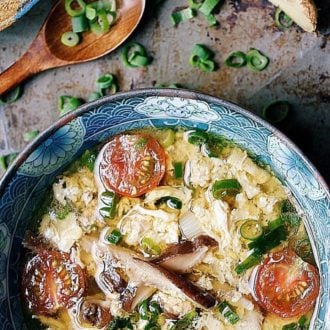 Paleo Hearty Chinese Egg Drop Soup
Paleo Hearty Chinese Egg Drop Soup ! Learn how to make the most beautiful and fluffy egg drops every single time ! Delicious Chinese egg drop soup that's very quick and easy to prepare. It will keep your tummy full and happy !
Print
Pin
Rate
Ingredients
⅓ to ½ lb ground chicken
3 large eggs
1 tsp minced ginger
2 stalks scallions, chopped & separate white and green parts
1 cup fresh shiitake mushrooms, sliced, or more if you like
3 cups chicken stock
1 tbsp coconut aminos
¼ tsp cumin powder
Cherry tomatoes, optional
Sesame oil
1 tsp ghee, saute use
Salt to taste
Instructions
Saute minced ginger, white parts of scallions with 1 tsp of ghee until fragrant.

Add ground chicken and sliced shiitake mushrooms. Saute until the meat is cooked through and the mushrooms turn soft. Season with salt to taste.

Add 3 cups of chicken stock + 1 tbsp coconut aminos + ¼ tsp cumin powder. Bring the broth to boil.
To make egg drops:
Gently whisk 3 eggs for about 30 seconds in a separate bowl. (try not to over whisk the eggs).

Put chopsticks (or a fork) against one end of the bowl. Slowly drizzle eggs into the boiling soup in a swirling motion.

Let the eggs cook for a few seconds in the soup pot without stirring, and then gently whisk the eggs and broth to finish cooking.

Add cherry tomatoes (optional) and serve with green parts of scallions and sesame oil.
Nutrition
Calories: 218kcal