Rice paper noodles
Rice paper noodles are a fast, simple, and economical dish that tastes surprisingly delicious! All you need is a bowl of water and a few rice paper sheets. There's no need to even turn on the stove to create these rice sheet noodles! They're soft and toothsome with every bite you take.
If you're seeking a late-night snack or a quick dinner these rice noodles are naturally gluten-free and will hit the spot! And, if you need to use up the remainder of your rice paper, check out my rice paper dumplings and rice paper egg rolls.
Ingredients
Are you wondering how on earth chewy rice paper can create the perfect noodle? Look no further! Turning rice paper into noodles is actually a breeze and creates a divine treat using very few ingredients. With little clean-up and lots of flavor, here's exactly what you'll need to create this recipe: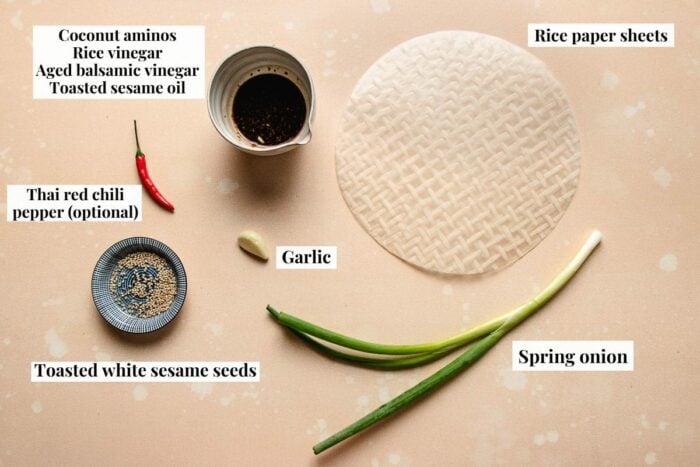 Coconut aminos: This is a soy sauce substitute for people who are sensitive to gluten.
Rice vinegar: This vinegar is mildly sweet with a bit of tang.
Aged balsamic vinegar: This has a naturally sweeter taste than regular balsamic vinegar.
Garlic: I recommend using fresh garlic cloves.
Avocado oil: A neutral-flavored oil that pairs well with the flavor of gluten free Asian noodles.
Rice paper sheets: You can conveniently buy them in Asian grocery stores.
Green onion, toasted sesame seeds, sesame oil: My top choice for garnishes for this dish.
Thai red chili pepper: Optional if you want more flavor and a bit of spice.
Ingredient substitutions
Other types of noodles: Feel free to use ramen noodles, rice noodles, or for a low-carb option, check out my kelp noodles.
Soy sauce: If using soy sauce, start with ½ tbsp soy sauce mixed with 1 tsp coconut brown sugar. See my Chinese pantry staples for more gluten-free options.
Chilli pepper choices: Looking for spicy rice paper noodle options? You can also use red pepper flakes or Korean gochugaru to enhance the heat.
Flavor variations
How to make the dish
This gluten free rice noodle recipe is super simple! Use the step-by-step instructions below to create a decadent and magical flavor from the bland and neutral taste of rice noodle paper.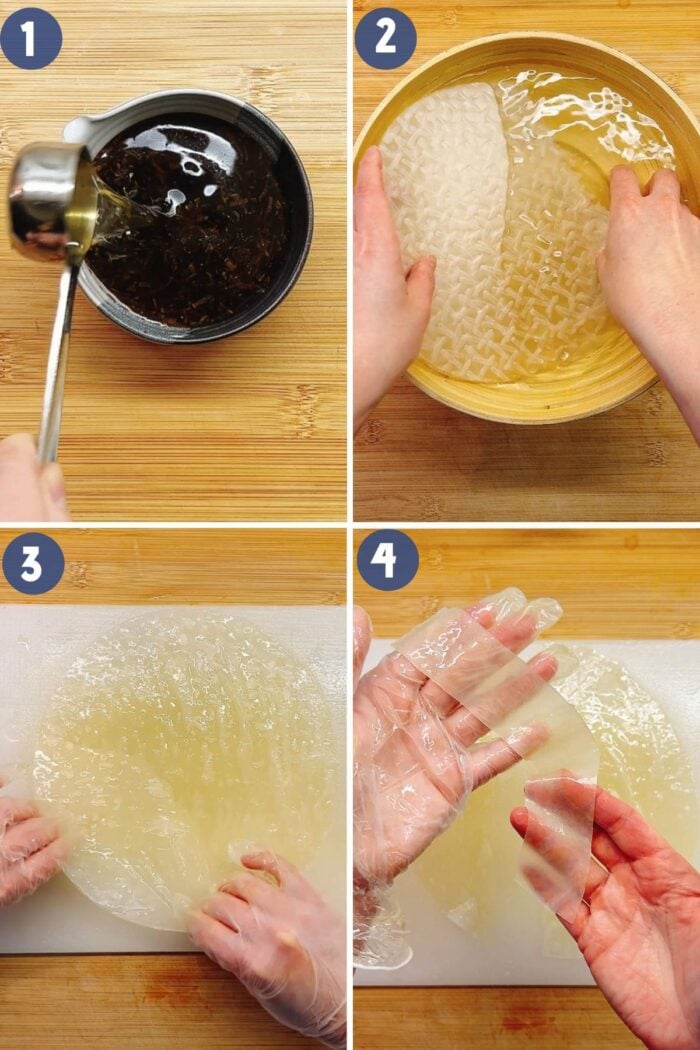 In a small bowl, combine the sauce ingredients: coconut aminos, rice vinegar, aged balsamic vinegar, and garlic. Lightly grease a large chopping board with oil.
Fill a large bowl with room-temperature water. Stack 3 rice paper sheets and dip into the water for 10 seconds; lightly press to adhere. Once the rice sheets become translucent, remove them from the water.
Place soaked rice sheets onto the greased chopping board. Grease both sides of the sheets using the oil on the board.
Create wide noodles by cutting each into 6 pieces. To do this- slice in half, then slice each half into strips of 3. Place the noodles, one by one, into a medium serving bowl.
Pour the sauce over the noodles and toss to combine. Garnish with scallions, toasted sesame oil, sesame seeds, and red chili pepper. Serve right away at room temperature.
How to use rice paper
Rice paper can be tricky to work, but practice makes perfect. Common issues that occur for people include: the sheets ripping apart, becoming too sticky, or the texture becoming chewy. Here are some recommendations:
Brief soaking: Be very gentle when soaking and handling the sheets to prevent ripping. Give them a quick 5-10 second dip at room temperature water to soften slightly. Don't oversoak or they'll be stick together. Oversoaking makes the rice sheet gummy in texture.
Grease the work surface: Lay the soaked wrapper flat on a lightly greased cutting board or work surface. This will prevent the rice wrapper from sticking to the surface and tearing apart. This method is great for making rice sheets into noodles.
Lightly moisten the work surface: If using to make Vietnamese spring rolls (fresh spring rolls), lay the soaked wrapper flat on a slightly moistened work surface as you add the filling and roll.
If rice paper sheet breaks apart, try double-wrapping with two overlapped sheets. This is particularly helpful when you make rice paper dumplings.
With some trial and error, you'll get the hang of working with delicate rice papers. The results are totally worth it!
How to make ahead, store, reheat
Make-head: This recipe creates the absolute best gluten free asian noodles in only ten minutes! So, making ahead of time isn't necessary. However, if you're looking for ways to save time, you can certainly make the sauce ahead of time.
Store: To store leftovers, pack the sauce and noodles in separate storage containers. It is always best to eat right away for the best texture because the noodles can harden once refrigerated.
Reheat: To soften leftovers, briefly add the noodles to a bowl of warm water. Be sure not to leave them too long or they will become mushy.
---
What to serve it with
Who knew you could make such decadent noodles with rice paper in only a few short mins? Nearly all the main courses this website offers will pair brilliantly with these quickly crafted noodles. Check below for a list of recipes that offer a symphony of flavors and textures to elevate your culinary adventure.
Umami Tips
Don't oversoak the rice paper sheets: Do not oversoak your rice paper sheets. Give them just a quick dip to soften slightly as they'll continue to soften and become pliable after removing from the water.
Grease the cutting board: Lightly grease your cutting board with avocado or olive oil before laying out the rice paper sheets to prevent the noodles from sticking to the board, or to each other.
Use a very sharp knife or pizza cutter to cut the rice paper sheets into noodles. Cut them the desired width quickly as they'll dry out fast.
Stack 3 sheets only: Work with a stack of 3 sheets at a time. This creates the perfect rice noodles that aren't too thick or too thin.
Slicing into wide noodles: To prevent clumping, gently separate the noodles once cut.
If the noodles start to stick back together, you can gently pull them apart using your fingers and drizzle with olive or sesame oil. The oil on the cutting board will also help minimize sticking.
FAQs
What is rice paper made out of?
Rice paper is made from a mixture of rice flour and water that is steamed to cook the starch, then spread very thin and dried into translucent, paper-like sheets. High-quality rice paper contains only rice flour and water, while lower-quality versions may have added starches. The neutral flavor allows it to take on the flavors of other ingredients. When rehydrated, iy becomes soft and pliable for uses like wrapping ingredients or cutting into noodles.
What are Chinese rice noodles called?
Chinese rice noodles, called mínfen (米粉) or héfěn (河粉), come in many delicious forms. Thin and delicate mínfen are rice vermicelli noodles that can be used in soups or stir-fries. Héfěn are wider, flat rice noodles that provide a chewy, bouncy texture. As a gluten-free alternative to wheat noodles, they offer a refreshing, lighter fare for any Asian-inspired meal.
Are rice paper noodles healthy?
Yes, rice noodle paper can be a healthy option. They are low in fat, cholesterol-free, and gluten-free. Rice paper noodles provide fiber, B vitamins, and minerals like iron and magnesium. Portion size matters as they're high in carbohydrates. Overall, they are a nutritious alternative to traditional wheat pasta, especially for gluten-free users.
Can I use rice paper instead of rice noodles?
Yes, you can use rice paper instead of rice noodles in some dishes. Soak the rice paper sheets briefly to soften. Then, cut into noodle-like strips or shreds using a knife. The rice paper will mimic the texture of rice noodles but may be more delicate. Use rice paper strips right away before they dry out and stick together.
Where to buy rice paper wrappers?
Rice paper wrappers can be found in the Asian food section of many major grocery stores. Look for Three Ladies or Three crabs, as they are both a favorite brand. Asian markets will have a wide selection of rice papers and spring roll wrappers from different regions. You may find rice papers labeled as spring roll wrappers, summer roll wrappers, or just rice papers. Well-stocked supermarkets like Whole Foods also carry various rice paper brands. Rice papers can be round or square and come in different thicknesses. Once opened, store in a dry and cool place in a sealed bag to keep the moisture out.
More recipes made with gluten free rice noodles
Looking for more delectable dishes made with gluten free rice noodles? Check out some similar dishes I've created. You won't be disappointed!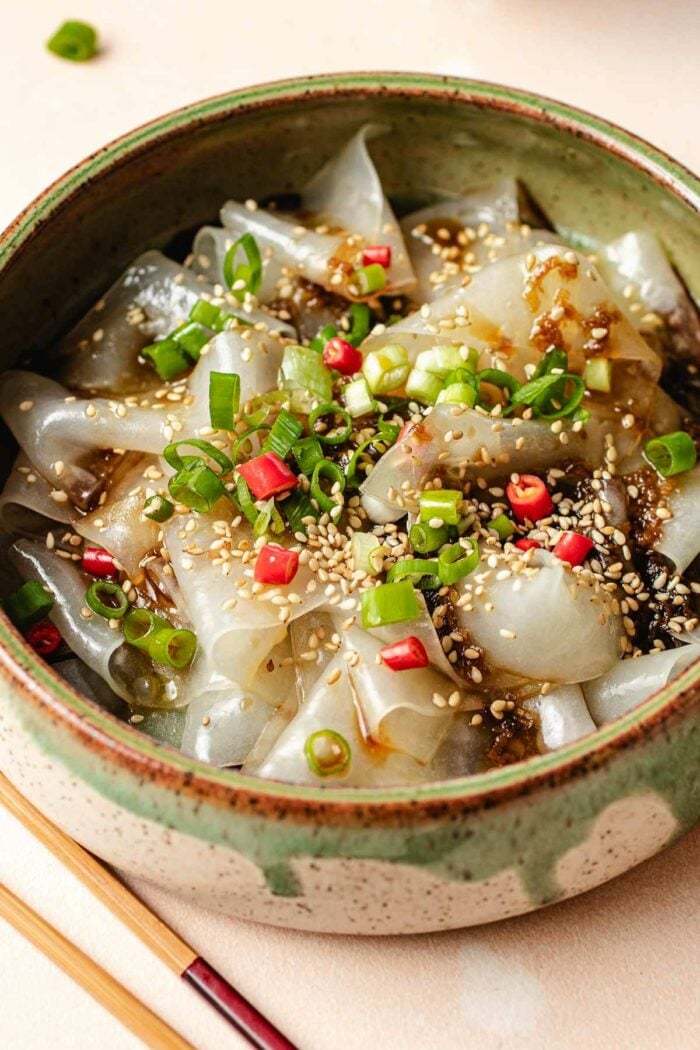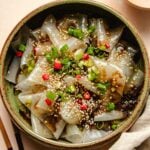 Rice paper noodles recipe
Chewy rice paper noodles made with gluten-free rice paper sheets are a simple no-cook dish-water, oil, and rice wrappers – just add your favorite sauce and serve!
Print
Pin
Rate
Ingredients
Rice paper noodles:
Drizzle avocado oil , or light olive oil
6 sbeets rice paper sheets, 8.5-inch diameter( 21.5cm) round shape, divided
1 bulb scallion, chopped
1 tsp toasted sesame oil
Sprinklle Toasted white sesame seeds
1 whole Thai red chili pepper, sliced, or 2 small pinches gochugaru flakes, optional
Instructions
In a small bowl, combine the sauce ingredients from coconut aminos to garlic. Lightly grease a large chopping board with oil.

Find a large bowl that's wide enough to soak the rice paper sheets and fill it wiith room temperature water. Stack 3 rice paper sheets together and dip them into the water for 10 seconds, lightly press to adhere. As soon as you see the rice sheets turn into translucent color, remove them from the water. The rice paper sheets will seem firm at first but they will continue to soften as you slice.

Immediately place the soaked rice sheets onto the greased chopping board and use the oil on the board to grease both sides of the rice sheets. This will prevent the rice paper from sticking to each other so don't skip this step.

Cut the rice paper into 6 pieces of wide noodles – slice it in half from the middle, then divide each half into 3 stips.

Place the noodles pice-by-pice into a medium serving bowl. Repeat the process to prepare the second batch.

To serve, add scallions, toasted sesame oil, sesame seeds, and red chili pepper, if using. Pour-in the sauce and toss to combine. Serve right away at room temperature.
Notes
If using soy sauce, start with ½ tbsp soy sauce mixed with 1 tsp coconut brown sugar.
Please do not oversoak the rice paper sheets, they will continue to soften after dipping in the water.
Grease the cutting board with either olive oil or avocado oil so that the noodles won't stick to the cutting board and they are less likely to stick to each other.
This recipe is very versatile. Feel free to experiment and use your own favorite dressings/sauces.
Nutrition
Serving: 1serving, Calories: 81kcal, Carbohydrates: 8g, Protein: 1g, Fat: 4g, Saturated Fat: 1g, Polyunsaturated Fat: 2g, Monounsaturated Fat: 2g, Cholesterol: 1mg, Sodium: 306mg, Potassium: 25mg, Fiber: 0.2g, Sugar: 1g, Vitamin A: 11IU, Vitamin C: 1mg, Calcium: 10mg, Iron: 0.3mg
Made a dish and love it? Please remember to rate the recipe and leave a comment in the comment section below! It helps my blog grow organically so I can continue sharing free and awesome content with you. Thank you!