Cauliflower Gnocchi with Crispy Prosciutto and Brown Butter Sage Sauce
Trader Joe's Cauliflower Gnocchi with brown butter sage sauce and crispy prosciutto makes an excellent paleo and gluten-free weeknight meal. With a crisp crust outer and soft pillowy center, I'll show you how to make the best cauliflower gnocchi recipe easy, fast, and no thawing required!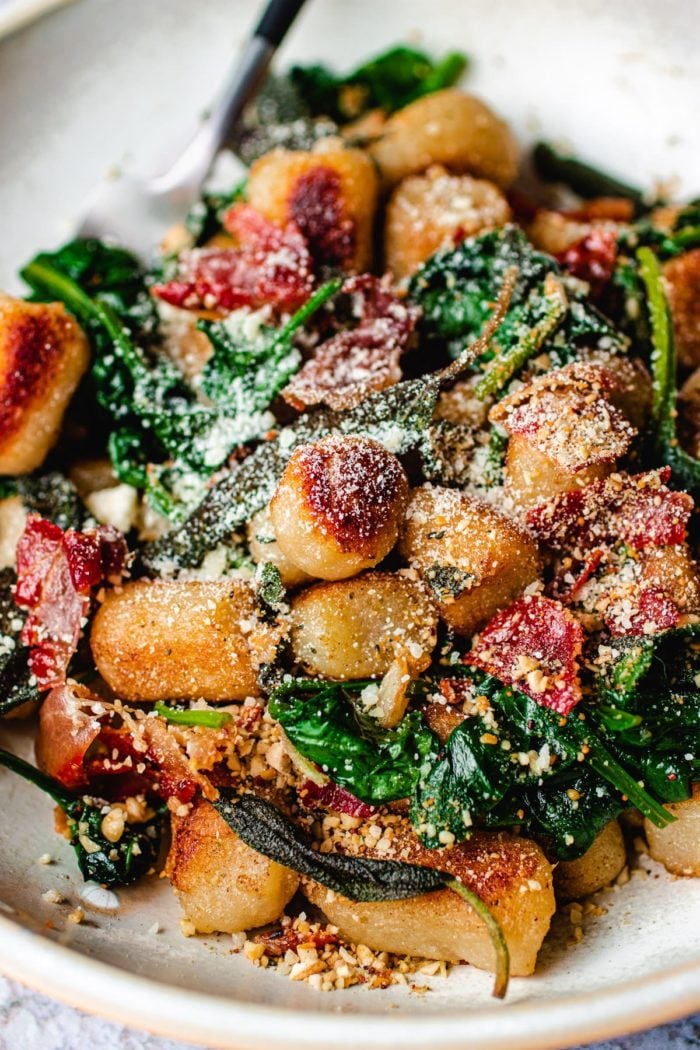 Trader Joe's Cauliflower Gnocchi
I love gnocchi and Trader Joe's frozen version has been on my to-make lists for a long while. I was super happy to finally get my hands on trying these gnocchi babies. In this post, I share my experience on how to work with Trader Joe's frozen cauliflower gnocchi for the best texture and flavor. No mushy and soggy gnocchi here. Just golden crisp outer and soft pillowy inner yummy goodies.
Ingredients in Trader Joe's Cauliflower Gnocchi
Cauliflower
Cassava flour
Potato starch
Sea salt
Extra virgin olive oil
The gnocchi don't contain wheat, dairy, sugar or eggs. These cauliflower gnocchi are Paleo friendly. With about $3 per bag, it's a great way to sneak-in extra servings of veggies.
Nutrition facts in cauliflower gnocchi v.s. potato gnocchi
1 cup of cauliflower gnocchi has 140 calories and 22 gram of total carbohydrate whereas 1 cup of potato gnocchi has 250 calories and 52 gram of total carbohydrate. (Source)
I can't say that cauliflower gnocchi is low carb but the trader joe's version is convenient, economical, and healthier take than traditional flavor.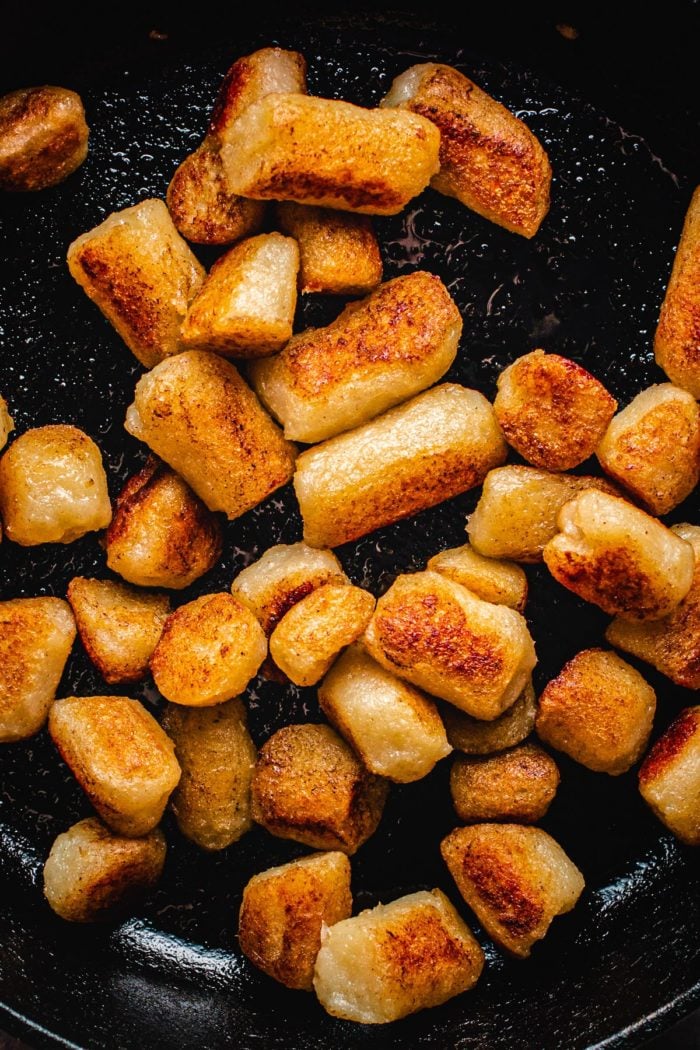 The best way to cook Trader Joe's cauliflower gnocchi
First, ignore the package instructions. Pan roast over stovetop is the best way to cook frozen gnocchi. Here are the pros and cons of each cooking method.
Stovetop – Pan roast with little ghee (clarified butter) or olive oil is the best way to cook store-bought frozen gnocchi. Use a large non-stick skillet or well-greased cast iron to pan fry the gnocchi in a single layer without moving/flipping until they form a golden crust at the bottom. Flip with a spatula to cook the flip side. This results in the best texture contrasts – crisp outside and soft pillowy inside. Perfect to go with tomato sauce or cream sauce, or a light coating of sage brown butter sauce with little garlic.
Oven – the pros are hands-free but it takes too long for the frozen cauliflower gnocchi to get golden crisp. For the purpose of this recipe, we are looking for gnocchi that isn't mushy and has a nice crispy coating and fast. Oven method takes too long to achieve that.
Air fryer – Air fryer method leads to a crispy cauliflower gnocchi texture but the inside could be a bit dry. It's best to pair the air fried gnocchi with a creamy dipping sauce as an appetizer or pair them with a saucy sauce like tomato sauce. Try me Japanese creamy sesame dressing and Thai peanut sauce.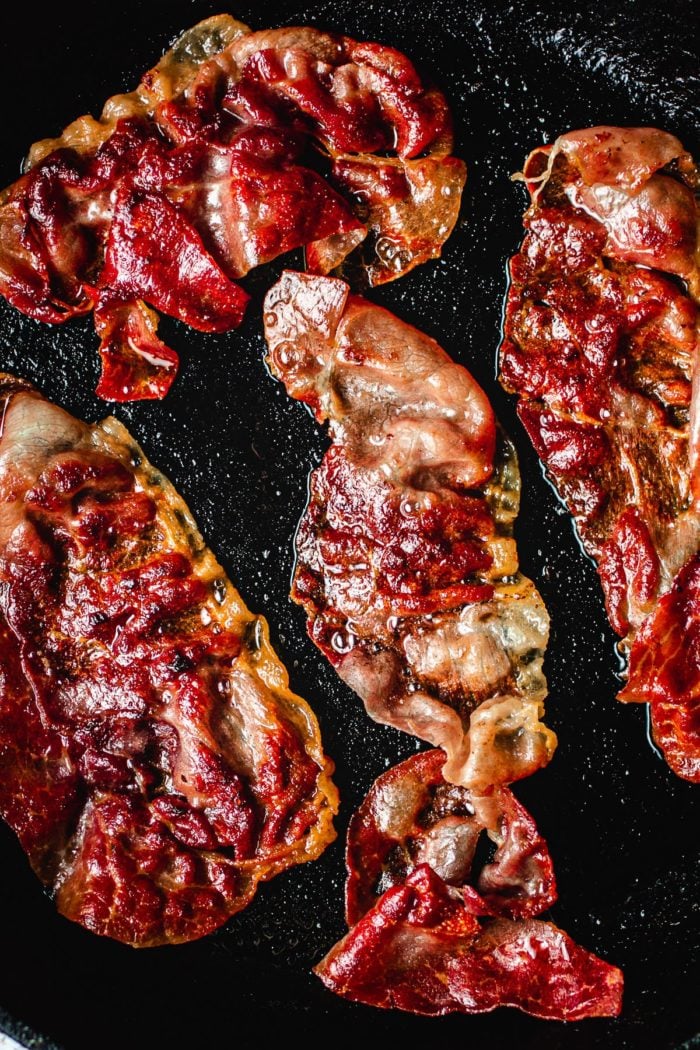 Can you taste the cauliflower in cauliflower gnocchi?
The Trader Joe's cauliflower gnocchi has a light cauliflower taste however, pan sear and brown the surface mellows out the cauliflower flavor and brings out a nutty delicious taste. If you aren't planning to coat the cauliflower gnocchi with sauce (for example: tomato sauce, mushroom sauce…etc.), browning the gnocchi in clarified ghee butter is an excellent choice. It not only masks the flavor but also creates a light crisp outer layer and a soft and chewy inner for an excellent texture contrast in the mouthfeel!

Paleo parmesan cheese
Let's be honest, gnocchi and parmesan cheese are match made in heaven! The salty and cheesy sprinkle works super well with pasta dishes. For people who are sensitive to dairy, my Paleo parmesan cheese is the perfect sprinkle for cauliflower gnocchi! It's made with cashew, nutritional yeast, garlic powder, and sea salt. Simply blend these 4 ingredients together and sprinkle over anything you like. Easy, cheesy, and dairy-free. Make a jar and store in the fridge for up to 1 month!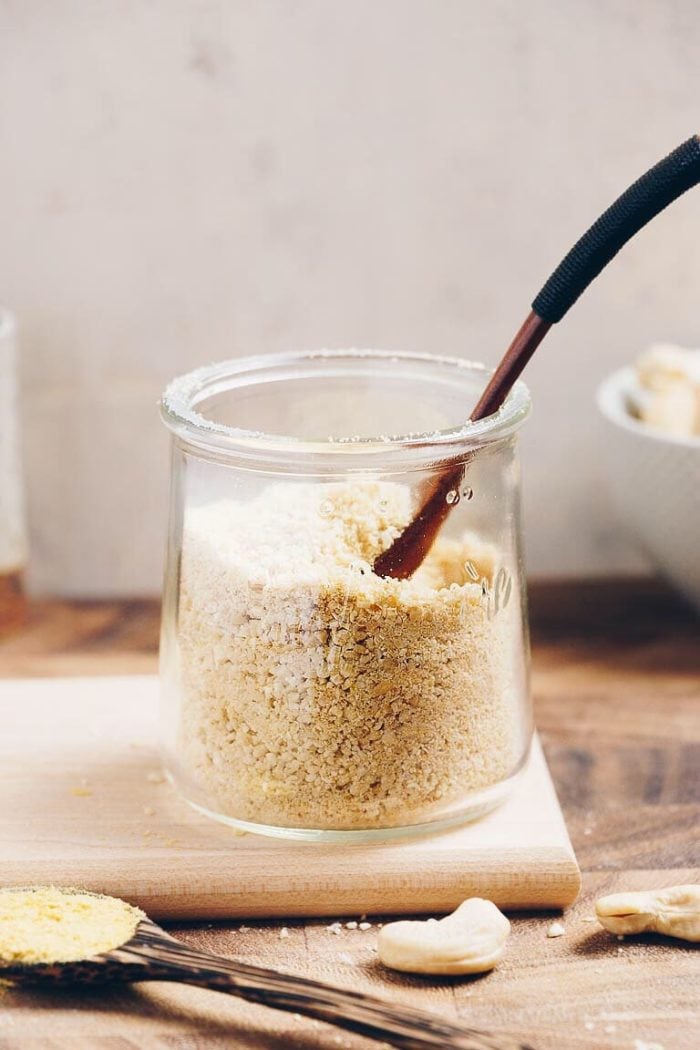 Is Trader Joe's cauliflower gnocchi whole30 approved?
No. The official Whole30 website has an archive with a list of approved vendors and Trader Joe's cauliflower gnocchi is not on the lists. Whole30 users should check the archive for the most up-to-date information.
Pairing suggestions for cauliflower gnocchi recipe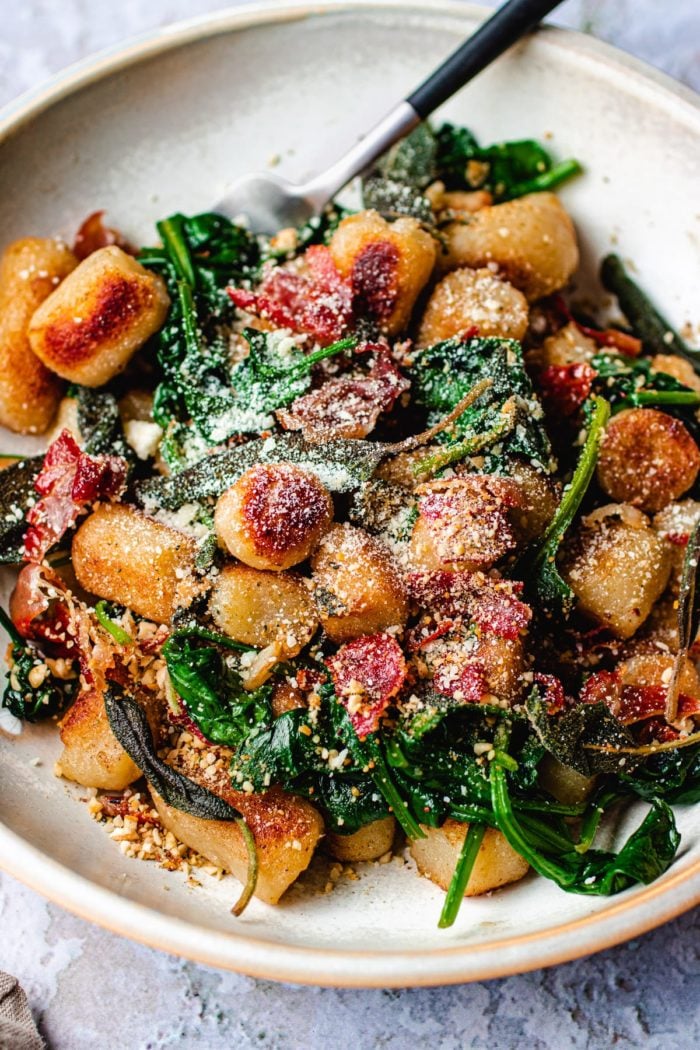 More cauliflower recipes
Trader Joe's cauliflower gnocchi has become a popular frozen food household staple. It's a quick weeknight meal on a budget and is paleo and gluten-free. This cauliflower gnocchi recipe goes into details on how to make the best texture from the frozen gnocchi over stove top that any homecook can master it easily. Toss the frozen gnocchi in sage brown butter sauce and top with crispy prosciutto, this is my favorite way to make healthy weeknight dinner fast and family friendly.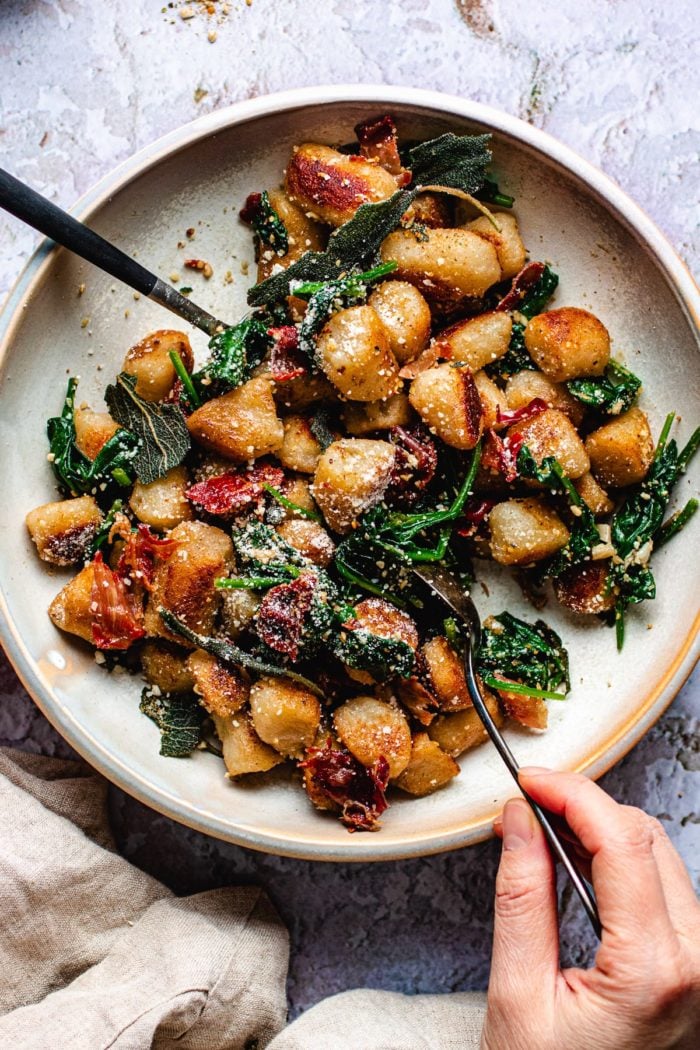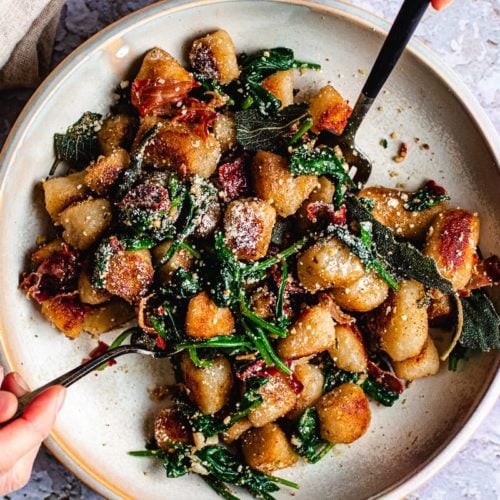 Trader Joe's Cauliflower Gnocchi with Sage Brown Butter (Paleo, GF)
Trader Joe's Cauliflower Gnocchi with brown butter sage sauce and crispy prosciutto makes an excellent paleo and gluten-free weeknight meal.
Print
Pin
Rate
Ingredients
12 oz. Trader Joe's Cauliflower Gnocchi, 1 packet, frozen
2.5 tbsp ghee, or butter
4 slices 2 oz. Thinly sliced prosciutto, or more if desired
10 prigs sage leaves
0.4 oz. minced garlic, about 2 large cloves
4 cups loosely packed baby spinach, or tatsoi leaves
2 pinches coarse sea salt
Paleo parmesan cheese, optional
Instructions
Preheat a large non-stick or well-greased cast iron skillet over medium heat until it feels warm to your palm when placing nearby, about 2-3 inches away, but not to a smoke point. Add 1 tbsp ghee, swirl the pan around to distribute the butter evenly. As soon as it melts, add the frozen gnocchi.

Pan fry them in a single layer over medium to medium-high heat for about 5 minutes. Do not touch or flip until the bottom is golden brown or the gnocchi will stick to the skillet.

In a separate skillet, pan fry the prosciutto over medium heat in a single layer until crisp on both sides, about 6 minutes total, flip after 3 minutes.

Use a spatula to flip the gnocchi and cook about 5 minutes additional. Toss the skillet every minute or so. Then flip them again to pan roast for about 4 minutes. The gnocchi texture should be crisp outside in golden brown and not soggy. A good way to tell is when they aren't drenched in butter and each individual gnocchi has a crisp crust. When you gently press it, it should feel a little bouncy. Set them aside in a large serving plate and keep warm.

Add the remaining ghee (1.5 tbsp), as soon as it's melted, add sage. Pan fry the leaves over medium heat until they are a little crisp, about 2-3 minutes. Move and flip the leaves often with a tong or chopsticks and take care not to over burn them. Fish out the leaves and drain over a paper towel.

Add garlic and spinach to the infused sage butter. Saute over medium-heat and season with two pinches of salt for about 30 seconds or as soon as the spinach wilt a bit. If you saute the spinach too long it will turn watery and dilute the flavor. Set it aside over a plate to let cool.

Before serving, toss cauliflower gnocchi with spinach and sage, and top with crumbled prosciutto. Sprinkle with paleo parmesan cheese, if using. Serve warm.
Nutrition
Serving: 1serving, Calories: 277kcal, Carbohydrates: 21g, Protein: 3g, Fat: 19g, Saturated Fat: 9g, Cholesterol: 39mg, Sodium: 362mg, Potassium: 259mg, Fiber: 1g, Sugar: 1g, Vitamin A: 3751IU, Vitamin C: 12mg, Calcium: 55mg, Iron: 1mg