Paleo Cauliflower Gratin
Paleo Cauliflower Gratin is healthy, low carb, and easy to make – just blend and bake. Rich creamy buttery cauliflower gratin is the best Keto and Whole30 casserole cauliflower gratin!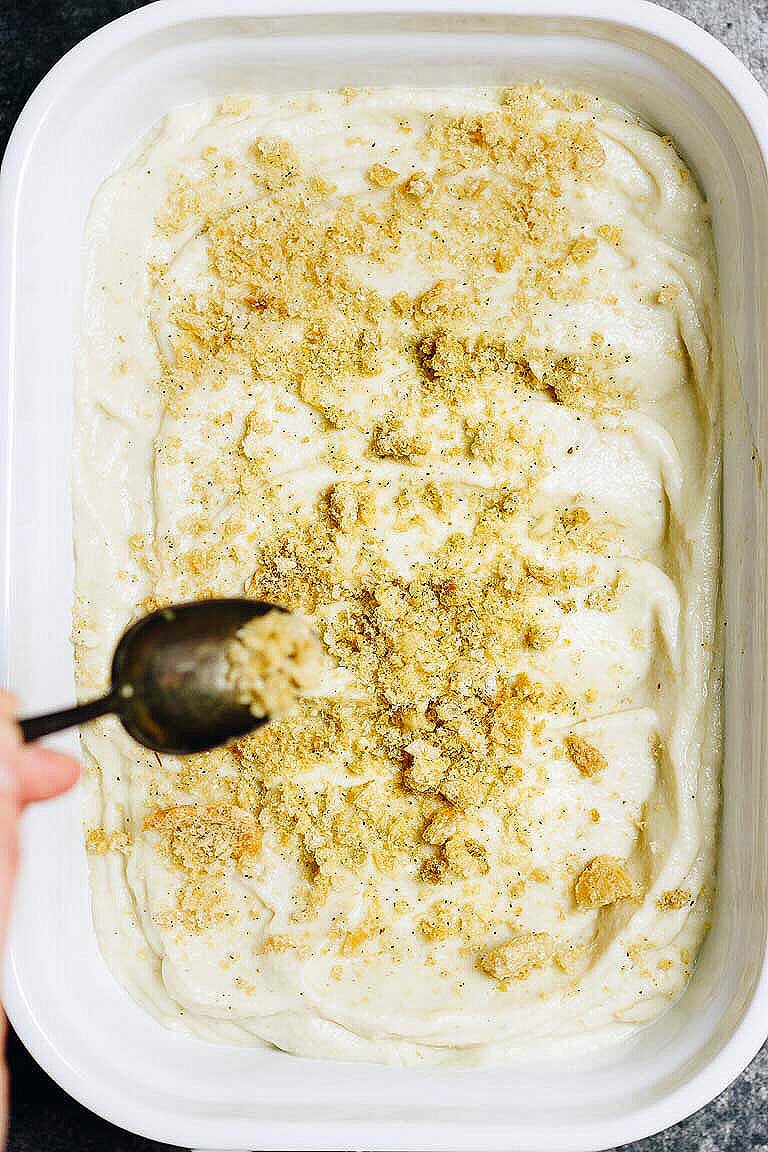 Creamy Smooth Paleo Cauliflower Gratin (Keto, Whole30, Low Carb)
This is the first year Nate and I will be spending time in New York for Thanksgiving. Quite often this time of the year we'll be traveling in Asia to see family and friends. I use this opportunity to prepare lots of holiday and thanksgiving friendly recipes from Creamy chicken mushroom casserole, herb spatchcock chicken with lemon garlic chicken gravy to skillet Roasted Brussels with Paleo Parmesan Cheese.
This Paleo Cauliflower Gratin is creamy, thick, and rich. The cauliflower gratin is also low carb, keto, and Whole30 friendly. This dish makes the best Whole30 casserole dish for colder months! There are many more to come so be sure to come back to visit I Heart Umami often!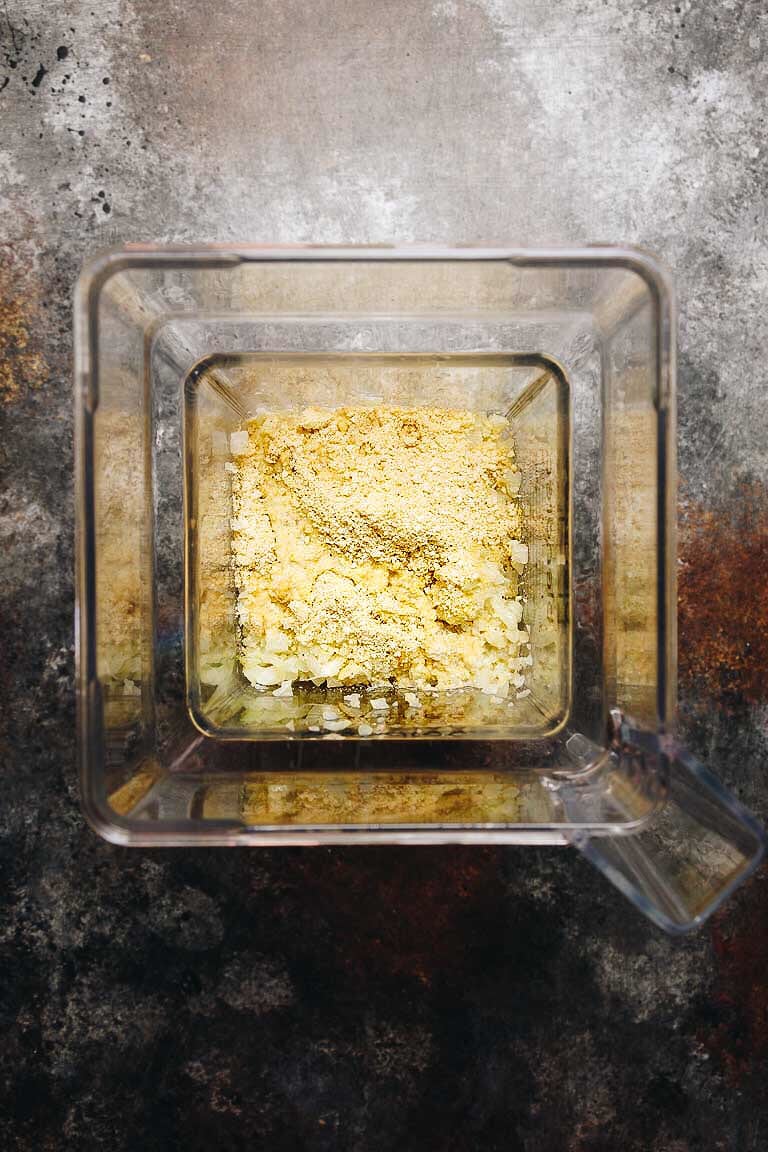 How to make cauliflower creamy rich and smooth
Use riced cauliflower to save time.
Partially cooked the cauliflower rice to make the texture softer.
Purée with a high speed blender or food processor.
Add arrowroot starch flour to give the purée structure.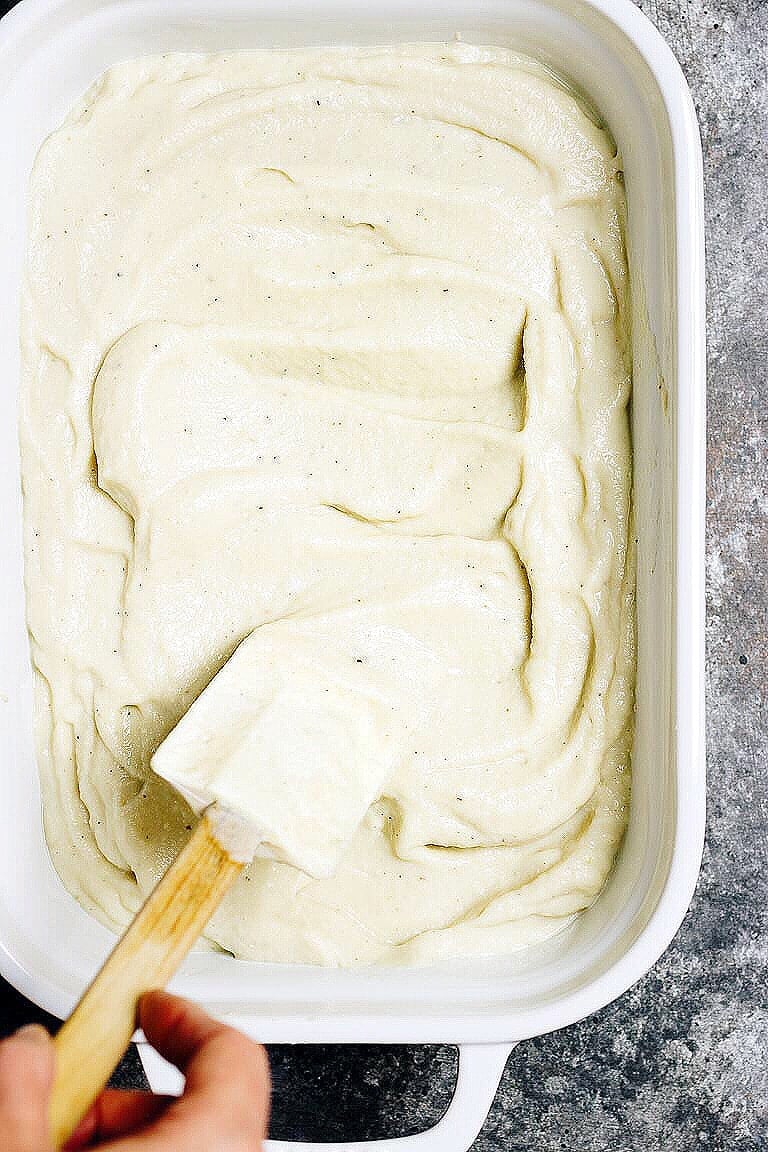 How to make low carb gratin
To make low carb gratin here are what you need-
Riced cauliflower
Paleo Parmesan cheese made with cashews
Spice seasonings such as nutmeg, salt, and pepper
Arrowroot flour to provide structure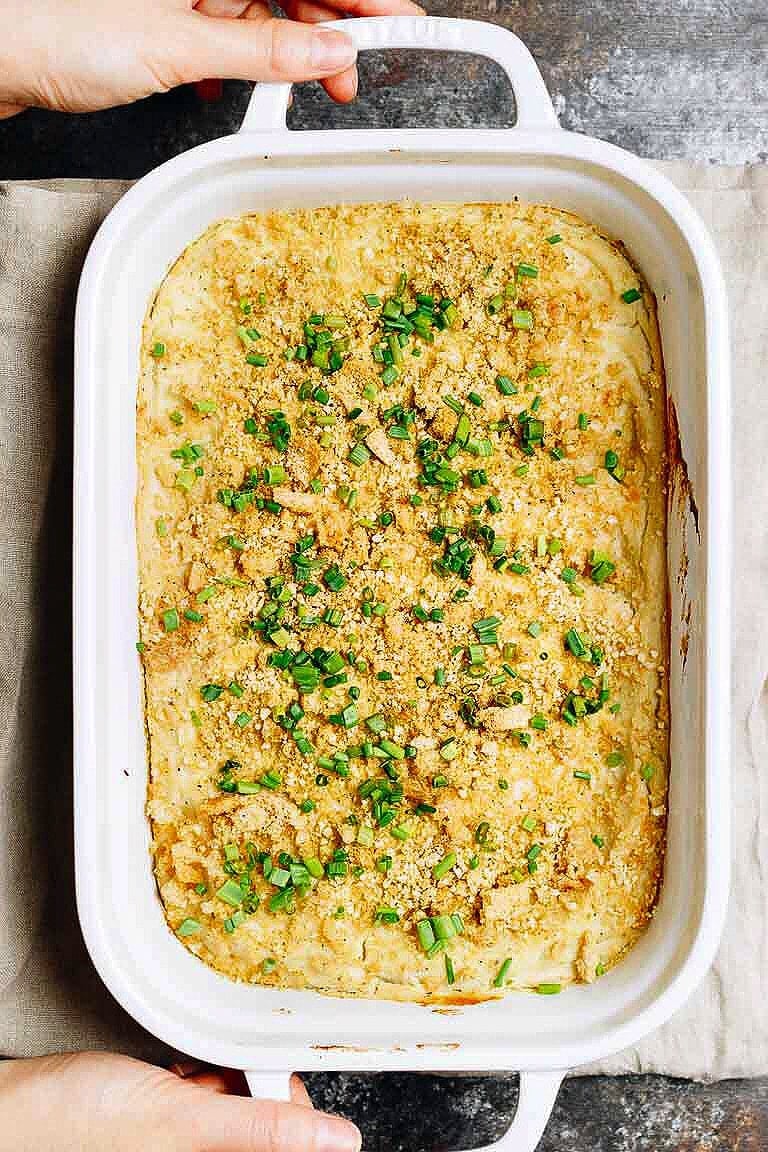 Types of Paleo Cauliflower Gratin Toppings:
Use the following ingredients to replace the traditional bread crumb –
Grain-free tortilla chips,
Sweet potato chips, or
Plantain or cassava chips
Keep the flavor of the cauliflower gratin 'bread' crumbs' simple. Salt and pepper flavor is the best.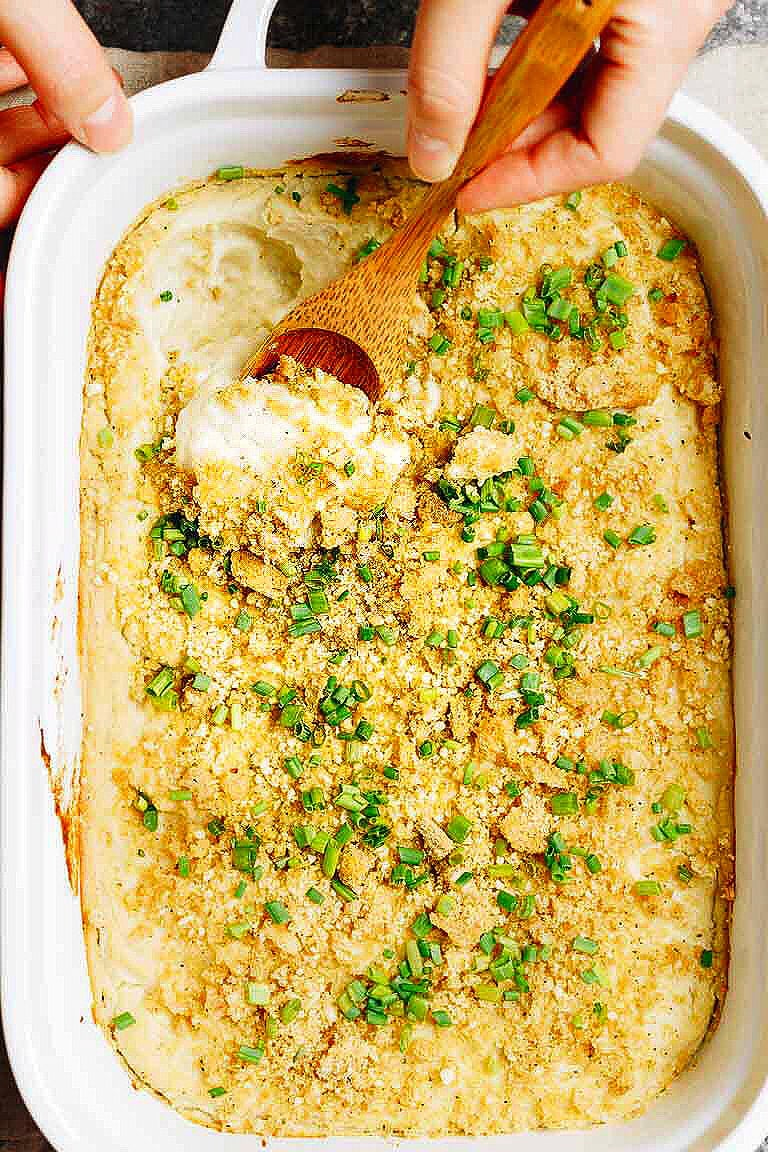 Alternatively you can also skip the paleo 'bread! crumbs and simply enjoy the rich, creamy, and thick cauliflower grain purée. The addition of little arrowroot flour slurry really makes a difference here. So don't miss it!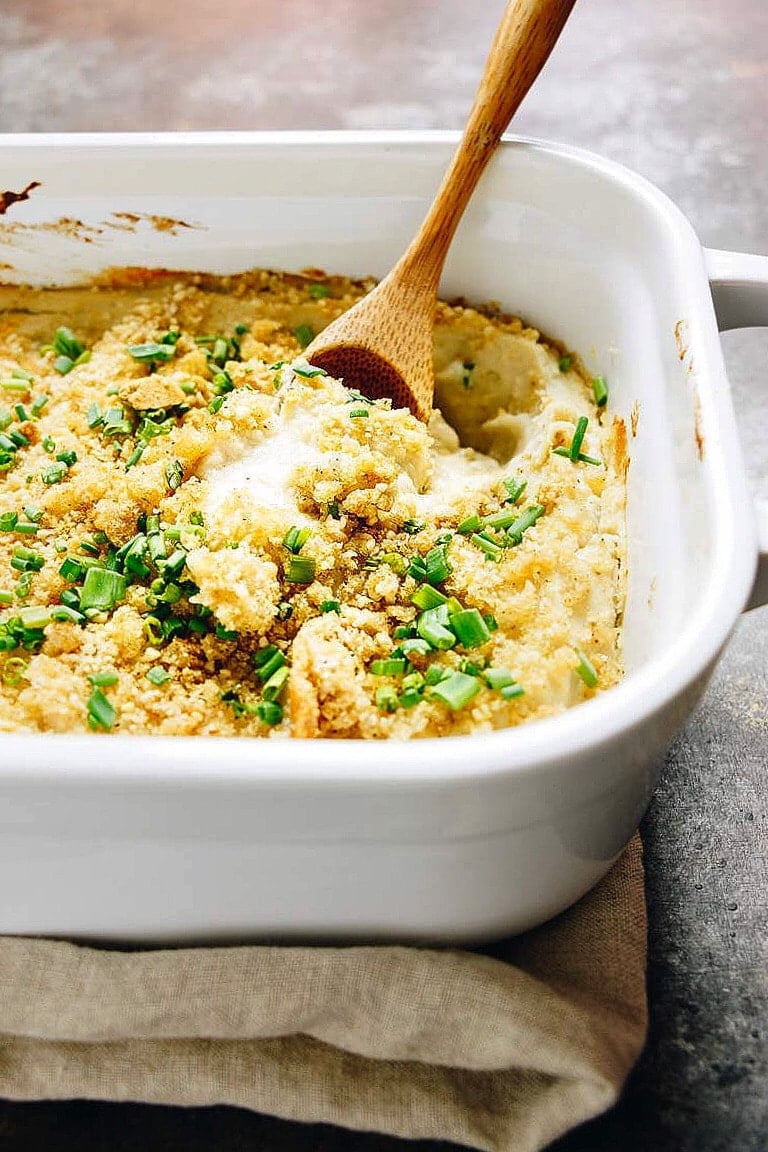 My dear readers this Paleo Cauliflower Gratin is –
Creamy smooth
Low carb
Perfect thanksgiving side dish
Paleo, Whole30, and Keto friendly
If you give this Paleo Cauliflower Gratin be sure to rate the recipe and leave a comment below. It'll help me and my blog tremendously. Thanks so much in advance!
Love what you've seen on the blog? Subscribe to I Heart Umami get my free 3-part video guide on how to make 10 mouthwatering Paleo meals in under 10 mins. Each!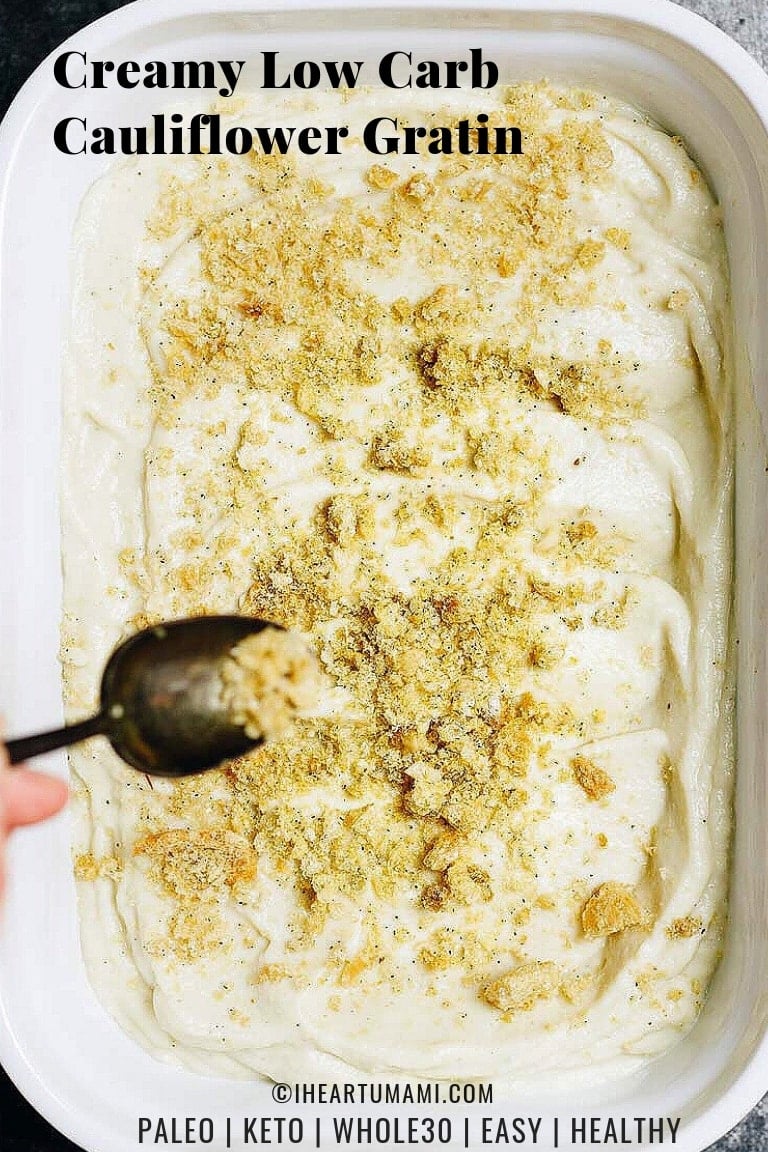 Paleo Cauliflower Gratin (Low carb, Keto, Whole30)
Paleo Cauliflower Gratin is healthy, low carb, and easy to make. Rich creamy buttery cauliflower gratin is the best Keto and Whole30 casserole cauliflower gratin!
Print
Pin
Rate
Ingredients
2 lbs cauliflower rice
1 cup oven baked pork rinds, , seasoned with salt and pepper only such as EPIC brand, finely ground in food processor (alt. Grain-free tortilla chips such as Siete brand, plantain chips, cassava chips, or sweet potato chips. )
Cauliflower Gratin Seasonings:
Garnish:
4 tbsp fresh chive, chopped
Instructions
Preheat oven to 400F.

Microwave the riced cauliflower with 2 tbsp water in a large microwave safe bowl for 5 minutes on high or until the rice turns softer. You might need to do in 2 separate batches. Set aside to cool and drain.

In the meantime blend

Paleo Parmesan Cheese

- cashew, nutritional yeast, garlic powder, and salt - in a small 4-cup work bowl until they become fine grounds. Set aside in one small bowl. Blend the pork rinds in the processor until they become fine grounds with 'bread crumb-ish' texture Set aside in a second bowl.

In a high speed blender, puree the cooked cauliflower rice with coconut milk, paleo parmesan cheese, nutmeg, cayenne, salt and pepper until creamy smooth (about 1 min.). Stir the arrowroot flour + water mixture well before adding the slurry to the blender. Blend an additional 1 min. You might need to scrap the blender wall a few times. The puree should not taste too salty at this point. We will season further in the next step. The puree should be thick and coat the spoon well but pourable. If feels too thick, add 1 tbsp milk a time to thin.

Pour the puree into a 7 by 10-inch baking dish. Smooth the surface with a spatula. Sprinkle and distribute pork rind grounds and 4-6 tbsp Paleo parmesan cheese evenly over the puree mixture. Bake for 15-18 minutes in middle rack. Let stand for 20 minutes. Sprinkle with chives. Pass extra Paleo parmesan cheese around at the serving table.
Notes
This recipe can be easily reduced by half for smaller quantity.   In Step 3, if the blender does not have a large capacity to hold and puree 2 lbs cooked cauliflower rice, do in 2 separate batches (i.e. 1 lb per batch) and season the cauli rice with half amount of seasonings per batch.   If no microwave at home, you can hot water blanch the riced cauliflower for 2-3 minutes until they turn softer but not mushy. Set side to drain well and cool before purée/ blend. You can also skip the pork rinds or any bread crumb toppings. Sprinkle with my Paleo parmesan cheese and bake for 15 minutes. 
Nutrition
Serving: 1serving, Calories: 87kcal, Carbohydrates: 9g, Protein: 6g, Fat: 3g, Saturated Fat: 2g, Cholesterol: 4mg, Sodium: 229mg, Potassium: 478mg, Fiber: 3g, Sugar: 2g, Vitamin A: 85IU, Vitamin C: 74mg, Calcium: 37mg, Iron: 1mg