Shrimp scrambled eggs (滑蛋蝦仁)
Shrimp scrambled eggs is a popular Cantonese dish with silky soft hong kong style scrambled eggs and sweet and juicy shrimp. With only 6 ingredients, this delicate dish is quick and savory and ready in 10 minutes!
Enjoy it like locals do with a bowl of steamed rice or keep it low-carb with shirataki fried rice, perfect for breakfast or lunch. This delicious dish is good on its own, but you can check out the tomato egg stir-fry variation to suit your preferences.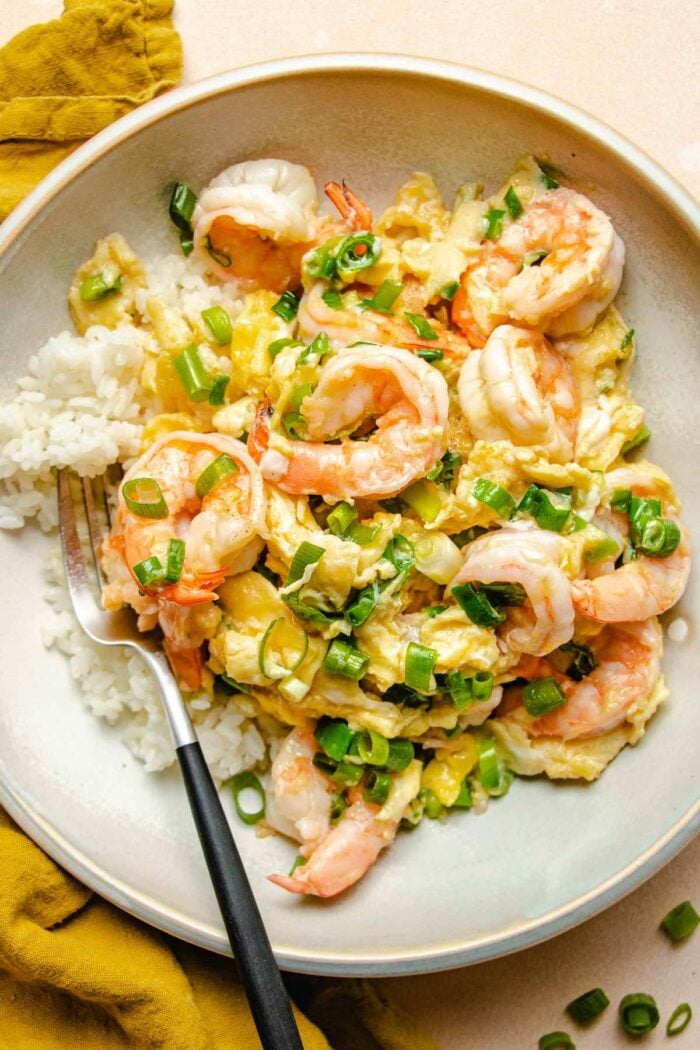 Why you will love this dish
While it may seem like an odd mix, this shrimp and eggs dish is actually one of the most popular homemade meals among Chinese families. Here's why you should add this easy recipe to your list:
Delicious, healthy, and easy: A quick and nourishing meal using only a handful of ingredients.
Silky soft eggs with juicy crunchy shrimp: A mix of soft and succulent textures and flavors make it a wholesome breakfast or lunch.
Rich in protein and low carb: When eaten together, this shrimp with eggs combo is packed with protein.
Ingredients
This Cantonese scrambled eggs recipe is a fuss-free and filling meal. To make it, you only need a few everyday ingredients and minimum preparation.
Main ingredients: Shrimp (26-30 counts per pound) and large eggs
Seasonings: Green onion or scallions, tapioca or arrowroot starch, avocado oil, and toasted sesame oil
Ingredient substitutions
Use ground black pepper, if there's no white pepper
Use smaller shrimps for the best results. If you use large shrimps, dice them into bite-sized pieces.
If using frozen shrimp, make sure to defrost them before cooking.
The restaurant version uses cornstarch, a healthier version uses tapioca, arrowroot, or potato starch.
If you are allergic to shrimp or prefer it without shrimp, the tomato egg stir-fry is a great alternative.
How to make Chinese scrambled eggs with shrimp
This delicious shrimp and egg recipe is super easy to make. Here's how you can make (and enjoy) from home.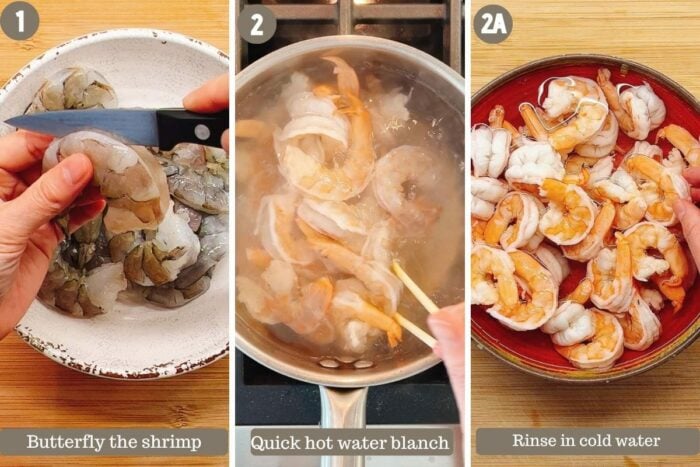 Butterfly the raw shrimp while boiling water in a pot.
Quickly blanch the shrimps. Remove once they turn light pink, then rinse and pat them dry using a paper towel.
Whisk eggs with seasonings in a large bowl. In a small bowl, combine starch with water to make a slurry.
Gently fold the shrimp in the egg mixture.
Preheat the skillet or wok over medium heat. Add oil and swirl it around the pan. Pour in the eggs and shrimp mixture and cook over medium heat for 3 to 4 minutes.
When the eggs are soft but set, serve the cooked eggs hot with extra garnish, and a side of steamed rice.
The secret for silky and fluffy eggs
The eggs should be soft and have a silky texture. Gently combine the egg whites with the egg yolks. Be careful not to over-whisk them.
Add the slurry mix of starch and water to the eggs. This will help retain the smooth and silky eggs texture.
Use a non-stick pan for foolproof Chinese scrambled eggs.
Avoid using high heat. Instead, medium heat is the best to get the ideal egg texture.
Variations
Even though I love the shrimp scrambled eggs as it is, you can modify the flavors and textures as you like, such as adding vegetarian oyster sauce to make the dish extra savory. For a kick of heat, add some flavorful garlic chili sauce.
Add oyster sauce for an extra hint of umami.
Season using hoisin sauce if you prefer your dish to be a tad sweeter.
As an option, you can marinate the shrimp with a touch of rice wine to remove the seafood flavor and smell.
Use olive oil to stir-fry the shrimp and egg if you don't or can't have avocado oil.
Tips for crunchy and juicy shrimp
For the best breakfast shrimp and eggs, I recommend using small-sized white shrimps (26 to 30 counts per pound).
Quickly blanch the shrimp in hot water, then shock them in cold water to remove the fishy smell.
Use a non-stick pan and gentle residual heat when cooking, so you get the perfect scrambled Chinese shrimp and eggs.
Serving suggestions
Aside from having shrimp and eggs for breakfast, there are many other ways to enjoy these plump and succulent shrimps. Here are some fun ideas with shrimp you can try for breakfast or any time of the day.
Enjoy your Cantonese style scrambled eggs as is, or as a sandwich between two pieces of paleo bread. Switch it up with garlic chili noodles for a savory and spicy meal.
Feel like having breakfast for dinner? Pair your slippery egg and shrimp over steamed rice, plus a side dish of crunchy and yummy bok choy stir fry for a complete, wholesome meal. You can also serve it with this Chinese broccoli recipe if you prefer.
Can you eat shrimp and eggs together
Yes! Stir-fried shrimp with eggs is a popular dish in Chinese cuisine. The silky scrambled eggs pair beautifully with sweet juicy shrimp. It's a yummy and healthy recipe that comes together fast.
Do eggs and seafood go together?
Yes! Egg yolks contain natural healthy fats and go well with lean protein such as seafood. For instance, shrimp and egg stir fry is a popular dish in Asia.
Storage and reheat
Store your savory shrimp eggs dish in an airtight glass container. Refrigerate it for up to 3 days. To reheat, simply microwave on medium for 1 minute until the dish is warmed through.
Related recipes
If you love scrambled eggs with shrimp, here are some of my favorite recipes that you can include in your everyday meal.
For easy and tasty shrimp stir-fry, you can give general tso shrimp a try. It's sweet and garlicky, and it's ready in a total time of 10 minutes! If you want an exquisite at-home takeout experience, this crispy panda express honey walnut shrimp is sure to please.
Prefer a healthier dish? My air fryer bang bang shrimp is an appetizing starter made with simple, common ingredients that you can make for a quick snack or an easy weeknight meal.
Umami Tips
For the best result, use a large skillet, preferably non-stick to cook the dish.
The dish has subtle flavors, so do a taste test and add more salt or seasonings to suit your taste buds.
Smaller-sized shrimp (26-30 counts per pound) is best suited for this dish.
You can use either room-temperature eggs or refrigerated eggs.
Do not over-whisk the eggs to achieve a silky soft texture. You can add a small amount of starch to the egg mixture to retain moisture.
Shrimp scrambled eggs recipe
This shrimp scrambled eggs recipe is a popular Chinese dish for breakfast, lunch, or dinner. Silky eggs and juicy shrimp stir fry ready in 10 mins!
Print
Pin
Rate
Ingredients
¾ lb white shrimp, peeled and deveined, 26-30 count per pound shrimp
6 large eggs
0.5 tsp coarse sea salt
⅛ tsp ground white pepper, plus a dash more
2 bulb scallions, diced, plus more for garnish
1 tsp tapioca starch, or arrowroot starch
2 tbsp avocado oil
1 tsp toasted sesame oil
Instructions
To prepare:
Bring a pot of water to a boil. In the meantime, butterfly the shrimp by making a shallow cut on the "spine" of the shrimp. This will improve the texture.

Blanch the shrimp for about 10 seconds or as soon as they turn light pink color. Remove them with a slotted spoon and transfer them into a large bowl. Quickly rinse under room temperature water and pat them dry with a paper towel.

In a large bowl, gently whisked the eggs with seasonings from salt to scallions. In a separate small bowl, make a slurry by combining starch with 2 tbsp water and stir well. Add the slurry to the egg mixture.

Add the shrimp to the egg mixture. Gently stir to fold them in. Please do not over-whisk the eggs.
Start cooking:
In a large non-stick saute pan, preheat it over medium heat until the pan feels warm but not hot. Add the oil and swirl it around the pan.

Carefully pour in the egg and shrimp mixture. Cook over gentle medium heat for about 3-4 minutes. Use a wooden spoon to push around the eggs as if you are making soft scrambled eggs.

Once the eggs are set but still soft and runny, turn off the heat and transfer them out of the pan onto a serving plate. Garnish with more scallion, sesame oil, and a small dash of white pepper.

Serve hot with a bowl of steamed rice!
Notes
I recommend using a large non-stick pan to make this dish. 
The egg texture should be soft, creamy, and silky. Please do not over-whisk the eggs. Gently combine the egg whites with the egg yolks.
For this recipe, I recommend using a small-sized shrimp about 26 to 30 counts per pound white shrimp for the best texture.
The shrimp eggs dish is a very fast and popular lunch item in Asia. The texture is soft and creamy yet tastes savory and delicious. The dish is light yet full of flavor. The go-to pairing is always a bowl of steamed white rice. The creamy soft scrambled eggs are the perfect pairing for rice!
Nutrition
Serving: 1serving, Calories: 242kcal, Carbohydrates: 2g, Protein: 21g, Fat: 16g, Saturated Fat: 3g, Polyunsaturated Fat: 3g, Monounsaturated Fat: 8g, Trans Fat: 1g, Cholesterol: 386mg, Sodium: 879mg, Potassium: 201mg, Fiber: 1g, Sugar: 1g, Vitamin A: 563IU, Vitamin C: 1mg, Calcium: 89mg, Iron: 2mg
Made a dish and love it? Please remember to rate the recipe and leave a comment in the comment section below! It helps my blog grow organically so I can continue sharing free and awesome content with you. Thank you!