Panda express honey walnut shrimp
This copycat recipe Panda express honey walnut shrimp is an easy recipe that comes together FAST! With a creamy smooth honey sauce, my secret batter ensures the shrimp STAYS CRISPY, even after you pour the sauce all over! With a few simple main ingredients, the shrimp tastes so fresh and crispy just like your favorite tempura shrimp, with crunchy sweet walnuts in every bite.
If you love this recipe, my keto kung pao shrimp, black pepper chicken, and General tso shrimp are some crowd favorite homemade takeouts!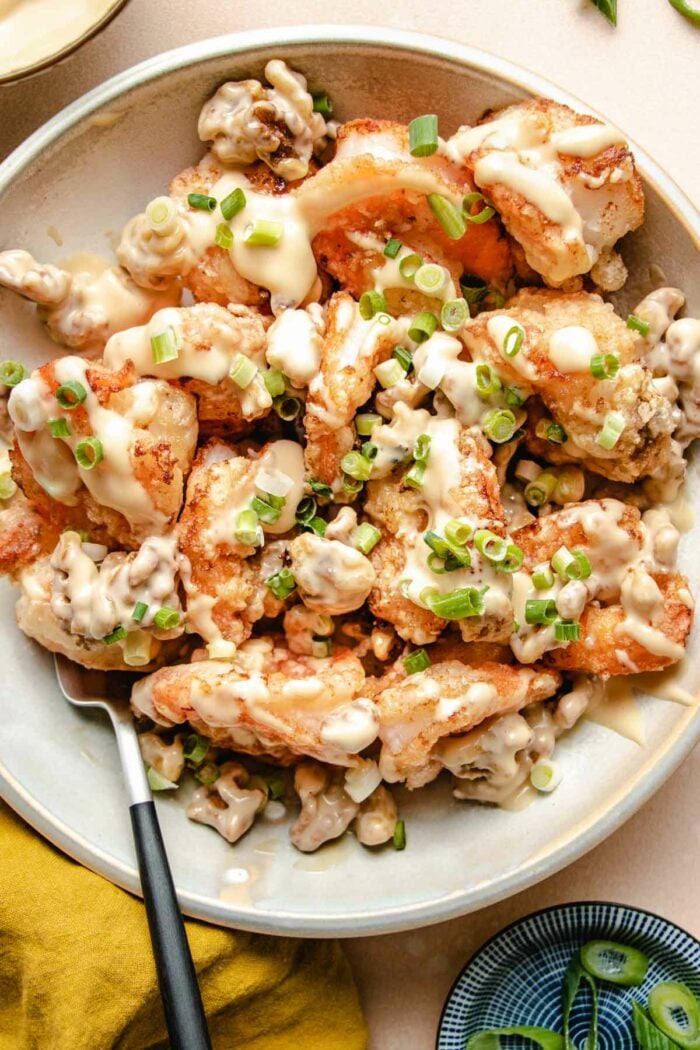 Why this dish is better than panda express!
My version of the honey walnut shrimp dish is simply the best! It's a quick and delicious meal, and the crispy shrimp makes it the perfect main dish every time! It'll definitely be high up on your list of favorite homemade meals.
Easy to find ingredients: Get all the ingredients from your local grocery store!
Healthier: There are no refined sugars in this recipe. Plus, you can easily adjust it to be keto-friendly.
Stovetop or air fry: Choose between shallow-frying the shrimp on a stovetop or air fry — both will give you juicy, crispy shrimp!
Ingredients
My panda express walnut shrimp with honey sauce is super tasty, wholesome, and easy to prepare. With these ingredients, you can quickly get started.
For the shrimp: Large fresh shrimp, egg white, potato starch.
Sauce ingredients: Mayo, honey, evaporated milk (unsweetened condensed milk).
Other ingredients: Walnuts, avocado oil, scallions.
Ingredient substitutions
Don't have potato starch? You can also use tapioca starch to achieve crispy walnut shrimp
Prefer low carb and okay with dairy? I recommend using whey protein isolate.
Can't find evaporated milk? Use condensed milk or my dairy-free healthy condensed milk
How to make the dish
If you're wondering how to make this honey walnut shrimp, read on for my simple way of making it. The best part about this dish? It comes together quickly. My easy-to-follow instructions guarantee the perfect dish every time!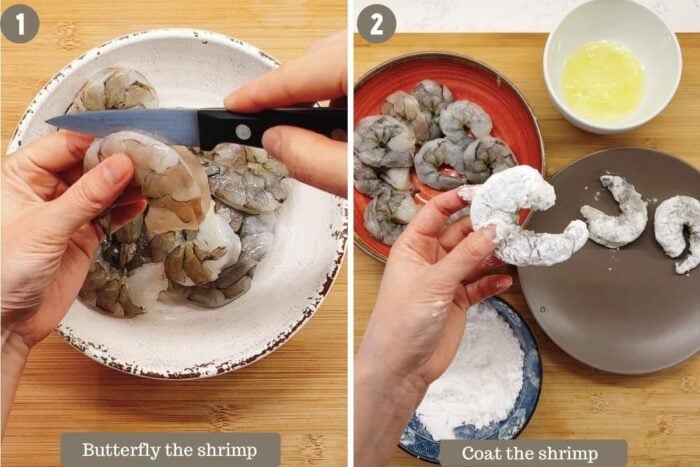 Butterfly shrimp: Cut through the back of the shrimp ever so slightly
Coat the shrimp: Thoroughly in egg white and potato starch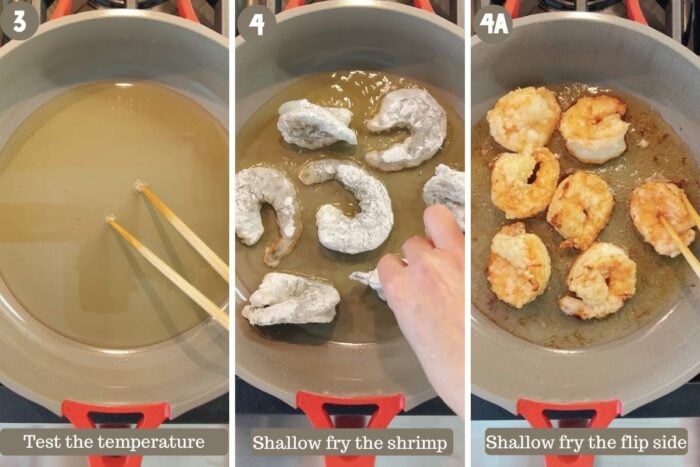 Preheat the oil: Over medium-high heat at 350ºF/177ºC in a large skillet
Shallow fry: Each side in hot oil for 2-3 minutes and let them rest to crispen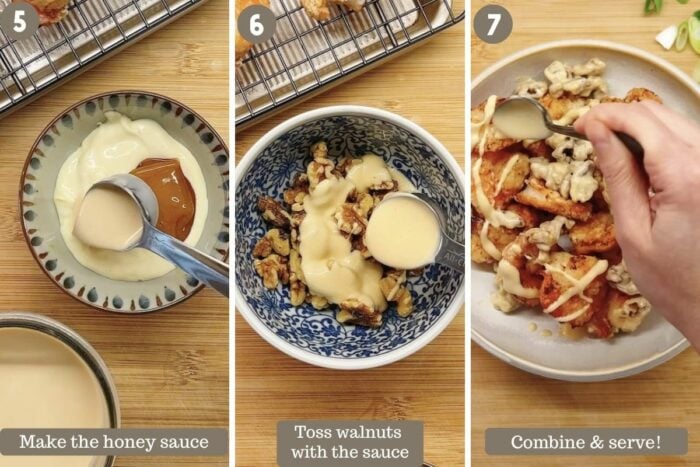 Make the sauce: Mix in the mayo, honey, and milk in a small bowl
Sweeten the walnuts: By tossing them in 2 tbsp of the sauce
Garnish and serve: Drizzle the sauce all over the shrimp and walnuts in a medium bowl, and finish off with green onions.
Light and crispy secrets
Use egg whites – For a light tempura batter, which gives the "panda express shrimp" its crispy texture
Potato starch is better – To get a beautiful golden brown layer for the fried shrimp
High smoke point oil – Avocado oil is a healthier choice for frying than canola or vegetable oil, and keeps the shrimp light and crispy
Variations
My copycat honey walnut shrimp recipe tastes absolutely amazing on its own, but you can change it up to suit your own taste buds. For example, making it dairy-free, or extra sweet sauce if you're a sweet tooth.
Want a sweeter honey walnut shrimp sauce? Adjust the amount of honey as you go
Prefer candied walnuts? Prepare a syrup mix with equal parts of water and sugar and bring it to a boil, add the walnuts and stir for 3 minutes, and set aside to cool.
Want it dairy-free? You can use coconut condensed milk (sweetened with coconut sugar) or the sugar free version that's sweetened with erythritol.
Prefer no mayo? Skip the mayo, and simply combine the honey with the evaporated milk.
Dairy-free condensed milk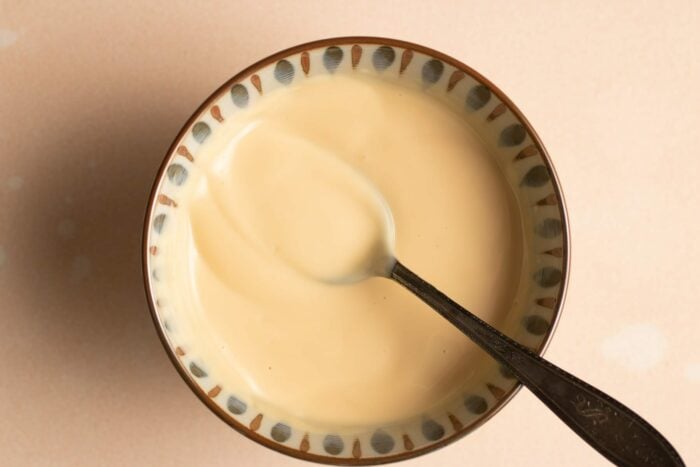 We use evaporated condensed milk because there's no added sugar. For a dairy-free version, use coconut condensed milk. For keto, there's a sugar-free version available on amazon. (product link in my recipe card).
Serving suggestions
This homemade honey walnut shrimp is best enjoyed with a warm bowl of steamed white or brown rice, but you can also pair it with these savory and yummy dishes:
Common FAQ
Is panda express honey walnut shrimp an authentic Chinese cuisine?
Honey walnut shrimps is originally a Cantonese dish. This copycat Panda express version is similar to the original dish but is much sweeter in flavor.
What size of shrimp should I use?
I prefer to use extra-large jumbo white shrimp, as it's the best for honey walnut shrimp recipes. Look out for 10-15 or 8-12 shrimps per pound.
Can I use frozen shrimp?
You can but please defrost the shrimp first, and pat them dry with paper towels before you start cooking.
How to store the shrimp and the sauce?
To maintain the flavor and texture of the shrimp with honey walnuts, refrigerate them separately from the sauce in airtight containers. Eat the shrimp within 2 days. The sauce should last for more than a week.
How to reheat this dish?
You can reheat the shrimp in the oven at 380F for 3 to 5 minutes. Personally, I prefer to pan-sear them in a pan (without the oil) for a few minutes.
Related recipes
If you love this copycat panda express honey walnut shrimp and want to explore other flavorful dinner ideas, I would highly recommend these great recipes:
Umami Tips
You can adjust the sweetness of the sauce by using extra tablespoons honey or swapping the evaporated milk with sweetened condensed milk
Make sure the oil is hot but not smoking hot when you shallow fry the shrimp.
We use evaporated milk which is unsweetened. For dairy-free, use coconut condensed milk. For keto, use coconut condensed milk sugar-free version. (link in my recipe card).
The shrimp can be air-fried but you need to use a different batter, such as the one in my Air fryer bang bang shrimp recipe.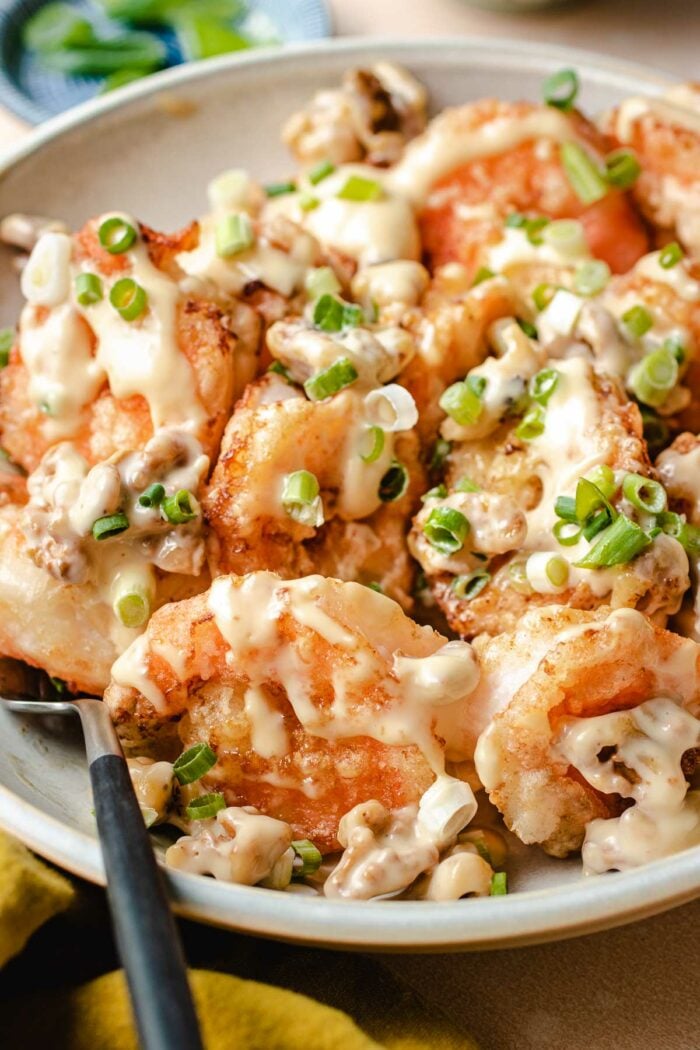 Panda Express Honey Walnut Shrimp Recipe
Panda express honey walnut shrimp is a copycat recipe made healthier and easy! With no added sugar, the shrimp tastes light, golden brown, and juicy. You can easily adapt the recipe for dairy-free or keto.
Print
Pin
Rate
Ingredients
1 lb extra large shrimp, peeled and deveined
2 large egg white, whisked
8 tbsp potato starch, tapioca starch, or 4 tbsp whey protein isolate
⅓ to ½ cup avocado oil
½ cup walnuts, unsalted whole or chopped
1 bulb scallion, chopped
Honey walnut shrimp sauce:
Instructions
Butterfly the shrimp by making a shallow slit cut at the back "spine" of the shrimp.

Lay out your workspace with a separate bowl for egg, potato starch, and a large plate to catch the shrimp. To start, dip your shrimp in the egg, then move to the tapioca starch to coat it evenly. Place it on the large plate as you work through the batch.

Heat the oil over medium-high heat in stainless steel or cast iron pan that has a high wall to prevent grease from spilling. Test the temperature in about 3 minutes with a wooden chopstick. if it shows bubbles around the chopstick when inserting it into the oil, the temperature is hot enough. You can also use a thermometer to reach 350F/177C.

Work in batches, and shallow fry for about 3 minutes per side or until golden brown. Rest them over a wire rack to keep them crisp and drain excess oil.

To make the sauce, combine mayo, honey, and milk in a bowl. Stir-well.

To sweeten the walnuts, combine them with 2 tbsp of the sauce. Toss well.

To serve, place the shrimp on a large serving plate and add the walnuts on top. Drizzle with more honey walnut sauce and garnish with scallions. Serve hot.
Notes
If you see brown bits accumulating in the bottom of the pot, use a fine mesh sieve to scoop out the brown bits or the shrimp will turn to a black/brown color.
If you want to air fry the shrimp, I recommend you follow the instructions of my air fryer bang bang shrimp recipe. https://iheartumami.com/air-fryer-bang-bang-shrimp/
We use evaporated milk because it's unsweetened. For dairy-free, use coconut condensed milk. For keto, use sugar-free coconut condensed milk. 
Prefer no mayo? Skip the mayo, and simply combine the honey with the evaporated milk.
Prefer candied walnuts? Prepare a syrup mix with equal parts of water and sugar and bring it to a boil, add the walnuts and stir for 3 minutes, and transfer them out. Set them aside over a sheetpan to cool.
Nutrition
Serving: 1serving, Calories: 346kcal, Carbohydrates: 14g, Protein: 14g, Fat: 26g, Saturated Fat: 3g, Polyunsaturated Fat: 11g, Monounsaturated Fat: 11g, Trans Fat: 1g, Cholesterol: 99mg, Sodium: 517mg, Potassium: 274mg, Fiber: 1g, Sugar: 4g, Vitamin A: 165IU, Vitamin C: 1mg, Calcium: 74mg, Iron: 1mg
Made a dish and love it? Please remember to rate the recipe and leave a comment in the comment section below! It helps my blog grow organically so I can continue sharing free and awesome content with you. Thank you!