Easy Shrimp Pasta with Tomato Cream Sauce (Pink Sauce)
Plump and juicy Shrimp simmered in Tomato Cream Sauce is the perfect weeknight dinner that's unbelievably delicious yet simple. With 7 ingredients only, this oh-so-satisfying meal comes with a homemade pink sauce and can be ready in 30 minutes! Did I mention that creamy luscious tomato cream sauce is gluten-free, dairy-free, Paleo, Whole30, and Keto? Simply divine. 🙂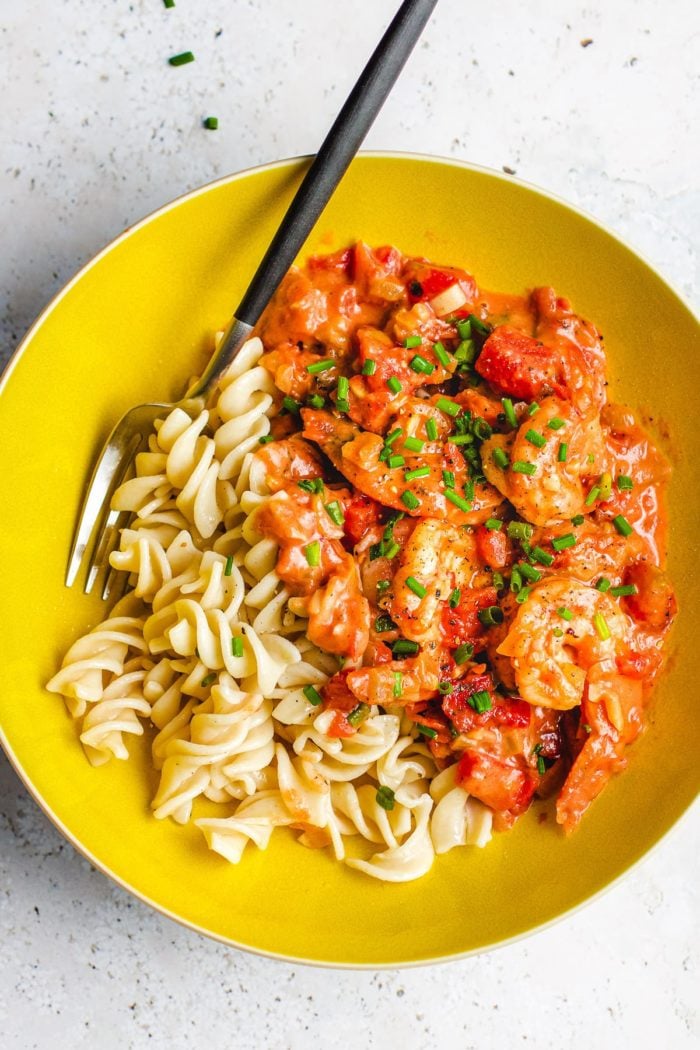 Shrimp In Tomato Cream Sauce (Paleo, Whole30, Keto, Dairy & Gluten-Free)
Some of our most memorable meals when we were in Japan surprisingly were not Japanese meals but rather French and Italian-influenced cuisines.  I had the good fortune to sample some in NY and on our recent trip to Tokyo…let's just say we savored every single bite and it only left us wanting more.
Today's Shrimp In Tomato Cream Sauce is inspired by our trip. Let me tell you why this dish is so awesome that it's worth your effort to give it a try.
Imagine tender and plump jumbo shrimp, simmered in the most delectable dairy-free cream sauce with slightly charred and smoky fire-roasted tomatoes until the flavors are melted into perfect harmony. I flirted around with the idea of adding gluten-free pasta noodles just so that I could see them floating around in all of that creamy tomato sauce goodness. 🙂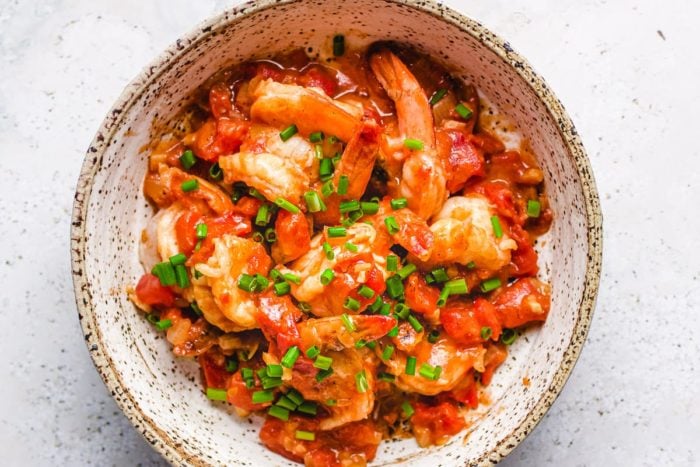 Homemade dairy-free Tomato Cream Sauce (Pink Sauce)
I learned a long time ago from my trip to Italy that homemade pasta sauce is so much more flavorful than the store-bought version, and it's really simple to make at home.
Two ingredients that I highly recommend to make the best dairy-free tomato cream sauce – fire roasted tomatoes and dairy-free milk creamer (i.e. coffee creamer made with a blend of coconut milk cream and almond milk).
I use store-bought fire-roasted tomato cans and the tomatoes are diced. They are packed with extra flavor and I just love that slightly charred smoky flavor from the roasted tomatoes.
I also recommend using a dairy-free coffee creamer instead of canned coconut milk cream so that the tomato sauce tastes extra milky delicious and less coconut-y.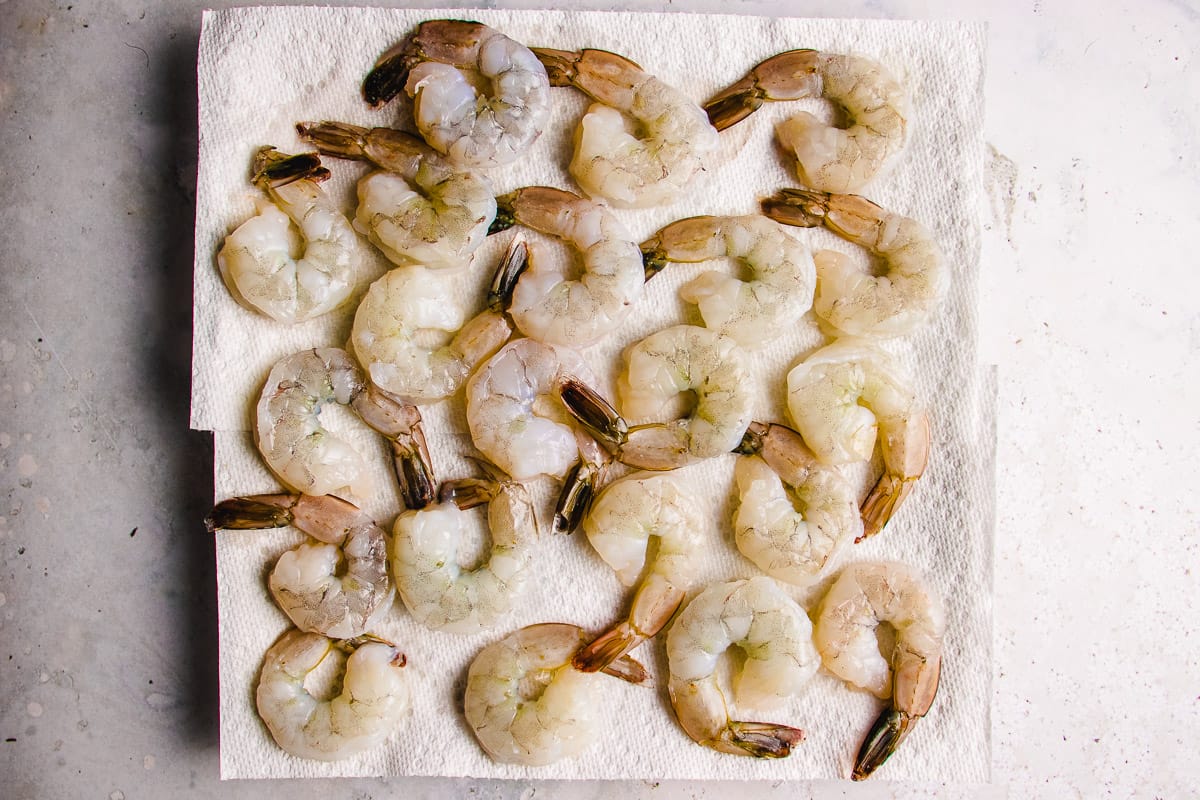 Ingredients in Shrimp Pasta with Creamy Tomato sauce
Large shrimp – I use peeled and deveined shrimp for convenience. I also prefer to butterfly them right before cooking so they open up like a beautiful flower.
Arrowroot or tapioca flour – this is used for dusting the shrimp and it also helps thicken the tomato sauce. Little goes a long way. If you are on Keto and want to avoid the flour, I would skip this ingredient.
Shallot or Onion – this is to create flavor base for the sauce.
Canned fire roasted tomatoes – add extra smoky and charred flavor to the tomato cream sauce. Hmm…YUM!
Coconut aminos and Chicken stock – Coconut aminos is soy sauce substitute that's free of gluten and wheat. It tastes naturally sweeter and is less salty than tamari or soy sauce. Check out my Youtube Channel Video for more information about coconut aminos. If you opt for regular soy sauce or tamari, please reduce the quantity in half.
Dairy-free coffee creamer (i.e. Dairy-free half-and-half) – this is used to replace coconut cream or full fat coconut milk so that the creamy shrimp pasta wont' taste too strong in coconut flavor. NutPods' dairy-free creamer is a popular choice but it can get pricey. In my local grocery store, I use Califia's dairy-free creamer – a blend of coconut cream and almond milk – which tastes just as good and cheaper. Regardless of which brand you use, select the unsweetened one. 🙂
Gluten-free Fusilli – fusilli is perfect for this shrimp pasta as it holds the tomato cream sauce very well, and with every bite you will get not only the shrimp but a generous scoop of creamy tomato sauce. I'm drooling just thinking about it. Hmm…simply YUM! I use Tinkyada brown rice fusilli but feel free to use any other low carb or gluten-free noodles or tortellini.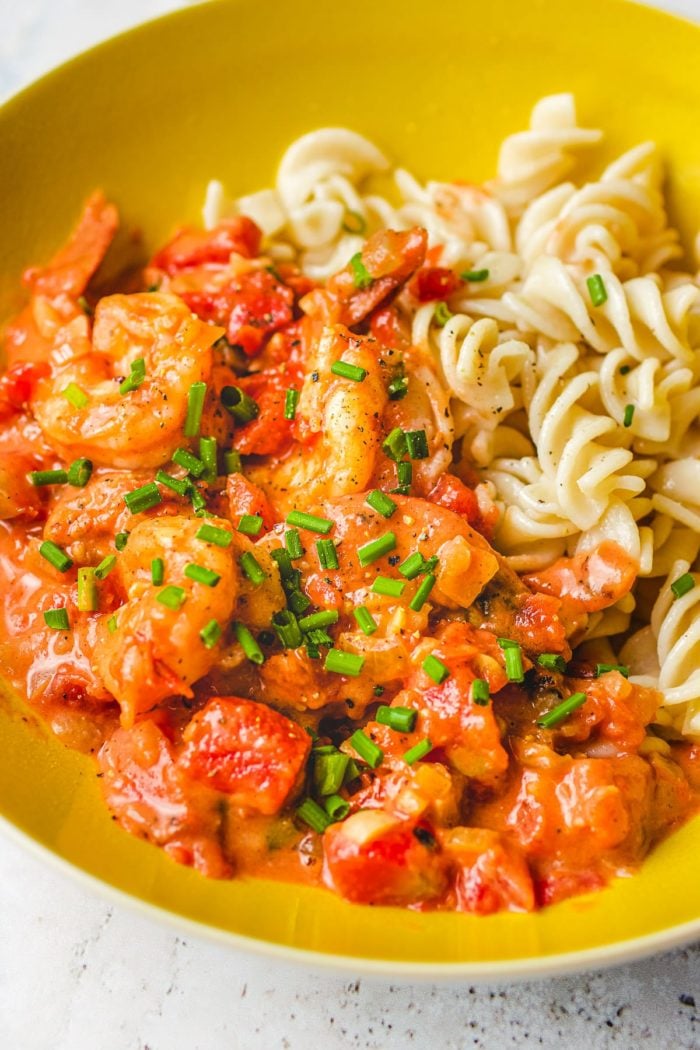 What to serve with Creamy Shrimp Tomato Pasta?
This simple yet super flavorful dish pairs nicely with a big bowl of salad or stir-fry greens, here are some of my selected choices along with salad dressings that would go well with the creamy tomato shrimp pasta.
Tips of making the best Tomato Cream Sauce with Shrimp
Don't over cook the shrimp – keep them plump and juicy. Please pay attention to the cooking time and the stovetop temperature as written in the recipe below.
Use fire roasted tomatoes – this is one of the must-have items in my pantry. I love the slightly charred and smoky flavor. They make the best pink sauce.
Use dairy-free creamer (half-and-half) – A perfect blend usually comes with two flavors in combination. For example: coconut cream and almond milk. It gives more depth to the dairy-free milk and tastes more complex. It's also not dominant by the coconut flavor.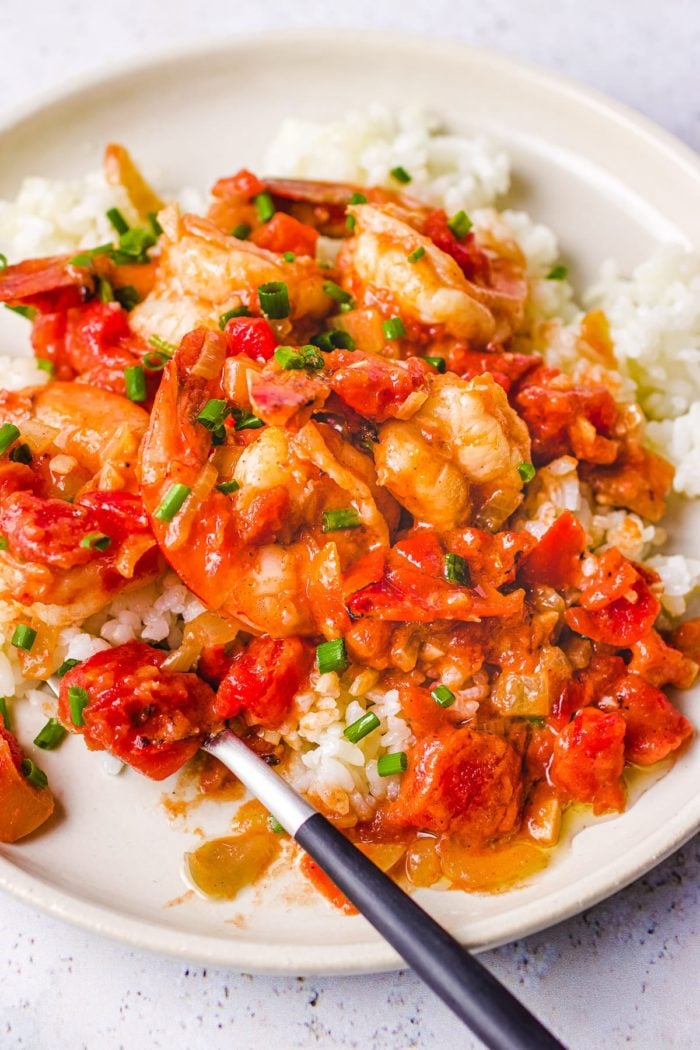 More savory comfort food recipes you and the family would love –
And if you are looking for a classic Chinese dish, my Cantonese scrambled eggs with shrimp dish is a must-try for seafood lovers!
I have served this Shrimp in Tomato Cream Sauce (Pink Sauce) on numerous occasions – sometimes over rice or gluten-free rice pasta, or even on the side with mashed sweet potatoes or low carb fried rice. Let me tell you… it works fabulously every single time – easy, creamy, unbelievably delicious. This is a dish that will satisfy your soul and make you smile, and I can't believe it's so simple to make with so few ingredients that anyone can master it easily.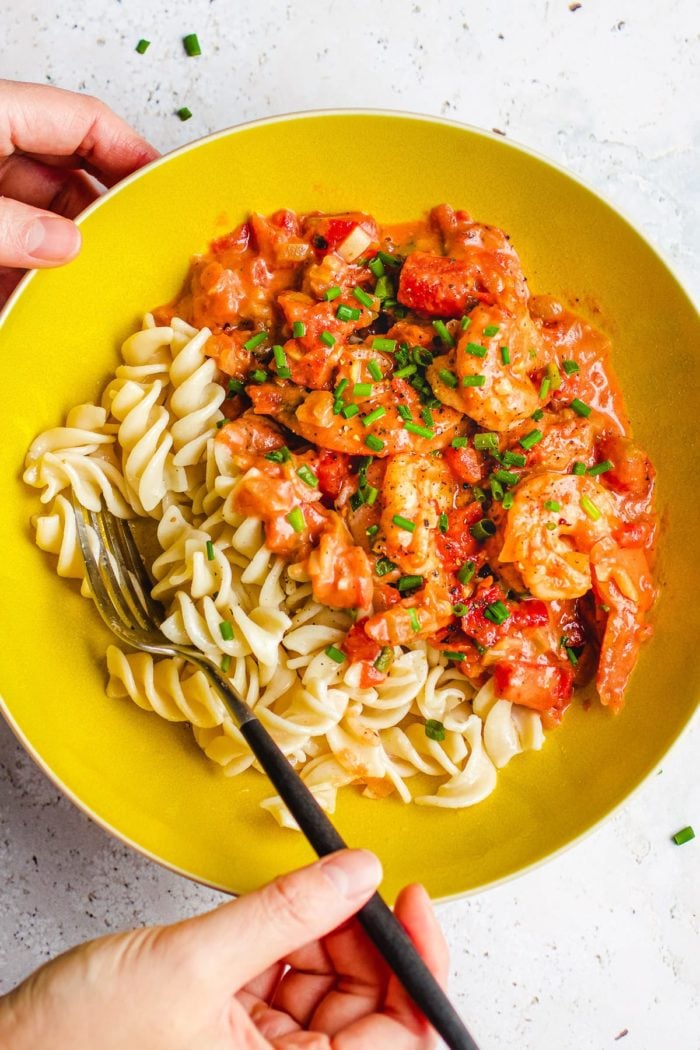 Please note that I do not count oil, salt, pepper, or stock as part of the ingredients because they are basic pantry essentials. The goal is to keep the list minimum and I hope to inspire you to make delicious meals at home.:)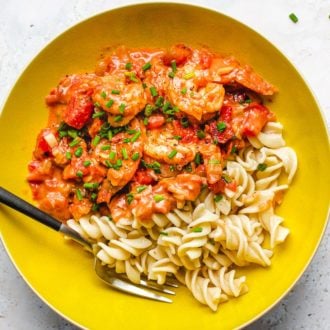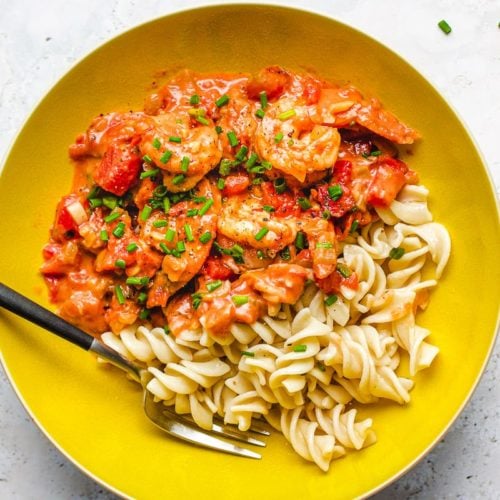 Shrimp In Tomato Cream Sauce (Paleo, Whole30, Keto)
Shrimp in Tomato Cream Sauce with a luscious dairy-free pink sauce and easy to make. This creamy shrimp pasta with tomato sauce is healthy, gluten-free and simply divine!
Print
Pin
Rate
Ingredients
1 clove garlic, about 0.4 oz.
1 large shallot or a small yellow onion, about 3 oz.
1 lb. large shrimp, peeled and deveined with tail on
1.5 tbsp olive oil
1 tbsp coconut amions, or 1 tsp worcestershire sauce
2 tbsp chicken or vegetable stock
14.5 oz. Canned fire Roasted Tomatoes, diced
¼ cup dairy-free milk creamer, i.e. dairy-free coffee creamer half-and-half
1 tbsp ghee
Ground black pepper, to taste
Small handful parsley or chives, chopped for garnish
Instructions
Finely mince the garlic and shallot. Set them aside in one bowl.

Pat dry the shrimp with a clean paper towel and butterfly them.

Lightly dust the shrimp with arrowroot on both sides.

In a well-heated skillet, add olive oil. Saute garlic and shallots over medium heat with a pinch of salt until they sweat a bit, about 30 seconds.

Add the shrimp and pan fry them over medium heat until the color changes to pale light pink. This will happen quite quickly about 30 seconds per side.

Add coconut aminos, stock, and tomatoes. Spread the tomato sauce over the skillet to cover the shrimp evenly. Simmer over medium heat, uncovered, for about 7 to 8 minutes. Gently push the sauce around periodically to ensure even cooking and nothing is stuck to the bottom of the skillet.

Scoop out the shrimp, set them over a large pasta serving bowl, and cover with a foil to keep warm. Leave the tomato and the sauce in the skillet.

Add the milk creamer and ghee. Turn up the heat to high and stir the sauce with a wooden spoon until it thickens, about 2 minutes for thinner sauce and 3 minutes for thicker sauce.

Off heat, pour the sauce over the shrimp. Gently toss to coat it over. Season with black pepper to taste and garnish with chives or parsley.
Notes
If adding pasta, cook the pasta noodles separately according to the package instructions and drain well. Add the noodles to the sauce at Step 8 to thicken with the tomato cream sauce together. You might need to adjust the time to reduce the sauce. You might also need to season with more salt to taste. If needs more sauce, try adding more milk creamer.
To keep the meal Whole30 or low carb, serve it with mashed sweet potatoes or low carb fried rice.
To keep it even lower in carb, pat dry the shrimp and skip the arrowroot dusting. Increase the time to reduce/thicken the sauce over a stovetop. You may also use Xanthan gum to thicken the sauce, if desired.
Nutrition
Serving: 1serving, Calories: 339kcal, Carbohydrates: 15g, Protein: 33g, Fat: 14g, Saturated Fat: 4g, Cholesterol: 394mg, Sodium: 1506mg, Potassium: 231mg, Fiber: 2g, Sugar: 7g, Vitamin A: 548IU, Vitamin C: 12mg, Calcium: 278mg, Iron: 4mg