Sauteed Swiss Chard with Chickpea Miso Butter
This Sautéed Swiss Chard Recipe with Miso Butter – with chickpea miso and ghee – is a crazy good side dish. Just imagine butter melted with umami rich miso paste, and stirred-in the nutty and slightly sweet sautéed swiss chard. It just tastes good – so good that you'll want to lick the sauce off your fingers, like cake frosting. 🙂
With 5 ingredients, this nutrient-dense Swiss chard recipe is super easy to make. Get ready for an uber-umami whirlwind of deliciousness!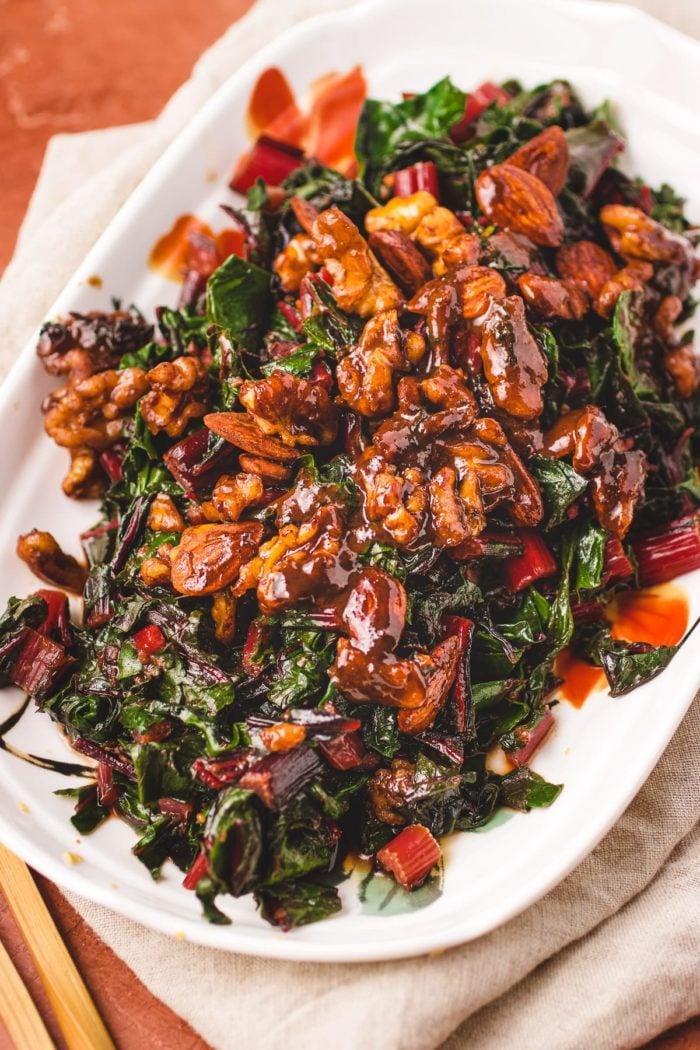 When Sautéed Swiss Chard Recipe meets David Chang's Miso Butter
Swiss chard is a vegetable that I came to learn and love after years of living in the states. It's not a vegetable that I grew up with but I was hooked the moment I took the first bite. Probably because the sautéed chard flavor and texture remind me of spinach and bok choy and any yummy dark leafy greens are always welcome in my household.
Swiss Chard is a very versatile vegetable. Most often it's braised or sautéed with olive oil and garlic. I absolutely adore the garlicky flavor combo but today, I want to share something truly special. Between you and me, I didn't expect this Sautéed Swiss Chard Recipe with miso butter will taste this ultra good. It's so good that it's simply WRONG!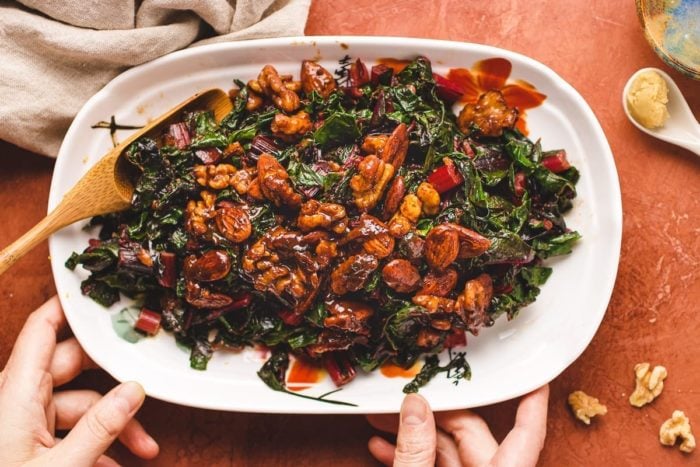 When David Chang first introduced miso butter in his Momofuku cookbook, the Kitchn described it as "a substance which I believe is as close as we can come to what the angels eat in heaven." David took the inspiration from Sapporo styling of miso ramen where the ramen is finished with a knob of butter. Whoever developed this genius combo really should get all the prizes and trophies. Something so good yet so simple. Pure genius!
Since then miso butter is used widely for many dishes, particularly steamed, roasted, or sautéed vegetables. See where I'm going with this? Ha! It doesn't take a genie out of the bottle to figure why not give the Sautéed Swiss Chard Recipe and miso butter a try.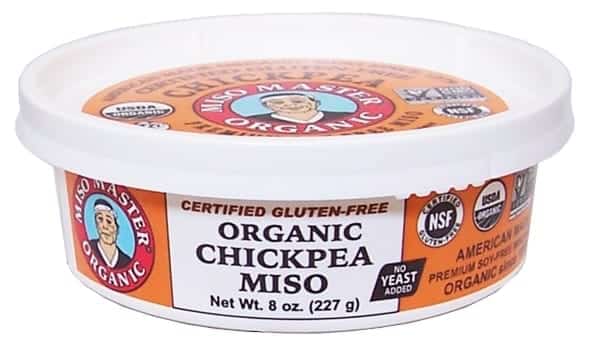 What Is Chickpea Miso
Before I went on further, I want to mention that I used store-bought chickpea miso to make today's chard recipe. It is a time-saving grace and gluten-free but this recipe is not 100% paleo friendly because Paleo diet excludes legumes. I was debating either not share this recipe (because it's not paleo) or show you how to make a Paleo friendly miso from scratch but that will likely take more time to make a simple sautéed chard. In the end, convenience won. 🙂
Chickpea miso is made from brown rice and chickpeas and is typically aged for 1 to 3 months. The flavor is stronger than white miso yet lighter than red miso. It's perfect for people who can't have or want to avoid soy.
Be that as it may, the same recipe works with regular miso paste as well so if you can have soy (look for organic and non-gmo miso paste) you can cook with my recipe, too!
Swiss Chard Nutrition
Swiss chard is high in Vitamins E, K, A, and C. It's also anti-inflammatory and helps the body manage blood sugar. Chard is also low in calories, making it a weight loss friendly food. More reasons to eat chard!
1 cup of Sautéed Swiss Chard contains: Calories: 35, Protein: 3.3 grams, Carbs: 7 grams, Fiber: 3.7 grams
, Vitamin A: 214% of the Reference Daily Intake (RDI), Vitamin C: 53% of the RDI, Vitamin E: 17% of the RDI, Vitamin K: 716% of the RDI, Calcium: 10% of the RDI, Copper: 14% of the RDI, Magnesium: 38% of the RDI, Manganese: 29% of the RDI, Iron: 22% of the RDI, Potassium: 27% of the RDI. (Source)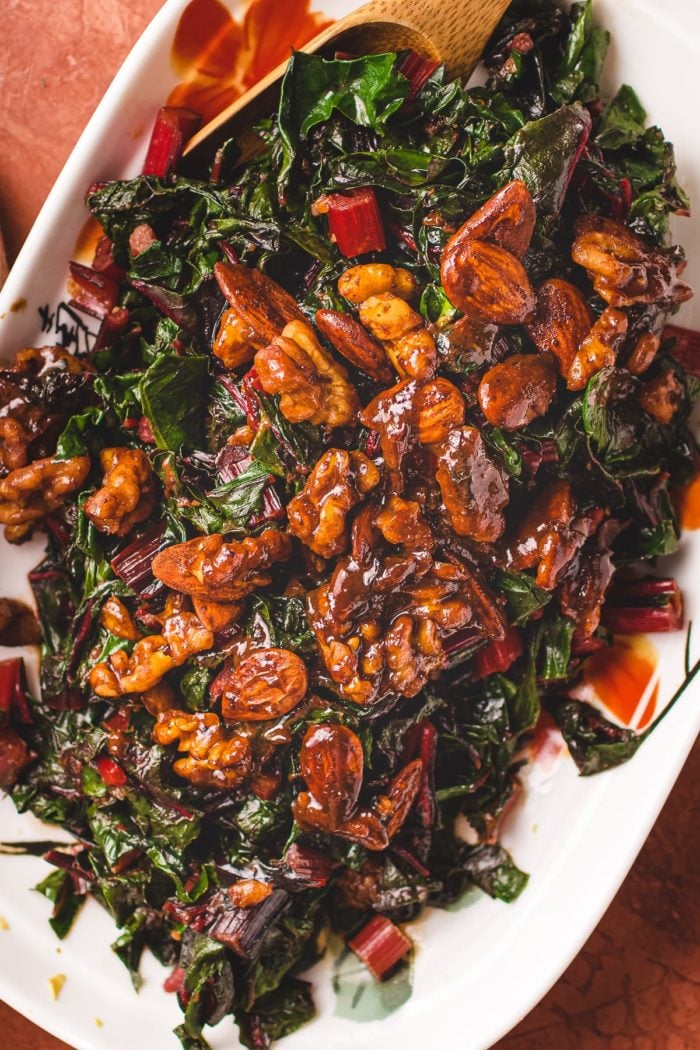 What Does Swiss Chard Taste Like?
Swiss chard leaves are tender. Some people find the leaves slightly bitter and others find them taste similar to spinach and beets.
Swiss chard stems are definitely edible! They are crunchy and slightly sweet. The texture is similar to bok choy stems. They are very versatile. You can sauté or braise, and it cooks quickly.
For this Sautéed chard recipe, I recommend not over cooking it too much. We want the texture just soft and tender but not mushy, similar to my sautéed cabbage recipe.
What Does Swiss Chard Go Well With?
More Healthy Side Dishes
This Sautéed Swiss Chard Recipe with miso butter is nutritious and easy to make, and the flavor plays nicely with a variety of dishes. The added miso butter really elevates this humble dish and makes it extra special. Even if this is your first time trying sautéed chard, let me hold your hand walk you through the process with ease. This dish absolutely earned a spot on our dinner table and should have a place on your dinner table, too!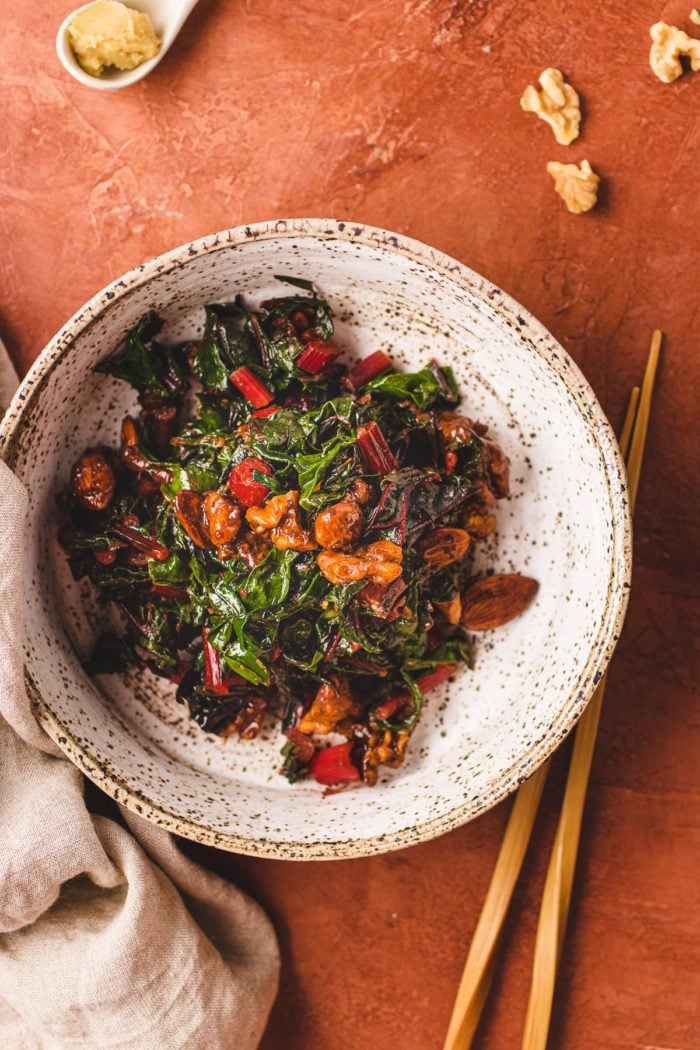 Sauteed Swiss Chard Recipe with Miso Butter (gluten-free, soy-free)
Sautéed Swiss Chard Recipe with Miso Butter is super nutritious. 5 ingredients, this high in vitamin E Swiss Chard Recipe is the best healthy side dish!
Print
Pin
Rate
Ingredients
1 large bunch Swiss chard, about 12 whole leaves and stems (Red, Green, Yellow, or Rainbow color)
1 tbsp chickpea miso paste, alt. regular miso paste
2 tbsp ghee
1 tbsp coconut aminos
⅛ cup whole walnuts, raw
⅛ cup whole or sliced almonds, raw
Instructions
Dice the chard stems to 1-inch pieces and the chard leaves to 1.5 to 2-inch pieces. Rinse well and set aside to drain.

In a large skillet, add miso and ghee. Use a wooden spoon to stir and warm up the miso and the ghee over medium-heat until the miso is slightly browned and the ghee is melted, about 2 minutes. Try to break the miso paste to smaller bits. It might cling onto your spoon a few times.

Add chard stems, leaves, and coconut aminos. Saute over medium-high heat for about 3 minutes. Stir-frequently.

The chard should be just tender but not mushy. Off heat, scoop out the chard and place it over a large serving plate and cover to keep warm. Leave the liquid in the skillet.

To make a sauce, turn high heat to reduce the liquid left behind. Stir often with a wooden spoon until the sauce turns thicker, about 3-4 minutes.

Roughly break the walnuts with your hands and add them to the sauce with almonds. Stir to coat the sauce over.

Pour the sauce and the nuts over chard. Serve warm.
Notes
Miso Butter recipe adapted from Momofuku.
Nutrition
Serving: 1serving, Calories: 155kcal, Carbohydrates: 9g, Protein: 5g, Fat: 13g, Saturated Fat: 5g, Cholesterol: 19mg, Sodium: 533mg, Potassium: 602mg, Fiber: 3g, Sugar: 2g, Vitamin A: 8807IU, Vitamin C: 43mg, Calcium: 89mg, Iron: 3mg