Hibachi Noodles
These hibachi noodles are a restaurant-quality, elegant side or stand-alone meal that gives Japanese steakhouse vibes without the price tag! Rich and creamy and bursting with buttery garlic flavor, this delectable dish is ready in 20 minutes or less—no special equipment needed!
These gluten-free and vegan noodles are infused with sweet and savory umami flavor from my Keto teriyaki sauce (option to sub my Paleo teriyaki sauce). Pair it with my hibachi vegetables for a proper Japanese-inspired feast!
Why this will be your go-to recipe
This hibachi noodles recipe has all the flavor and pizazz you'd expect from a Japanese noodle dish at a fraction of the cost of what you'd find in a steakhouse. Perfect for lunch or dinner, this recipe comes together fast with minimal, accessible ingredients. Plus, it's vegan-friendly!
Fast and easy: Minimal ingredients come together in 20 minutes or less!
Elegant yet affordable: It tastes so deluxe, you'll have the feel of a steakhouse dinner without the price tag.
Bursting with flavor: This recipe has it all! Buttery, garlicky, sweet, and savory, these noodles are like a creamy Italian dish with some serious Asian flare.
What are hibachi noodles?
Hibachi is a Japanese style of cooking that traditionally uses a grated, open-flame grill called a shichirin. Hibachi-style cooking was popularized by the American chain Benihana, although calling their food hibachi is a tad misleading.
Japanese-American steakhouses like Benihana and Kobe cook on large electric griddles rather than a traditional shichirin. This cooking style is actually known as "teppanyaki grilling," although the two have become interchangeable in the US.
Hibachi-style noodles are flavored with lots of garlic, in addition to ginger, sesame, and soy sauce. There's little difference between hibachi noodles vs lo mein, which is the Chinese version.
What kind of noodles are used in hibachi?
Hibachi (commonly misspelled as "habachi" or "hibatchi") or teppanyaki noodles are traditionally made with yakisoba noodles. These round noodles are thinner than udon noodles but thicker than soba noodles and are made of buckwheat.
Because the name hibachi comes from the cooking style, rather than the type of noodle, you can really use whatever is available to you. Spaghetti, angel hair pasta, chow mein, Chinese egg noodles, ramen noodles, or rice noodles are some of the best noodles for hibachi.
I use gluten-free spaghetti noodles in the recipe and will suggest a low-carb substitution below.
Ingredients
This authentic hibachi noodle recipe is fantastic not only because it's so easy to make, but it uses just a few, accessible ingredients. Here's what you'll need for these delicious stir fry hibachi garlic noodles!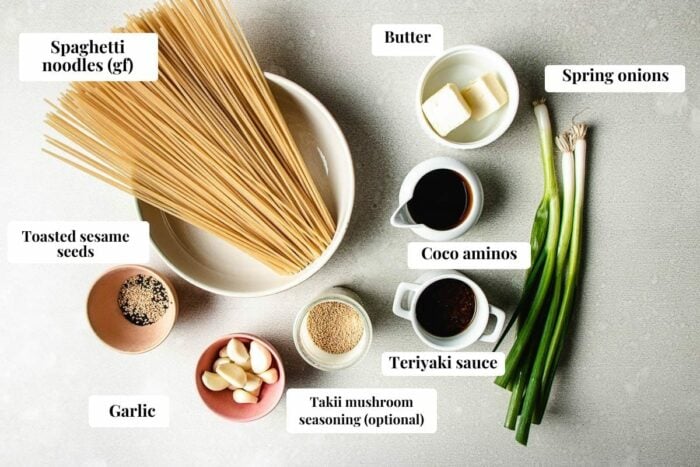 Noodles: Gluten-free spaghetti or noodles of choice
Seasonings: Garlic, green onions, unsalted butter, and Takii shiitake mushroom seasoning, or coarse sea salt
Hibachi Sauce: Teriyaki sauce, coconut aminos, mirin (optional)
For serving: Ground white pepper, toasted sesame seeds, toasted sesame oil
Cookware
You don't need any special equipment to make this meal! There are many recipes to make these hibachi noodles on Blackstone grills and griddles, or on a traditional hibachi grill, but all you really need is a sauté pan or wok that is big enough.
Ingredient substitutions
Low-carb: Love noodles but not the carbs? Try substituting kelp noodles!
Vegan butter: The buttery flavor is critical to this dish, but if you're dairy-free you can use a vegan substitute.
Soy sauce: If you don't have teriyaki, soy sauce will do. Just be sure to add a bit of sugar to balance the flavor. Or you can use extra coconut aminos.
How to make the dish
Love Japanese food but don't know where to buy these delicious grilled noodles on a budget? No problem! Here is how to make homemade hibachi fried noodles for a fraction of the price.
Prepare the garlic and scallions.
Mix the sauce in a separate bowl.
Boil the noodles according to the directions (but keep them al dente!)
Saute the white scallion parts and garlic in butter over medium high heat.
Add the sauce mixture to the heated butter and aromatics.
Drain the noodles and toss in the sauce with Takii mushroom seasoning or salt. Add the noodle water if it feels dry. Stir-fry and transfer to a serving plate and drizzle with serving ingredients.
Expert tips
Cook noodles al dente: When boiling the noodles, make sure to leave them al dente (firm) so they don't get mushy.
Cook proteins first: If you're pairing this with a protein like steak or chicken, sear the noodles in the same pan or grill after cooking the meat so they pick up some of that flavor!
Don't skip on the garnish: Beyond looking good, the serving ingredients are a major part of the hibachi style of cooking and really elevate this dish!
Variations
This recipe really gives you an authentic hibachi taste, but there are so many ways to have fun with it too! Here are some tasty Asian fusion variations to try.
Make it spicy: Add some chili flakes or try my garlic chili sauce if you're craving some extra heat!
Add a protein: This is a classic steakhouse side and definitely pairs well with protein! Mix it up with chicken, steak, shrimp, or even tofu.
Add veggies: Need some fiber in your life? Toss in the vegetables of your choice! Broccoli, zucchini, mushroom, and carrots are some of my favorites.
Serving suggestions
These Japanese noodles are the perfect umami side, but they work well as a stand-alone meal too, especially if you add some veggies and protein!
It pairs perfectly with hibachi chicken or hibachi steak — keep an eye out for these and other hibachi recipes which will be posted soon! To keep it vegan, try it with my silken tofu recipe.
You can pair it with any veggies you like. I really enjoy these noodles with my Panda Express super greens copycat recipe!
I also really love these noodles with my bang bang sauce, which is really similar to the yum yum sauce that's often served with hibachi.
Common FAQ
Are hibachi noodles the same as lo mein?
Hibachi noodles are Japanese grilled noodles, often served alongside meat and vegetables. Lo mein is a very similar Chinese noodle stir-fry, often with vegetables mixed in.
What gives hibachi its flavor?
The main flavor ingredient is garlic. Soy sauce, sesame oil, sesame seeds, and ginger are also often used, depending on the dish.
Are hibachi noodles gluten free?
Hibachi refers to the cooking method and seasonings, not a specific type of noodle. So this depends on the noodles being cooked. I use gluten-free noodles in this recipe.
Are hibachi noodles vegan?
This is a vegan-friendly recipe. Just be sure to swap out the butter for a dairy-free alternative if you are strictly vegan.
Storage and make-ahead
This dish is definitely best when it's fresh, and since it's so easy to cook, you might as well finish it! If needed, leftovers can be stored in an airtight container in the refrigerator for up to 3 days.
Reheat in a large skillet on high heat for 2 minutes or until heated completely. They are definitely better when served hot!
The noodles can be boiled and the sauce can be made ahead of time, but they should be kept in separate containers until it's time to cook and serve.
Related recipes
Have you fallen in love with hibachi? Keep an eye out for my hibachi shrimp and hibachi salmon recipes, coming soon!
And for the noodle lovers out there, be sure to check out my garlic chili noodles and spicy peanut noodles! If you prefer using sweet potato noodles, my Cantonese chow mein with beef is another wonderful choice!
Umami Tips
Choose your best noodle: From traditional yakisoba noodles to ramen or linguine pasta, the best noodles for hibachi are the ones that are accessible to you!
Pair with protein: As this is a classic Japanese steakhouse side, pair it with hibachi chicken, steak, or salmon for the full Japanese dining experience!
Serve it hot: This dish is definitely best right out of the pan! Leftovers can be easily reheated for maximum enjoyment the next day.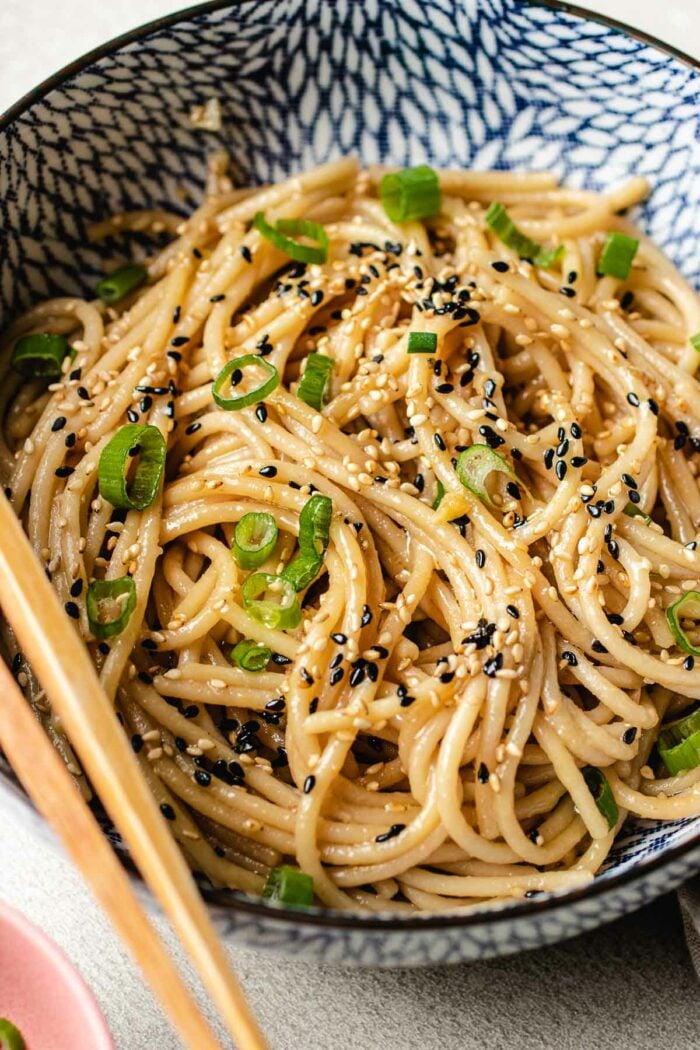 Hibachi noodles recipe
Hibachi noodles with extra garlicky and buttery flavor! These Japanese steakhouse teppanyaki noodles are easy-to-make and full of flavor!
Print
Pin
Rate
Ingredients
1.5 oz garlic cloves, finely minced, 8 large cloves
3 bulb spring onions, diced and separated white and green parts
8 oz. spaghetti noodles, gluten-free
3 tbsp unsalted butter
2 tsp Takii mushroom seasoning, or 0.5 tsp coarse sea salt
Instructions
Finely mince the garlic and chop the scallions – separate the green and white parts.

Prepare the sauce in a separate bowl.

Boil the noodles to al dente by following the package instructions, about 1-2 minutes shy of the recommended cooking time.

In a 12-inch large saute pan, melt the butter over medium heat. Add the white scallion parts and garlic, and saute for 2 minutes with a pinch of salt. Take care not to burn the garlic.

Add the sauce and stir to incorporate with the butter, about 15 seconds. If you are still waiting for the noodles to get boiled, you can turn off the heat so that the sauce doesn't get over-reduced.

Reserve ¼ cup of noodle water and drain the noodles. Add the noodles to the pan with Takii mushroom seasoning or salt. Toss to combine over medium heat for 1 minute. If the noodles turn a bit dry, add the reserved noodle water. You should see the sauce turn thicker and the noodles are glossy.

To serve, transfer the noodles onto a large serving plate. Garnish with green scallion parts, white pepper, sesame seeds, and oil. Serve immediately.
Notes
Takii shiitake mushroom seasoning adds depth to the dish. You can use it in combination with salt or to replace salt. Not all mushroom seasonings taste the same. Takii's flavor aligns with Asian food the best.
In hibachi restaurants, the "salt" shaker the chefs use is a combination of salt, white pepper, and msg.
If you don't have teriyaki sauce, you can use a tab bit more coconut aminos. Taste and adjust.
You can also use soy sauce but please combine the sauce with a touch of sugar to taste.
Types of noodles used in restaurants: Hibachi restaurants use yakisoba noodles or lo mein noodles. They are long and round shape noodles – thinner than udon noodles; thicker than soba noodles.
At home, you can use any types of noodles you prefer – spaghetti, angel hair pasta, chow mein, Chinese egg noodles, or rice noodles. I use gluten-free spaghetti noodles in the recipe.
Nutrition
Serving: 1serving, Calories: 147kcal, Carbohydrates: 17g, Protein: 2g, Fat: 8g, Saturated Fat: 4g, Polyunsaturated Fat: 1g, Monounsaturated Fat: 2g, Trans Fat: 0.2g, Cholesterol: 15mg, Sodium: 114mg, Potassium: 116mg, Fiber: 1g, Sugar: 1g, Vitamin A: 181IU, Vitamin C: 2mg, Calcium: 23mg, Iron: 1mg
Made a dish and love it? Please remember to rate the recipe and leave a comment in the comment section below! It helps my blog grow organically so I can continue sharing free and awesome content with you. Thank you!