Vietnamese Pizza (bánh tráng nướng)
Vietnamese Pizza (or bánh tráng nướng) is the new favorite in town! This rice paper pizza is easy and gluten-free and takes only 15 minutes to make! This popular Vietnamese street food snack is made with rice paper sheets and pan-grilled to crispy. Top with eggs, scallions, shiitake mushrooms, or any toppings you prefer.
I grill mine on the stovetop and no oven was required. This is a delicious and crispy snack, yet takes a fraction of the time and effort. You are gonna love it!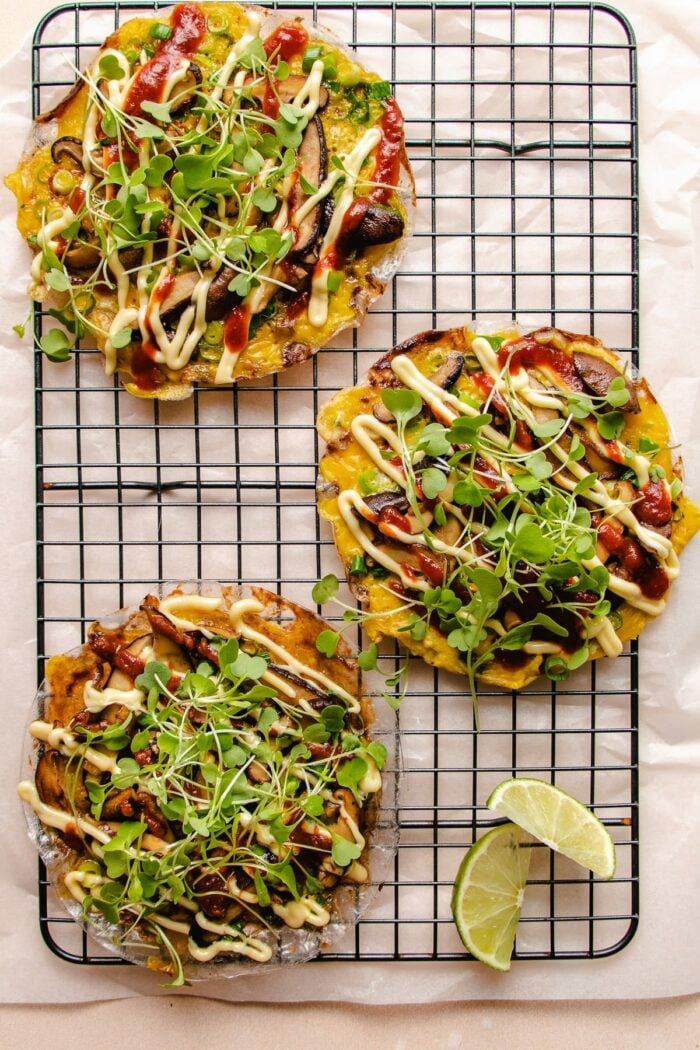 What Is Vietnamese Pizza?
Vietnamese pizza, or bánh tráng nướng, is a popular street food among young people in Vietnam. It's made with a thin sheet of rice paper, whisked quail or chicken egg, and spring onions spread on top of the rice paper.
The egg mixture acts as a glue for the toppings of your choice. In Vietnam, the street vendor grills the rice sheet on a charcoal grill over a hot pan until crispy.
You can make it on a stovetop at home with a cast iron skillet with one to two sheets of dry rice wrapper and pan grill it to crispy.
The best thing about rice paper pizza is that it's low effort, fun to make, and tastes delicious. You can use any toppings you have in the pantry and be as creative as you like.
See how it's made by a street food vendor here.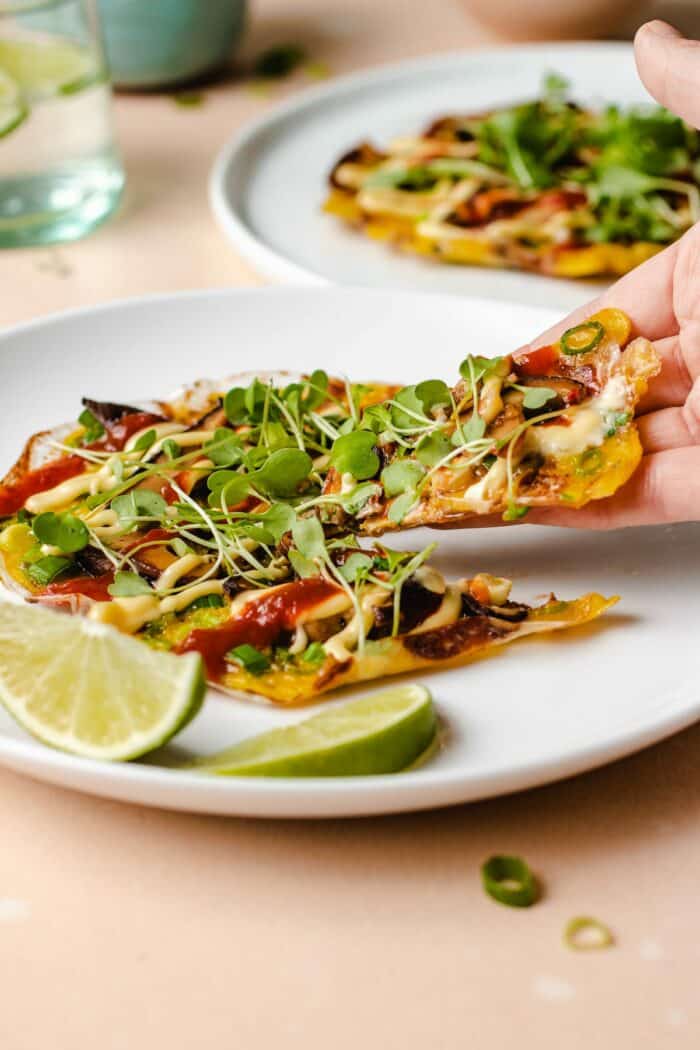 Ingredients
You can use any toppings you prefer to make pizza Vietnamese style. I've seen people adding cheese, cut-up hot dogs, gochujang paste, or chili garlic sauce. My version is vegetarian-friendly.
Base:
Rice paper sheets: this is the foundation of Viet Pizza. Rice paper wrappers are sometimes also labeled as spring roll rice wrappers. The sheets are in white color that's almost translucent. They are not refrigerated.
Eggs (or quail eggs) and spring onions
Toppings:
fresh shiitake, garlic, baby arugula micro greens, lime juice
Seasoning:
coconut aminos, ketchup (optional), kewpie mayo, and sriracha (optional).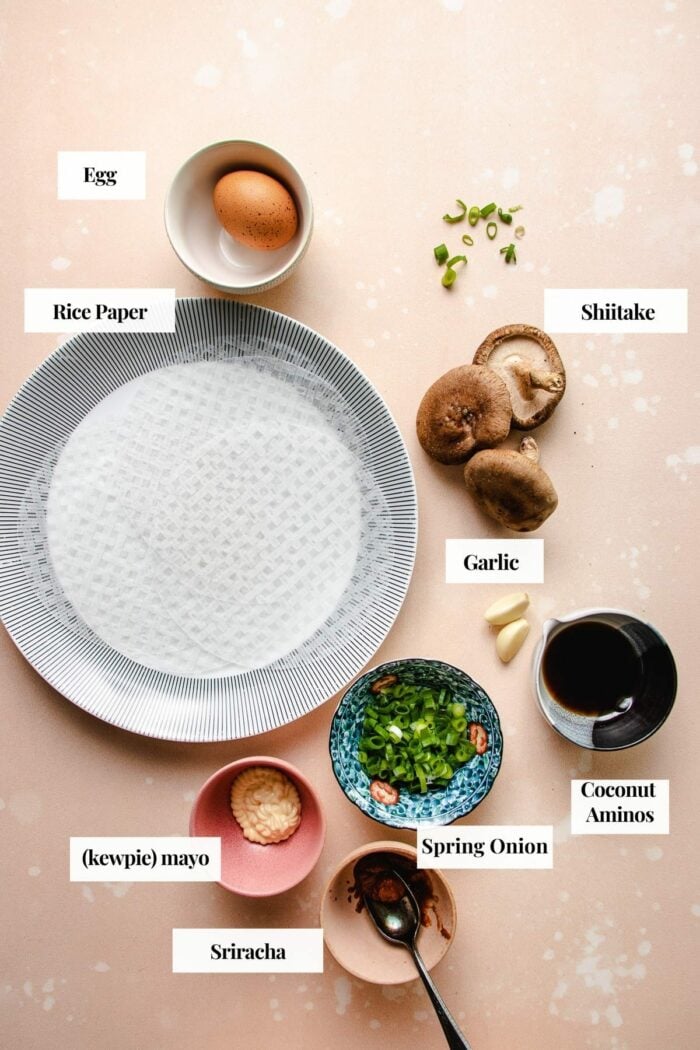 How to Make Vietnamese Pizza (bánh tráng nướng)
Saute: stir fry the shiitake with garlic and season with salt and coconut aminos.
Pan grill: Take a sheet of rice paper (no need to dip it in water) and pan grill it over medium-low to medium heat until the color turns slightly opaque.
Add a whisked egg and green onions and quickly spread the mixture evenly.
Top with sauteed shiitake, mayonnaise, and sriracha sauce.
Garnish with baby greens or sprinkle with more spring onions
Tip: I drizzled a touch of lime juice on the pizza to brighten the flavor before serving.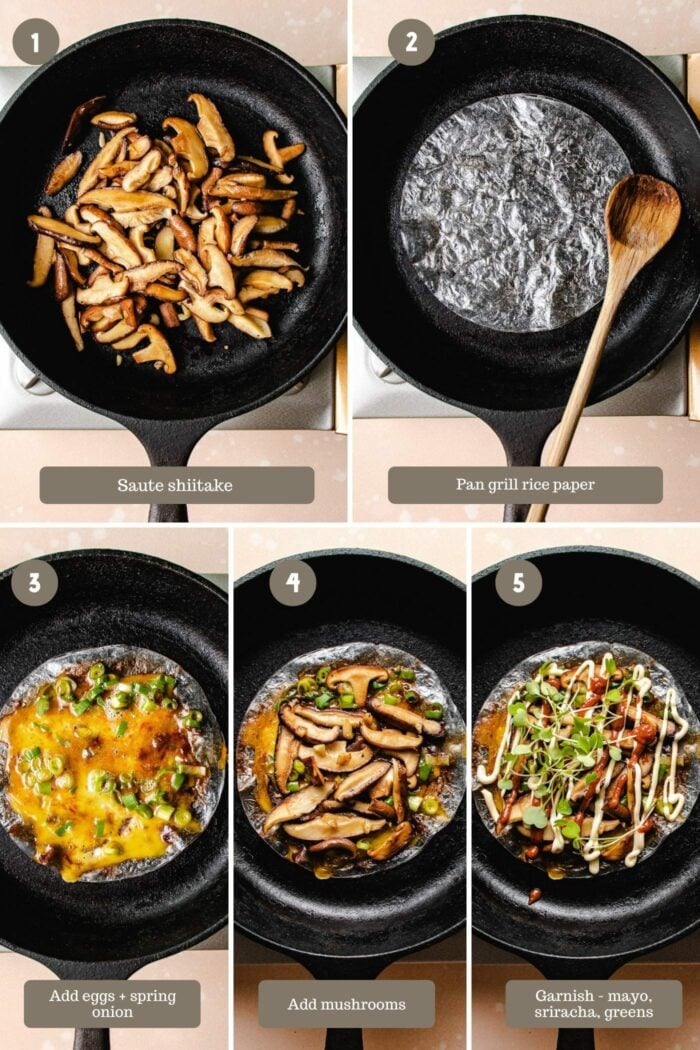 Ingredient substitutions and variations
Soy sauce: saute the mushrooms with a small splash of soy sauce to replace coconut aminos.
Rice paper: you can also use brown rice paper or purple-colored rice wrapper sheets that are made with purple rice.
Sauce choices: add a teaspoon of shacha sauce, sweet chili sauce, or Chinese garlic chili sauce to create flavor variety. You can also drizzle the rice paper pizza with bang bang sauce or Vietnamese dipping sauce for a tangy refreshing flavor.
Other Topping Ideas
Add proteins: add cooked chicken, beef, pork, tofu, or shrimp to the pizza. Hot dogs or sausage (cooked and diced), spam or ham, shredded dried pork floss (chà bông), mushroom floss, or canned tuna (drained).
Other: Sandwich cheese or shredded cheese, corn, fried shallots.
---
How to make it ahead
Vietnamese pizza is very fast to make. You can, however, saute the shiitake or prepare your toppings and sauces in advance so it'll be ready to use when you need it.
Pizza made with rice paper wrappers is best enjoyed when it's fresh that's the reason it's made into individual serving quantities. The rice paper sheets do not store well in the fridge as they will turn hard and brittle.
FAQs
What type of rice paper can I use to make pizza?
You can use rice paper sheets sometimes also labeled as spring roll rice wrappers. The sheets are in white color that's almost translucent. They are not refrigerated.

The rice papers we have in North America are blended with rice flour and tapioca flour which make them easier to roll without tearing. I've also seen versions blended with cassava flour.
How do you eat rice paper pizza?
You can fold it in half and eat it similar to a tortilla wrap or lay the pizza flat and cut it with a pair of kitchen shears into slices.
What do you put on a Vietnamese pizza?
Traditional toppings for pizza Vietnamese style include minced pork, pork floss, dried shrimp, green onions, quail eggs, and seasonings like chili sauce, mayonnaise, and sriracha. It's grilled until crispy and often folded in half to eat. The toppings can vary, and modern variations might include cheese or other ingredients.
What does Vietnamese pizza look like?
Vietnamese rice paper pizza looks like a thin, crispy, golden-brown disc due to the grilled rice paper base. There are various toppings – pork floss, dried shrimp, green onions, and crispy shallots often sprinkled on top of whisked quail eggs, then drizzled with chili sauce or mayonnaise.
Expert Tips
Don't add oil to the pan when you grill the rice paper
No need to dip the rice sheet in the water – grill the rice sheet directly on a hot pan.
If using two sheets of rice wrappers – lightly sprinkle some water on the paper to help the two sheets adhere then pan grill them until crispy.
Use a large flat surface skillet – nonstick, ceramic, or cast iron – and preheat the pan well before adding the rice sheet.
Press the rice paper down in a circular motion – it'll curve up initially.
Gentle and low heat to grill until the rice paper sheet turns opaque.
Don't overload with toppings but feel free to customize your own choices.
Use a cooling rack – if you make more than 1 pizza at a time, rest the pizza on a cooling wrack so it will remain crunchy.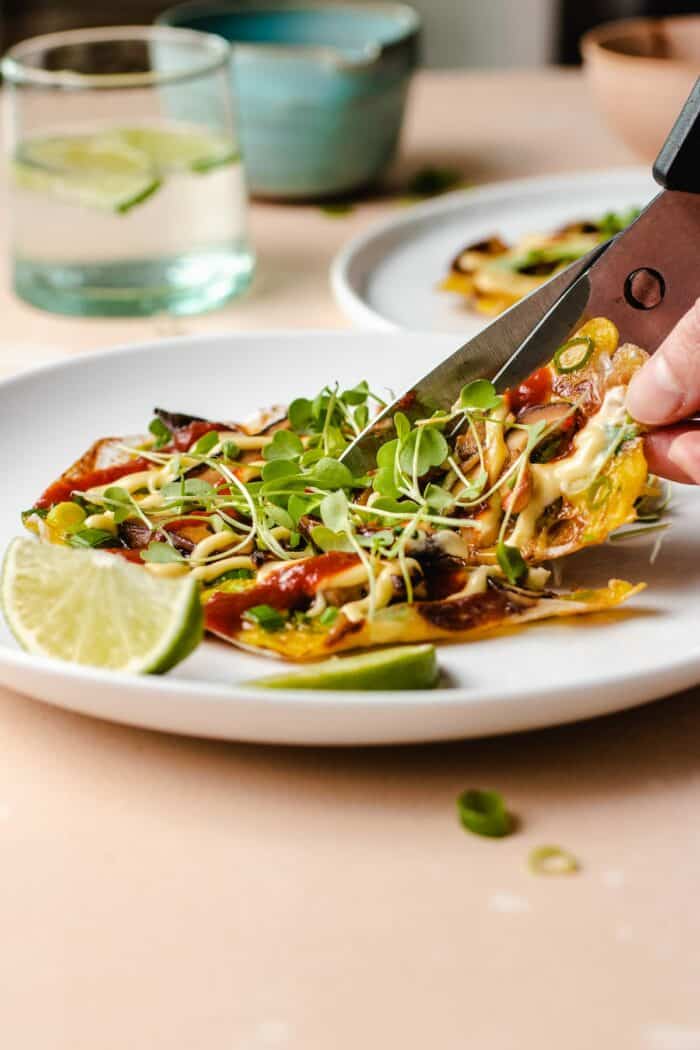 Pairing Ideas
Vietnamese rice paper pizza is a great snack for every day. You can keep it light or make it into a full meal with other side dishes. Here are some of my favorites: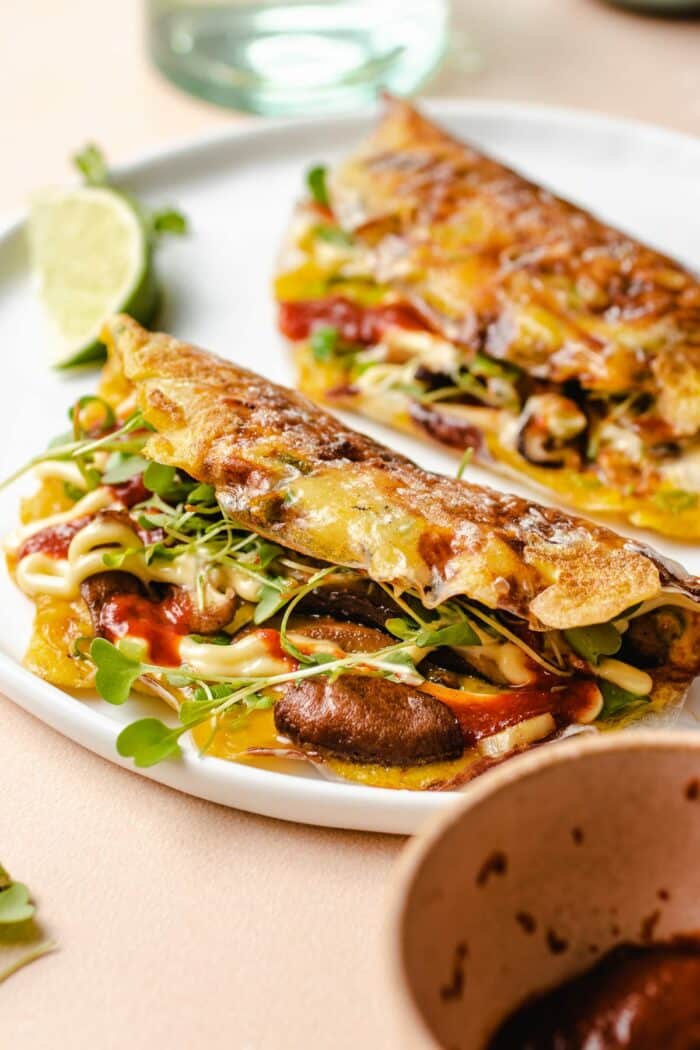 Vietnamese Pizza Recipe (bánh tráng nướng)
Vietnamese Pizza (Bánh Tráng Nướng) is a popular street food in Vietnam with grilled rice paper and toppings of your choice. It's gluten-free and easy to make. It's a delicious snack/appetizer!
Print
Pin
Rate
Ingredients
For the shiitake:
0.2 oz garlic clove, finely minced, 1 medium clove
1.5 tbsp avocado oil
3 oz fresh shiitake, stems removed and sliced, 4 large caps
3 pinches coarse sea salt, divided
½ tbsp coconut aminos
For the rice paper pizza:
1 large large egg, whisked
1 bulb spring onion, finely chopped
1 or 2 piece rice paper , 8.5" diameter, see notes for more info
2 tsp ketchup
Kewpie mayo, or regular mayo
Sriracha, optional
Microgreens, such as baby arugula
quarter 1 whole lime wedge
Instructions
In a saute pan, saute the garlic with oil over medium-low heat for 10 seconds. Add shiitake and 2 pinches of salt. Saute until the mushrooms start sweating and are softened, about 5 minutes. Add coconut aminos. Saute for an additional minute. Turn off the heat. Transfer the mushrooms onto a plate and set it aside to cool.

Whisk the egg and spring onion in a bowl with a pinch of salt.

In a large skillet, clean and not oiled, preheat it over medium-low heat until you can feel a gentle warmth. Add the rice paper without moisten it first. The paper will curve up. This is natural so quickly press it down with a wooden spoon in a circular motion. You can flip and grill it until the paper turns into a slight opaque color, about 3 minutes.

Add ketchup and quickly spread it out evenly with the back of a spoon. Slowly pour in the egg mixture and quickly spread it out evenly. Try to keep the mixture inside of the rice paper sheets.

Cook for about 30 seconds until the egg mixture is slightly set but the eggs aren't completely cooked through. Add the shiitake and spread it over the pizza. Grill the rice paper sheets for a few more minutes until the bottom is crisp.

Garnish with mayo, sriracha, if using, microgreens, and a few drizzles of lime juice.

To serve, you can fold it in half or present it over a large plate and cut it into slices with a pair of kitchen shears. I recommend serving it right away.
Notes
If you are making more than 1 pizza at a time, use a cooling rack so that the pizza bottom won't turn soft.
You can use either 1 sheet or 2 sheets to make 1 pizza. 
I used 2 sheets for my pizza. I learned this trick from Chef Ngo. If you use 2 sheets, lightly moisten one sheet with tap water and quickly press the 2 sheets together, then send them to the grill pan. Press the sheets down in a circular motion and press out the bubbles. The sheets will adhere into one and create a more firm pizza base.
You can use smaller sized rice paper sheets in 6" diameter. Simply divide the recipe quantity above in a half for one smaller pizza.
Some of you have questions about the carb count. This varies because of the size of the sheets and the ingredients. For example: the Blue Dragon brand is made with rice flour and tapioca starch, 2 wrappers in 8.5" diameter have 14 gram of carb. The StarAniseFoods brand is made with rice and cassava flour, 3 wrappers in 6" diameter have 11 gram of carb. Please read your own packaging labels.
For this recipe, it's estimated with 2 sheets of rice paper at 8.5″ diameter to make 1 pizza and divided by half for 2 servings. 
Nutrition
Serving: 1serving, Calories: 186kcal, Carbohydrates: 12g, Protein: 6g, Fat: 13g, Saturated Fat: 2g, Polyunsaturated Fat: 2g, Monounsaturated Fat: 8g, Trans Fat: 1g, Cholesterol: 93mg, Sodium: 789mg, Potassium: 192mg, Fiber: 1g, Sugar: 2g, Vitamin A: 143IU, Vitamin C: 1mg, Calcium: 30mg, Iron: 1mg
Made a dish and love it? Please remember to rate the recipe and leave a comment in the comment section below! It helps my blog grow organically so I can continue sharing free and awesome content with you. Thank you!