Paleo Crispy Sesame Beef
Paleo Crispy Sesame Beef recipe with thinly sliced sirloin steak pan fried to golden crispy paired with light refreshing veggies. Healthy and super-delicious sesame beef that won't weigh you down.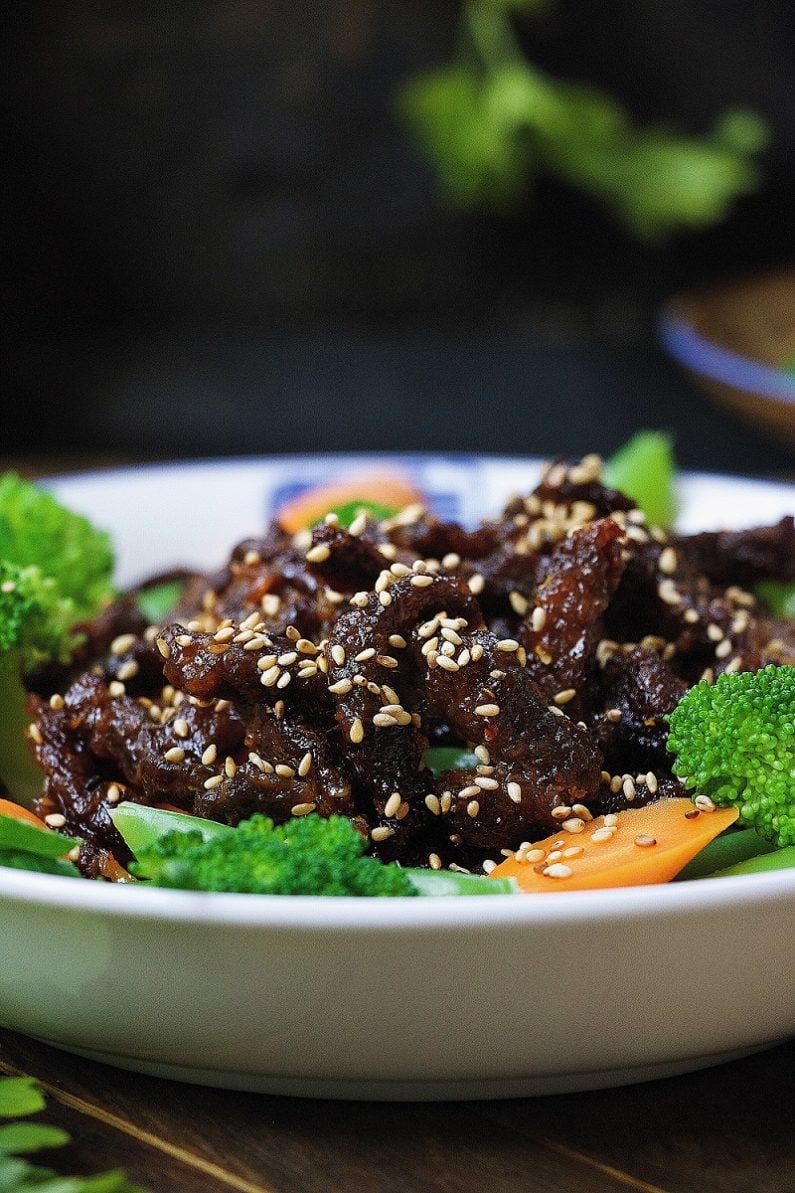 Love that crispy deliciousness sesame beef that won't weigh you down ? Hit the PLAY BUTTON to make this Paleo crispy Sesame Beef with me. This could be yours as early as tonight !!
I first tasted Sesame Beef after I moved to the states. In my opinion, Crispy Sesame Beef is a more westernized dish that you don't often see in Asia.
Perhaps it is more popular in Canton region since most Chinese food in the states has greater influence from that particular region. I don't recall mom making this dish back home. 🙂
Be that as it may, when you are in Rome, do as the Romans do, and it is a delicious dish that worth the time to make better, lighter, and healthier for folks to enjoy.
After all, why not give people what they love and make the best out of it ?
Tips on keeping it crispy & tasty
Thin slice the sirloin steak into thin strips. Pay a little attention to cutting the strips against the grain so that the beef won't get tough and chewy.
To give it an extra crispy texture, lightly coat the sirloin strips in arrowroot or sweet potato powder/flour EVENLY.
Use cast iron or a large skillet, preheat the skillet well so the beef won't stick easily. When the oil is hot (but not to a smoking point), test with one single strip first. If it starts sizzling/ bubbling right away that means the oil is hot enough. Pan fry the strips in separate batches until each strip is golden brown and crispy.
Because the strips are coated with arrowroot ( p.s, this is the reason they are crispy), they are likely to stick with each other in the frying pan. Do your best to gently separate them but I wouldn't overly worry. Some strips stick with each other while others won't, either way they will be golden brown crispy!
Here comes that delicious sesame beef sauce
I mean what's not to love ? Golden crispy beef coated in homemade healthy gluten free + no added sugar sesame sauce. It tastes SO GOOD that you'll never go back to the unhealthy/greasy takeout version.
This Paleo Crispy Sesame Beef is packed with tons of flavor and texture, I recommend going plain + simple side dishes like Asian cucumber salad, Chinese broccoli garlic sauce, or bok choy soup .
So make this Paleo Crispy Sesame Beef recipe for your friends and loved ones (or keep it all to yourself). Watch and see how fast everything will be gone in front of your eyes because it's that YUM !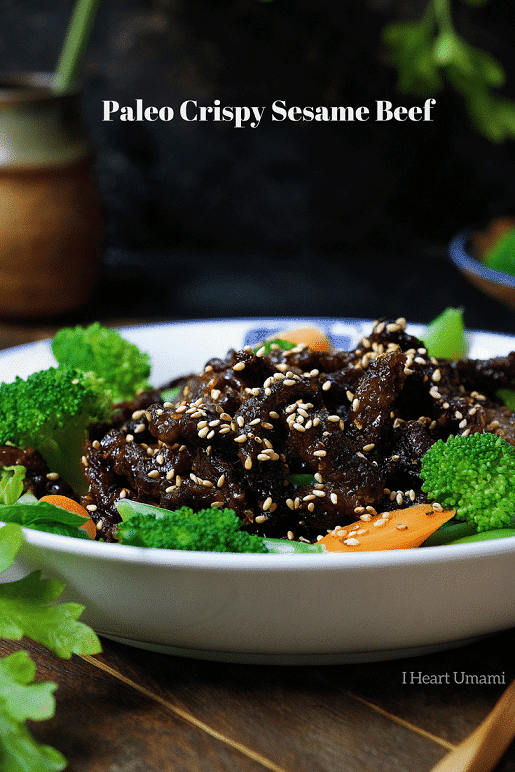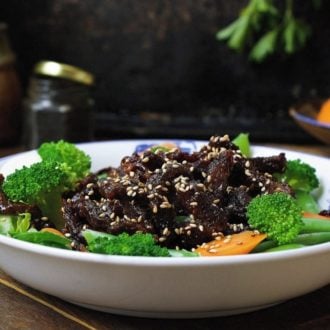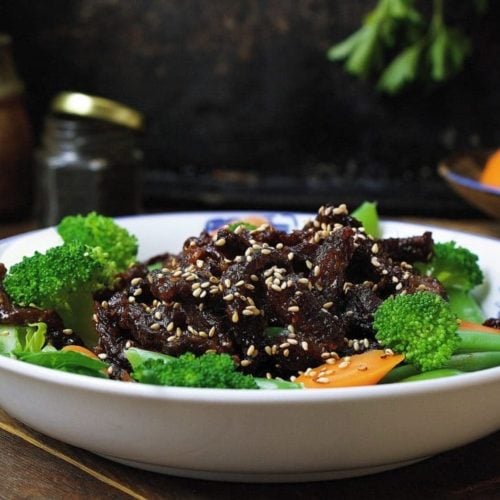 Paleo Crispy Sesame Beef (Whole30, Low Carb)
Paleo crispy sesame beef recipe is Whole30 and Low Carb with no added sugar. ! Thin sliced sirloin steak pan fried to golden crispy with fresh vegetables.
Print
Pin
Rate
Ingredients
1 lb . sirloin steak, , slice into thin strips against the grain
Toasted white sesame seeds
Green beans, , carrot slices, sugar snap peas, broccoli florets, as many as you like | Water blanched
Beef seasonings:
2 tbsp + 2 tbsp arrowroot flour
½ tsp coarse sea salt
Black pepper to taste
¼ tsp garlic granules
¼ tsp onion granules
Instructions
Thin slice sirloin steak to thin strips, against the grain. Toss to coat with 2 tbsp arrowroot flour, sea salt, black pepper, garlic and onion granules. Cover and store in the fridge while moving on to prepare sauce.

In a medium sauce pot, combine ingredients listed under "sauce". Reduce the sauce over medium-low to low heat to about ⅓ cup. Stir frequently until the sauce is in glossy texture (about 4-5 mins.). Set aside.

In a large skillet, heat 2 tbsp ghee over medium-high heat, when hot, lower the heat to medium. Coat/toss beef strips with 2 more tbsp of arrowroot. Coat well and evenly. Test with one single strip first to see if it starts bubbling/sizzling right away. Pan-fry them in separate batches. Try not to overcrowd the skillet. *

When the beef strips are in golden brown crispy, add sauce. Gently toss to combine. Serve immediately with blanched vegetables and garnish with sesame seeds.
Notes
*The texture of the beef strips is important in this recipe. To achieve crispy texture without deep-frying, use a large skillet and preheat the skillet well. Pan-fry the strips in separate batches. Add more oil if necessary. The beef strips should have slight crisp up texture. Some strips might stick with each other while others won't. I wouldn't overly worry.
Nutrition
Serving: 306g, Calories: 442kcal, Carbohydrates: 26g, Protein: 34g, Fat: 21.9g, Saturated Fat: 7.5g, Cholesterol: 109mg, Sodium: 655mg, Fiber: 4g, Sugar: 3g, Vitamin A: 3350IU, Vitamin C: 40.4mg, Calcium: 100mg, Iron: 4.3mg