Asian Brussel Sprouts
This is hands down the BEST Asian Brussel Sprouts recipe ever! Crispy and tender sprouts covered in sticky maple "soy" glaze. Ready in 15 minutes and golden crispy! Perfect for a weeknight meal and gorgeous-looking for holiday feasting.
Love more unique brussel sprout recipe ideas? I've got you covered; try my paleo brussel sprouts or my maple brussels sprouts air fryer recipe.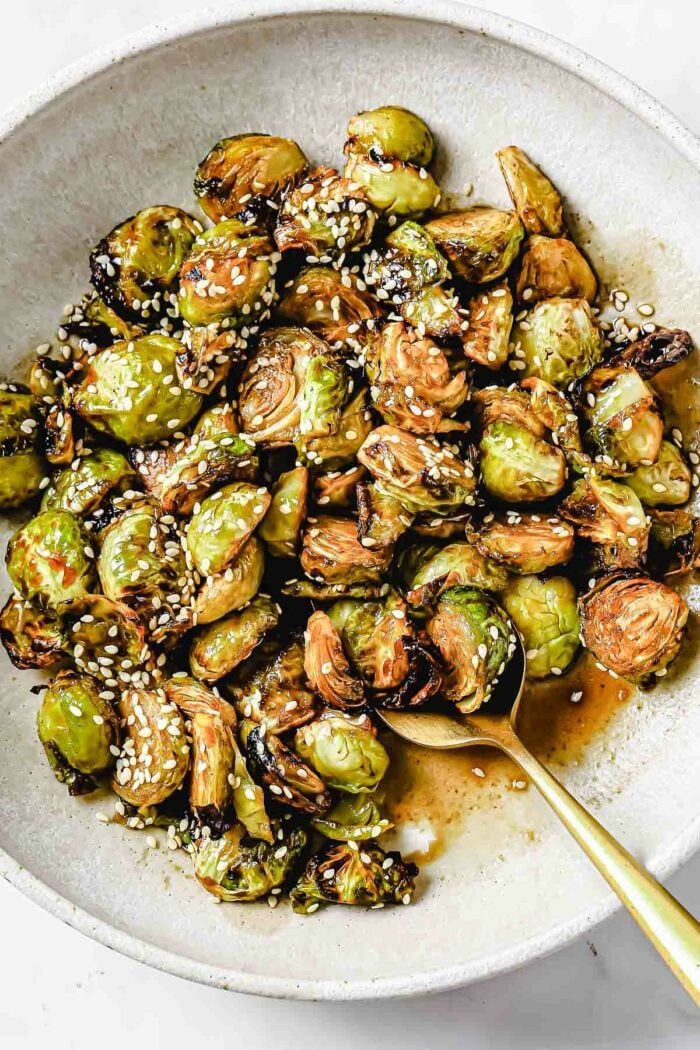 Why this recipe is the best
These Asian style brussels sprouts are perfect for an Asian-inspired Thanksgiving or a weeknight dinner.
Tender and delicious: Sweet and savory sticky brussel sprouts, crisped to perfection.
Fast and easy: You can whip up these maple and soy glazed brussel sprouts in no time.
Simple Ingredients: Only calls for 9 ingredients you likely already have on hand.
Air-fried or oven-baked: I'll show you both ways to make these sticky bites of deliciousness.
Ingredients
You can have the best brussel sprouts at home without having to travel to Uchi brussels sprouts in Austin, TX. My vegan brussel sprout recipe is quick, easy, and only needs a few simple ingredients.
Fresh brussels sprouts: olive oil, salt, garlic powder, ground ginger, maple syrup (or honey), coconut aminos, and toasted white sesame seeds.
Seasoning sauce: Maple syrup (or honey), coconut aminos, and balsamic vinegar.
Ingredient substitutions
Asian brussels sprouts are beyond delicious, and go well with everything! You can change out ingredients to suit your tastes or add extra flavor; check out some of my excellent suggestions below.
Brussel sprouts with soy sauce: Rather than coconut aminos sprouts, you can make soy sauce brussel sprouts instead.
Honey: an excellent substitute for maple syrup. Honey soy sauce brussel sprouts are fantastic though this makes the brussel sprout recipes vegetarian friendly, but not vegan.
Toasted sesame oil: To add a rich nutty flavor to brussel sprouts, sesame oil is a great option. Perfect for cooking, you can use it in place of olive oil.
Fresh garlic cloves: Use finely minced fresh garlic instead of powdered for a robust garlic flavor.
How to make the dish
Asian style brussel sprouts are so delicious you will be amazed at how fast they come together. Follow my simple step-by-step directions for Asian roasted brussel sprouts 2 ways, air-fried and oven-baked.
Preparation (for both methods)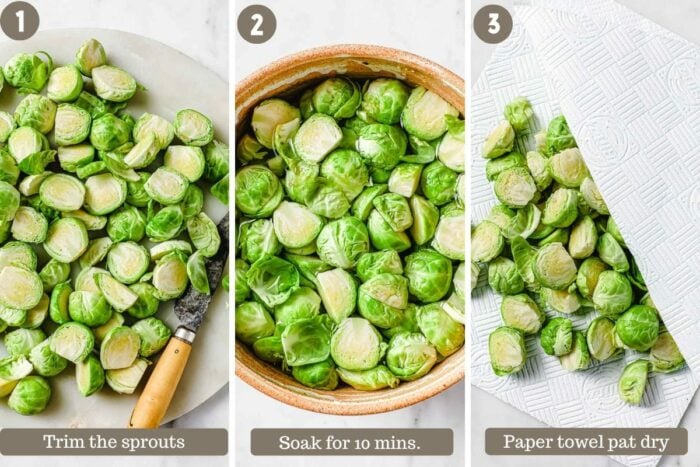 Trim the bottoms off sprouts and slice them in half.
Rinse and soak in cold water for 10 minutes
Drain and pat dry
Air Fryer Method
For Asian brussel sprouts in the air fryer, preheat to 400°
Coat and cover: In a large bowl, toss the sprouts with olive oil, coconut aminos, and the rest of the seasonings. Coat well.
Air Fry: Add sprouts in an even layer to your air fryer basket. Cook for 10 minutes. Give the basket a quick toss and cook for 5 additional minutes until golden brown.
Oven Baked Method
Crispy Asian brussel sprouts can also be oven roasted; preheat the oven temperature to 400°F.
Follow the steps above to mix your sprouts with seasoning. Arrange in a single layer on a large rimmed baking sheet and bake for 35-40 minutes.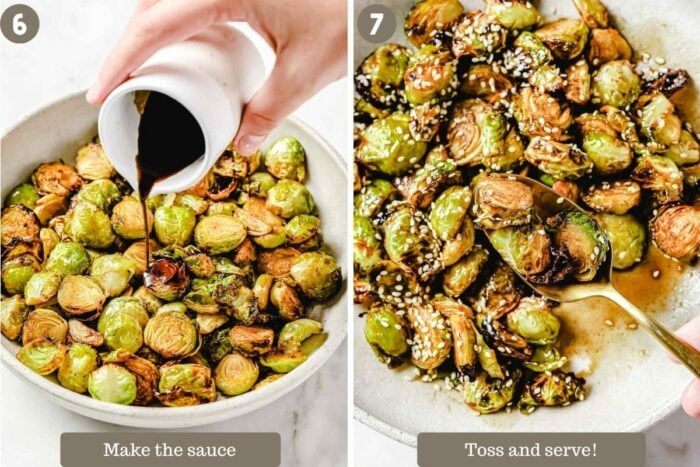 Make the sauce: Whisk sauce ingredients in a small bowl until combined.
Sauce, serve, and enjoy: Toss cooked brussels sprouts with asian sauce and garnish with toasted sesame seeds.
Pro-tip for brussels sprouts that are crispy on the outside and tender on the inside
The secret to Chinese brussels sprouts that are tender on the inside and crisp on the outside is to soak them. Presoak them in a bowl of water to rehydrate them for perfect sprouts every time. See this article.
Variations
Want to spruce up your brussel sprouts dinner recipes collection? These will put pf Chang's brussel sprout recipe to shame. I'm talking tender crisp brussel sprout perfection. To make it more exciting (is that even possible), I've added some fun twists and variations for you to try.
Spicy flavor: For spicy Asian brussel sprouts, add red pepper flakes, sriracha sauce, or my garlic chili sauce.
Thai style: Try my Thai dipping sauce for that authentic Thai taste you are craving.
Vietnamese brussel sprouts: Serve with my Vietnamese dipping sauce for a perfect side dish.
Japanese: Try Asian brussel sprouts with fish sauce or ponzu brussels sprouts for a Japanese-inspired flavor. Serve the spouts with keto teriyaki sauce for an even more amazing dish.
Chinese: Soy glaze brussels sprouts, kung pao brussel sprouts, and general tso brussel are some of the popular choices.
Storage and reheat
To keep your Asian inspired brussels sprouts fresh and tasty for days, see my suggestions below.
Storage: Store crispy brussels sprouts in an airtight container in the refrigerator for up to 4 days.
Reheat: Pan roast on the stovetop on medium-high heat until heated through or microwave on high for 1 minute.
Common FAQs
Brussel sprouts in Chinese?
抱子甘蓝 [Bào zǐ gānlán] or 球芽甘蓝 [Qiú yá gānlán]
How to make brussels sprouts crispy?
For crispy sprouts, be sure to pat dry after soaking and use the correct heat when cooking. Do not overcrowd the sprouts to ensure even browning.
Why do my brussels sprouts turn out mushy?
You are likely overcrowding the pan; this will cause the sprouts to be steamed rather than achieving the caramelization of roasting.
Related recipes
Are you looking to liven up your weeknight dinners? These side dishes give a kick of flavor to every meal. I've listed a couple of my favorites for you to try.
Umami Tips
Presoak brussels sprouts: Rehydrate in water for tender and crisp sprouts.
Trim sprouts based on size: Quarter larger brussels sprouts and halve smaller sprouts.
Pat dry: Make sure sprouts are dry prior to cooking.
Use proper heat: If you Pan-roasted brussels sprouts, it should start in a cold pan to ensure perfect taste and texture.
Give them space: Do not overcrowd sprouts in the fryer basket or sheet pan. Leave room for hot air to circulate.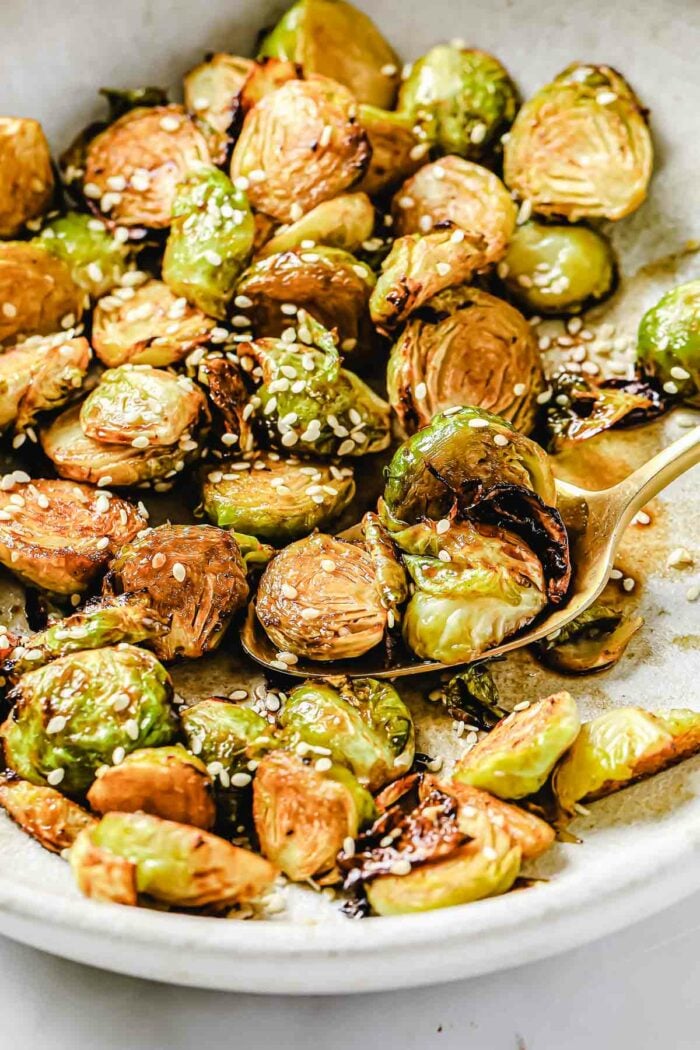 Asian brussel sprouts recipe
Asian brussel sprouts are roasted or air fried to crispy perfection! Toss with maple soy sauce glaze, this healthy side dish is also vegan-friendly!
Print
Pin
Rate
Ingredients
1.5 lb Brussels sprouts, 24 oz bags of Brussels sprouts
2.5 tbsp olive oil
1 tsp coarse sea salt
½ tsp garlic powder
¼ tsp ginger powder
1 tbsp maple syrup, or honey
1 tbsp coconut aminos
Sprinkle toasted white sesame seeds
Instructions
To prep:
Trim the bottom end off of brussels sprouts and slice them in half. For extra large ones, quarter them.

Rinse and soak them in cold water for 10 minutes. This will help the sprouts taste tender in the center. Make sure you drain and pat them dry with a clean kitchen towel.
To air-fry:
Preheat your air fryer to 400F for 5 minutes. In the meantime, toss the sprouts with ingredients from olive oil to coconut aminos in a large mixing bowl.

Add the sprouts to the fryer basket and spread them to an even layer. Some overlap is okay. Air fryer for 10 minutes. Toss the basket after 5 minutes to ensure even cooking on all sides.
To bake:
Preheat your oven to 400F. After you soak, pat dry, and season the sprouts, pour them on a sheet pan and rearrange them into a single layer. Bake for 35 to 40 minutes until crisp outside and tender inside. Shake the pan from time to time to brown the sprouts evenly.
For the sauce:
In a separate small bowl, combine the sauce ingredients from maple syrup to vinegar.

Transfer the brussels sprouts to a serving bowl and toss them with the sauce. Taste and adjust with more salt or vinegar, if needed. Serve warm.
Notes
For keto, use keto-friendly maple syrup. 
You can also use soy sauce and honey for this recipe.
Nutrition
Serving: 1serving, Calories: 114kcal, Carbohydrates: 13g, Protein: 4g, Fat: 6g, Saturated Fat: 1g, Polyunsaturated Fat: 1g, Monounsaturated Fat: 4g, Sodium: 491mg, Potassium: 448mg, Fiber: 4g, Sugar: 4g, Vitamin A: 855IU, Vitamin C: 96mg, Calcium: 49mg, Iron: 2mg
Made a dish and love it? Please remember to rate the recipe and leave a comment in the comment section below! It helps my blog grow organically so I can continue sharing free and awesome content with you. Thank you!