Chinese Steamed Eggplant Salad
Chinese steamed eggplant salad is a beloved vegetarian side dish. It showcases velvety eggplants with crispy garlic and scallions, all tossed in a flavorful dressing that is both garlicky and slightly spicy.
This dish is not only vegetarian and gluten-free. I will also show you how to keep the Chinese eggplant purple even after they are cooked!
I love serving this simple salad with Sha cha beef and a bowl of steamed rice. For more easy Asian eggplant recipes, my Chinese eggplant with garlic sauce is a stir-fry favorite!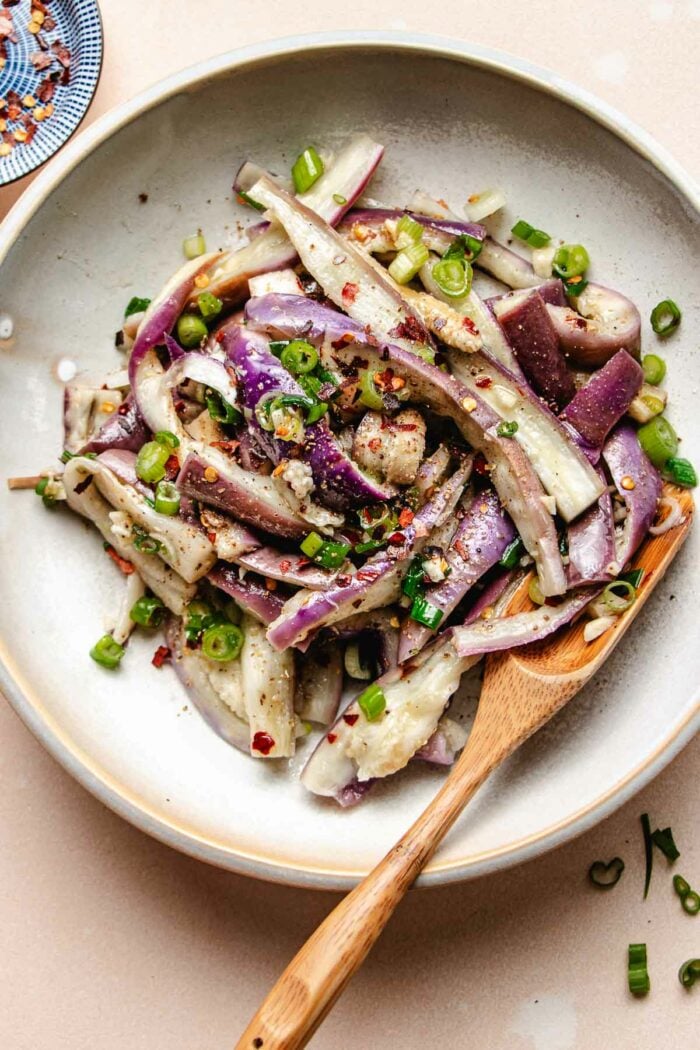 Ingredients
To make the best-steamed eggplant dish Chinese-style, you'll need the following seasonings and ingredients:
For the eggplant:

Chinese eggplants, water, white vinegar
For the seasonings:

Spring onions, coarse sea salt, and raw garlic cloves
Sichuan peppercorn powder: This is optional — you can also grind whole Sichuan peppercorns into powder
Crushed red pepper flakes: This is also optional — I used Italian crushed red pepper flakes
Avocado oil, rice vinegar, keto white sugar, or white sugar
Substitutions and variations
Eggplant variety: You can also use Italian eggplants or graffiti eggplants that have thinner skin and fewer seeds. Just increase the cooking time. If you use globe eggplants, remove the outer skin before making this dish.
Seasoning: Change coconut aminos to light soy sauce or use black vinegar instead of rice vinegar for more sweetness and tangy taste.
Peppercorn: Don't have any Sichuan peppercorn powder? You can either skip it or grind whole Sichuan peppercorn into powder.
Lemon juice works just as well as white vinegar to soak the eggplants.
Non-spicy: Skip the spicy seasonings if you prefer non-spicy steamed eggplants.
Extra spicy: Add a few teaspoons of garlic chili sauce or your favorite chili oil if you love the extra flavor!
Extra savory: Make it extra savory with a dash of soy sauce or some vegan oyster sauce.
More flavor varieties: Add a splash of toasted sesame oil, a touch of grated ginger, or garnish with toasted sesame seeds.
How to make the dish
Follow my simple steps on how to steam and cook Chinese eggplants so they will always be super tasty: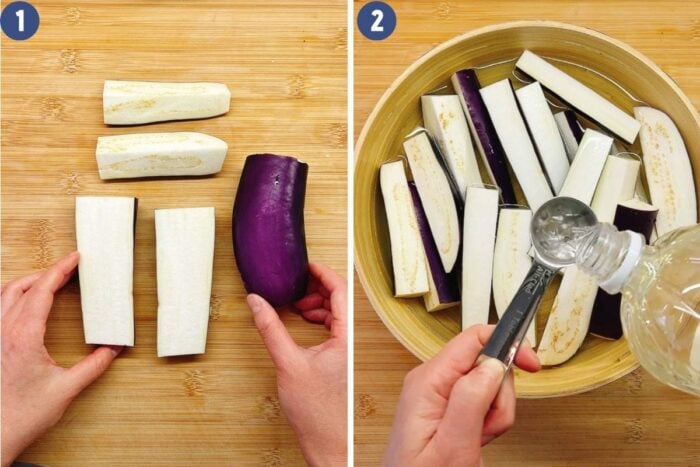 Fill a large pot with enough water to steam the eggplants. Measure the amount of water accordingly. To slice the eggplants, chop off both tips, rinse them, and pat them dry. Slice the eggpalnts into quarter sections lengthwise.
Immediately soak them into a bowl of water and vinegar solution for 3 to 5 minutes to prevent oxidation.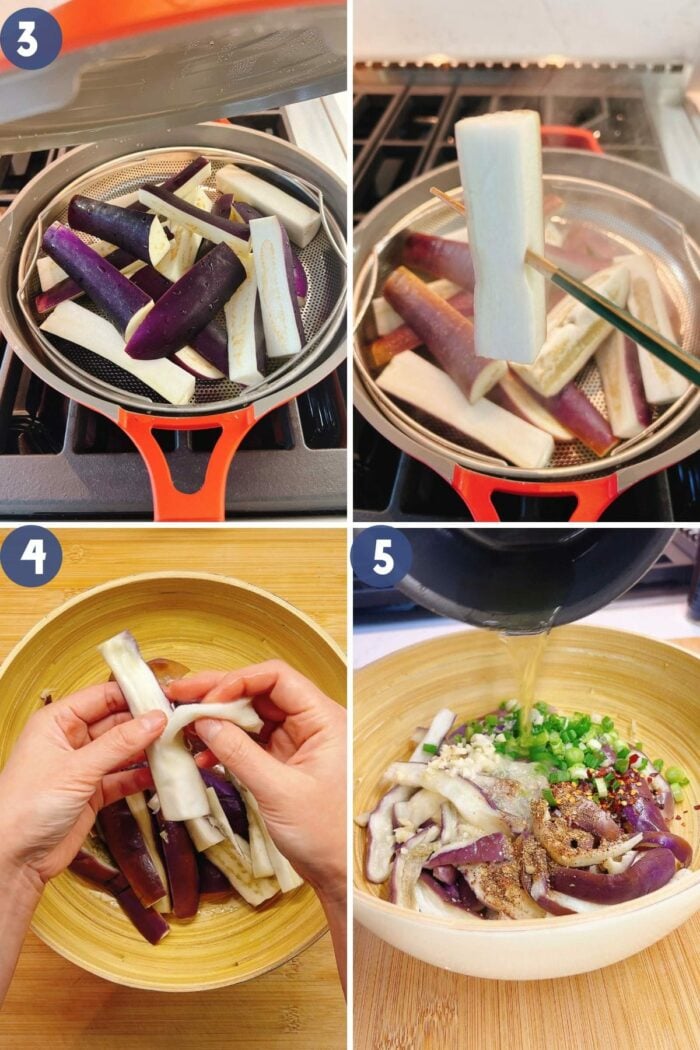 Place the eggplants in a steamer basket, making sure there's room for steam to pass through. Steam eggplant for 5 minutes, then set them aside.
Once the eggplants have cooled down, shred the flesh into strips. Then, season with minced garlic, spring onions, and the other seasonings.
Next, preheat oil until it simmers in a small saucepan. After that, pour the hot oil all over to bring out the flavors.
Add the rice vinegar and sugar before tossing to combine the salad. Serve Chinese steamed eggplant salad slightly chilled or at room temperature.
How to keep Chinese eggplants purple when steaming them
Chinese eggplants are particularly prone to lose their vibrant purple color during cooking due to oxidation and high heat. Here are some steps you can take to help maintain and slow down the color change when steaming eggplant: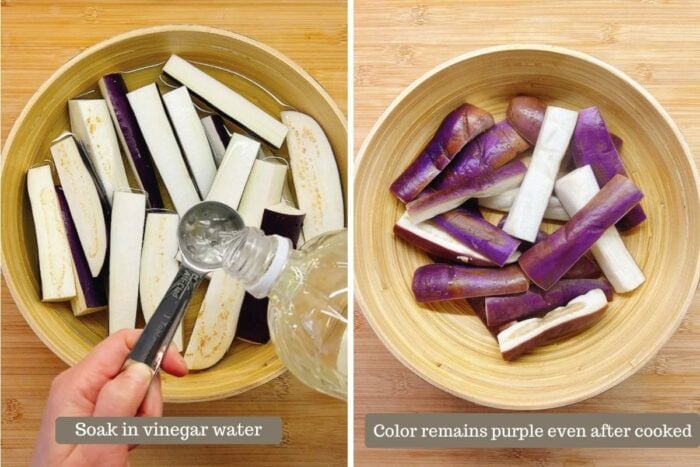 Eggplant selection: Choose firm, slightly under-ripe eggplants with shiny, deep purple skin.
Pre-soak the eggplants: After you slice the eggplants, immediately soak them in vinegar and water solution before steaming for 3 to 5 minutes.
Don't overcook them: Overcooking can cause eggplants to turn brown or grayish. By steaming your eggplant quickly and efficiently, about 5 minutes over high heat, you can maintain more of its original color.
Adding acidity to the sauce: Adding an acidic element like vinegar to the dressing can also help to slow down the color change after cooking.
Eggplant skin naturally turns brown when exposed to high temperatures. Soaking them in vinegar water solution can help slow down the color change. However, some color change is not completely avoidable.
How to make ahead, store, and reheat
You can also make this easy Chinese-style eggplant recipe ahead of time!
Make-ahead: This healthy vegetarian dish comes together fast and is delicious when freshly made. However, if you need to make it in advance, I recommend prepping scallions and garlic. You can also soak, steam, and shred the eggplants and store them in the fridge 2-3 days in advance. The purple color might fade but it shouldn't affect the delicious garlicky flavor.
Storage: Store leftovers up to 4 days in the fridge in an airtight container.
Reheat: Chinese eggplant with garlic tastes best at room temperature. If you want to reheat it, simply microwave them on medium for 30 seconds and up to 1 minute to warm them up.
What to serve it with
Serve this vegetarian Chinese steamed eggplant recipe with various dishes for a super delicious dinner spread!
Tips for Success
Choose the Right Eggplant: Asian eggplants, with their thinner skins and fewer seeds, are usually better for this dish. They are long, thin, and typically purple. They are also sweeter and milder, with a more tender texture than the common globe eggplants.
Soak the Eggplant in Vinegar Water: Immediately after you slice the eggplants, soak them in a vinegar and water solution before cooking. This will keep the eggplants purple when cooked.
Steaming Technique: If you are wondering how long to steam eggplants, be careful not to over-steam them. Steam on high heat, covered with a lid for 5 minutes. Insert a chopstick into it easily without much resistance, the eggplants are cooked.
Cooling After Steaming: Allow the eggplants to cool slightly after steaming before dressing. This can help the eggplant absorb more flavor from the sauce.
Preheat the Oil: Use a high smoke point oil and preheat it in a small pot until it simmers. The hot oil will activate the flavors of spring onions, chili peppers, and garlic when pouring it over.
Sauce Flavor: The flavor of the dish can vary based on the ingredients in the dressing or sauce. The dressing is typically made with garlic, soy sauce, sesame oil, vinegar, and sometimes chili and sugar. Feel free to experiment and adjust to your preferences.
Freshness: This Chinese-style dish is best when served fresh. Only pour the hot oil over the eggplants and aromatics when you are ready to serve.
FAQs
Can you eat the skin of Chinese eggplant?
Yes, Chinese eggplant skin is completely edible. Chinese eggplants have thinner, smoother skin compared to other types like the common globe eggplant, and the skin becomes very tender when cooked, particularly when steamed or braised.
How do you keep the steamed eggplant purple?
Soak in acidic water. Before cooking, slice the eggplants and place them in a bowl of water with some vinegar for 3 to 5 minutes. The acid in the vinegar or lemon juice can help to preserve the color.
Is Chinese eggplant the same as regular eggplant?
Although they are both eggplants (or aubergine), they are not the same. Chinese eggplant, long and skinny with a lavender hue, differs from globe eggplant. The Chinese variety has a thinner skin and a tender texture, making it ideal for quick cooking like stir-frying or steaming, compared to the more robust globe eggplant.
What do you soak the Chinese eggplant in before cooking?
While it's a common practice to soak Chinese eggplants in salted water (1 tablespoon of salt per 4 cups of water) for 15-30 minutes to remove bitterness before cooking, most Asian eggplants are currently bred for much sweeter and milder flavor than before, so salting is no longer necessary.

It is, however, recommended to soak the eggplants in vinegar or lemon juice mixture to preserve the purple color. Drain and pat them dry before cooking.
More Chinese eggplant recipes you might like
If you love Chinese eggplant recipes, be sure to give some of my other popular dishes with eggplants on the blog. They are all super yummy and healthy!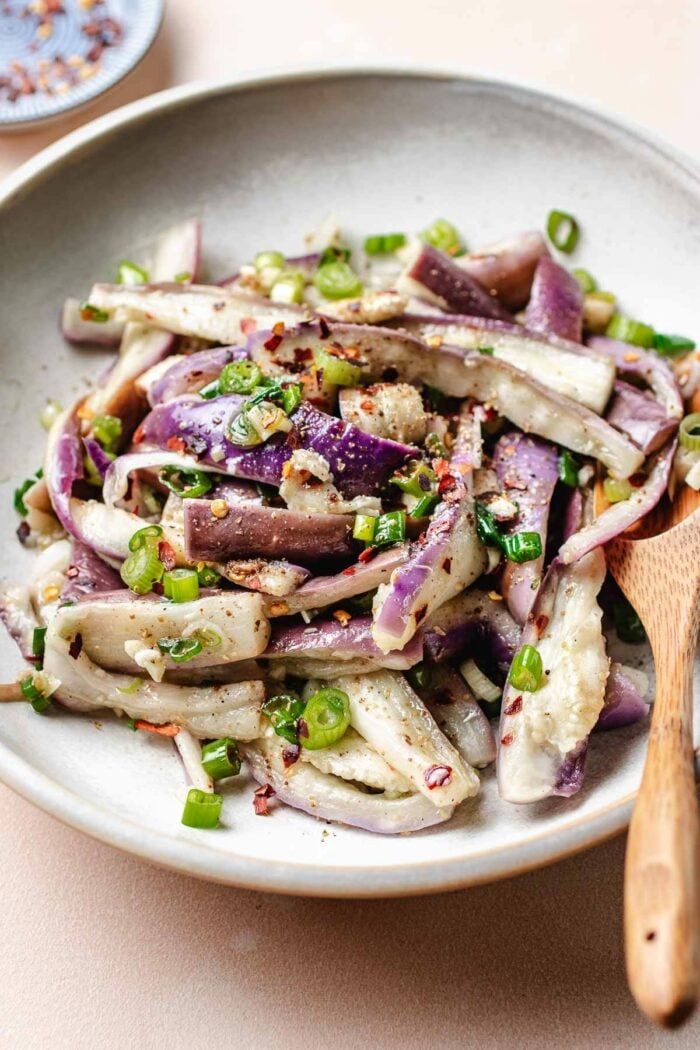 Chinese steamed eggplant salad with garlic sauce recipe
Chinese steamed eggplant salad with garlic sauce is an easy healthy side dish or salad. I'll show you how to steam eggplants and keep the color purple even after cooked!
Print
Pin
Rate
Ingredients
1 lb Chinese eggplants, 2 long eggplants
3 cups water
3 tbsp white vinegar
For the seasonings:
2 bulb spring onions, finely chopped
0.3 oz. garlic cloves, 3 medium gloves
0.5 tsp coarse sea salt
0.5 tsp sichuan peppercorn powder, optional
0.5 tsp crushed red pepper flakes, optional
1.5 tbsp avocado oil
1-1.5 tsp rice vinegar
0.5 tsp keto white sugar, or white sugar
Instructions
Boil the water:
Fill a pan, a wok, or a slotted large pot with water that's just enough to steam the eggplants for 5 minutes. You do not want the water to soak into the eggplants so please measure it with your own cookware. I use a 10-inch saute pan and the water quantity is about 1.5 cups.
Slice the eggplants:
Slice off the tip ends of the eggplants. Rinse and pat dry. Slice them crosswise into 2.5-inch sections then quarter each section lengthwise. In a large bowl, soak the eggplants right away with vinegar and water for 3 minutes.
Steam the eggplants:
Place the eggplants in the steamer basket. Make sure each slice has some room for the hot steam to circulate through. Steam the eggplants on high heat for 5 minutes. The eggplants are cooked when you insert chopsticks or a small knife into it easily without much resistance. Set them aside to cool after steaming.
Season the eggplants:
When the eggplants are cool to touch, use your hands to shred them into thin strips. Transfer them into a large serving bowl. Add the green onion, garlic, salt, peppercorn powder and red chili flakes, if using.

Preheat the oil in a heavy bottom small saucepan over medium to medium-high heat, uncovered, until simmers, about 5 minute. Pour the hot oil directly on top of the garlic, scallions, and pepper flakes in the bowl. You should hear the sizzling sound.
Serve:
Add the remainder of the seasonings – rice vinegar and sugar – and toss the salad to combine. Let the salad stand at room temperature for 5 minutes to absorb more flavor before serving. Serve at room temperature or slightly chilled.
Notes
If using Italian baby eggplants, you don't need to peel the skin but please steam on high heat for 7 minutes.
If using Globe eggplants, please peel the skin.
After you slice the eggplants, immediately soak them in vinegar and water solution for 3 to 5 minutes before steaming. This is to prevent oxidation. 
How to tell when the eggplants are properly steamed? The eggplants are cooked when you insert chopsticks or a small knife into them easily without much resistance.
Nutrition
Serving: 1serving, Calories: 83kcal, Carbohydrates: 8g, Protein: 1g, Fat: 6g, Saturated Fat: 1g, Polyunsaturated Fat: 1g, Monounsaturated Fat: 4g, Sodium: 307mg, Potassium: 282mg, Fiber: 4g, Sugar: 4g, Vitamin A: 108IU, Vitamin C: 3mg, Calcium: 24mg, Iron: 0.4mg
Made a dish and love it? Please remember to rate the recipe and leave a comment in the comment section below! It helps my blog grow organically so I can continue sharing free and awesome content with you. Thank you!