Sha Cha Chicken
You are just 10 to 15 minutes away from discovering the best sha cha chicken! A Taiwanese favorite, this stir-fry is loaded with ginger, garlic, and savory deliciousness, so believe me when I say that you'll be hooked for life after one bite!
Made with homemade Shacha Sauce, this super savory dish is best served with Shirataki fried rice or a bowl of warm steamed rice from the rice cooker. It is easily one of the best quick and delicious meals for the whole family!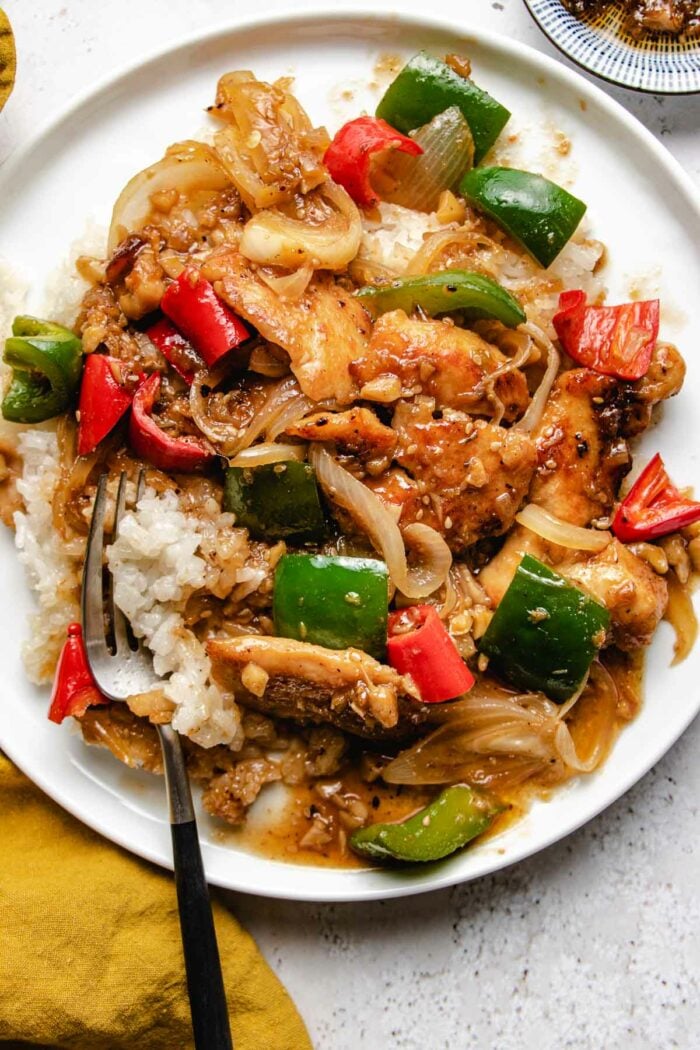 Why you'll love this dish as much as I do
This cha cha chicken recipe is super tasty, you'll have it on heavy rotation. Here's why it's the best and it'll be one of your go-to dishes:
Super flavorful: You get a tender, juicy, and perfectly-seasoned chicken every time, all without marinating!
Easy to make: It's ready in 10-15 minutes
Healthy homemade sauce: The shacha sauce used is made with no preservatives, fresh aromatics and better oil
Ingredients
Making shacha chicken has never been easier. Using fresh and ready-made ingredients, you'll be able to put together this dish easily, making cooking possible even after a long busy day!
Chicken breast: Coarse sea salt, garlic powder, baking soda, olive oil, coconut aminos, and tapioca starch.
Sauce: Homemade or store-bought Taiwan bbq sauce, coconut aminos, balsamic vinegar, and white pepper.
Vegetables: Garlic, yellow onion, Red Fresno chili peppers, green bell pepper, coarse sea salt, and avocado oil.
What is sha cha sauce
The sacha sauce is an aromatic and flavorful Taiwanese condiment that's loaded with garlic, ginger, and shallot. The sauce is used for stir-fries, dips, and more. Learn how to make my homemade version sha cha sauce.
Originally inspired by Malaysian satay sauce, consider this sauce a Taiwanese version. Adding a few tablespoons to any savory dish will instantly elevate the flavor!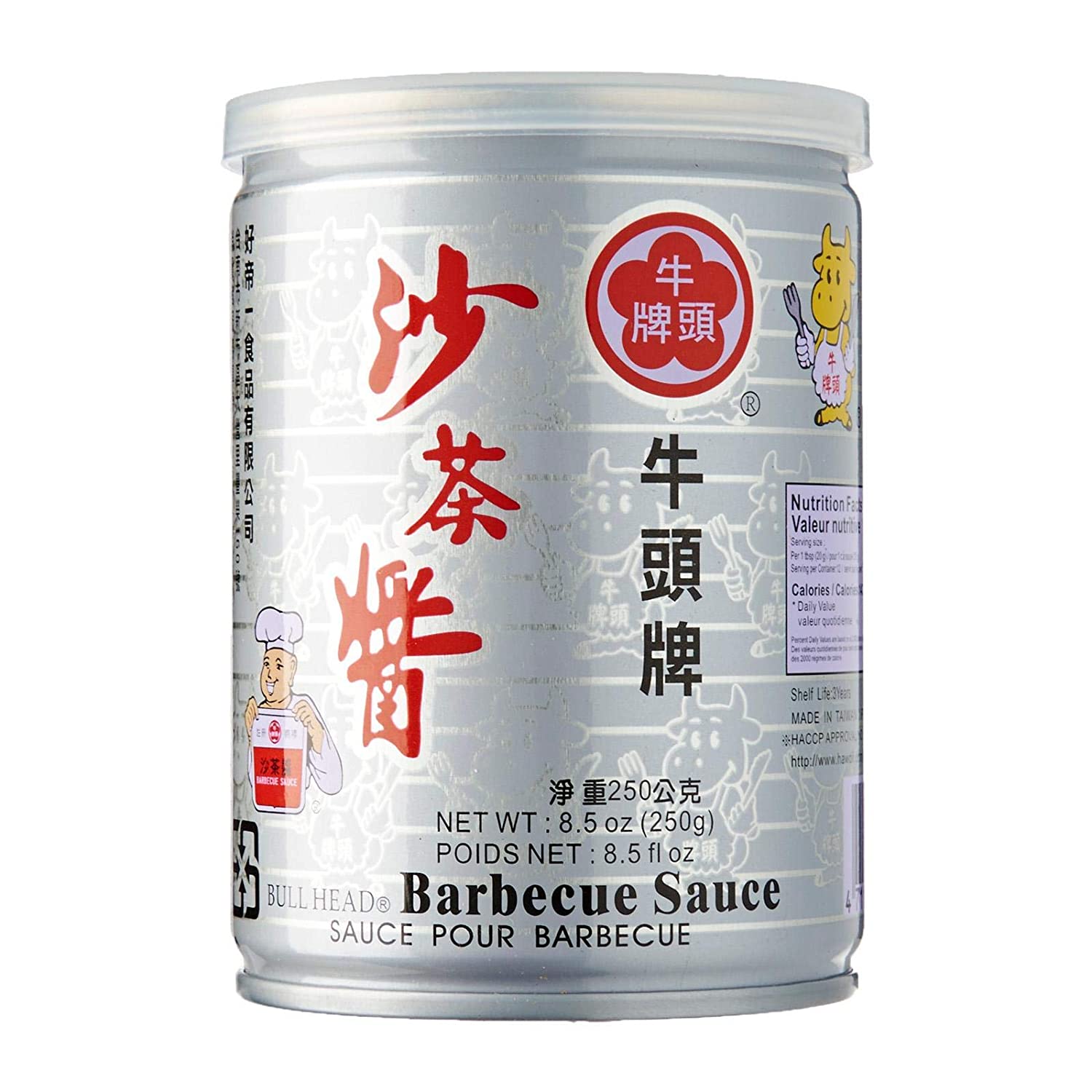 Ingredient substitutions
Prefer to use a different sauce? While there isn't one perfect substitute for Chinese bbq sauce, you can either use store-bought XO sauce or Malaysia satay sauce, which have similar flavors.
Want to use other proteins? You can easily replace the chicken to make sha cha shrimp, sha cha pork, or sha cha beef.
Make it less spicy by using red or green bell peppers or sweet pepper as opposed to Fresno chili pepper.
How to make the dish
Sa cha chicken is a yummy dish and really easy to prepare. In 15 minutes or less, you will get a juicy and super flavorful chicken. Let me show you how to make this quick dish step-by-step.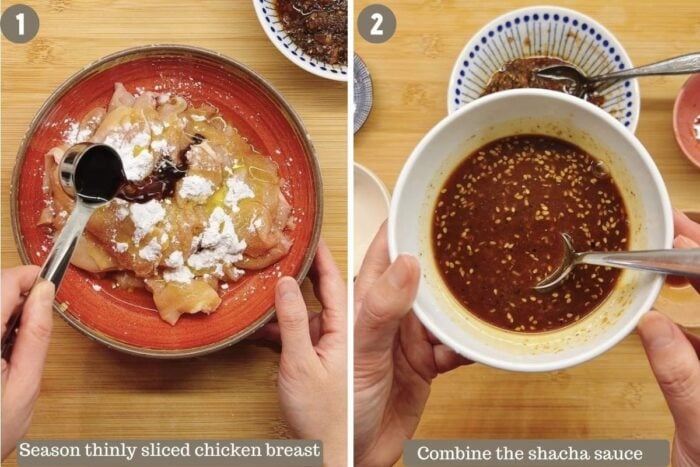 Add the seasonings to the chicken, and set them aside in the fridge.
Combine the sauce ingredients in a bowl.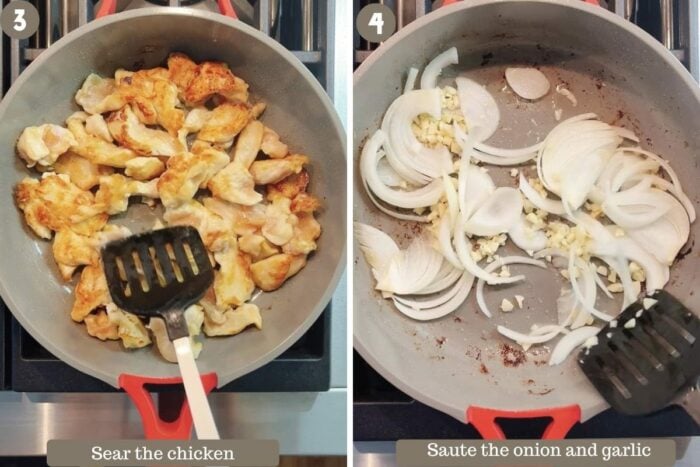 Sear the chicken in a skillet over medium-high heat, for 2-3 minutes on each side. Set aside once cooked.
Saute garlic and onions in the same skillet, using cooking fat.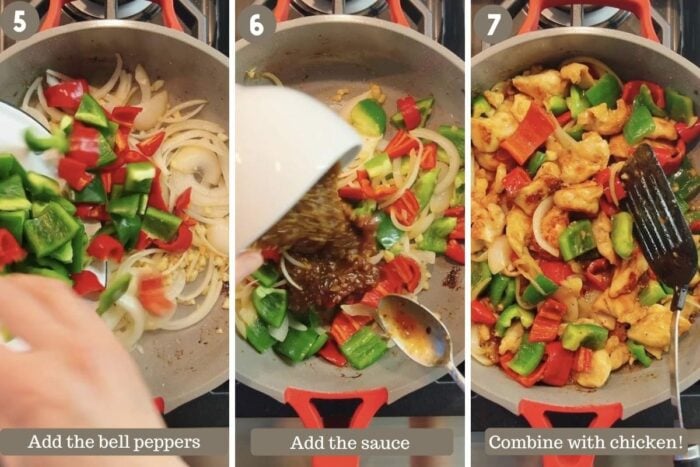 Add the bell peppers and saute for 20 seconds with peppers and salt.
Add the sauce mix and chicken into the pan, and toss lightly for 10 seconds. Remove the pan from heat.
Serve the dish hot on a large plate (preferably with a hot bowl of steamed rice!)
What does sha cha chicken taste like
The luscious chicken dish originated in the Fujian province in China and was later popularized in Taiwan. It has a savory, garlicky, and gingery taste, with a hint of seafood flavor. It's also a little spicy but not overpowering.
Because sha sha chicken uses Taiwanese bullhead bbq sauce which is the same sauce that's used for hotpot dipping sauce, if you're a fan of Chinese hotpot, you'll definitely like this dish!
Variations
There's no doubt that shasha chicken is delightfully appetizing on its own, but there are many ways to make it even better. You can get creative by trying out the different variations below:
Add more crunchy veggies such as Chinese broccoli, yu choy sum, or Chinese spinach. See more in my full guide on Chinese vegetables for more options.
Use bite-sized chicken thighs for a stronger chicken flavor and a more tender and succulent texture.
Adding chicken to shacha soup is an excellent idea! I've seen people making it, and although I haven't tried it myself, I imagine it tastes similar to a Chinese chicken hot pot.
Make it spicier by adding my homemade Garlic chili sauce for a unique mix of spice, sweetness and smokiness.
Serving suggestions
Sa cha chicken is super delicious, tender, and juicy, which makes it a wholesome meal on its own. However, I'd like to suggest a few ways you can level up your main menu by pairing it with these hearty dishes:
Common FAQ
1. What is sha cha chicken
It's a popular Taiwanese chicken stir-fry dish made with sha cha jiang. You'll often see this dish made as a stew with braised chicken in the sauce. The good news is that it's not spicy at all.
2. What does sha cha sauce taste like
It is a slightly spicy, aromatic Chinese condiment traditionally made with brill fish and soybean oil, which is full of flavor that can be used for umami-filled dishes.
3. Sha cha chicken vs szechuan chicken
The former originated in the Southern province of Fujian, China and became popular in Taiwan. It is less spicy and tastes more garlicky with a hint of seafood flavor compared to Szechuan chicken.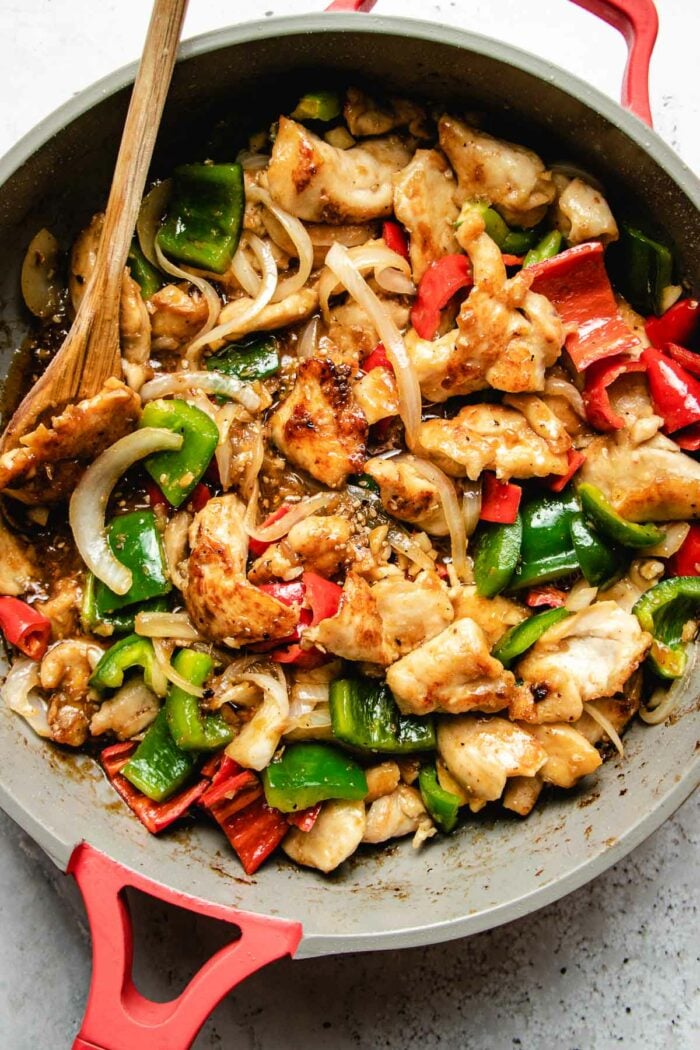 Related recipes
If you LOVE sasha chicken, you're going to enjoy these tasty and savory chicken dishes.
For the perfect combo of sweet and spicy, the crispy Mongolian chicken should be at the top of your pick. For something less spicy, try my gluten-free Moo shu chicken for a change. It's sweet and savory, and perfect for takeout lovers.
A dish I cook often is the delicious Paleo kung pao chicken – super flavorful with a balance of sweet, spicy, and salty. Feeling inspired? Check out more Healthy Chinese recipes for more dinner ideas!
Umami Tips
Quick and easy: This dish comes together FAST, so make sure to have your ingredients ready before you start cooking!
Store-bought sauce or homemade? Using store-bought sauce can help you speed up the process, but I highly recommend you give my homemade version a try.
To make ahead: You can prepare the chicken and sauce in advance. The seasoned chicken slices last for 2 days in the fridge, whereas the sauce is good for 1 week.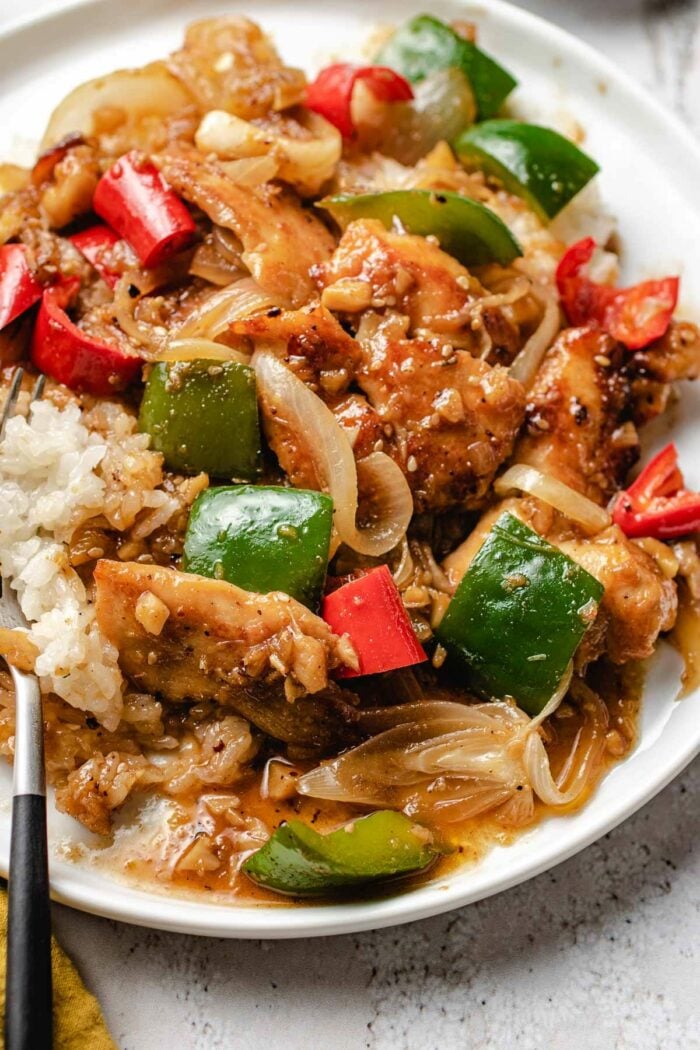 Sha cha chicken recipe
Sha cha chicken with homemade sha cha sauce is a quick one-pot chicken stir-fry loaded with savory delicious flavors. It's healthy, gluten-free, and delicious!
Print
Pin
Rate
Ingredients
Other:
0.8 oz garlic clove, finely minced, 4 large cloves
4 oz. yellow onion, thinly sliced
3-4 whole Red Fresno or serrano chili peppers, seeds removed and diced
1 whole green bell pepper, diced
2 pinch coarse sea salt
3 tbsp avocado oil divided
Instructions
Thin slice chicken into about ¼ and ⅛ inch thin pieces. Add the seasonings from salt to starch, mix well, and set aside in the fridge.

Prepare the garlic, onion, and peppers. Combine the sauce in a bowl ready to use.

In a well-heated large skillet, when hot, add 1.5 tbsp oil. Sear the chicken in a single layer over medium-high heat without disturbing them until they are in golden brown color, about 2-3 minutes, then use a spatula with a firm tip to flip and sear the flip side, about 1-2 minutes. The chicken should be almost cooked through before setting them aside along with the pan juice and oil in the skillet.

Use the same skillet, and add 1.5 tbsp cooking fat. Saute the garlic and onion over medium heat for 15 seconds. Add the peppers and salt, and saute for 20 seconds.

Stir the sauce again so that the starch does not sink to the bottom of the bowl. Pour in the sauce and return the chicken to the pan. Give them another quick toss, about 10 seconds, and turn off the heat.

Transfer the chicken to a large serving plate. Serve hot and I recommend pairing it with a bowl of steamed hot rice!
Notes
You can also use store-bought sha cha sauce to save time.
My homemade shacha sauce is made with better oil – avocado oil, compared to the store bought and is a super versatile sauce for hot pot, stir-fry sauce, or dipping sauce. 
For a less spicy version, use red bell peppers to replace red fresno or serrano chili peppers. 
Nutrition
Serving: 1serving, Calories: 400kcal, Carbohydrates: 12g, Protein: 33g, Fat: 26g, Saturated Fat: 4g, Polyunsaturated Fat: 2g, Monounsaturated Fat: 11g, Trans Fat: 1g, Cholesterol: 91mg, Sodium: 818mg, Potassium: 598mg, Fiber: 1g, Sugar: 3g, Vitamin A: 52IU, Vitamin C: 6mg, Calcium: 26mg, Iron: 1mg