Air Fryer Deviled Eggs
These Air Fryer Deviled Eggs are a quick and easy twist on a classic Easter appetizer recipe! The air fryer helps cook the eggs evenly with minimal cleanup. Plus, there's no flour, breadcrumbs, or deep frying involved, and the filling is ultra creamy and rich!
I use classic ingredients for the creamy filling here, but be sure to check out the variations section for fun ways to remix this recipe. For more ideas on how to cook eggs in the air fryer, head to my air fryer eggs post!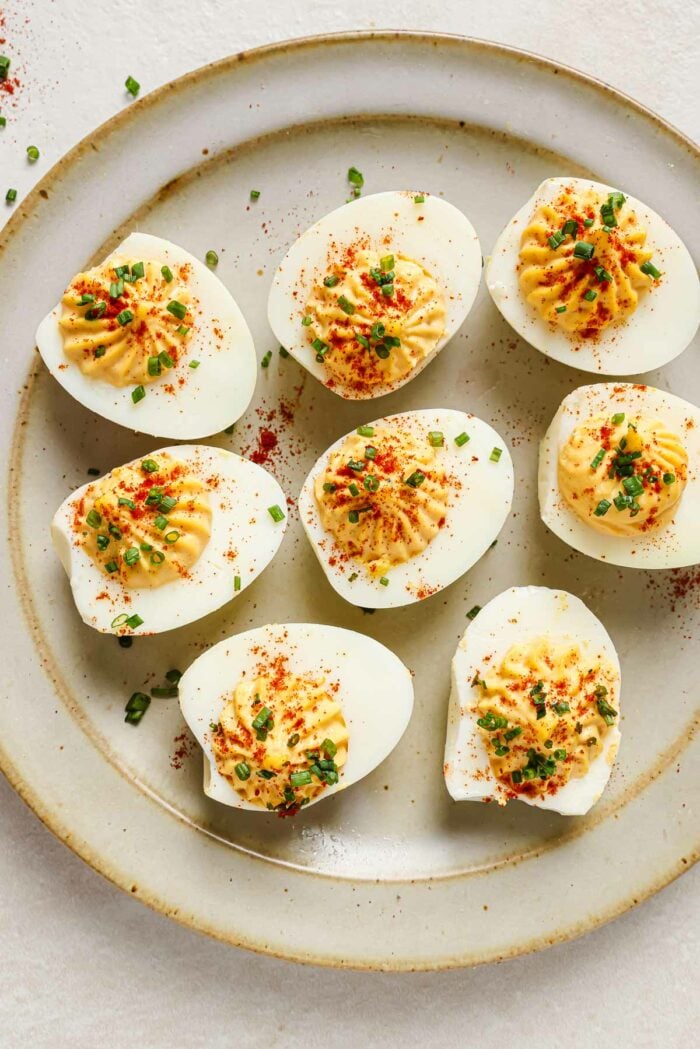 What are deviled eggs?
Don't let the name scare you! The 'deviled' in these eggs comes from the hot elements of paprika and spicy mustard traditionally used in this dish. These eggs are said to date back to ancient Rome, where they were served at the beginning of meals (source).
Traditionally, hardboiled eggs are cut in half and hollowed out. Their yokes are then blended with sauces and seasonings before getting piped back into the egg white. In North America, they are often served as an appetizer or finger food for Easter celebrations.
Why you'll love this appetizer
This air fried deviled eggs recipe delivers the classic, heart-warming flavors of this Easter-favorite appetizer with the convenience of the air fryer. Traditional, accessible ingredients come together quickly and easily to transport you back to childhood!
Light and healthy: There are many recipes out there for deep fried deviled eggs, but this version is healthier, faster, and just as delicious! No flour or breadcrumbs are necessary.
Quick and easy: Eggs cook evenly in the air fryer, and they're ready in under 20 minutes!
Seasonal favorite: These eggs are soft, creamy, tangy, and bright — a perfect way to welcome the spring season and celebrate Easter!
Ingredients
The ingredients in this deviled eggs air fryer recipe are simple, healthy, and easily accessible. You likely have everything you need in your pantry already!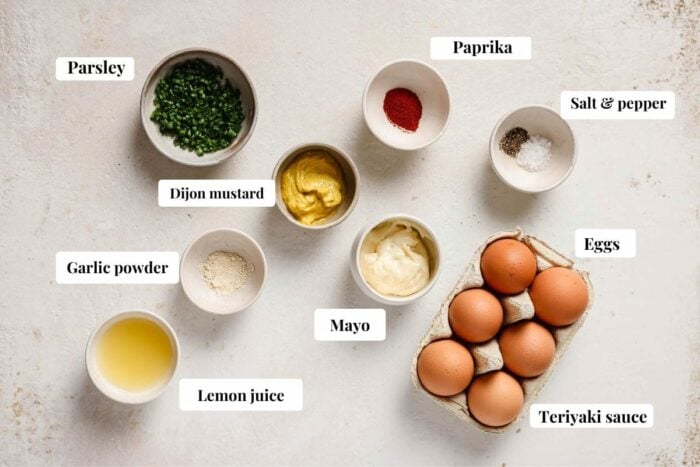 Eggs: I use 6 large eggs, yielding 12 servings
Filing: Mayo, dijon mustard, lemon juice, garlic powder, salt, pepper
Garnish: Chopped chives and paprika
Tools and equipment
Here are the tools I recommend for making this dish:
Air Fryer: I am using the Instant Pot Vortex for this recipe, but any model will work.
Trivet: Use a trivet that can be placed INSIDE of the air fryer basket to keep the eggs from moving around.
Piping bag (optional): A pastry piping bag can be used to squeeze filling back into the egg white, elevating the look of your final product.
Mini food processor (optional): For an extra creamy filling, use a small mini food processor to combine the ingredients. Otherwise, you can just mash with a fork until well combined.
Ingredient substitutions
Mayo: I use Japanese kewpie mayo, but any mayonnaise you prefer will work.
Mustard: I like the flavor of dijon mustard, but yellow or spicy mustard is fine as well.
Fresh herbs: Swap out the chives with any fresh herbs, such as dill, cilantro, or basil.
How to make the dish
Follow these easy steps to prepare this healthy and delicious party snack in just 20 minutes!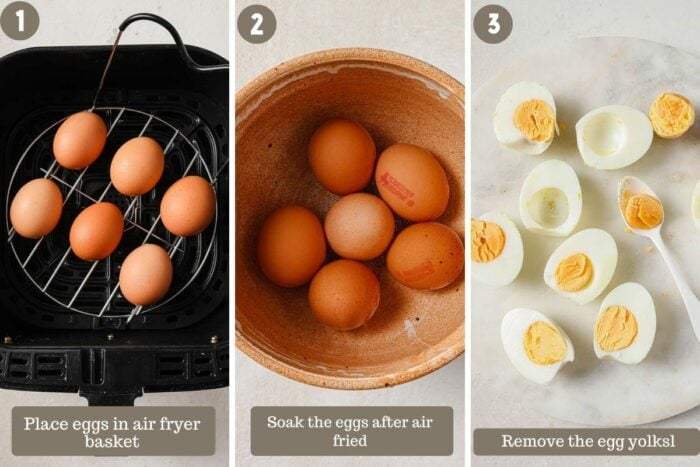 Once preheated, place the eggs into a trivet and air fry eggs in shell for 13 minutes*
Using an oven mitt, remove the eggs and place them immediately into a cold water bath.
Peel the eggs and slice them in half lengthwise.
Place the egg yolks into a small bowl, and mix them together with the filling ingredients.
Use a spoon or piping bag to put the filling mixture back into the egg white.
*Recipe note on how long to cook eggs in air fryer: If you have a different air fryer model, please note that the temperature and cooking time may vary.
Tips for the perfect hard boiled eggs in air fryer
Preheat the unit: For best results, make sure the fryer has fully heated before cooking the eggs.
Test a single egg: Similar to my air fryer poached eggs recipe, if you are using a different model, like the Gourmia or Ninja air fryer, I recommend doing a test of one egg and adjusting the temperature and time as needed.
Use a trivet: A trivet, or raised steam rack, can help keep the eggs from rolling around or breaking as you lower them into the fryer.
Give them an ice bath: This will make sure they stop cooking and will also make them easier to peel.
Variations
I really love the classic flavors of this recipe, but these eggs are a blank canvas in terms of flavor profiles you can play with! Asian, Mexican, bacon-ranch…the possibilities are endless! Here are some of my favorites:
Crunchy deviled eggs: To get some nice crunch without deep-frying, add crispy bacon or crispy fried onion as a garnish or blend the filling with my bacon aioli.
Extra devilish: For some extra spice, mix in some hot sauce, wasabi, or horseradish into the filling or sprinkle some chili flakes, jalapeño, or chipotle on top.
Asian sesame eggs: For an Asian twist, mix some toasted sesame oil into the filling and sprinkle toasted sesame seeds and spring onion on top.
Protein boost: In addition to bacon, soft crab, air fryer salmon, or even bits of ham are delicious options to add some extra protein to this dish!
Serving suggestions
You can enjoy these eggs anytime — as a snack, a fancy twist on breakfast, or of course, as part of a larger party spread. They easily pair with proteins and vegetables and whatever other appetizers you are whipping up for a celebration.
Since you'll have your air fryer warmed up, give some of my other air-fried snacks a go! These air fryer corn ribs are buttery, sweet, and juicy, and they come together in 30 minutes. My golden, crunchy air fried oyster mushrooms and crispy rice sushi are sure to be a hit too!
Common FAQ
How to make air fryer hard boiled eggs?
Simply hear up your unit, place the eggs in a trivet inside the basket, and cook the eggs in their shell to the desired level of doneness.
How long to air fry eggs?
Cooking time and temperature will vary based on the model of fryer you're using and how you want to prepare your eggs. In this recipe, we boil the eggs for 13 minutes.
Can you make a hard-boiled egg in an air fryer?
Absolutely! To hard boil without making deviled eggs, place the whole eggs into an air fryer basket over a trivet and air fry at 280°F (138°C) for 13 minutes.
Storage and make-ahead
This tasty treat is best served fresh, but leftovers can be stored in an airtight container in the fridge for a day or two. Any longer and they will start to get soggy. If this happens, try mashing them up and turning them into an air fryer egg salad — perfect for sandwiches and meal prep!
To make them ahead of time, air fry and peel the eggs the day before you want to serve them. The next day, all you have to do is slice them, mix up the filling, and serve.
Related recipes
You can't beat the convenience and versatility of the air fryer! For more recipes using your trusty kitchen device, try these rice paper dumplings — crispy on the outside and chewy in the middle! And my deliciously cheesy keto stuffed mushrooms are another party-ready treat you'll enjoy.
And for perfectly cooked, crispy air fryer meals every time, don't forget to save my handy air fryer cooking times chart! From meat and seafood to vegetables and frozen foods, this resource has got you covered!
Umami Tips
Easy-peeling: Putting your eggs straight into an ice bath will make them easier to peel. Rolling the eggs before peeling and peeling them under running water also helps!
Creamy filling: Use a mini food processor for some seriously smooth filling.
Perfect piping: For a more polished look, use a piping bag to put the filling into the egg whites. (Or use a small teaspoon for a simple look).
Air fryer deviled eggs recipe
Air fryer devilled eggs with creamy garlic dijon filling! Just hard-boiled eggs in an air fryer, no need for water to boil – quick, easy, delicious!
Print
Pin
Rate
Ingredients
6 large eggs, refrigerated
3 tbsp kewpie mayo, or regular mayo
2-2.5 tbsp lemon juice
1.5 tsp Dijon mustard
½ tsp garlic powder
½ tsp coarse salt
¼ tsp ground black pepper
Garnish chive, chopped
Sprinkle Sweet paprika, or smoked paprika
Instructions
Preheat the air fryer following the default setting.

Place a trivet inside the air fryer basket to keep the eggs in place so they won't roll around. Place six eggs on top of the trivet with some space between them.

Air fryer the eggs at 280°F (138°C) for 13 minutes. After that, use an oven mitten to carefully remove the eggs (they are hot so be careful) and soak them in a bowl of cold water until they are warm to the touch.

To peel the eggs, gently and carefully tap the eggshell from the dull side first. It'll be easier to peel.

With a small pairing knife, slice the eggs in half lengthwise. Then, use a small teaspoon to remove the egg yolk and put it in a mini food processor or a bowl.

Combine the egg yolks with seasonings from mayo to black pepper. Pulse a few times until the egg yolks and the seasonings are fully incorporated. The texture should be creamy and smooth. You can also use a fork to mash and mix them to smooth.

Use a small teaspoon, or a small pastry piping bag if you have one, and scoop or pipe the egg yolk mixture into the white parts of the eggs.

Place them on a large serving plate. Garnish with chive and paprika. Serve at room temperature.
Notes
A different air fryer will have a slightly different cooking time and temperature. It's best to test your air fryer with 1 whole egg first before you cook a half dozen.
Tools & equipment:

A trivet that can be placed INSIDE of the air fryer basket (to keep the eggs stay in place in the air fryer).
Optional: A small pastry pipping bag (to pip the egg yolk mixture into the egg white).
Optional: A small mini food processor, about 1 cup (I have this one).
Nutrition
Serving: 1serving, Calories: 61kcal, Carbohydrates: 1g, Protein: 3g, Fat: 5g, Saturated Fat: 1g, Polyunsaturated Fat: 2g, Monounsaturated Fat: 2g, Trans Fat: 0.02g, Cholesterol: 94mg, Sodium: 162mg, Potassium: 41mg, Fiber: 0.1g, Sugar: 0.2g, Vitamin A: 138IU, Vitamin C: 1mg, Calcium: 15mg, Iron: 0.5mg
Made a dish and love it? Please remember to rate the recipe and leave a comment in the comment section below! It helps my blog grow organically so I can continue sharing free and awesome content with you. Thank you!