Keto Kimchi Pancake Recipe (Kimchijeon)
Kimchi Pancake (Kimchi Jeon) is what you eat when you crave something crispy, salty, and a little crunchy and spicy. These Korean-inspired keto kimchi pancakes with dipping sauce are loaded with flavor, lower in carb, and much easier to make than scallion pancakes. They make an excellent appetizer, side dish, or snack for a summer BBQ or a Korean food date night!
The first bite you dip the slice in that vinegary-deeply savory-little spicy pancake dipping sauce then you will want to pour that sauce all over and…DIVE IN!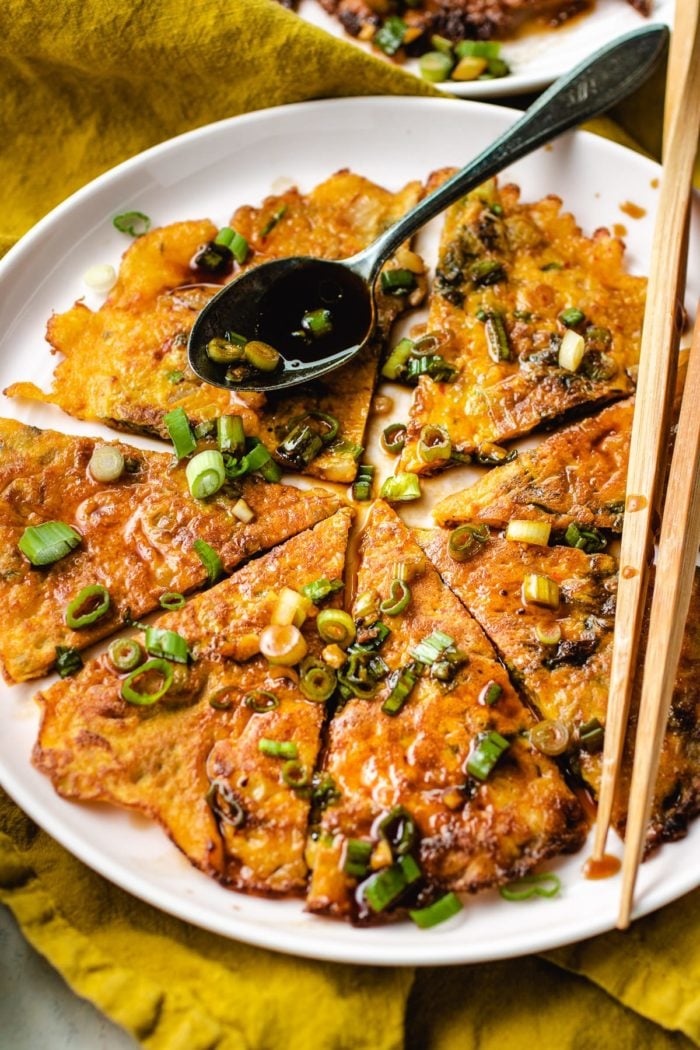 Don't be intimidated by the flaming red color of kimchi pancakes. They are actually not that spicy! Although this is not a traditional recipe, it's certainly loaded with flavor and EASY!
So if you have a jar of well fermented kimchi left in the fridge and don't know what to do, now you have the perfect recipe for it!
What is kimchijeon
Kimchijeon, or kimchi jeon, is a type of Korean pancake that's savory and made with kimchi. Napa cabbage kimchi is the main ingredient. It's also called Kimchi buchimgae.
Ingredients for my keto kimchi pancake
Napa cabbage kimchi (the more fermented the better)
Scallions
Eggs
Yellow onion
Sweet potato starch, potato starch, or tapioca starch
Coarse sea salt
Garlic powder
Variation: You can also mix-in a few teaspoons of my Whole30 gochujang paste! The pancakes will have a deeper red color and super flavorful so you probably don't need the dipping sauce at all!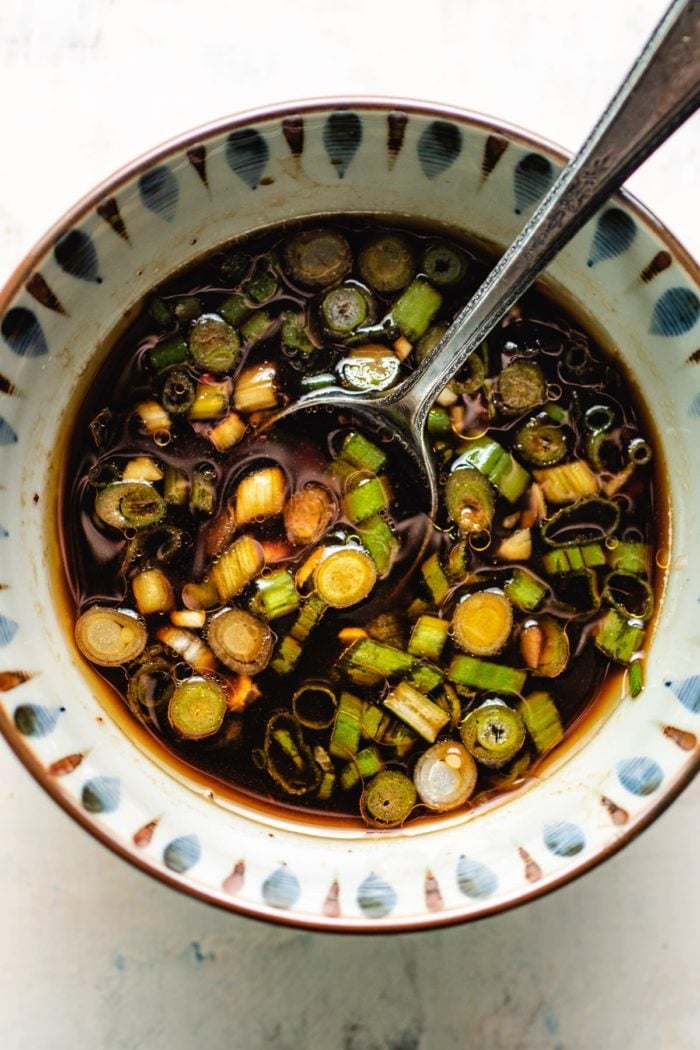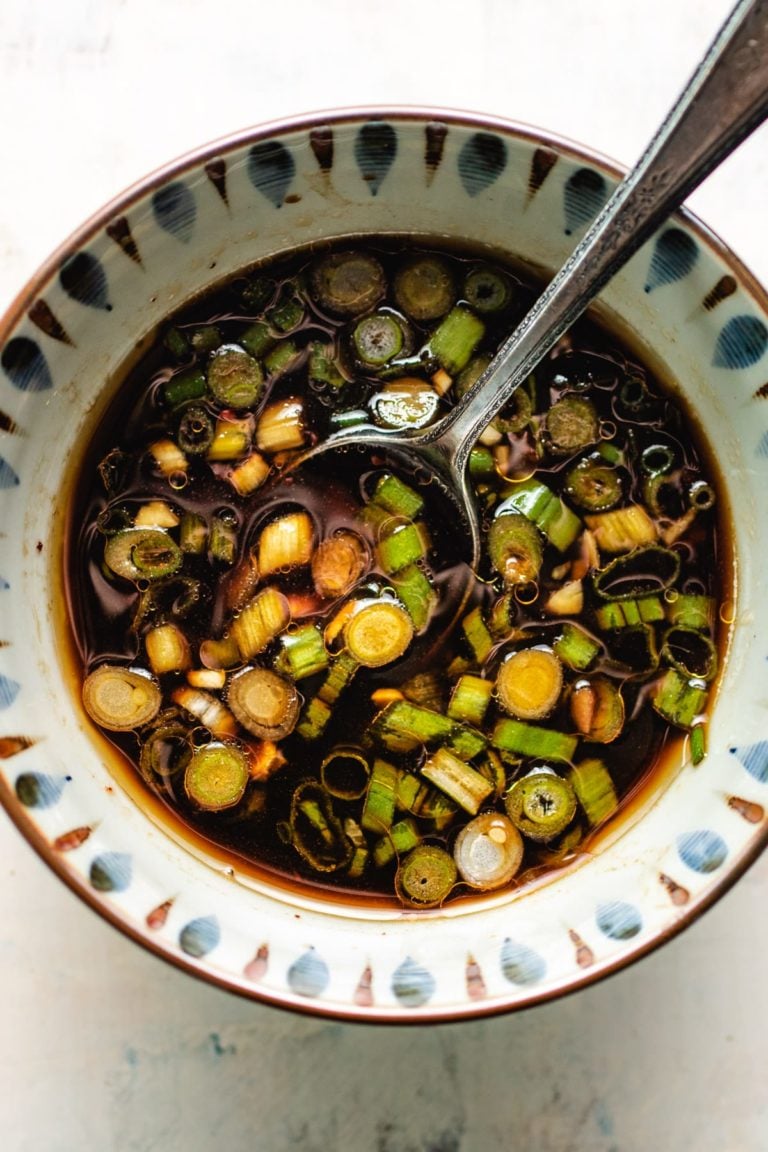 Kimchi Pancake Sauce (gluten-free, soy-free)
Coconut aminos
Apple cider vinegar
Toasted sesame oil
Scallions
Garlic
Variation: if you want a bit more spicy, try adding a few sliced jalapeno peppers and let the sauce sit at room temperature for a few hours for the flavor to melt. Or you can also add a bit of gochugaru (Korean red chili pepper).
How to make kimchi pancake without flour and still little crispy
Drain: Tip no. 1 and I've said this several times…please drain the kimchi first! The regular pancakes use flour so the batter can soak up more liquid. Since we are trying to keep it lower in carbs, grab a sieve and use the back of the spoon to press out the kimchi juice as much as you can into a cup.
Mix: Dice up the kimchi (I use kitchen shears) and mix with all the ingredients. The batter should be thin and not thick.
Sizzle: Get the pan hot before adding the batter. Use ½ cup of the batter per pancake to keep it thin and crispy.
Place: Place the pancakes over a cooling rack as you repeat the process to make more so they won't turn soggy.
Dip: Serve the dipping sauce on the side. It's savory-tart-little sweet so good!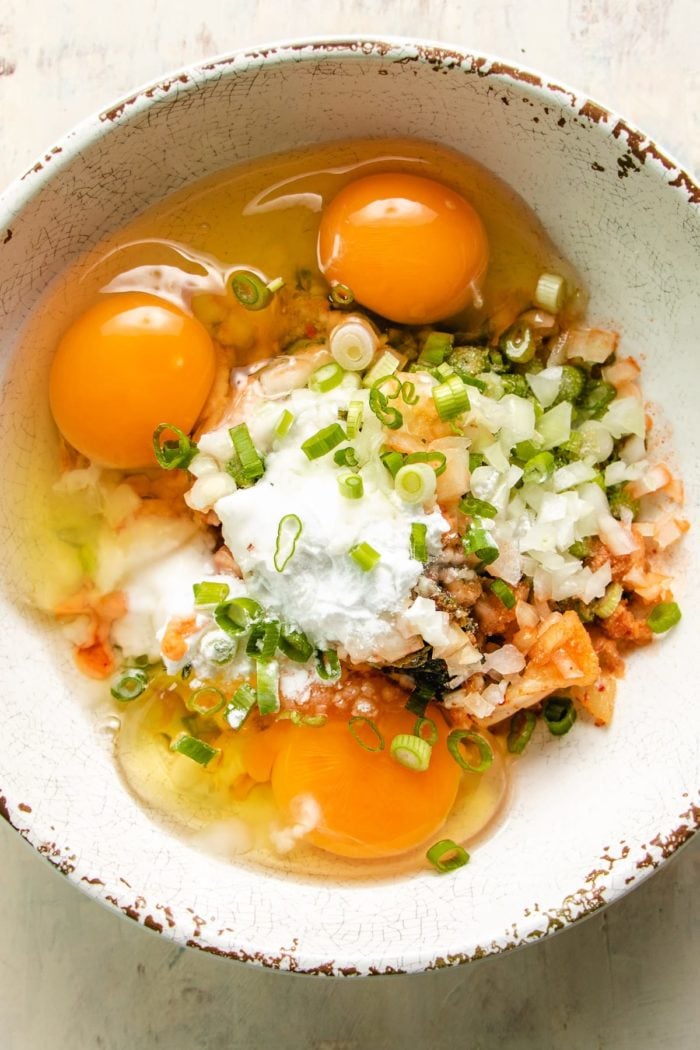 What to eat with the kimchi jeon pancakes?
This dish is super versatile. You can serve it as an appetizer, a savory snack or a side dish. You can go all out with my Paleo Korean recipes for a kimchi feast or make it a finger food party theme with more appetizers like Asian chicken lettuce wraps, air fried lemon chicken bites, Chicken yakitori, Grilled tsukune meatballs (Japanese chicken meatballs), bang bang shrimp, or air fried Thai chicken wings. To make it a lighter supper, pair it with my keto egg drop soup, gluten-free wonton soup, or Chinese hot and sour soup.
Tips for making the best keto Kimchi pancake
Use well fermented kimchi. The flavor deepens as the kimchi ages and turns more sour.
Drain the kimchi first before adding it to the batter. This is to control the amount of liquid because there's no flour in this recipe.
Do add a little kimchi juice to the batter after you drain the kimchi.
The batter should be thin and not thick or gloopy.
Get the pan hot first before adding the batter.
Cook 1 pancake a time.
Spread the batter thin when pan frying so it will be more crisp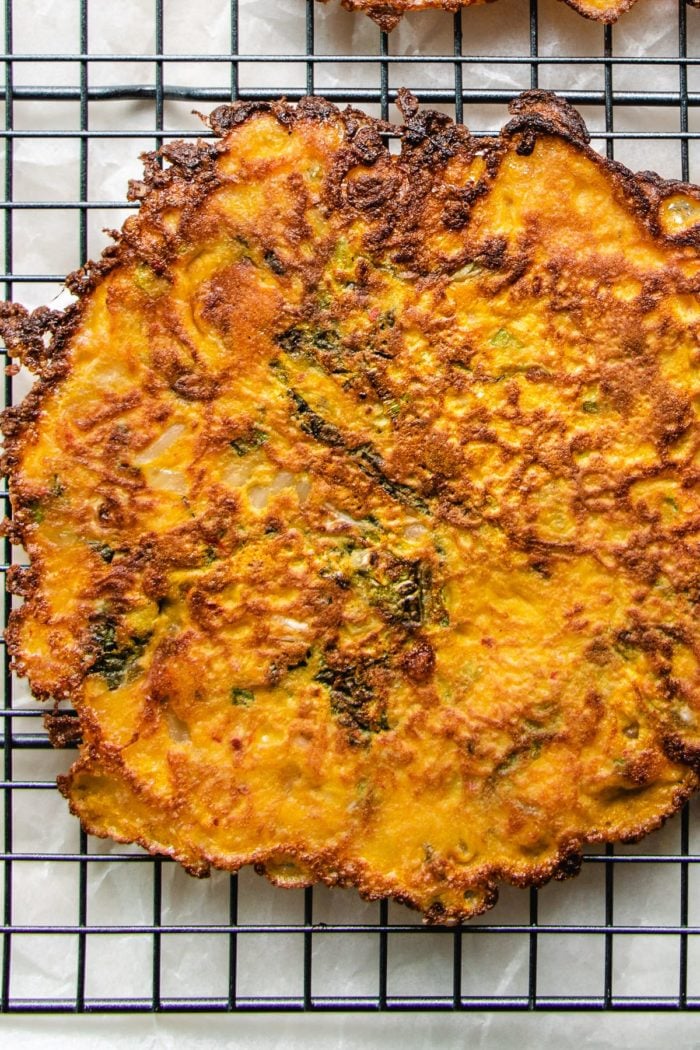 More Korean-inspired recipes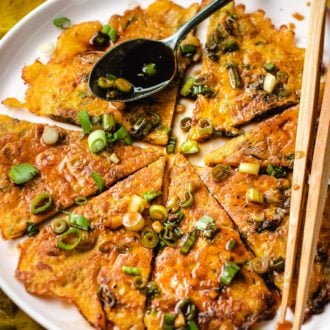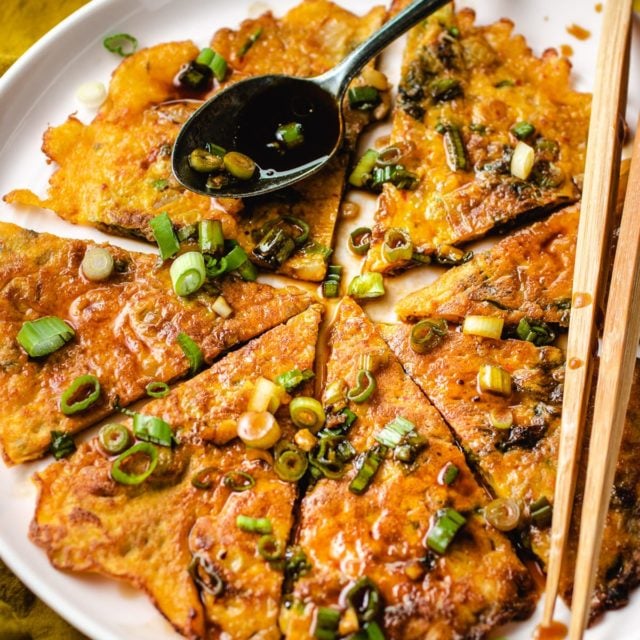 Kimchi Pancake Recipe (Paleo, Low Carb, Gluten-Free)
Easy Kimchi Pancake (kimchijeon) recipe, made keto, gluten-free, is loaded with flavor! Pair it with a deeply savory and vinegary kimchi pancake sauce for a Korean food feast!
Print
Pin
Rate
Ingredients
½ cup kimchi
4 tbsp chopped scallions, about 3-4 scallion bulbs with extra for garnish
½ tsp coarse sea salt
½ tsp garlic powder
1 oz. yellow onion, finely chopped
3 tbsp sweet potato starch, or tapioca starch or potato starch (not flour)
1 tbsp kimchi juice
3 large eggs
2 tbsp avocado oil, about ½ tbsp per pancake
Kimchi pancake sauce (gluten-free, soy-free):
Instructions
Place a sieve over a measuring cup that's just big enough to hold the kimchi. Use the back of a spoon to press out as much liquid as possible. Save the kimchi juice.

In a mixing bowl, add the kimchi. Use kitchen shears to cup it into small bits then add the rest of the ingredients from scallions to eggs. Whisk and combine well. The batter will be on the thin side. Cover the bowl and let it rest in the fridge while you prepare the sauce.

Combine the kimchi pancake sauce in a small bowl.

Preheat a 10-inch skillet over medium-low heat until it feels pretty warm to your palm, when placing 2-3 inches away. Add the oil and swirl it around. Take ½ cup of the batter and add it to the pan and immediately use the back of a spoon to spread out the batter as thin and as evenly as possible. Cook over medium-low heat about 2 minutes on the first side and 1 minute on the second side. Repeat the process until you finish the batter.

As you repeat the process, place the pancakes over a cooling rack so the bottom won't turn soggy.

Slice the pancakes into quarter or one-eighth slices. Transfer to a large serving platter. Servet hot and with the dipping sauce on the side.
Notes
Variation: If you happen to have my Whole30 gochujang paste, mix a few teaspoons to the pancake batter. The pancakes will have a deeper red color and super flavorful so you probably don't need the dipping sauce at all!
If you want a more spicy dipping sauce, try adding a few sliced jalapeno peppers and let the sauce sit at room temperature for a few hours for the flavor to melt. Or you can also mix-in a bit of gochugaru (Korean red chili pepper)
Nutrition
Serving: 1piece, Calories: 163kcal, Carbohydrates: 8g, Protein: 5g, Fat: 12g, Saturated Fat: 2g, Polyunsaturated Fat: 1g, Monounsaturated Fat: 1g, Trans Fat: 1g, Cholesterol: 140mg, Sodium: 484mg, Potassium: 152mg, Fiber: 1g, Sugar: 1g, Vitamin A: 263IU, Vitamin C: 2mg, Calcium: 33mg, Iron: 1mg