Vegan Hot Pot
Vegan hot pot is the perfect dish to have during cold winter nights and throughout the holiday season. Its milky creamy miso broth has a deeply savory and rich umami flavor. One of the best things about this heartwarming dish is that it's surprisingly easy to prepare.
Hosting a hot pot dinner party at home has never been easier. Pick your desired fresh vegetables, put them in the shabu shabu pot, and serve them with Hotpot sauces for a delicious and healthy cozy meal in no time!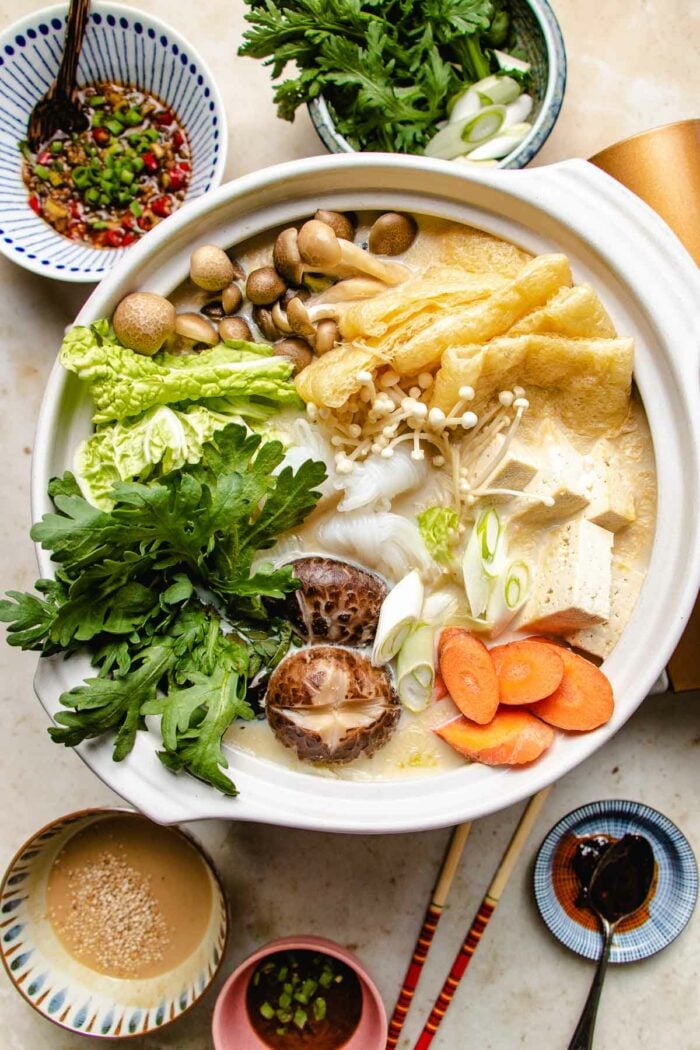 Why you will love this dish
This veggie hot pot is a suitable vegan meal for everyone — vegetarians, vegans, or neither. It's THE winter dish for a wholesome, nutritious, and easy meal.
Delicious and healthy – Contains fresh vegetables, lean protein, and milky broth, making it an all-around cozy meal.
Plan and prep ahead – You can prepare the ingredients in advance as it requires ZERO cooking.
Perfect for dinner parties – With a variety and choices of ingredients, this gluten free hot pot is a guaranteed crowd-pleaser.
Hot pot components
Even though there are no vegetarian hot pot restaurants near me, you can find most of these items at the Asian market. You might already have these pieces of cookware at home!
Soup base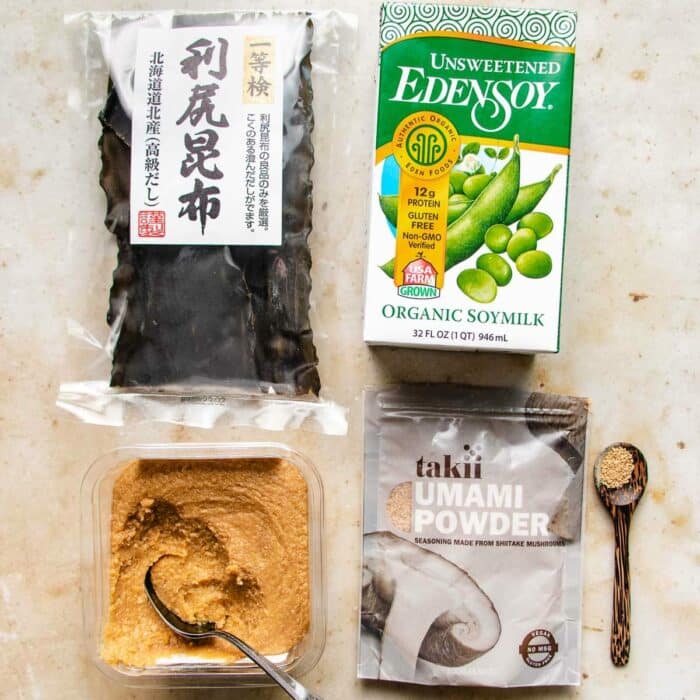 Soy milk, dried kombu, shiitake mushroom seasoning, white miso (or chickpea miso).
Dipping Sauces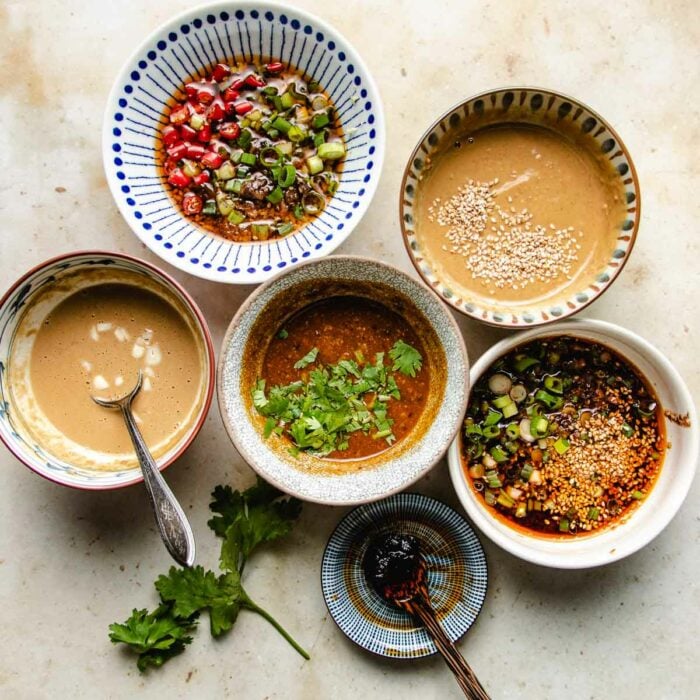 Five hot pot dipping sauces to select from — Taiwanese shacha, Garlic sesame, Chinese spicy chili, Japanese miso, and Spicy peanut sauce.
Ingredients to pick and choose
Vegetables: Tong hao, Napa cabbage, carrots, daikon radish, different types of mushrooms, Japanese leek (or spring onion), and bamboo shoots.
Proteins: Fried tofu puffs and organic firm tofu.
Carbs: Shirataki noodles or rice cakes.
Ingredient substitutions
Try extra firm tofu, frozen tofu, bean curd, or tofu skin (豆腐皮, doufupi) to make tofu skin hot pot.
For a low-carb vegetarian hot pot, use glass noodles, shirataki noodles, or kelp noodles. See what are kelp noodles and how to cook kelp noodles.
Add an extra teaspoon of shiitake mushroom seasoning if you don't have dried kelp or dried kombu.
Most of these ingredients can be found in local Japanese grocery stores.
Tools and equipment
Types of a soup pot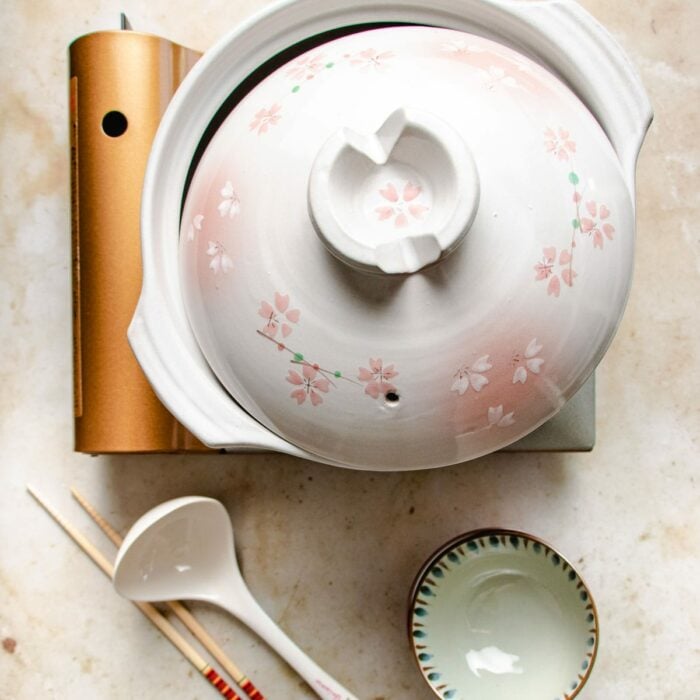 I like to use the Donabe, which is used in a typical Japanese hot pot. With that said, a Dutch oven or any large pot would also do the trick. Additionally, a Chinese stainless steel hot pot includes a divider, so you can prepare two flavored soups. Regardless of your choice, the pot should be at least 4 quarts to contain the vegan hot pot soup base.
Chopsticks and stove
Use long chopsticks or communal chopsticks to grab veggies for the hot pot, which should be kept clean. A soup ladle is used to stir and serve the vegetarian shabu shabu broth. You can use shabu shabu strainer scoops to separate hot pot veg from the soup. A gas or an electric portable stove for an authentic hot pot experience.
How to prepare hot pot
This vegan hot pot recipe is fairly straightforward. Check out these simple steps to make your own hot pot at home this holiday season.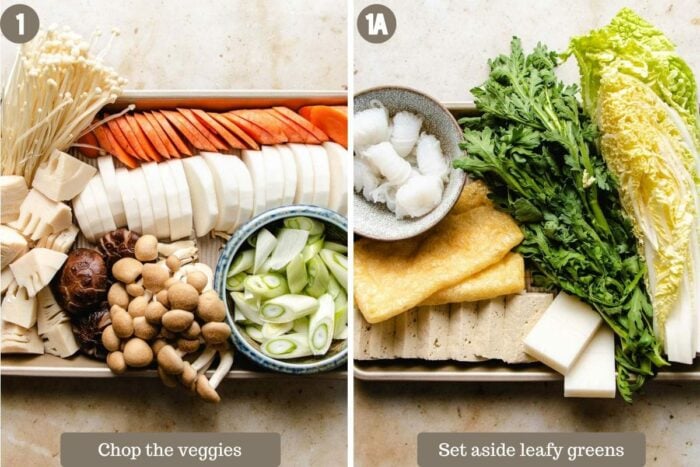 Prepare your desired vegetables.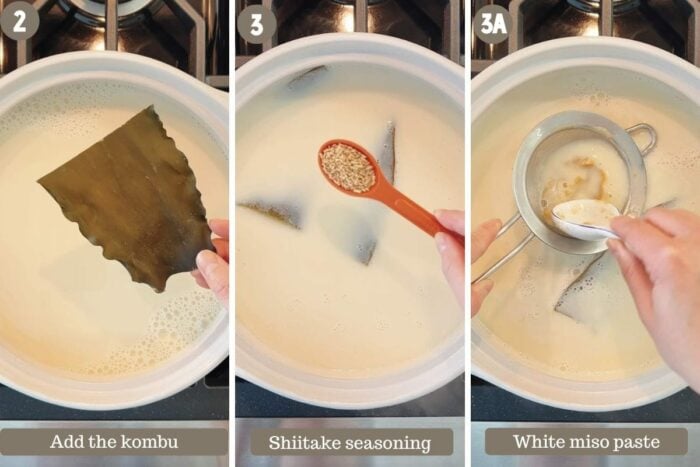 To the pot, add milk, water, and kombu. Leave to simmer gently.
Season the broth with mushroom powder and miso paste.
Add firm vegetables and ingredients to the pot. Simmer over low heat.
Add in the remaining ingredients, and enjoy them with the dipping sauce of your choice.
Kombu dashi
Dried kelp, also known as dried kombu, adds flavor to soup broths. It's an important ingredient in a vegetarian hot pot soup base. It's really easy to use – add a small piece in water and simmer for 15-20 minutes. The kombu will rehydrate, making it edible.
Variations
Making a vegetarian Chinese hot pot at home is fun as it's super versatile. Feel free to experiment with different broths, flavors, and countless ingredient varieties that suit your taste buds. Here are some ideas to give you a head start.
Vietnamese hot pot: To make a Viet hot pot, add Thai basil, mint, cilantro, and lemongrass into the broth.
Taiwanese flavor: Add Shacha sauce for your non-vegan friends.
Make it more hearty: Put in extra rice noodles, udon noodles, or frozen dumplings.
Making a non-vegan alternative? Simply add a couple of poached eggs or some diced chicken thighs.
Spicy hot pot: Add a few tablespoons of garlic chili sauce or chili oil to make a spicy broth.
Simmer and do not boil the broth
Use low and gentle heat to simmer the soy milk broth. Keep an eye on the stovetop temperature, as the hot broth should not come to a rolling boil. There may be a slight milk curdle toward the end of your hot pot session. That's totally normal and will not affect the flavor.
How to serve hot pot
There's a wide variety of hotpots. From Chinese, and Japanese to Vietnamese hot pot, they are typically served in a similar way. You can replicate this traditional hot pot experience from the comfort of your home.
Place a portable burner at the center of a table, and everyone sits around it. A traditional way of serving is by using communal chopsticks and a soup ladle to keep the veggie broth clean. If you don't have the burner, you can definitely make it on the stovetop.
Serve your hot pot with garlic chili noodles and keto-friendly egg tofu. Add leafy bok choy, sweet yu choy sum, or crunchy snow pea leaves. Browse through Chinese vegetables for more vegetables for hot pot.
Common FAQ
What is hot pot?
Hot pot essentially means that you cook everything in one pot. It consists of a soup base dipping sauces, and ingredients from meats, seafood, fresh vegetables, tofu, dumplings, to noodles.
Chinese hot pot vs. Japanese hot pot
Flavor-wise, Japanese hot pot broth is lighter, less salty and spicy than Chinese hot pot. Japanese hot pot uses a clay pot (Donabe) whereas Chinese hot pot uses a steamboat or a stainless steel divided pot.
Can Vegetarians have hotpot
Yes. There are many soup bases and ingredients for a vegetarian hot pot, such as tofu and other plant-based products.
What veggies are good for hot pot?
Hearty veggies such as carrots and daikon. Leafy greens such as tong ho, napa cabbage, baby bok choy, watercress, spinach, bean sprouts, and snow pea leaves.
Storage and make-ahead
This vegetable hotpot is perfect for making ahead because you don't need to cook the ingredients before serving. Just gather the ingredients and prepare them in advance.
Store any leftovers in a large airtight container. There's no need to separate the broth and the cooked hot pot ingredients. Simply reheat on a stovetop for a day 2 hot pot experience!
Umami Tips
Use low and gentle heat to simmer the milk broth. It should never come to a rolling boil.
A slight milk curdle might occur at the end of your hot pot session. This is completely normal and won't affect the vegetable broth flavor.
Use a large soup pot or Dutch oven that's at least 4-quart so the soup won't spill over.
The types of vegetables that take a longer time to cook should be added to the pot first.
Most of the ingredients can be found in local Japanese grocery stores.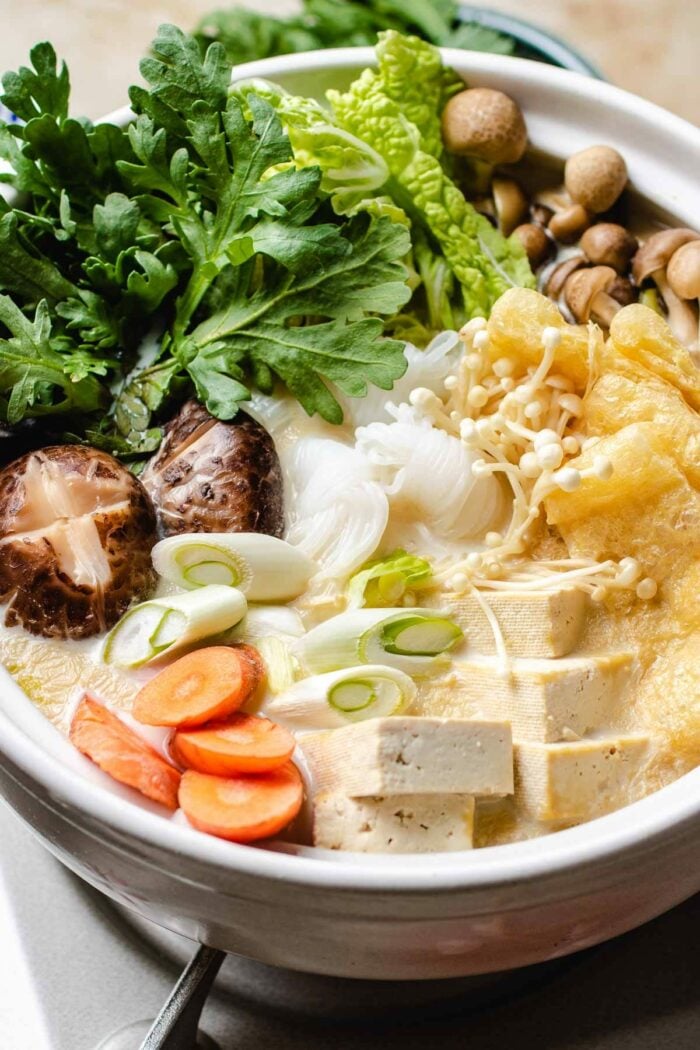 Vegan hot pot recipe
Vegan hot pot with milky miso broth is a healthy recipe loaded with vegetables. I'll show you how to host a hot pot party at home easily!
Print
Pin
Rate
Ingredients
Instructions
Dice, wash and prepared the vegetables.

Add the milk, water, and kombu to the pot. Close with a lid and low heat simmer until gentle simmering, about 12-15 minutes.

Season with mushroom powder and dissolve miso paste into the broth.

Add the ingredients with the ones that take the longest time to cook first – daikon, carrots, shiitake, Japanese leek, and bamboo shoots. Simmer over low heat for 10 minutes.

Add the fried and firm tofu, enoki, shimeji mushrooms, and the stems of napa cabbage. Continue to simmer over low heat for another 10 minutes.

Lastly, add the remainder of the ingredients – napa cabbage leaves, tong hao, shirataki noodles, and rice cakes, if using.

Cook each layer as you eat and dip them in my hotpot sauces. Remember to sip the hot broth. It's absolutely delicious and will keep you warm through all winter.
Notes
Please use low heat to simmer the milk broth. Check periodically so that it doesn't spill over.
This is a silky milk broth-based hot pot. It needs to use low and gentle heat. The broth should never come to a hot rolling boil.
A slight milk curdle might occur toward the end of your hot pot session. That's totally normal. It will not affect the flavor.
Size of the pot. I recommend using at least a 4-quarte size large soup pot or Dutch oven so that it gives you enough space to add the ingredients without spilling over.
The order of the ingredients in which you add to the pot matters. In general, vegetables that are more hearty need to be added to the pot first. Aromatics such as leeks and shiitake also need a longer time to simmer to release their flavor.
It's likely you will have extra hot pot ingredients. You can store them in the fridge and add them to the soup base for a day 2 hot pot experience!
Most of these ingredients, including tools, can be found in local Japanese grocery stores. 
If you do use fried tofu, please store the uncooked one in the freezer.
The rehydrated dried kombu is edible. You can eat it if you like.
Store the unused dried kombu in a freezer-friendly ziplock bag in the freezer for future use. 
Nutrition
Serving: 1serving, Calories: 207kcal, Carbohydrates: 19g, Protein: 16g, Fat: 8g, Saturated Fat: 1g, Polyunsaturated Fat: 5g, Monounsaturated Fat: 2g, Sodium: 467mg, Potassium: 547mg, Fiber: 5g, Sugar: 9g, Vitamin A: 3522IU, Vitamin C: 30mg, Calcium: 367mg, Iron: 3mg
Made a dish and love it? Please remember to rate the recipe and leave a comment in the comment section below! It helps my blog grow organically so I can continue sharing free and awesome content with you. Thank you!