Winter melon soup with meatballs
Winter Melon Soup with meatballs is a classic Chinese winter dish because it's utterly comforting and soothing. The round shape of the meatballs is thought to bring luck, so this Chinese soup is a popular New Year dish!
Winter melon has a mild, sweet flavor when cooked. I use savory pork meatballs here, but winter melon soup is also made with chicken, Chinese cured ham, pork ribs, or even vegetarian. If you love meatballs, also give my Asian chicken meatball soup and Lion's head meatballs a try too!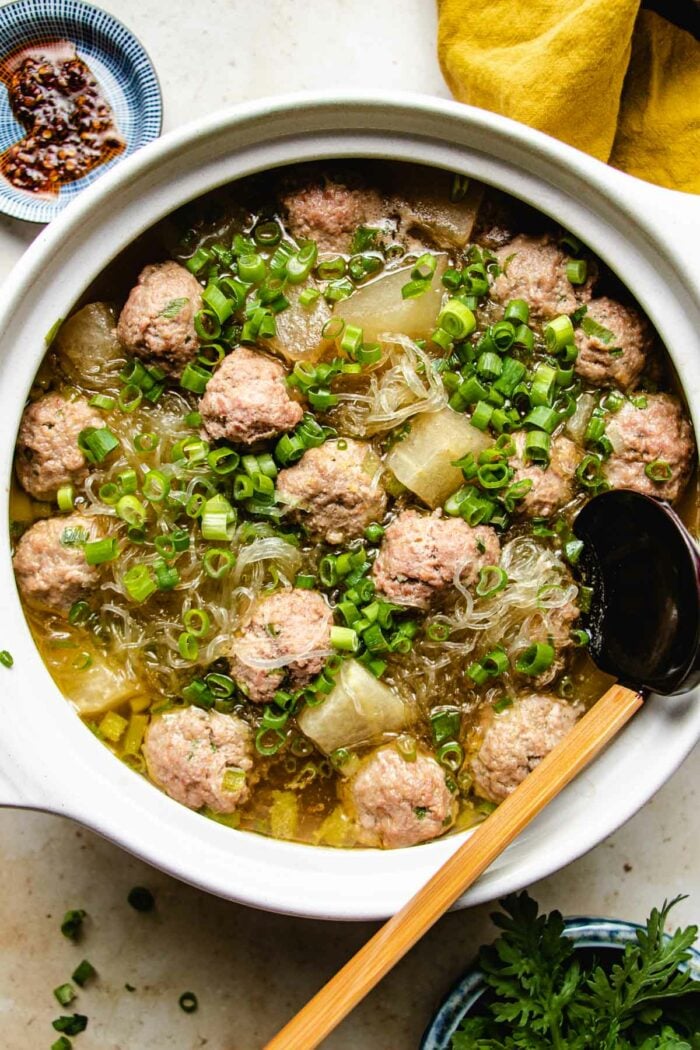 Why this will be your go-to recipe
This Chinese cuisine staple will be your go-to winter melon recipe because not only is it a heartwarming and healthy soup, but it comes together fast! It's no wonder this is such a popular dish at home and at Chinese banquets.
In my Chinese winter melon soup recipe, tender and juicy pork meatballs are simmered in an aromatic broth with large chunks of sweet Chinese winter melon. It's a simple yet savory combination that will keep you warm all winter long!
What is winter melon and how to prepare and cook it
Winter melon is a large fruit in the gourd family. It's pronounced dong gua in Mandarin. (Dong means winter, and gua means squash or melon.)
Like with pumpkin, it's good practice to remove the green outer skin and seeds completely before cooking. The melon turns translucent when cooked and has a mild sweet taste. There are many winter melon recipes as it's often used in soups. Winter melon should not be consumed raw.
Usually, the whole winter melon is cut into large wedges with seeds and the flesh exposed in the market. Once cut open, it should be stored in the fridge and consumed within 3 days.
Ingredients
This winter melon soup recipe uses simple, fresh ingredients that come together quickly and give this wintermelon soup its soothing, savory flavor.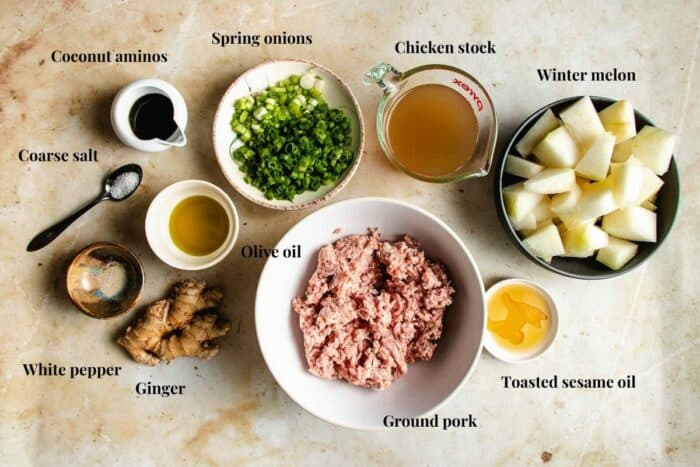 Meatballs: ground pork, oil, coconut aminos, scallion, ginger, salt, white pepper
Broth: winter melon, scallion (green onion), ginger, chicken broth or stock
Other optional items: salt, coconut aminos (or soy sauce), glass noodles (or kelp noodles).
See this post to learn more about what are kelp noodles and how to cook kelp noodles.
Ingredient substitutions
If winter melon is not available, use fuzzy melon or luffa. Both of them are mild in flavor and once cooked they turn soft and a little sweet. You can also use daikon radish. I do not recommend using cucumber as a substitute.
You can also use 50% ground chicken and 50% ground pork to make the meatballs.
If you prefer not to eat pork, I recommend using 70-80% ground dark meat chicken with 20-30% ground chicken breast.
How to make the soup
This Chinese meatball soup comes together in 8 steps. It's easy, cooks quickly, and packs a flavorful, healing punch!
Mix the meatball ingredients into a sticky paste with chopsticks for an extra springy texture.
Form the paste into meatballs and place them on a large plate until ready to cook.
Remove the skin and seeds from the melon for soup; dice into similar-sized pieces.
Saute ginger and scallion over medium heat in the soup pot
Add the melon pieces and chicken stock and simmer until the melon begins to soften.
Add the meatballs to the broth and let cook on low heat for about 10 minutes.
Adjust seasonings to taste and serve hot.
Optional: If you are using noodles, prepare them separately and add to the soup.
Tender and bouncy meatballs
To achieve the elastic, springy texture Asian meatballs are known for, use chopsticks to stir the ground meat and meatball ingredients in a circular motion. Stir in the same direction for about 10 minutes until the ground meat turns into a thick and sticky paste.
It's best to stir by hand and use some muscle, but you can use an electric mixer if necessary. Another tip when cooking with pork especially is to add a little water as you're mixing. This will keep the meatballs extra moist and tender.
Variations
Chinese winter melon soup is a staple throughout Asian cooking in part because it's so versatile. Swap out the protein and adjust the flavor profile with these delicious fuzzy melon soup variations!
Vietnamese winter melon soup, called canh bi dao tom, uses shrimp instead of pork. (Bi dao is winter melon in Vietnamese.)
For winter melon chicken soup, cook with chicken thighs, drumsticks, or a whole chicken.
Make it vegetarian with shiitake, goji berries, and Chinese red dates.
The Cantonese version uses Chinese ham, dried sea scallops, dried shrimps, shiitake, and dates.
Cook with pork ribs and pork bones. If using bones, start with cold water to extract maximum flavor.
Common FAQ
Health benefits of winter melon
Winter melon is low in calories and fat, yet is high in fiber. Its high water content may improve digestion. It may also help reduce inflammation, prevent ulcers, and protect against type 2 diabetics (source).
What is winter melon soup made of
The comforting dish can be made vegetarian or omnivore-friendly. Winter melon is often cooked with pork ribs or meatballs to add flavor to the soup. If vegetarian, shiitake and various Chinese dry herbs can be used to make soup.
Can winter melon be eaten raw
No. The melon should be cooked through before consumption. Most often the melon is used in soup broth. You can also thinly slice the melon for stir-fry dishes.
Is winter melon the same as watermelon?
Although both of them are fruits in the gourd family, winter melon is not the same as watermelon. Winter melon should be cooked prior to consumption.
Storage and make-ahead
You can prepare the meatballs ahead of time and store them raw in the fridge for up to 2 days.
You can cut the winter melon chunks in advance; however, I recommend you cook them the next day.
Store the fully cooked soup in the fridge for up to 5 days.
Melons do not store well in the freezer. It changes the texture after defrosting.
Umami Tips
Winter melon is a large fruit in the gourd family. The melon has a mildly sweet flavor after cooking.
For a shorter cook time, slice the Winter melon into smaller pieces.
For best results, stir the meat in one direction for 10 minutes until it becomes a sticky paste.
Add 1-2 tbsp water to the ground pork mixture to keep the meatballs extra moist.
Cook the melons until they turn translucent but not mushy before adding the meatballs.
If you can't find winter melon, I recommend using daikon radish or carrots.
Winter melon soup with meatballs recipe
Chinese winter melon soup recipe with pork meatballs, winter melon, and glass noodles, simmered in a big clay soup pot! This winter melon meatball soup is healthy delicious and a must-make for winter season! Make 20 meatballs at a size of 2 tbsp per meatball.
Print
Pin
Rate
Ingredients
For the meatballs:
1 lb ground pork
1 tbsp coconut aminos
0.5 tbsp toasted sesame oil
⅛ tsp ground white pepper, plus more for serving
0.6 oz ginger root, grated
2 bulb scallion, diced
0.5 tsp coarse sea salt
2-3 tbsp water
2 tbsp olive oil
For the broth:
1.5-2 lb winter melon, trimmed, seeds removed, diced to 1.5-inch cubes
0.2 oz ginger root, thinly sliced
2 bulb scallion, diced, separate white and green parts
1 tbsp olive oil
3 cup chicken bone broth, or stock
Optional:
0.5 tsp coarse sea salt, to taste or use shiitake mushroom seasoning
1 tbsp coconut aminos, to taste
12 oz kelp noodles, or glass noodles
Instructions
Prepare the meatballs:
In a large mixing bowl, combine ingredients from pork to 2 tbsp olive oil. Use chopsticks to stir in one direction until the mixture turns into a very sticky paste, about 6 to 7 minutes. You'll need a bit of muscle to do this but this will give the meatballs an excellent springy texture.

Set aside a large plate or sheet pan to hold the meatballs, and grease your hands with a little olive oil. This will make it easier to shape them.

Form 20 round-shaped meatballs at a size of 2 tbsp per meatball. They will be quite soft so be careful when you handle and transfer them.
Prepare the melons:
Use a chef's knife to trim away the outer skin of the winter melon until you see the white color flesh. Scoop out the seeds. Dice it to equal sizes, roughly 1.5-inch cubes.
To cook:
In a large 4-quart size soup pot or Dutch oven, saute the ginger and white scallion parts with 1 tbsp oil over medium heat for 1 minute.

Add the melon and stock. Cover with a lid and simmer the soup over medium heat for 15-20 minutes or until you can easily poke through the melon but the texture is not mushy.

Carefully transfer the meatballs into the soup. Simmer over medium heat for 10 minutes or until the meatballs are cooked through.

Taste the broth and season with more salt, coconut aminos, and white pepper to taste. Serve hot.
Optional
If you are adding glass noodles, follow the package instructions to prepare the noodles separately and add them to the soup. If you use low-carb kelp noodles, please follow this post to prepare your noodles correctly for the best texture!
Notes
To further enhance the soup flavor, I recommend using Takii shiitake mushroom seasoning for an extra savory flavor.
If you can't find winter melon, I recommend using daikon radish or carrots for this soup.
When you "stir" the meatballs, the mixture will seem really loose at the beginning. Keep stirring it in the same direction for 6 to 7 minutes, the texture will turn into a thick sticky paste.
You can also use an electric mixer on a low-speed setting to help you "stir" the meatballs until the mixture turns into a sticky paste texture.
The nutritional label is estimated with kelp noodles. 
Nutrition
Serving: 1serving, Calories: 320kcal, Carbohydrates: 8g, Protein: 16g, Fat: 25g, Saturated Fat: 7g, Polyunsaturated Fat: 3g, Monounsaturated Fat: 13g, Trans Fat: 1g, Cholesterol: 54mg, Sodium: 574mg, Potassium: 345mg, Fiber: 5g, Sugar: 1g, Vitamin A: 12IU, Vitamin C: 1mg, Calcium: 92mg, Iron: 1mg
Made a dish and love it? Please remember to rate the recipe and leave a comment in the comment section below! It helps my blog grow organically so I can continue sharing free and awesome content with you. Thank you!