Pad Woon Sen (Low Carb Thai Stir-Fried Glass Noodles)
Pad Woon Sen (Thai stir-fried glass noodles) is what you make when you need a Thai food fix fast! With its signature sweet and savory woon sen pad thai sauce, crisp vegetables, and silky smooth glass noodles, this dish is surprisingly easy to make and totally doable for every home cook!
I'll show you how to make this dish low carb (at only 6 g net carbs per serving that's 75% fewer carbs than the original) yet totally stacks up to the flavor of great Thai restaurants! Woon Sen Pad Thai, Let's go!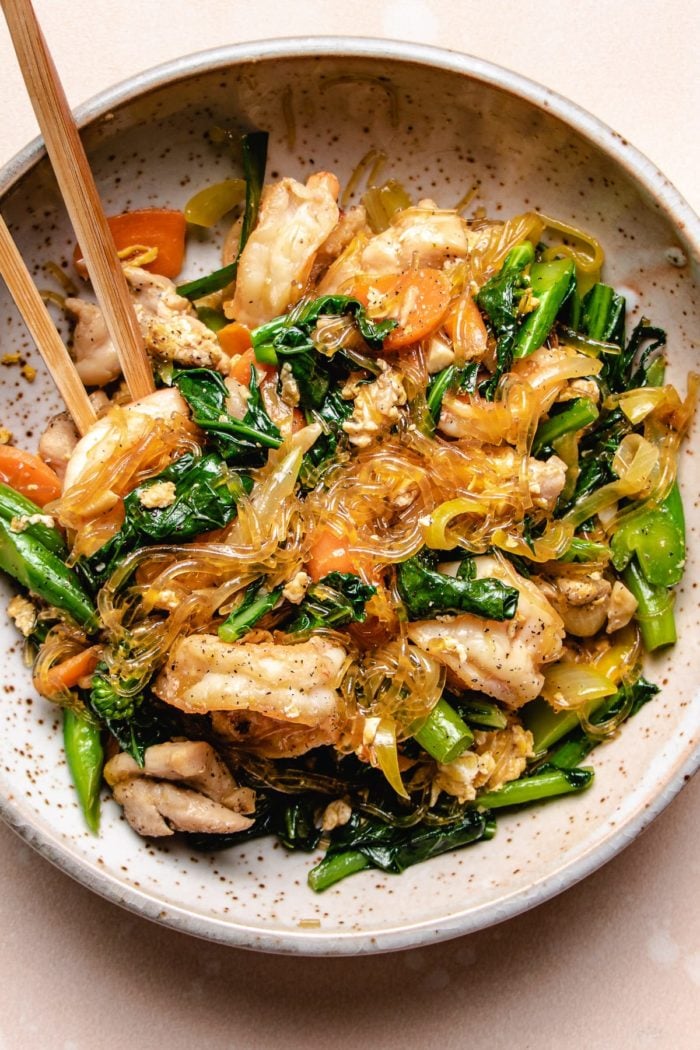 The lemon juice with baking soda seriously made a difference! I sauteed some vegetables with chicken and the noodles, the sauce is amazing – sweet and savory. I'll be using this low carb noodle more often now. Thanks again!
Pad Woon Sen – A must make for noodle lovers, plus low carb!
Probably lesser known than Pad Thai or Pad See Ew, Thai Pad Woon Sen is super popular among Thai food enthusiasts and truth to be told, this Thai stir-fried noodle dish is THE ONE I order the most than any other type of Thai noodle dishes.
I want to enjoy this dish as often as I want and by complete coincidence I decided to give Kelp Noodles a try and to my big surprise, I found the PERFECT answer! 😀
Don't fret if you don't have kelp noodles or not sure how to use them, it's surprisingly fun and easy to use and they taste just like glass noodles – you can't tell the difference and they are much lower in carb. I'll show you how to use them and where to find it – it's totally worth it!
What is pad woon sen
It's a Thai stir-fried glass noodle dish. Pad (ผัด) – means fried and Woon sen (วุ้นเส้น) – means vermicelli – a type of noodle made with mung beans, also known as bean thread noodles or cellophane noodles.
The glass noodles are stir-fried with a protein (chicken, pork, shrimp, or beef), vegetables, and eggs in a deeply savory and sweet sauce. Woon sen pad thai tastes smoky, sweet, and savory. It's absolutely sensational.
Ingredients and low carb substitutes
Noodles – kelp noodles (low carb) or regular cellophane glass noodles. See more info on kelp noodles below.
Pad Woon Sen Sauce: coconut aminos, fish sauce, keto brown sugar (or coconut sugar), ketchup, and a thickener starch.
Proteins: Chicken and/or shrimp, and eggs.
Vegetables: Chinese broccoli (or broccolini), carrots, and onion.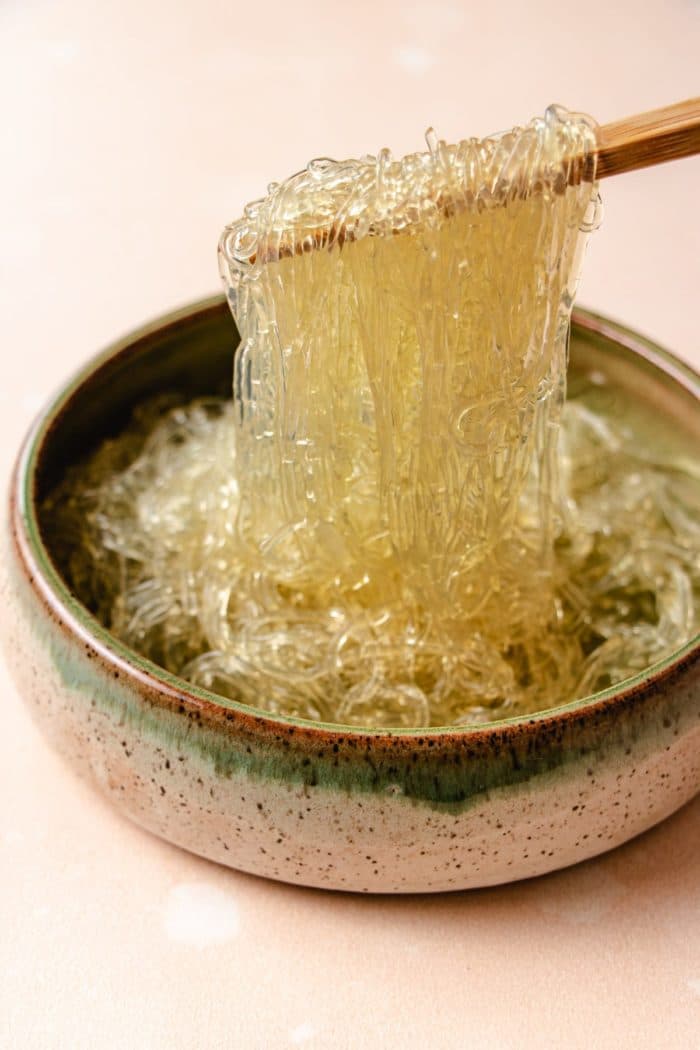 Kelp noodles
Kelp noodles are made from edible kelp (kombu). They are super low in carbs because they are made without starch and grain flour. Kelp noodles are cholesterol, fat, and gluten-free, and also rich in nutrients. They are a good dietary source of iodine. (source). You can learn what are kelp noodles here.
How to use kelp noodles
Kelp noodles have a crunchy and rubbery texture. To soften the noodles, soak and massage the noodles in lemon juice mixed with baking soda. The noodles turn soft within 1 minute. Rinse them under cold water and the noodles are ready to eat. No cooking is required. Learn more about how to cook kelp noodles. You can see how I add these noodles to my winter melon soup with meatballs.
How to make Thai Stir-Fried Glass Noodles – Pad Thai Woon Sen Low Carb
Noodles: Soak and massage the kelp noodles in lemon juice mixed with baking soda bath for 1 minute. Rinse under water for 1 minute and set aside to drain.
Sauce/Vegetables/Protein: Prepare the sauce, vegetables, and protein before you start cooking.
Stir-Fry: Cook the protein until almost cooked through. Mix-in with the eggs and transfer them out of the pan. Saute the aromatics (onion, garlic) with vegetables. Return the protein back to the pan with pad woon sen sauce and noodles. Toss to combine.
Common FAQ:
What's the difference between pad woon sen and pad thai?
The types of noodles used are different between Thai pad woon sen and pad thai. Woon sen uses glass vermicelli noodles that are semi-transparent and made from mung beans. Pad Thai uses rice noodles. Pad Thai also tastes nutty (because of the usage of peanuts) than Pad Woon Sen (sweet, savory, and a little tangy).
What noodles to use for Thai pad woon sen?
Glass noodles, also known as bean thread noodles, made from mung bean starch are used in pad woon sen recipe. It's very similar to Korean sweet potato noodles – Japchae – but thinner.
For a low carb substitute – use kelp noodles that are made from kombu with no starch and added flour. After you soften the kelp noodles in a baking soda with a lemon juice bath, they taste just like glass noodles. You can't tell the difference.
How to make Pad Woon Sen healthier and low carb
Swap kelp noodles for glass noodles
Use keto brown sugar or coconut sugar
Use avocado oil
Pad Woon Sen Carb count
1 cup of pad woon sen using regular bean thread glass noodles contain 283 calorie, 24 g carbs, 17 g fat, and 9 g protein.
1 cup of pad woon sen using kelp noodles contain 201 calorie, 6 g net carbs, 15 g fat, and 10 g protein.
Final Tips and Summary
Noodles: You can use the same recipe, using kelp noodles (low carb) or regular bean thread noodles.
Cookware: Stir-fry with a 12-inch large saute pan as you need the space to hold all the ingredients.
Temperature: Keep your saute pan hot during the whole time of cooking.
Timing: Keep cooking time short and fast.
Ingredients: Select vegetables that don't contain much moisture and liquid as they might dilute the sauce.
Not soaky: Pad woon sen is not a saucy dish. Regular bean thread noodles will thicken and soak up the sauce (thus they keep the dish not soaky). Kelp noodles react the complete opposite as they do not contain starch. Therefore your pan temperature, cook time, and ingredient selections are extra important.
Pad Woon Sen (Thai stir-fried glass noodles)
Pad Woon Sen (Thai stir-fried glass noodles) with kelp noodles and woon sen pad thai sauce tastes just like your favorite Thai food but made low carb delicious! The same recipe also works for regular glass noodles (cellophane noodles). See recipe notes.
Print
Pin
Rate
Ingredients
Instructions
Prepare the kelp noodles:
Take the noodles out of the packet and discard the water. In a large bowl, mix the lemon juice with baking soda with a spoon. You'll see bubbles immediately. Immediately add the noodles to the bowl, and massage them for about 1 minute. The noodles will soften. Transfer the noodles to a colander rinse under running water for 1 minute. Set aside to drain well. The noodles are ready to eat.
Prepare the ingredients:
Prepare the chicken in a bowl with garlic, salt, pepper, and sesame oil. Set aside the onion, garlic, carrots, Chinese broccoli, and scallions on a large plate in separate piles. Mix the sauce in a small bowl,
Cook the chicken and/or shrimp:
Chicken: Preheat a large saute pan, ideally 12-inch wide, over medium heat until the pan is hot. Add 1.5 tbsp oil. Pan sear the chicken over medium-high heat until almost cooked through, about 3 minutes. Push the chicken to the side of the pan and crack two eggs and add them to the center. Break the eggs with a spatula as if you are making scrambled eggs. Cook for another 2 minutes. Transfer them out to a plate.

If you select shrimp, you don't need to season it. Pan sear them over medium heat for about 2-3 minutes per side and transfer them out to a plate.
The rest:
Using the same pan and keep your pan hot by preheating it for a few seconds over medium heat. Add 1.5 tbsp oil, quickly saute the garlic, carrots, and onion with a pinch of salt for 10 seconds, stir-often. Turn the heat up to medium-high, add broccoli and scallions, saute for 20 seconds. Return the chicken and eggs, kelp noodles, and the sauce to the pan. Toss for about 10 seconds. Turn off the heat and transfer them to a large serving plate. Sprinkle it with black pepper and serve warm.
Notes
Bias cut is a crosswise cut at a 45° angle; most often used in cutting vegetables, particularly on thick vegetable stems, for Asian dishes. The stems cook faster in stir-fries under high heat so that the vegetable remains crisp and tender.
About kelp noodles – The taste and flavor of kelp noodles are very similar to Chinese bean thread noodles (glass noodles) but super low in carb. They are rubbery when you open the packet but after you give them a quick lemon juice + baking soda massage bath, the noodles turn soft and are ready to eat.
The kelp noodles continue to turn softer if they are soaked in water. Please do not soak them in liquid for more than 1 minute. They might clump slightly as they dry out but as soon as they are in contact with liquid, they will bounce back.
Because kelp noodles contain little to no starch, they don't absorb the liquid in the pan and therefore the dish tends to turn watery. To compensate its nature, you should 1) keep your pan hot the whole time, 2) select ingredients that don't produce more liquid, 3) keep the cook time fast and short, and 4) add a little starch (xanthan gum for keto, tapioca arrowroot starch for paleo), to thicken the pan juice. Avoid extra liquid as it dilutes the sauce and flavor.
If using regular bean thread noodles – They come in dry forms. Do this while you prep the dish – Soak 1-2 bundles of bean thread noodles in a large bowl of room-temperature water for about 10 minutes. Drain the noodles using a strainer and make two cuts with kitchen shears. Toss the noodles with olive oil or toasted sesame oil so they are less likely to clump. If they become clumpy, they will bounce back as soon as they are in contact with the sauce and the liquid in the pan. Bean thread noodles also release starch and soak up the sauce so you can skip the starch element in my recipe card and increase the sauce quantity volume, if needed.
Nutrition
Serving: 1cup, Calories: 201kcal, Carbohydrates: 7g, Protein: 10g, Fat: 15g, Saturated Fat: 3g, Polyunsaturated Fat: 3g, Monounsaturated Fat: 8g, Trans Fat: 1g, Cholesterol: 89mg, Sodium: 763mg, Potassium: 167mg, Fiber: 1g, Sugar: 2g, Vitamin A: 1853IU, Vitamin C: 34mg, Calcium: 101mg, Iron: 1mg
More Thai Food Recipes!