Whole30 Crispy Chinese Chicken Wings
Oven Baked Whole30 Crispy Chinese Chicken Wings with truly crispy golden skin! These wings are coated with Chinese chicken wing dry spice rub and fragrant with ginger and garlic infused oil. These wings are finger-licking/lip-smacking DELICIOUS. They are the ultimate party food!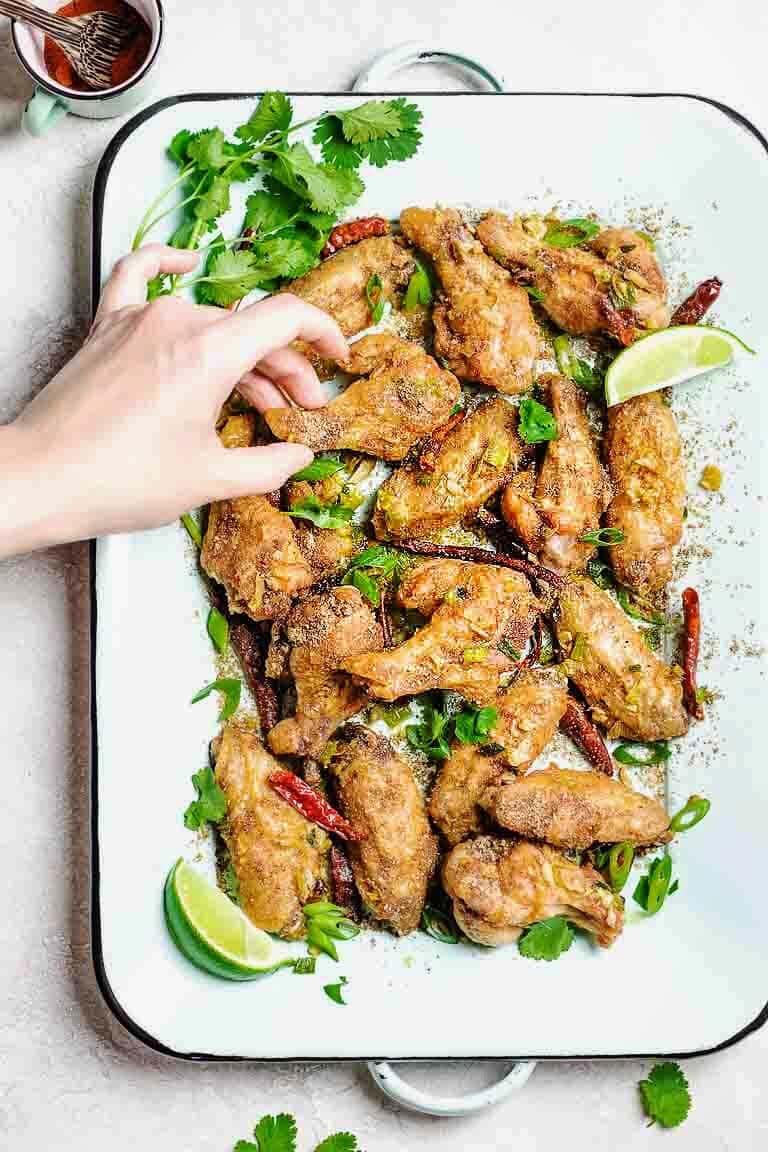 Whole30 Crispy Chinese Chicken Wings
I remember the days when Nate and I used to buy chicken wings from Trader Joe's. The two of us would finish a buckle of them while watching a movie together…fun time!
Fast forward years later we simply couldn't eat that much calorie and sugar in our diet but that doesn't change our love for a good bucket of crispy chicken wings!
Oven baked to extra crispy
When I first read about how to make oven-fried chicken wings from Cook's illustrated, I dreamed of all the possibilities I can make with crispy wings.
The wings are crispy outside and juicy inside. It turns out that the trick is to use baking powder to make the wings extra crispy in the oven. Technically speaking, baking powder is not Whole30 compliant if it contains corn starch and for that reason I included a homemade baking powder substitute in the recipes card that you can make at home easily.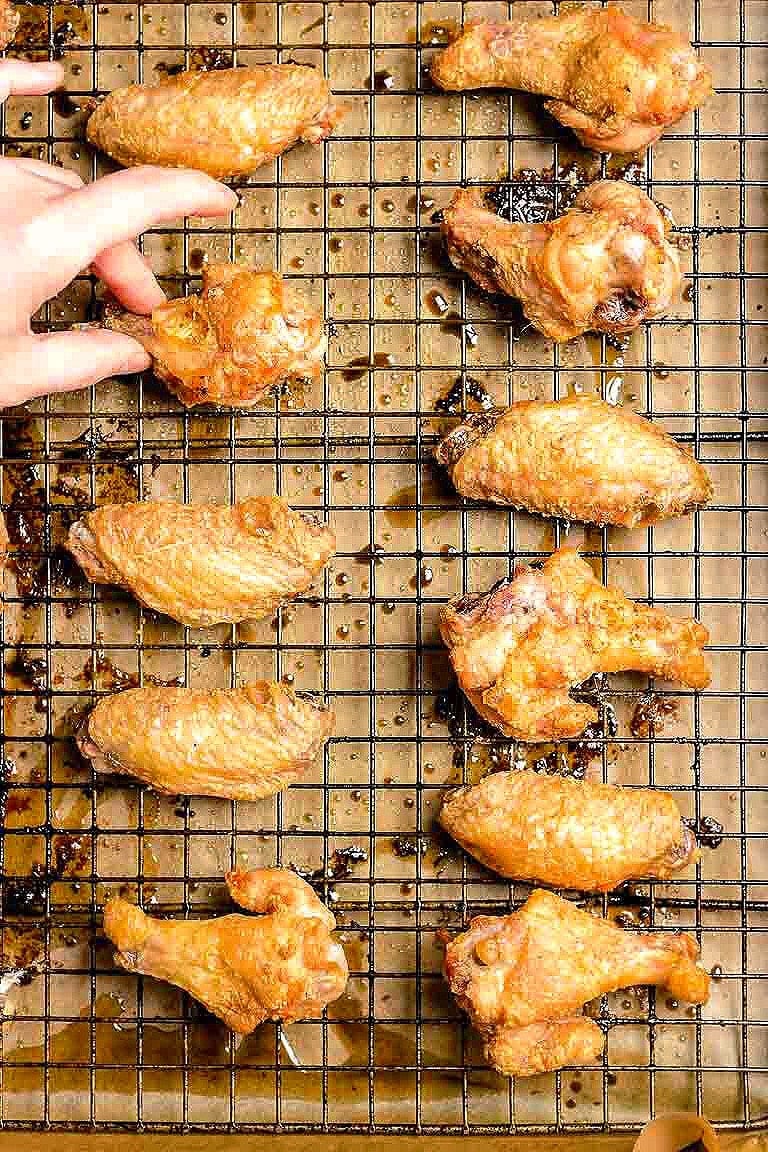 Shorter and Quicker oven bake time
The original oven method from Cook's Illustrated suggested baking the wings at 250F for 30 minutes, then increase the heat to 425F for 40 – 50 minutes until golden brown and crispy. By completely coincident, I baked the wings at 450F (non-convection oven) for 30 minutes and they turned out beautifully crisp. It saved me another 50 minutes waiting for the wings to get ready in the oven. Double win! 🙂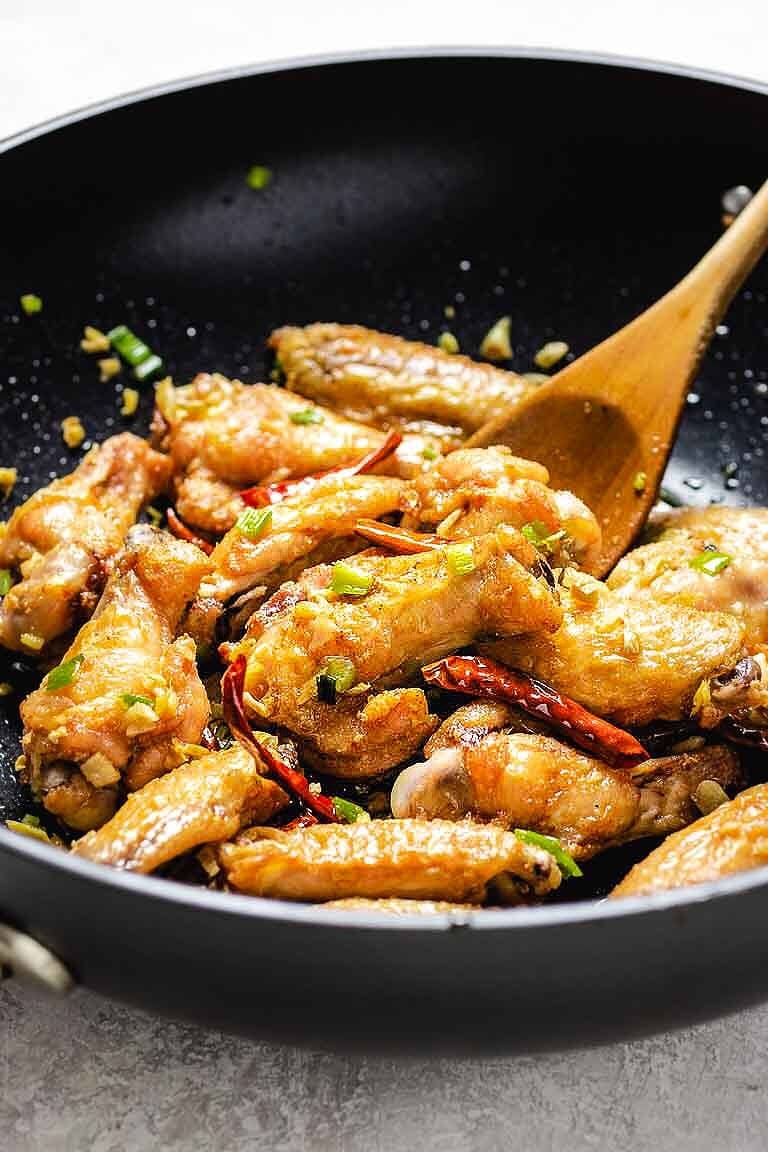 Chinese chicken wings dry spice rub
After the wings are baked to golden crispy, I quickly sauté the wings with garlic, ginger, and scallions so that the wings are coated with gorgeous fragrant. I then sprinkle the hot crispy wings with a combination of dry rub – cumin, five spice, garlic, salt, and pepper. The dry spice rub is inspired by Danny Bowien's Chongqing Chicken Wings but made way simpler with easy to find ingredients!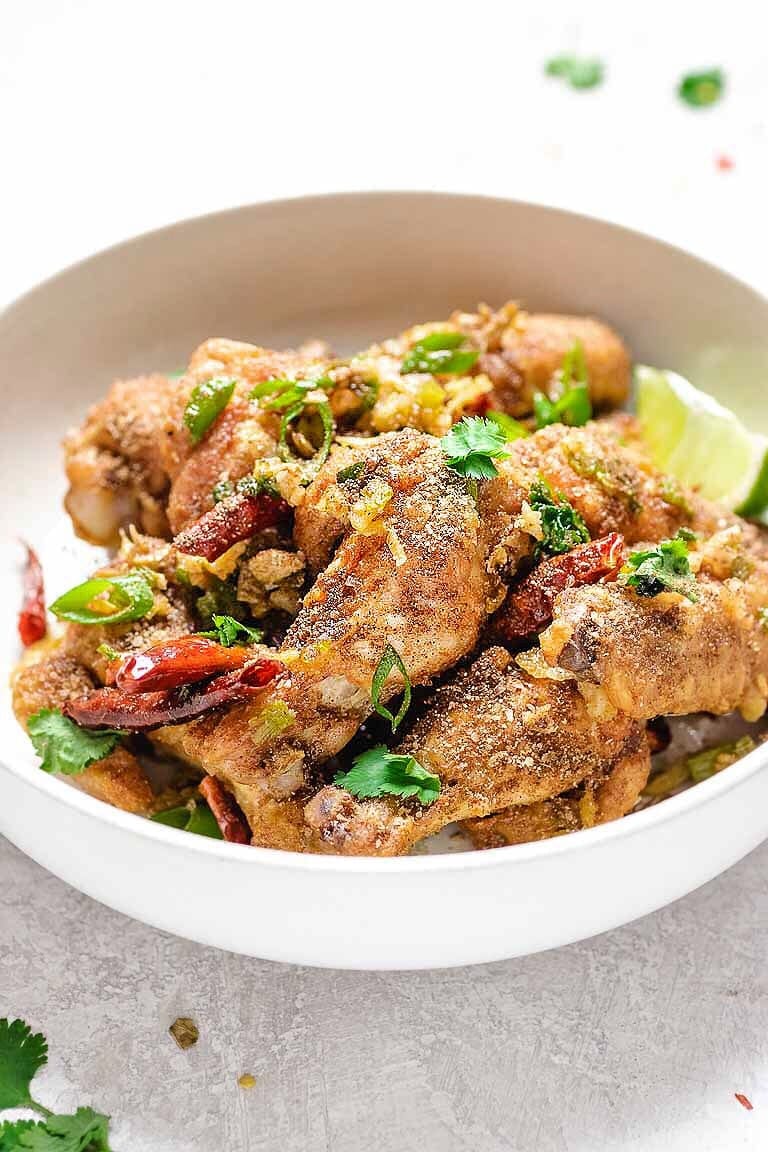 What to serve with crispy Chinese chicken wings ?
Serve the chicken wings with chopped cilantro and lime wedges on the side for extra flavor kick. The chicken wings are so fragrant and you'll find that no dipping sauce is required. You can also serve extra dry spice rub on the side is your guests want extra flavor punch.
These baked Whole30 Crispy Chinese Chicken Wings are not only Whole30 but also Keto, Paleo, and low carb. They will make the best football game finger food. The wings taste best when they are sizzling hot and crispy. If you want to make ahead before the guests come, chop the aromatics a day ahead and store them in a produce saver container so you can fried the aromatics in no time.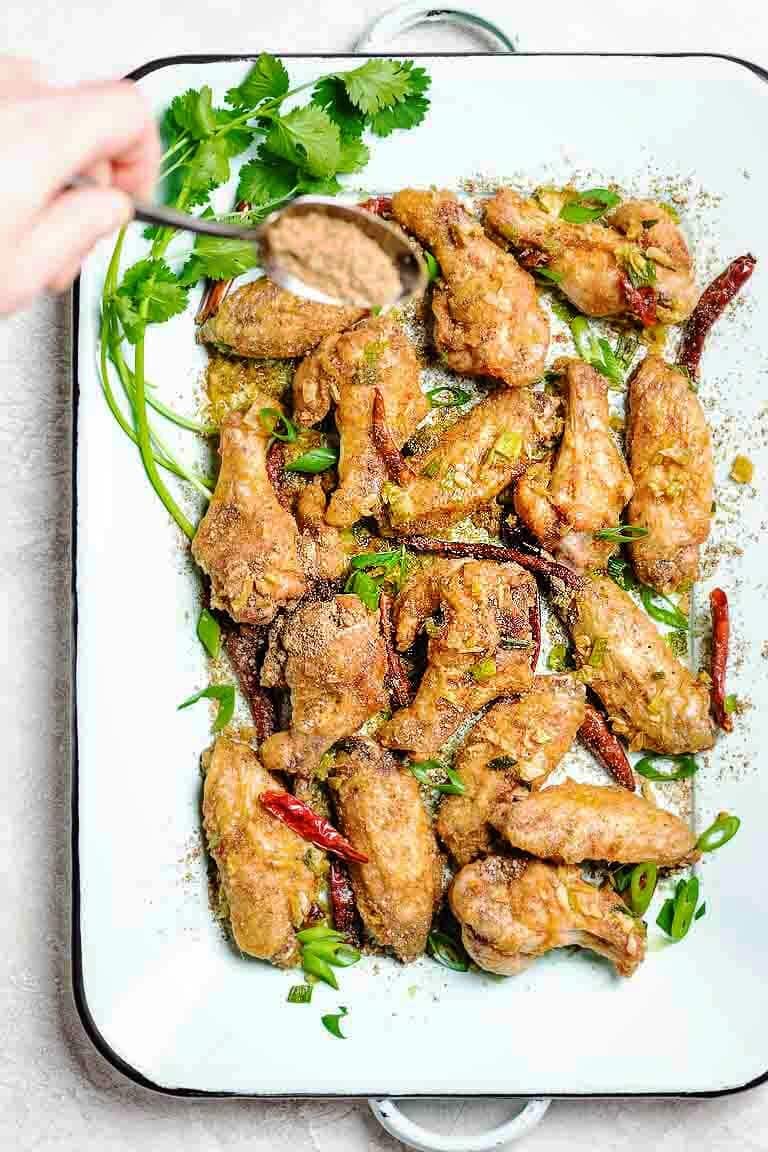 Pair the oven baked Chinese chicken wings with my crunchy lettuce cups, paleo egg rolls, and egg drop soup for a complete Chinese themed party!
If you give this Whole30 Crispy Chinese Chicken Wings a try please rate the recipe and leave a comment below. Also use the social share button so that more people can see my content. It will help me and my blog tremendously. Thanks so much in advance. I appreciate you. ❤️❤️❤️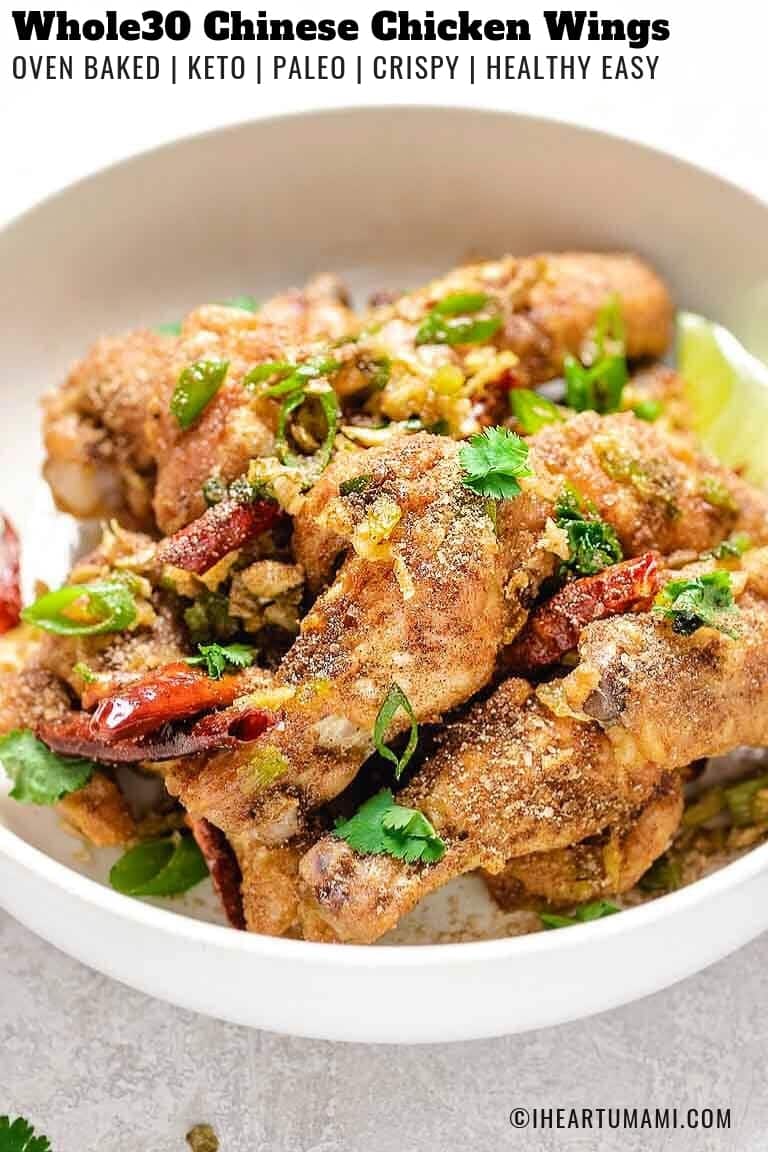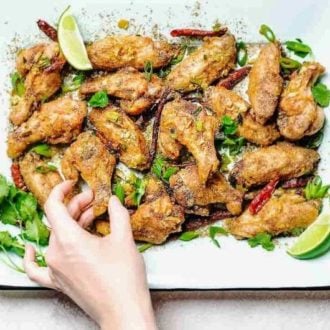 Whole30 Crispy Chinese Chicken Wings (Paleo, Keto, Oven Baked)
Baked Whole30 Crispy Chinese Chicken Wings are Paleo, Whole30, and Keto friendly with Chinese dry spice rub. These Chinese chicken wings are easy to make and low carb delicious!
Print
Pin
Rate
Ingredients
Whole30 Crispy Chicken wings:
2 lbs chicken wings
1 tbsp baking powder substitute, (see notes)
1 tsp garlic powder
¼ tsp white pepper
Aromatics:
¼ cup avocado oil
4 bulbs scallions, , chopped (separate white and green parts)
3 tbsp finely chopped garlic, , ~ 6 large cloves
2 tbsp finely chopped ginger
10 pieces Chinese dry red chili peppers, , optional
1 tsp coarse salt
Chinese Chicken Wing Dry Spice Rub:
Garnish:
Cilantro, , optional
Lime wedges
Instructions
Preheat oven to 450F (425F convection oven)

Pat dry the chicken wings and toss them with baking powder, garlic, and pepper in a large mixing bowl.

Prepare a large sheet pan lined with parchment and a wire rack on top. Lightly spray with oil. Place the wings over the wreck with some space in-between. Bake for 30-40 minutes total. Rotate the sheet pan at half baking point.

In the meantime, have aromatics prepped ready and set aside. Combine dry spice seasonings in one bowl.

In the last 5 minutes while the wings are still baking in the oven, pre-heat a large skillet or wok with ¼ cup oil. When hot, lower the heat to medium, saute white scallion parts, garlic, ginger, chili peppers, and 1 tsp salt until fragrant, about 2 minutes. Be careful not to burn the ingredients. (We are going to combine the wings with the fragrant oil while they are both hot so you want to measure the timing well).

Once the wings are out of the oven, saute and toss the wings in the skillet with the fragrant oil and aromatics for about 1.5 minutes. Transfer to a large serving plate.

Sprinkle with dry spice seasonings 1 tsp a time until your desired spice level. Garnish with cilantro and lime wedges on the side. Serve hot and immediately.
Notes
Homemade Paleo Baking Powder Substitute:
2 tbsp baking soda
¼ cup cream of tartar
¼ cup tapioca starch/flour
To make ahead: Chop the aromatics in advance (a day ahead is okay) and store them in a food saver container in the fridge so the aromatics won't turn watery.
Nutrition
Serving: 1serving, Calories: 416kcal, Carbohydrates: 4g, Protein: 23g, Fat: 33g, Saturated Fat: 7g, Cholesterol: 94mg, Sodium: 952mg, Potassium: 556mg, Vitamin A: 180IU, Vitamin C: 3mg, Calcium: 162mg, Iron: 2.1mg
Chicken lovers? Also check out my Paleo Asian Chicken Cabbage Salad, Taiwanese Popcorn Chicken meatballs, Instant Pot Chicken Bone Broth Soup, Sweet and Sour Chicken, and Kung Pao Chicken!