Thai Larb Recipe (Larb Moo)
Thai Larb (Larb Moo) recipe is one of those meals that will make you forget you are eating healthy! This Larb Thai salad is loaded with fresh herbs, crunchy vegetables, and full of freshness all ready in under 30 minutes! If you love authentic Thai Larb that's also gluten-free, paleo, low carb, and keto, this is a must-have for Thai food lovers!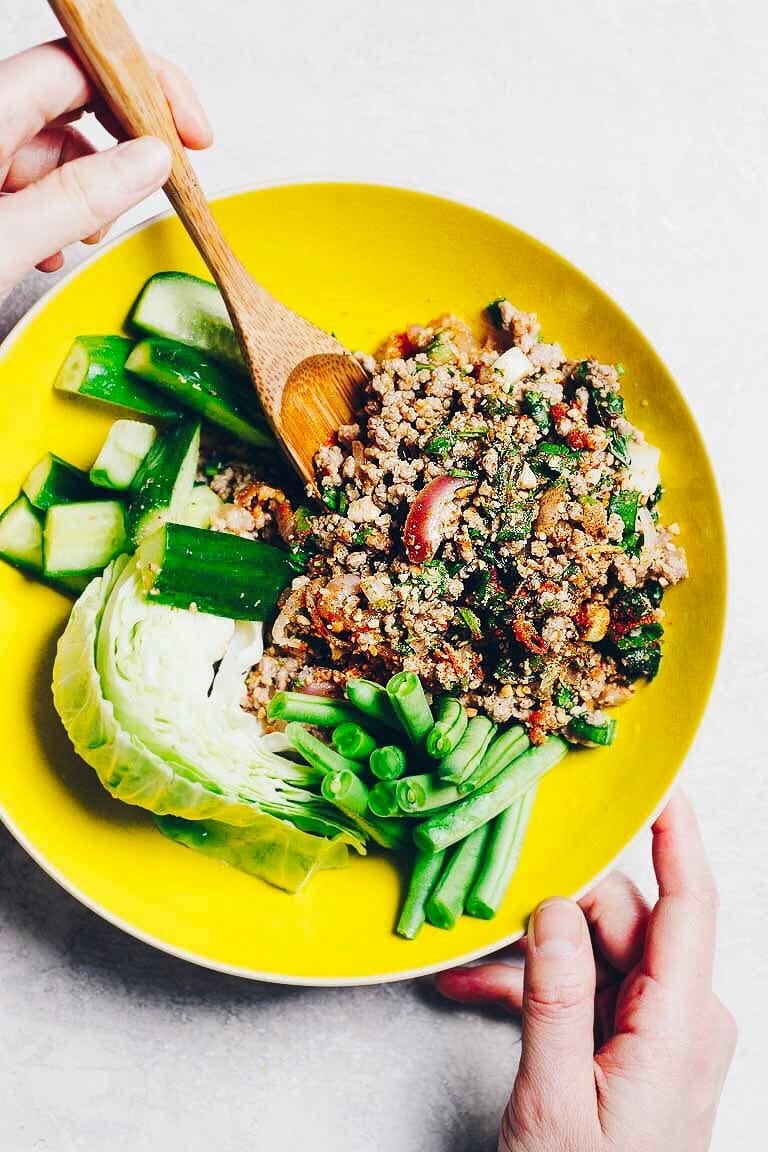 What is Larb?
Larb is a type of Lao & Isan style meat salad which means it's a cuisine found in Laos and Northern Thailand. It's one of the most famous Thai street foods in the northern part of Thailand Isaan region where the majority of the population is of the Lao ethnicity.
Larb Thai is often made with minced pork (Larb Moo or Laab Moo), chicken (Larb Gai), and duck but beef (Larb Neua/ Nua) will do just wonderfully well. For vegetarians or vegans, mushrooms are often used to replace meat. The flavor of the Thai larb is citrusy, salty, and little bit of spicy. Since it's a meat based salad, larb is often served with sticky rice and loads of fresh herbs, mint, and raw vegetables.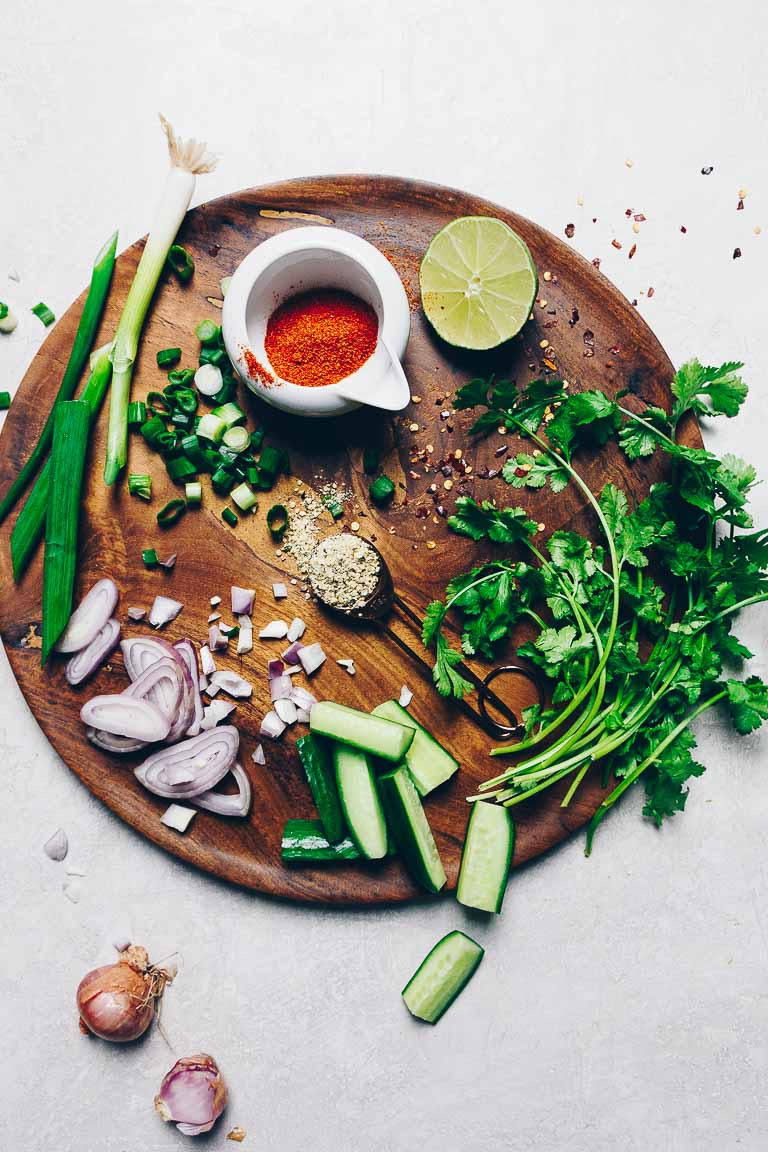 Toasted Sticky Rice – A Must Have Item & My Grain-Free Solution
When you visit Thailand, one of the most significant differences you'll notice in Thai larb recipe is the toasted sticky rice powder (also known as Khao Khua). The sticky rice is dry toasted lightly over a skillet/wok until golden brown then grind or pound into a coarse powder. It's important to not miss this essential ingredient because the toasted sticky rice not only adds extra flavor and crunch to the salad but also acts as an ingredient to absorb moisture and liquid from the ground meat.
You can purchase sticky rice in almost any Asian grocery stores or online and here's a great recipe on how to toast them for Thai larb. Thanks to a reader pointing out that although sticky rice is also know as glutinous rice or sweet rice, it actually doesn't contain gluten. You can read more about the article Is there gluten in glutinous rice.
For the purpose of my blog – I Heart Umami is a paleo blog, in case you just landed here from the wild wild world:), I select hemp seeds and lightly toasted cashews or slivered almonds to replace the sticky rice and make the toppings grain-free and lower in carbs.
It goes without saying that hemp seeds and nuts are very different from sticky rice. The reason I selected these two alternatives is because hemp seeds give a sweet nutty fragrance after lightly toasted and they absorb liquid quite well in the Thai larb recipe. When you grind or pound the hemp seeds with toasted nuts, the two work surprisingly well together.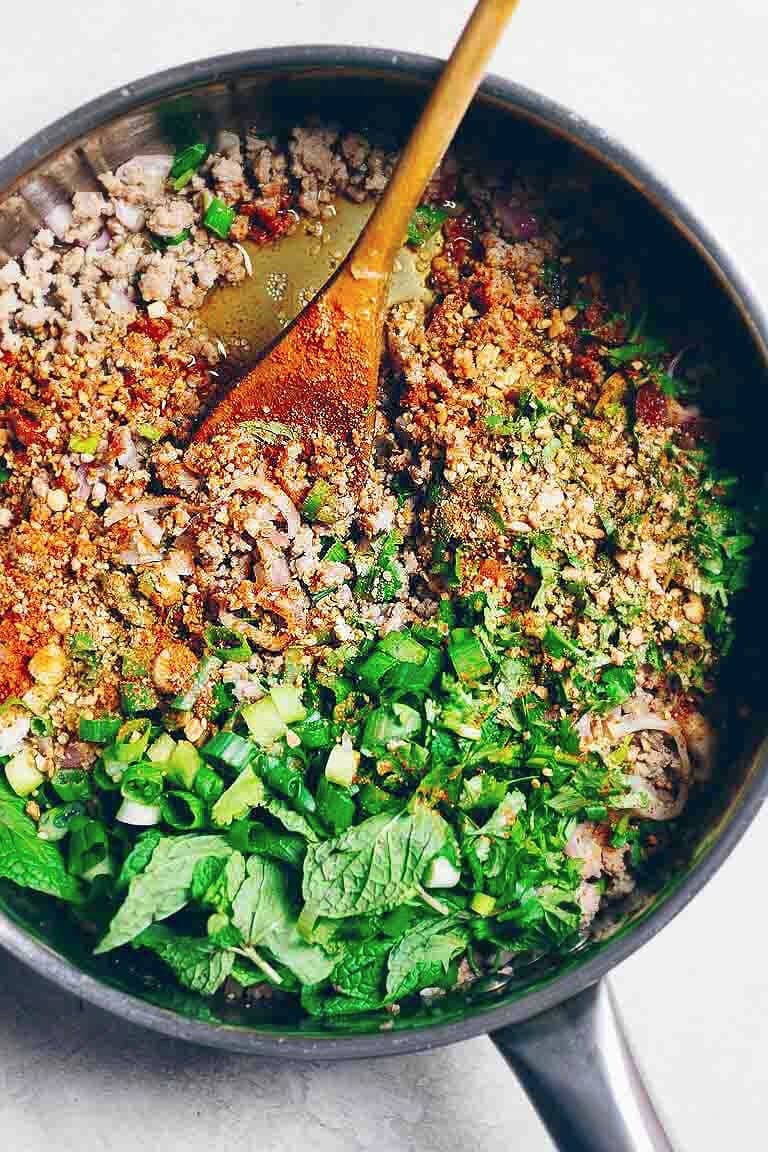 One thing to point out is that Thai larb uses dry ground chili flakes also known as Prik Bon or Prik Pon as opposed to fresh chilies. Prik Bon can be purchased on Amazon or sometimes even your local Chinese grocery stores. For a simple substitute, use dry crushed red pepper flakes or chili powder.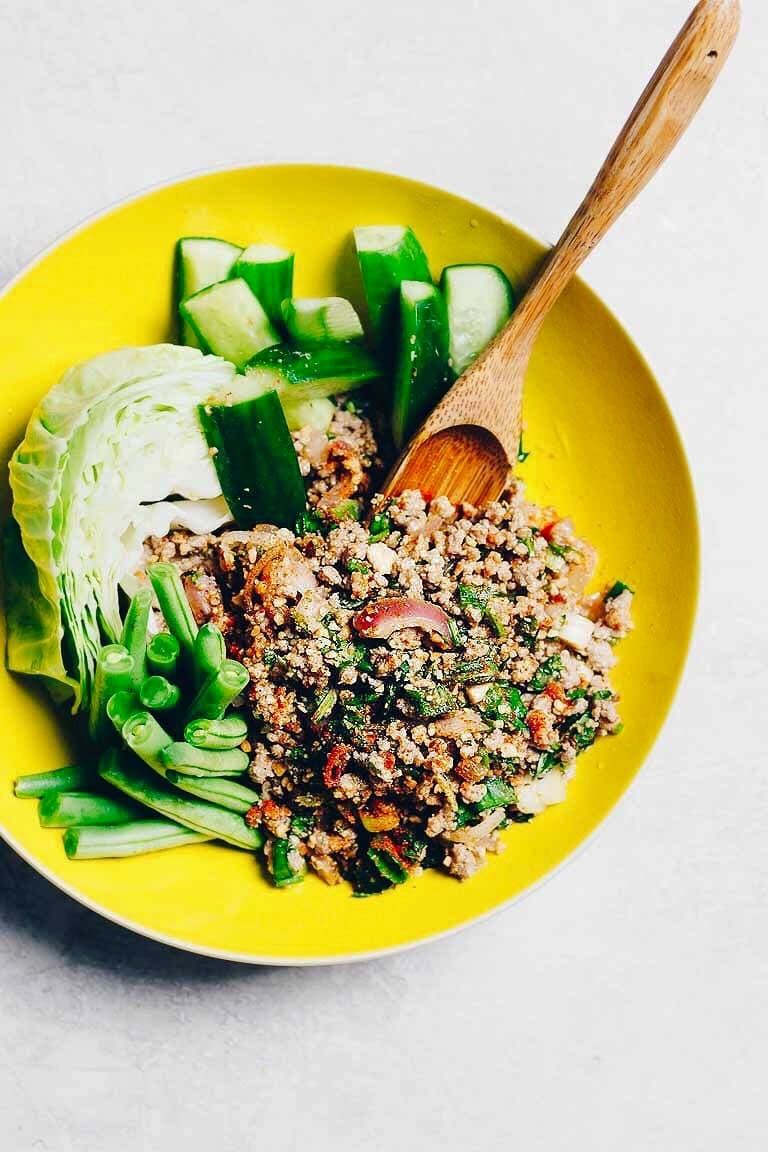 Thai Larb Salad (Larb Moo)
The actual cook time of Thai larb is surprisingly short and straight forward. The meat is barely seasoned until after it's cooked through. This is almost the opposite from the way I was taught to cook ground/minced meat where the meat is seasoned first to bring out more flavor.
On the other hand, I totally can see the rationale behind Thai larb. The meat based salad is garnished with tons of fresh herbs, mint, and citrus and all these ingredients don't do well with heat so no wonder Thai larb becomes a popular dish throughout the world because of its simplicity and you can enjoy it all-year-round.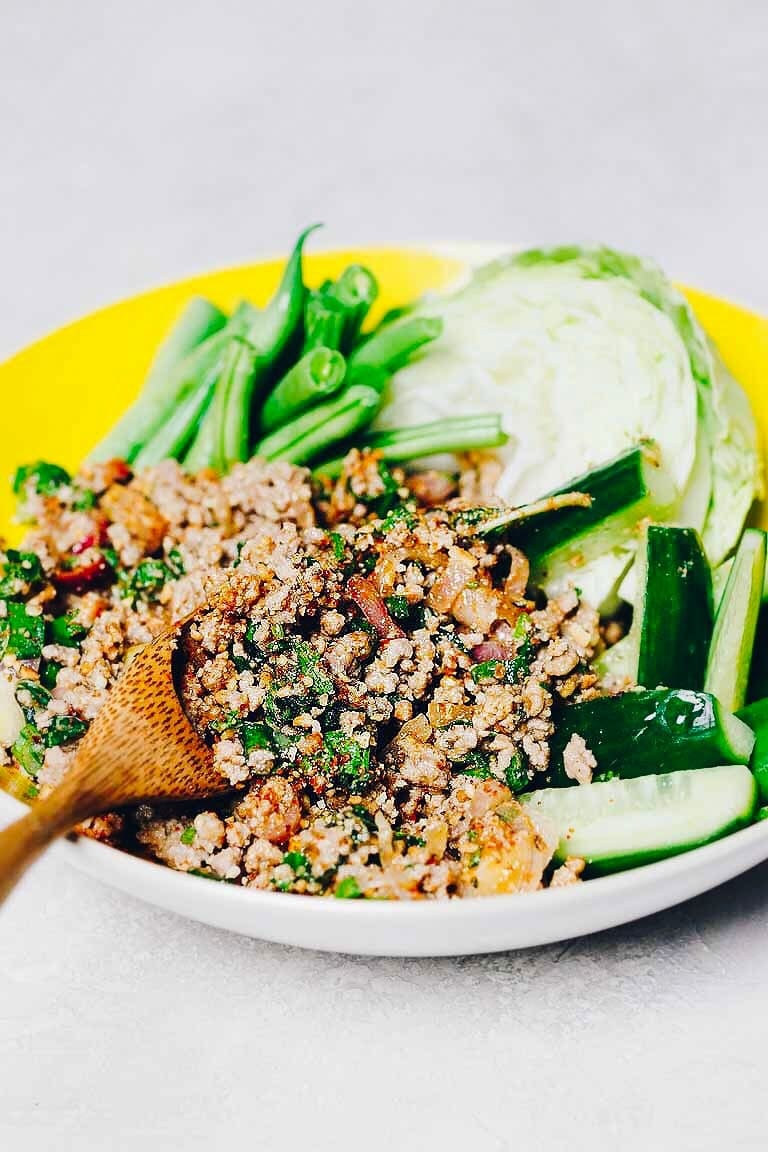 So my friends! This is my take on Thai Larb Recipe made Paleo, Whole30, and Keto! Just because it's a recreate version doesn't mean that it's not tasty or not authentic. On the contrary, This Thai Larb Recipe is probably the closest thing you can find in the grain-free and low carb world. If you love Thai food made easy, I highly recommend that you give it a try.
Leave a comment below and rate the recipe. Every vote counts and it will help me and my blog tremendously. Thanks so much in advance!
And if you aren't a subscriber, Subscribe to I Heart Umami today to receive my free video training on How to make 10 Paleo mouthwatering meals in under 10 minutes each!
More Healthy Asian Dinner Recipes!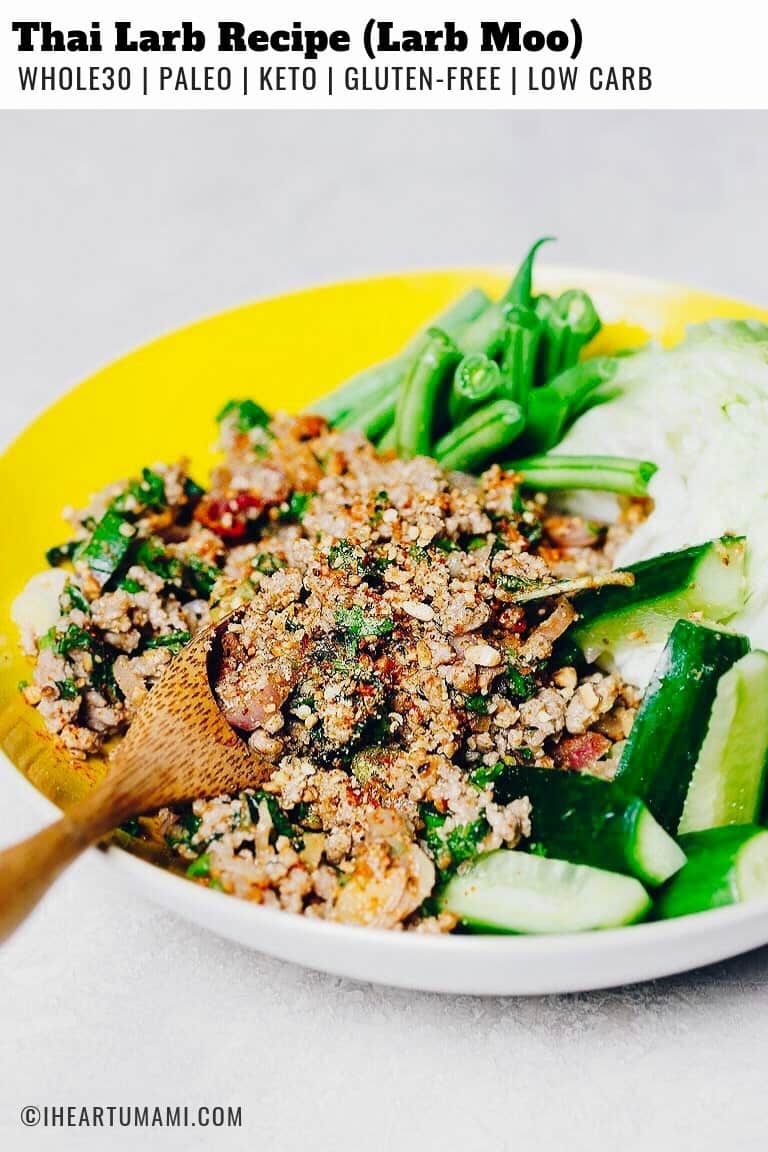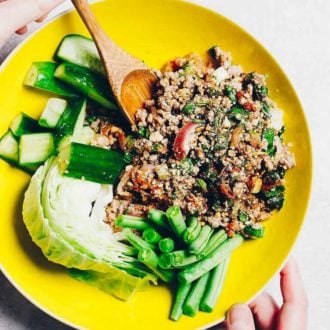 Thai Larb Recipe – Larb Moo (Larb Thai Salad)
This Thai Larb Recipe (Larb Moo) is the most authentic Paleo, Whole30, and Keto Thai Larb, loaded with fresh herbs and full of freshness all ready in under 30 minutes!
Print
Pin
Rate
Ingredients
For the crunch (to replace toasted sticky rice):
2 tbsp hemp seeds
2 tbsp cashew or slivered almonds
Larb Moo:
1 lb. ground pork, or chicken, turkey, beef. see notes
1 tbsp lime juice
1/8 tsp white pepper, or black pepper
½ tsp coarse salt
1.5 tbsp avocado oil
Other:
2.5 oz. chopped shallots, , about 1-2 large shallots
1.5 tbsp fish sauce
1 tbsp coconut aminos
Half one whole lime juice
1-2 tsp dry chili flakes or powder
½ cup chopped cilantro
20 sprigs mint leaves, , roughly chopped
3-4 bulbs green scallions, , chopped
To serve:
Cabbage wedges, , as much as you like, raw
½ to 2/3 cup diced green beans, , raw
1-2 whole Persian cucumbers, , dice to 2-inch in length, raw
Instructions
In a well-heated skillet, dry roast hemp seeds and cashew or almonds for 2-3 minutes over medium-low heat. Stir-often so to not burn the seeds/nuts. Grind or pound them in a pestle and mortar until they become a coarse powder. Some parts remain small chunky bits are totally okay. Set aside ready to use.

Prepare shallots, cilantro, mint leaves, and scallions. Set each ingredient aside separately over a large plate and ready to use. Season the ground meat with lime juice, pepper, and salt.

Use the same skillet, add oil and pan fry the meat over medium-high heat until it's completely cooked through and break up to fine bits and pieces, about 10 minutes. There should be a minimum amount of liquid in your skillet at this point. Turn off the heat.

While the skillet is still hot, add shallots, stir and use the remaining warmth to bring out the shallot fragrance. Season the meat with fish sauce, coconut aminos, lime juice, and chili flakes, and lastly add cilantro, mint leaves, and scallions. Toss and taste test to adjust the dish to your personal preference – perhaps more lime, fish sauce…etc.

Sprinkle the toasted hemp seeds and nut powder to replace toasted sticky rice over Thai larb. 1-2 tbsp a time until your desired level. Serve with cabbage wedges, green beans, and cucumbers on the side. Serve in room temperature.
Notes
If use ground chicken or turkey, best use 50% breast + 50% thigh meat.
For Thai crushed dry chili flakes – Prik Pon. In the recipe, I use Thai bird's eye chili pepper powder. You can also use any crushed dry red pepper flakes. 
The nutrition label is calculated without cabbage, green beans, and cucumbers. 
Nutrition
Serving: 1serving, Calories: 442kcal, Carbohydrates: 7g, Protein: 24g, Fat: 35g, Saturated Fat: 9g, Cholesterol: 81mg, Sodium: 764mg, Potassium: 487mg, Fiber: 1g, Sugar: 1g, Vitamin A: 535IU, Vitamin C: 5.4mg, Calcium: 61mg, Iron: 2.8mg
Love Thai food? Check out my Paleo Thai Basil Beef, 16 best tried and true Whole30 Thai recipes, Paleo Pad Thai, Thai no peanut peanut sauce, Thai cucumber noodles in peanut sauce, Thai style Paleo Fish en Papillote, Thai Chopped Bok Choy Salad, Thai fried rice with Chicken, Cauliflower Thai fried rice, Thai Dipping Sauce, and Crispy Thai Chicken Salad.