Kimchi Chicken Stir Fry With Zucchini Noodles
This Kimchi Chicken stir-fry noodle bowl recipe with juicy tender chicken breasts and crisp tangy fried kimchi requires minimal ingredients and comes together in about 30 minutes. With less than 5 gram of net carb, mix it all up into one big pot of of deliciousness, then dig in! I guarantee you won't be able to stop eating!
If you are a lover of beef, also check out the sister version – Kimchi Beef, using Trader Joe's shaved steak or ground beef!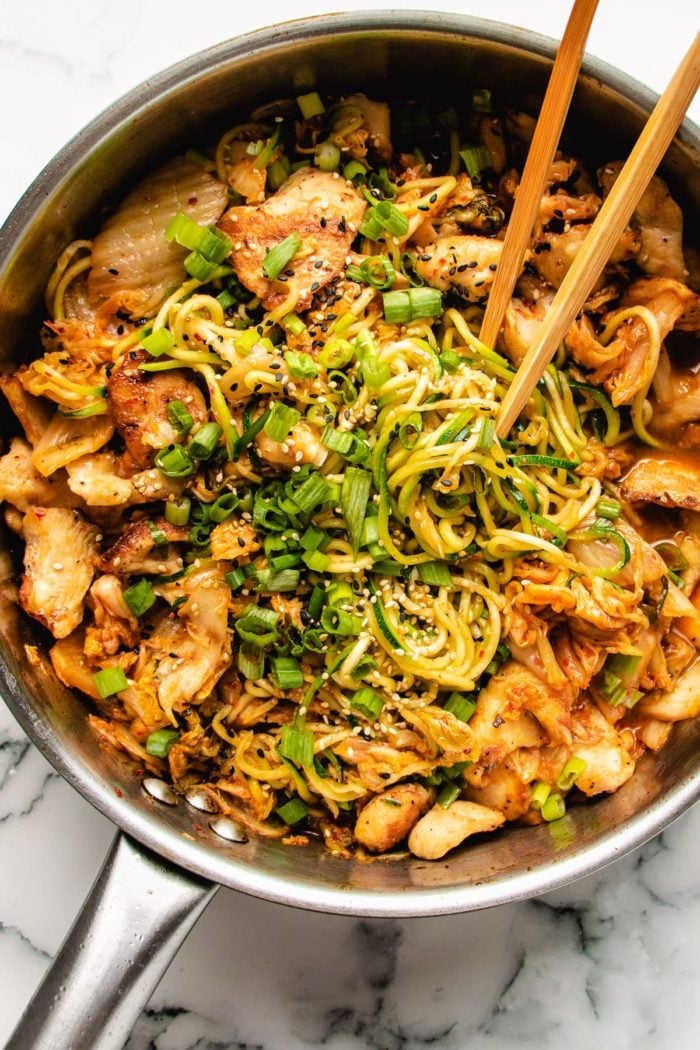 Kimchi Chicken Stir-Fry With Zucchini Noodles
I am a little obsessed with kimchi. 🙂 As a matter of fact the very first blog post I put on I Heart Umami was talking about the various types of kimchi. Kimchi is a very versatile side dish that can be eaten raw or cooked with almost anything!
If you love flavorful food as much as I do, using kimchi in your cooking is a great way to instantly boost flavor and add extra umami – all you need are kimchi, a protein of choice, little minced garlic, and a touch of toasted sesame oil and coconut aminos.
I've been making the beef version of kimchi stir-fry and today's kimchi chicken recipe since I was a college student. This just shows how easy and straightforward it is to make this dish. I am going to walk you through how to make the best flavor of this dish easy and fast!
What does kimchi taste like?
I often hear people in the States describe kimchi as spicy or sour but in my personal experience, a good jar of kimchi actually is not as spicy as people described. The flavor is funky and has a smell to it, but the overall flavorful profile of kimchi is very well-rounded and umami-rich. It tastes mainly tangy and with an undertone of little sour, spicy, and sweet.
Most western-made kimchi tastes less complex. This is mainly because of the ingredients. The flavor tastes flat (mainly sour and spicy) and less interesting. To make an authentic jar of kimchi, the ingredients should have salted shrimp (with the salty brine), Korean chili powder gochugaru, little sugar, and fish sauce.
If the jar uses cayenne pepper, the flavor profile is not going to taste right. Korean chili powder gochugaru tastes sweeter and less spicy. Over the years I've come to love this chili powder very much and use it often even in my non-Korean dishes to replace red chili pepper flakes (those you sprinkle over the pizza) or powder.
For today's Kimchi Chicken Stir-Fry, I use a store-bought brand, called Tobagi from my local H-Mart. And if I happen to have a jar of my own homemade Paleo kimchi, I would use that, too!
Kimchi benefits
Kimchi is probiotic and good for your gut health. It may also lower your cholesterol and help with inflammation. If you like sauerkraut, you'll like kimchi.
Kimchi calories
1 cup of homemade kimchi has 38 calories, 8 grams of carbohydrate, 2 grams of protein, 42 mg of vitamin C, 124 mg of calcium, and 2515 iu of Vitamin A.
How to use kimchi
Kimchi is a very versatile side dish. You can enjoy it raw or use it in cooking. For example: Kimchi pancakes, Kimchi cauliflower fried rice, Kimchi stew (kimchi Jjigae), Kimchi chicken stir-fry, Kimchi beef stir-fry, or even grill it !
Kimchi juice for sauce!
Did you know kimchi juice is packed with loads of flavor and makes really yummy sauce? It adds extra umami to soup broth when you make kimchi stew and stir-fry dishes. When making stir-fries, the trick is to learn when and how to add the kimchi juice so your food won't turn soggy. I'll walk you through how to make the best kimchi chicken stir-fry with kimchi juice for sauce!
How to make Kimchi Stir-Fry Recipe with Chicken
Thinly slice the chicken breasts and add the seasonings.
Drain the kimchi through a sieve by pressing it with a spoon and catch the juice with a bowl under.
Chop the garlic and scallions
Prepare zucchini noodles, if using.
Sear the chicken in a hot skillet then saute it with the drained kimchi.
Add the kimchi juice 1 tablespoon a time as a seasoning sauce.
Toss in the zoodles, if using.
Garnish with toasted sesame oil.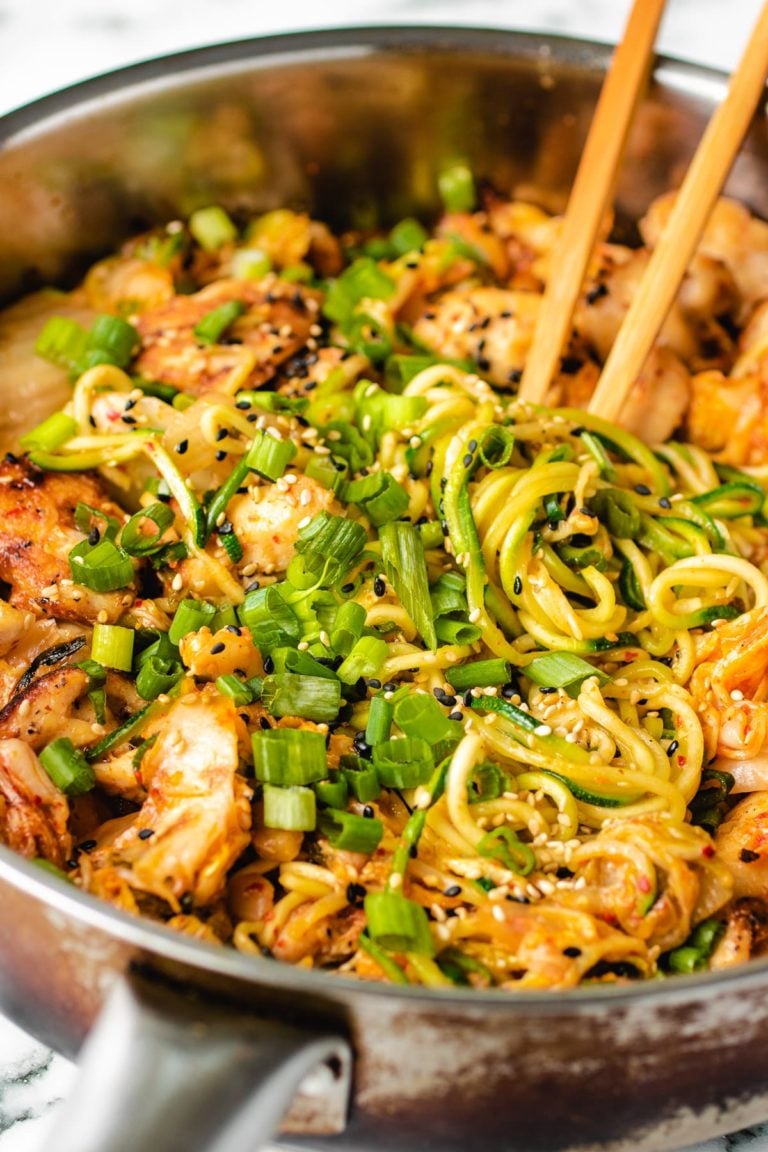 Where can you buy kimchi
This is probably one of the questions I get most often from readers. If you don't have time to make my Paleo homemade kimchi, I recommend visiting a local Korean grocery store to find the most authentic kimchi. I like to use a brand called Tobagi gluten-free mat cabbage kimchi at H-mart. And if you know a Korean store that has hand-made kimchi in small batches and it tastes great, that will be a good choice, too!
I like to read the ingredients and make sure there's no cornstarch on the list. A little sugar content is okay for me since it feeds the good bacteria growth and makes the kimchi taste more authentic. If you are doing Whole30 then look for a brand that doesn't contain sugar like Wildbrine.
If you can, try the Korean made tobagi brand gluten-free kimchi. The taste is more authentic and the napa cabbage is always crunchy, refreshing, and with just the right amount of tangy and tart flavor.
Does cooking kimchi kill probiotics?
Does cooking kimchi or sauerkraut reduce the efficacy of probiotics? Must they be eaten cold/raw to gain the probiotic effect? Well, I think it's true that the bacteria die when you cook it but there are other benefits, too, when you enjoy cooked kimchi. You have extra fiber from eating the cabbage and you can always serve the raw kimchi on the side as a side dish.
Kimchi is wildly used in Korean cooking and there are many different ways to enjoy kimchi and a lot of them are used in cooking. For example: Kimchi pancakes, Kimchi fried rice, Kimchi stew (Jjigae), or grilled over BBQ with bulgogi.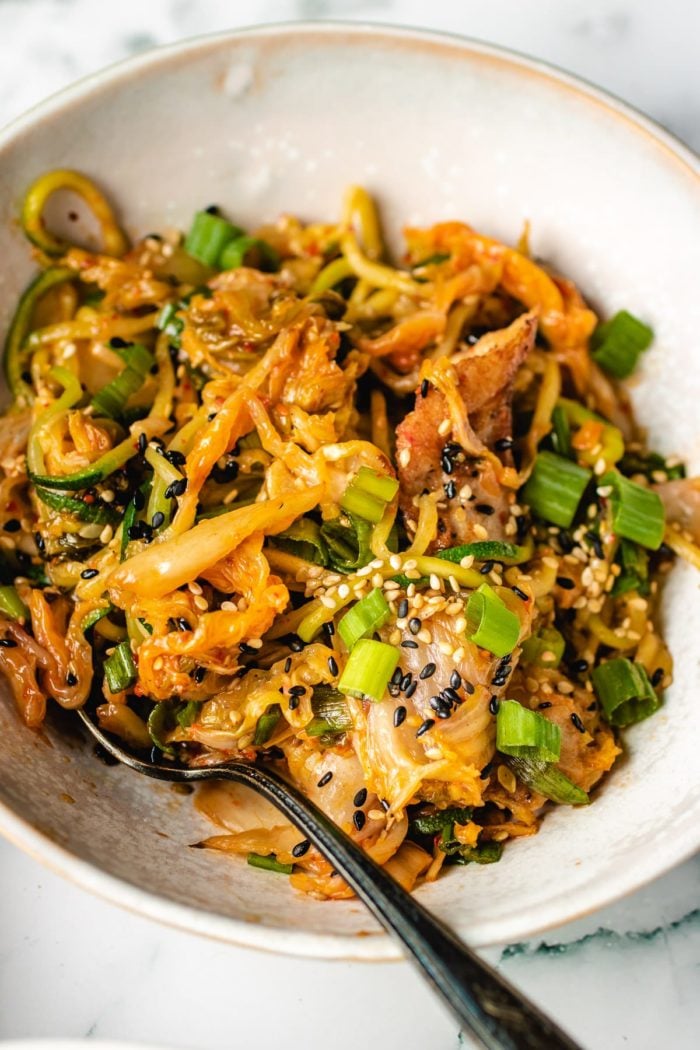 Pairing suggestions for kimchi chicken recipe
This Kimchi stir-fry with Chicken really packs with loads of flavor. You can serve this dish as a one pot meal with steamed rice, broccoli fried rice, or shirataki fried rice on the side. For extra veggies, try my Korean zucchini side dish, garlic smashed cucumbers, Chinese garlic broccoli, Japanese spinach salad with toasted sesame dressing, Chicken Egg Drop Soup, or gluten free wonton soup.
More Paleo Korean-inspired dishes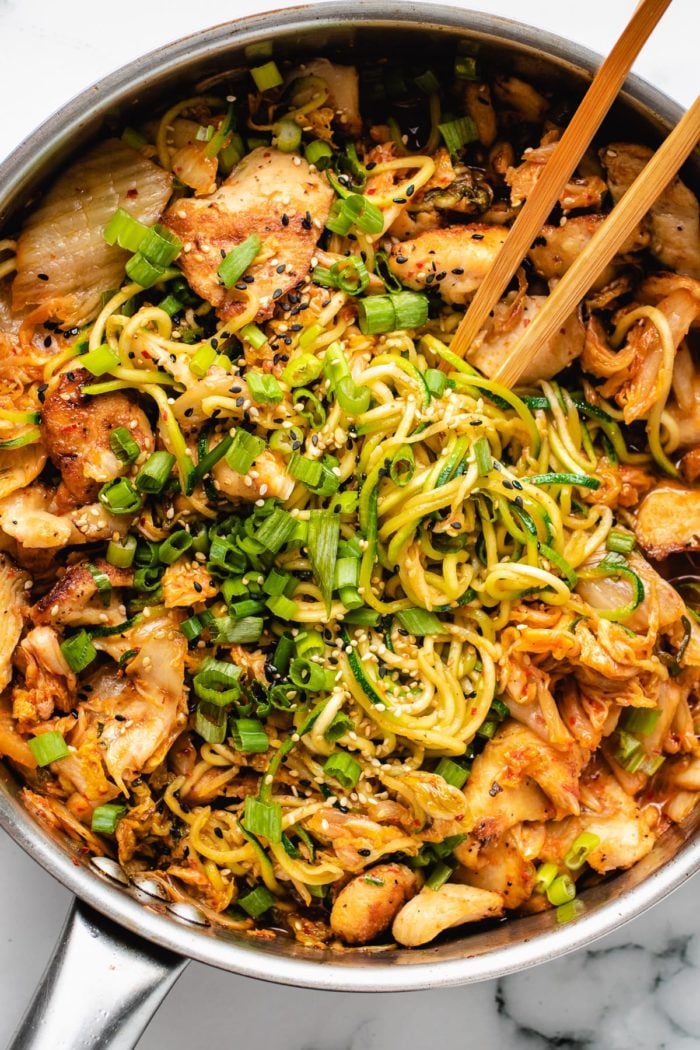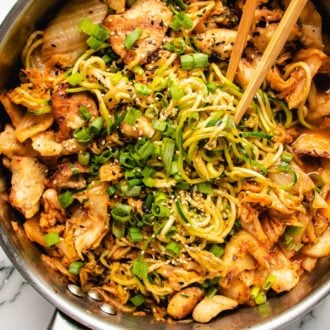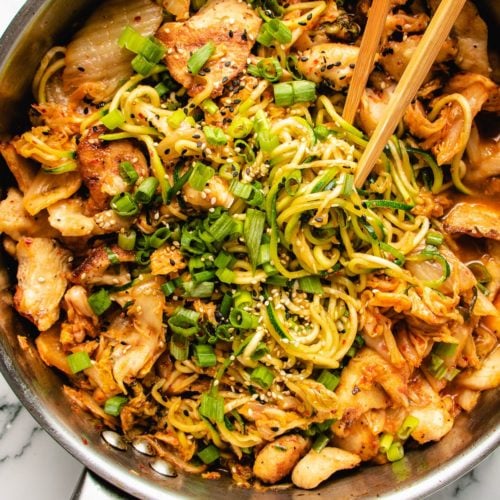 Kimchi Chicken Stir-Fry With Zucchini Noodles (paleo/whole30/keto)
Kimchi chicken stir-fry noodle bowl with tangy fried kimchi is seriously the best Korean stir-fry recipe for kimchi lovers!
Print
Pin
Rate
Instructions
Thin slice chicken breasts to about ¼ to ⅛ inch thin. Season them with ingredients from coconut aminos to olive oil. Mix well and set aside in the fridge while preparing others.

Press the kimchi, with a little pressure and using the back of a spoon, to drain through a sieve with a bowl under to catch the kimchi juice.

Prepare the zucchini noodles, if using. Chop the garlic and scallions.

In a well-heated large stainless steel skillet or cast iron or wok, add 1.5 tbsp cooking fat. Sear the chicken breasts in one even layer over medium-high heat without disturbing until they are in golden brown color, about 2 minutes, then use a spatula with a firm tip to flip. Cook the flip side about 1 minute. The chicken should be almost cooked through before setting them aside along with the pan juice and oil in the skillet.

Use the same skillet and add 1.5 tbsp cooking fat, saute garlic and white scallion parts over medium heat until fragrant. Season with a pinch of salt and stir fry frequently to prevent them from burning ,about 8-10 seconds.

Turn the heat up to medium-high. Add the drained kimchi, saute for 1 minute. Add zoodles, if using, and toss for 30 seconds.

Return chicken to the skillet and add 4-5 tbsp kimchi juice. Toss for 30 second. Taste test and see if you want to add the coconut aminos.

Off heat. Garnish with green scallion parts and sesame seeds, if using. Drizzle with sesame oil. Serve warm.
Notes
If desired to make a thicker sauce, after all the ingredients are cooked, scope out the kimchi, chicken, and zoodles and reduce the sauce to make it thicker by turning up the heat for a few minutes then pour it over the dish.
My favorite store-bought kimchi is found in local H-mart. A brand called TOBAGI with gluten-free mat (i.e. cut) napa cabbage kimchi.
My homemade Paleo/Whole30/Keto Kimchi is also great, too! If you are doing Whole30, use my homemade version. Most store-bought version that tastes authentic usually contains some small amount of sugar. 
Nutrition
Serving: 1serving, Calories: 291kcal, Carbohydrates: 5g, Protein: 25g, Fat: 18g, Saturated Fat: 3g, Polyunsaturated Fat: 1g, Monounsaturated Fat: 1g, Trans Fat: 1g, Cholesterol: 73mg, Sodium: 510mg, Potassium: 675mg, Fiber: 1g, Sugar: 3g, Vitamin A: 230IU, Vitamin C: 19mg, Calcium: 25mg, Iron: 1mg