Paleo Kimchi Beef Stir-Fry
Easy and flavorful Paleo kimchi beef stir-fry with shaved beef steak and sweet Napa cabbage kimchi sauce. This beef kimchi stir-fry is nutritious, low carb, and with minimal ingredients ready in 20 minutes
Pair it with my Korean cucumber salad or cucumber kimchi recipe for a healthy and flavorful meal in no time!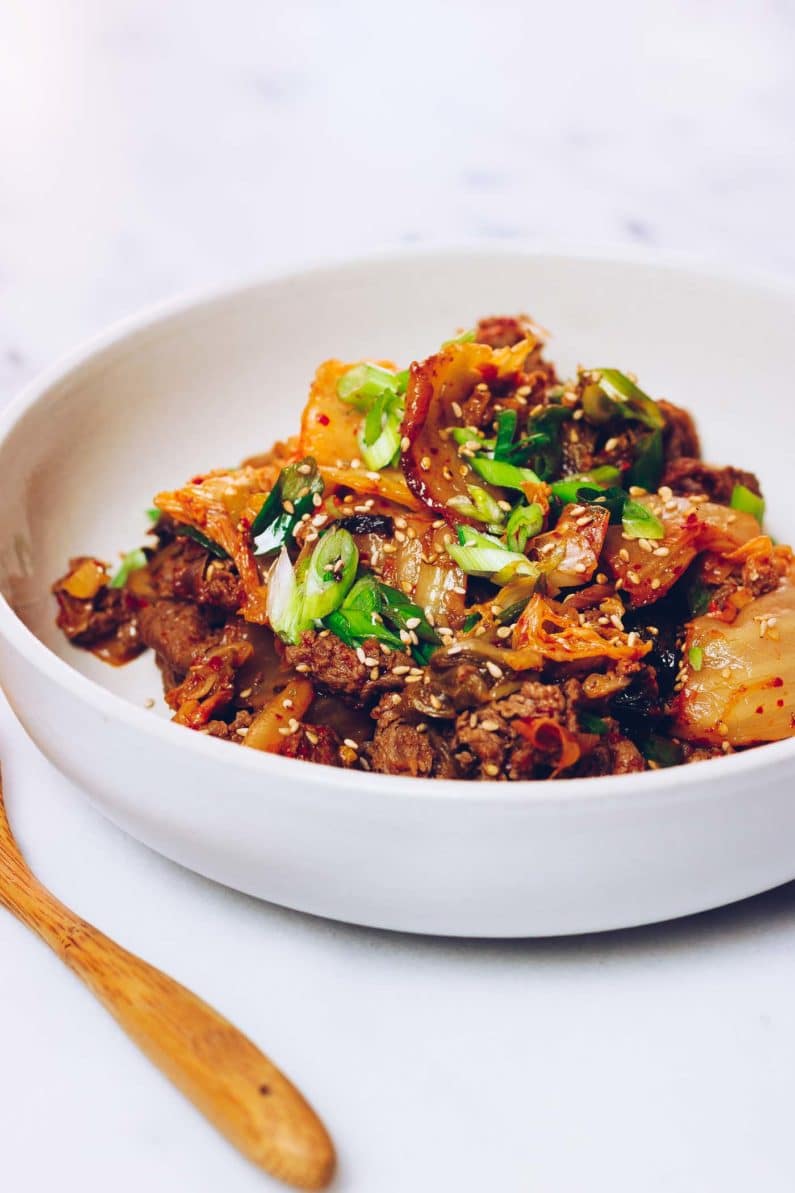 You know how much I adore stir-fried dishes. They are quintessential in Asian cuisines. Stir-fry dishes are quick to make and the ingredients are versatile. I'm going to show you a few tips to make your stir-fry dishes really sensational and let's start with Kimchi Beef stir-fry!
How to add flavor to stir-fry
There are many ways to spice up your stir-fry dishes. One easy way is to use ingredients that already came with tons of flavors. For example: kimchi, olives, capers…etc. It's easy to spice up your dishes with these ingredients.
My chicken and squash stir-fry with olives in one example. The halibut lemon piccata is another.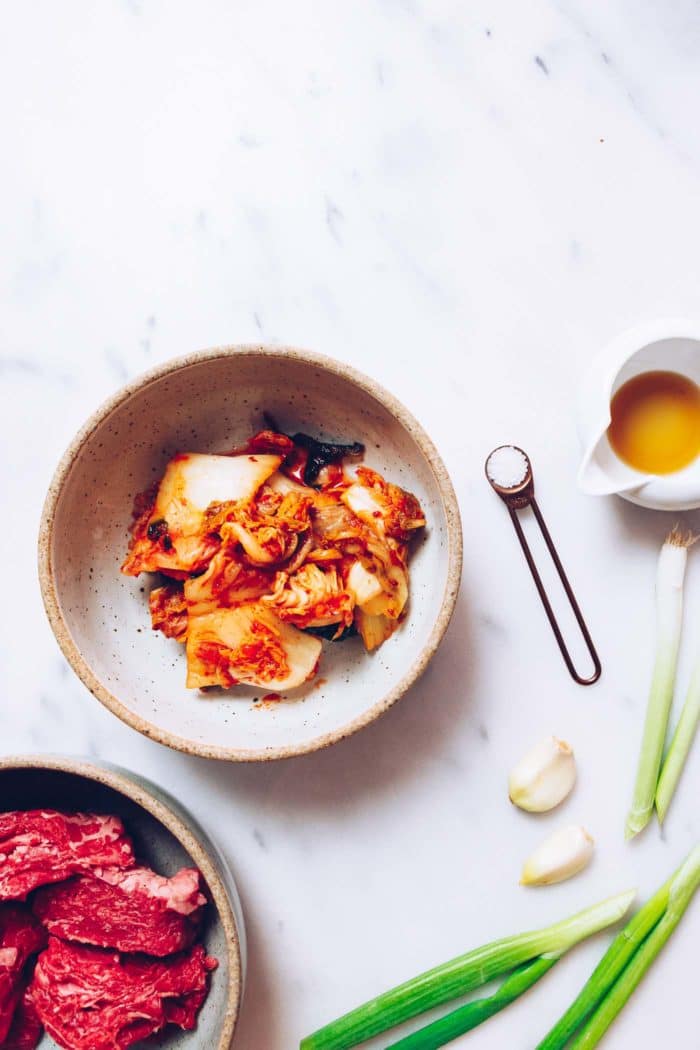 Kimchi health benefits
Kimchi is not only full of flavor but also very nutritious. In my opinion, they taste more complex than olives or capers. Good kimchi tastes tart and sweet and with a hint of fruity flavor from apple and pear. There are many types of kimchi and you can make them spicy of non-spicy. The non-spicy version is called white kimchi.
Check out my Whole30 and Paleo kimchi recipe here.
Kimchi is not only probiotic but also low-calorie and nutrient-dense. According to a study that eating kimchi can help people lose weight and percentage fat.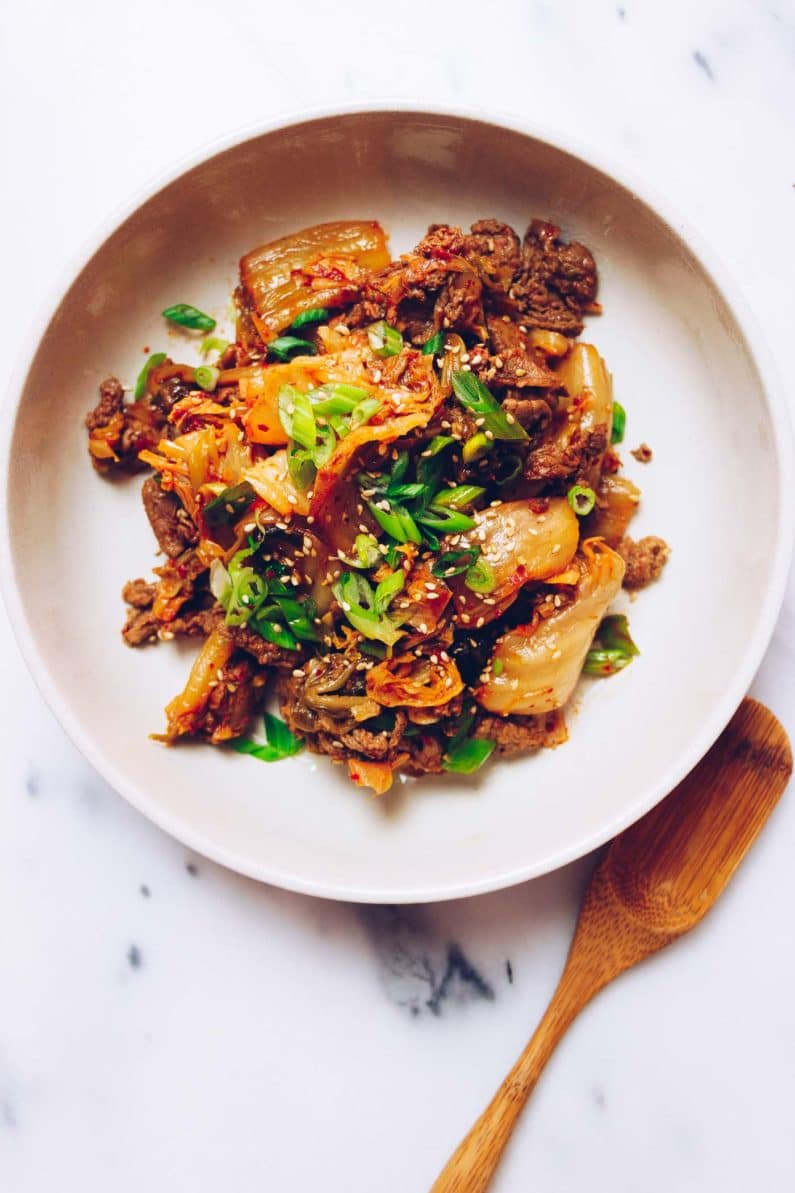 Types of kimchi
The most common type we've seen in western grocery stores is made with diced Napa cabbage kimchi. The red one has a hint of spicy taste and the white one (white kimchi) is not spicy. If you have a Korean grocery store nearby, H-mart for example, you can find a wider variety of kimchi such as radish kimchi, cucumber kimchi, and mustard leaf kimchi …etc.
Paleo Kimchi Beef Stir-Fry with Shaved Beef
I usually purchase shaved beef steak from Trader Joe's. It's a blend of rib and round beef. Some Asian grocery stores sell very thinly sliced shabu shabu style beef steak and that's a great choice, too. If you can't find shaved beef, use ground beef. Please see the recipe notes for more information. It'll just be as delicious!
Kimchi beef stir-fry is one of my go-to quick weeknight meals for many years even before I started my blog I Heart Umami. I remember after work and school, there was a small Korean grocery store nearby Columbia University and I'd go there to grab kimchi and beef steak for dinner. Nate and I would serve it over rice or wrap them in Romaine lettuce greens. So good!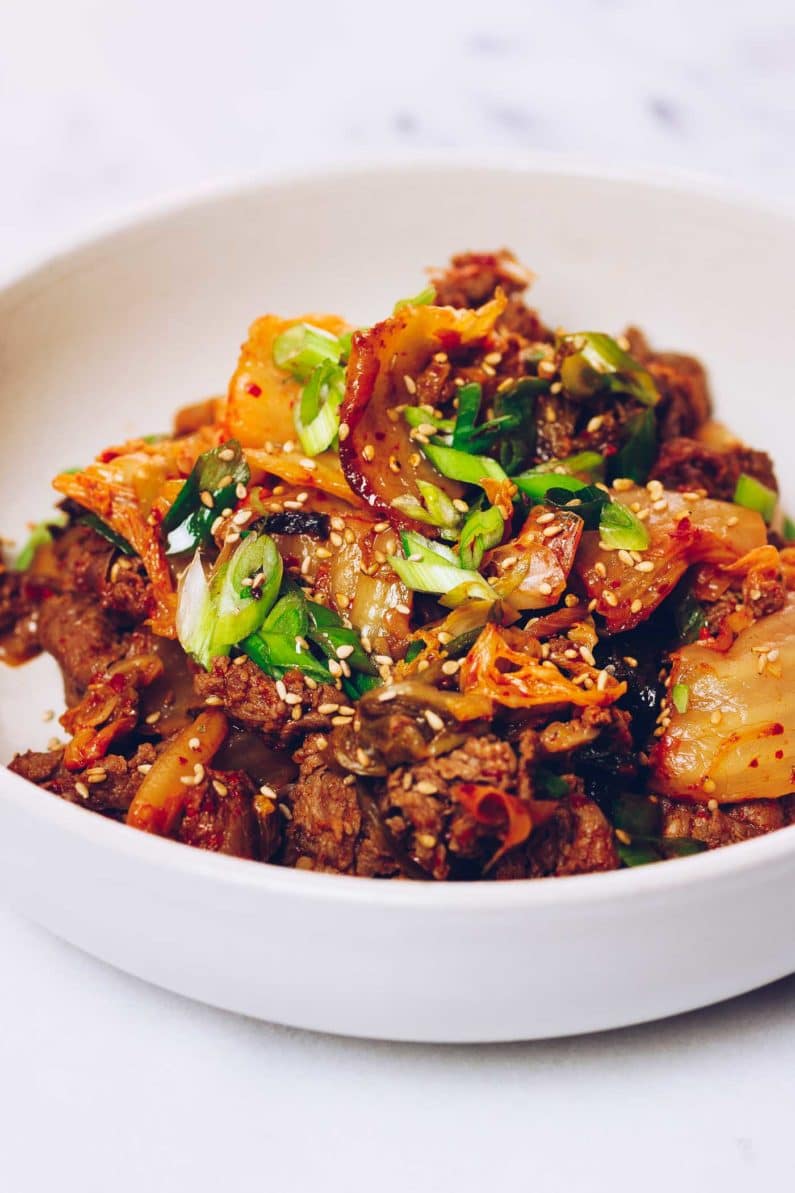 So friends! You can quickly put together an easy and super delicious healthy meal with my Paleo Kimchi Beef Stir-Fry! Most of the ingredients you can purchase from stores to make it even faster! It's a great all-year-round dish!
If you give this Paleo Kimchi Beef Stir-Fry a try, please rate the recipe and leave a comment below. It'll help me and my blog tremendously. Thanks in advance!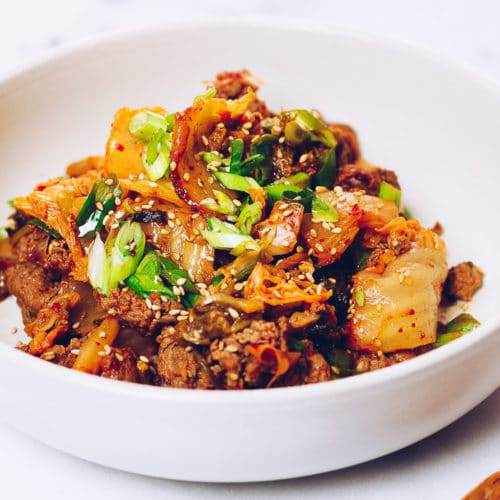 Kimchi Beef Stir-Fry recipe
Easy and flavorful Paleo kimchi beef stir-fry with shaved beef steak and sweet napa cabbage kimchi sauce. This beef kimchi stir-fry is nutritious, low carb, and with minimal ingredients ready in 20 minutes!
Print
Pin
Rate
Ingredients
16 oz. Paleo napa cabbage kimchi
½ to ⅔ lb shaved beef, a mixed of rib and round beef (See notes)
1 tbsp avocado or olive oil
0.5 oz. garlic, finely minced (about 2 large cloves)
3 bulbs scallions, sliced diagonally, separate white and green parts
1 tsp plus extra toasted sesame oil
3 tbsp kimchi juice or to taste
Coarse sea salt and black pepper to taste
Sprinkle toasted sesame seeds, optional
Instructions
Gather a medium-size bowl and sieve. Drain the kimchi through the sieve with a bowl underneath to catch the kimchi juice. Use a back of spoon to gently press it and remove as much cabbage liquid content as you can. Set the kimchi juice aside. Do not discard it.

In the meantime, use your hands to roughly separate the shaved beef steak as much as you can so they won't clump in the skillet. Prepare garlic and scallions.

In a well-heated large cast iron or stainless steel skillet, add oil. Pan fry/saute kimchi for 1 minute over medium-high heat, add garlic and white scallion parts, saute for 30 seconds.

Add shaved beef and try to spread it over the skillet. Add 1 tsp toasted sesame oil and fry the beef until it's no longer pink, about 1 to 1.5 minutes. Add kimchi juice from the bowl and season with salt and pepper to taste.

Off heat, garnish with green scallion parts, toasted sesame oil, and sesame seeds, if using. Serve hot or in room temperature.
Notes
I use Trader Joe's shaved beef steak for this recipe. You can also use ground beef.
If use ground beef, dice the kimchi to smaller bite sizes (after drained).
For store bought kimchi, try Wildbrine Napa cabbage kimchi (Whole30) or Gluten-free Country Style sliced Napa cabbage kimchi (without the oysters), usually found in local H-Mart.
Pairing suggestions: Romaine lettuce (Paleo, Keto, Whole30, low carb) or steamed white rice (gluten-free).
Nutrition
Serving: 1serving, Calories: 249kcal, Carbohydrates: 2g, Protein: 26g, Fat: 15g, Saturated Fat: 3g, Cholesterol: 70mg, Sodium: 65mg, Potassium: 415mg, Fiber: 1g, Sugar: 1g, Vitamin C: 2mg, Calcium: 34mg, Iron: 2mg
Looking for a chicken version? my Kimchi Chicken Stir-Fry with Zucchini Noodles is absolutely delicious!
Love Paleo Korean food? Check out my Whole30 Korean Beef Bowls, Keto Bulgogi Sushi Rolls, Paleo Whole30 Gochujang, Paleo Easy Kimchi, Kimchi Cauliflower Fried Rice, Whole30 salmon with gochujang paste, Vegetarian Bibimbap and Bibimbap Sauce, keto kimchi pancake, and Korean Chicken Japchae.