Chicken Lollipop
You'll find your next favorite party snack in a chicken lollipop! This healthier version is air-fried and marinade free, making it easier to prepare. Every bite of the super crispy skin and juicy tender meat brings back happy memories from my childhood.
If you prefer bigger portions, these Japanese whole chicken legs are made with very similar seasonings to this recipe.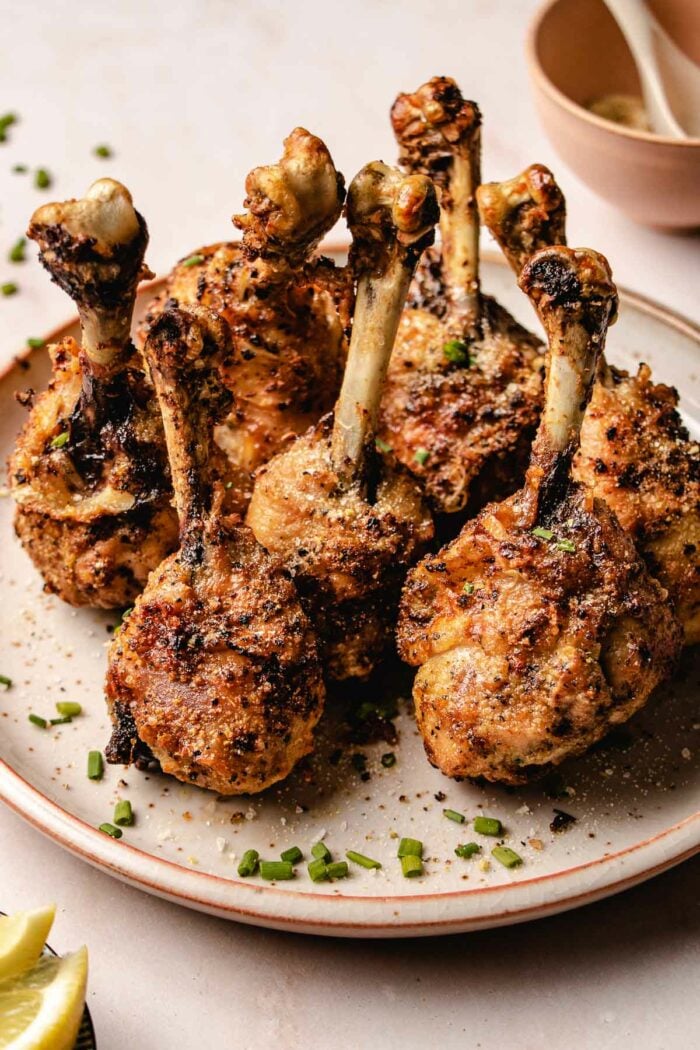 What is a chicken lollipop?
Chicken lollipop is a popular Indian and Chinese appetizer made from chicken drumettes, wings, or drumsticks. Chicken drumsticks are often a popular choice for making lollipops because they have more meat than chicken wings or wingettes.
To prepare lollipop drumsticks, separate the meat from the bone and push it down to create a meaty ball at the end, resembling a lollipop.
Once shaped, you can cook it using your preferred methods. You can deep fry, air fry or even bake them in the oven.
Why you'll love this dish
Drumstick lollipop is a largely popular dish in Indian and Indo-Chinese cuisine. As a Taiwanese, it's a famous snack sold in night markets, beloved by both kids and adults.
Crispy delicious: These lolipop drumsticks are crispy outside, juicy inside, and meaty delicious — plus, they are made without batter!
Easy to eat: They're the best finger food for barbeque and parties – easy to pick up and hold.
Versatile: Lollipop chicken legs can be prepared in several ways. They can be baked, fried, grilled, or air fried, and you can season them with a variety of spices to suit your taste.
Ingredients
You'll only need a short grocery list to make these chicken lollipops: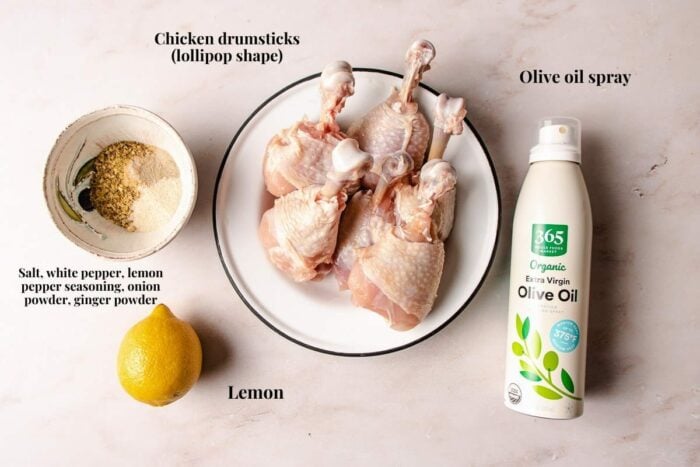 Main ingredient: Chicken drumsticks
Seasonings: Coarse sea salt, garlic powder, lemon pepper seasoning, onion granule, ginger powder, white pepper
Others: Olive oil spray, whole lemon
Ingredient substitutions
This recipe also works for chicken drumettes or winglets to make lollipop wings.
You can also use your favorite spicy sauce or dry rub to season the chicken.
If you want to save time, get the store-bought pre-cut loli pop chicken. Easy peasy!
How to make the dish
Follow these step-by-step instructions on how to make lollipop chicken drumsticks: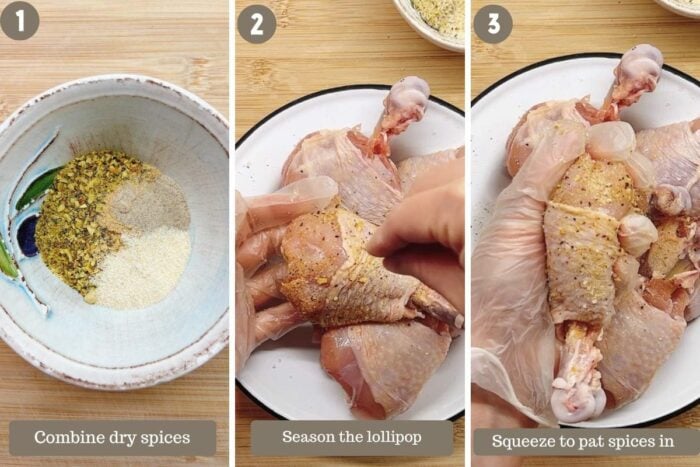 Combine all seasonings in a small bowl and mix them together.
On a large plate, arrange the chicken lollypops and season them one at a time.
Once coated, press each drumstick gently to make sure the seasonings stick. Set aside some spices for garnish.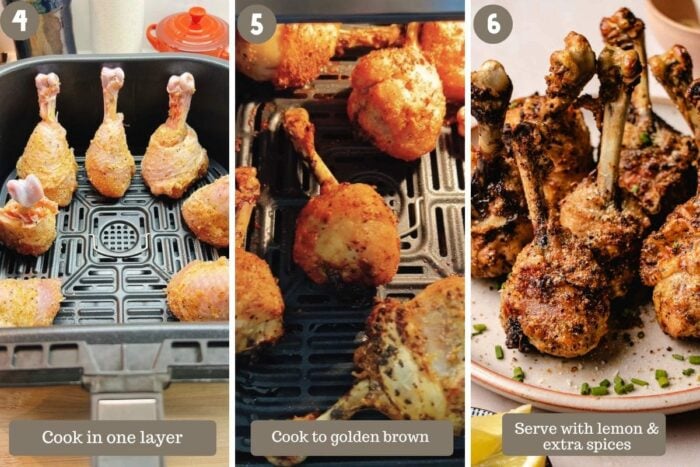 Preheat the air fryer to 380°F and place the lolly pops in, leaving some space between them. Spray the basket with oil.
Air fry for 20 minutes at 380°F, before flipping them and cooking for another 8 minutes. When they are cooked through, they will have a golden brown exterior.
Sprinkle the extra dry spices and serve warm alongside lemon wedges.
How to French drumsticks
Before you start lollipopping the chicken, you will need a sharp knife, paring knife, cutting board, kitchen shears, some paper towels, and a pair of kitchen gloves.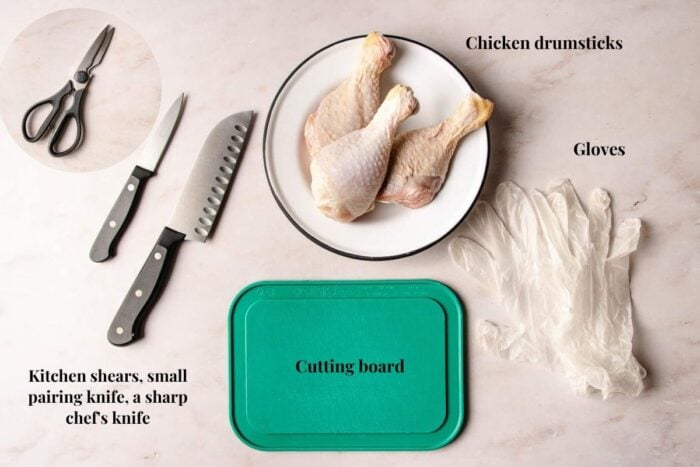 Here's how to cut drumsticks into lollipop chicken (if making it from scratch):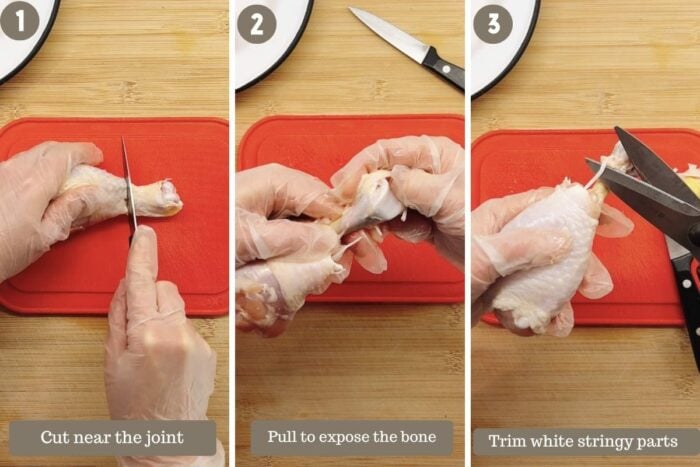 Use a sharp knife or paring knife to make an incision around the base of the drumstick, near the joint.
Use kitchen gloves and shears to help trim the knuckle and pull the cut piece up and over to expose the bone.
Cut and trim away the white stringy tendons using kitchen shears.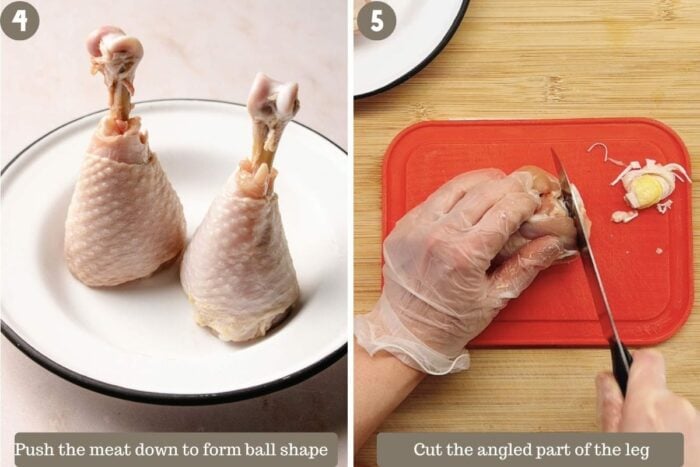 Push the meat down towards the thicker end of the bone, creating a neat and clean appearance with the bone exposed at the bottom of the drumstick.
Check to see if the drumstick can stand upright. If not, use a sharp knife to slice off the angled part of the leg.
Variations
Oven method: Bake at 400°F for 30 minutes on the middle rack, turning the baking sheet pan around halfway through. Increase the oven to 420°F for an extra 10 to 15 minutes or until the chicken pop skin is crispy.
Marinade: You can marinate the lollipop in your favorite BBQ sauce, a dash of soy sauce, or gluten-free hoisin sauce for a boost of flavor before cooking. Glaze them with this sweet and savory paleo gochujang sauce or add in a teaspoon of chilli powder if you prefer them to be spicy.
Savory sauce: Make a Chinese lollipop version by drizzling this yummy garlic chili sauce all over the drumsticks.
Sweeter: You can also make sweet chili chicken lollipops and serve them with Vietnamese nuoc cham sauce or dip them in honey mustard sauce.
Serving suggestions
There are many dishes you can enjoy with these chicken leg lollipops. For a Chinese-style dinner, this shirataki fried rice is buttery garlicky delicious, and the perfect choice for a quick and easy meal.
If you prefer noodles, you're in for a treat. My go-to is the crowd's favorite garlic chili noodles, which go with almost any side dish.
For a Japanese twist, the hibachi noodles stir fry is a great choice if you like varying your main dish. Besides that, the creamy sauce from spicy peanut noodles would infuse your chicken popsicle with a delightful nutty flavor.
Common FAQ
What are chicken lollipops made of?
They are generally made from parts of chicken wings. However, these ones are made from neat chicken drumsticks served upside down.
What is the difference between chicken lollipop and drumstick?
Chicken lolipops are small, bite-sized pieces of chicken with a bone hold. They are typically made from chicken wings or drumettes, but this recipe calls for drumsticks, which are larger pieces of chicken.
What is another name for chicken lollipops?
Chicken drumette is a part of chicken wings. Some people also call them chicken pops or lollipop chicken. "Drums of Heaven" is another name for a popular Indian version.
What is frenched chicken leg?
It's a chicken leg that has been trimmed and cleaned to expose the bone at the end of the leg, creating an elegant appearance. It can be seasoned and prepared in various ways.
Do I have to French the drumstick to make this dish?
No. You can definitely make it without Frenching them. Frenching the chicken is an elegant way of serving chicken lollypop, especially for parties and family dinners.
Storage and make-ahead
If you want to save time, you can prep the drumsticks beforehand. Once the drumstick popsicles are cooked, store any leftovers in an airtight container in the refrigerator for up to 5 days. When you're ready to eat them, simply reheat them in an air fryer or oven to crisp up the chicken lolipop.
Related recipes
Once you've tried this chicken lollipop recipe, you might want to have these dishes at hand for future fried chicken cravings. You can make the classic Taiwanese fried chicken cutlet, my personal favorite out of all the night market snacks.
You can also try this breading-free, crunchy air fried lemon chicken bites, which are finger-licking delicious. My air fryer lemon pepper wings are perfect for game day or movie night.
Umami Tips
You don't need to French the drumsticks in order to make this recipe.
Frenching the drumsticks allows them to be presented in a nice and elegant lollipop shape, and makes them easier to grab and eat.
This is a fun dish so get creative and experiment with your favorite spices and seasonings to create various exquisite flavors!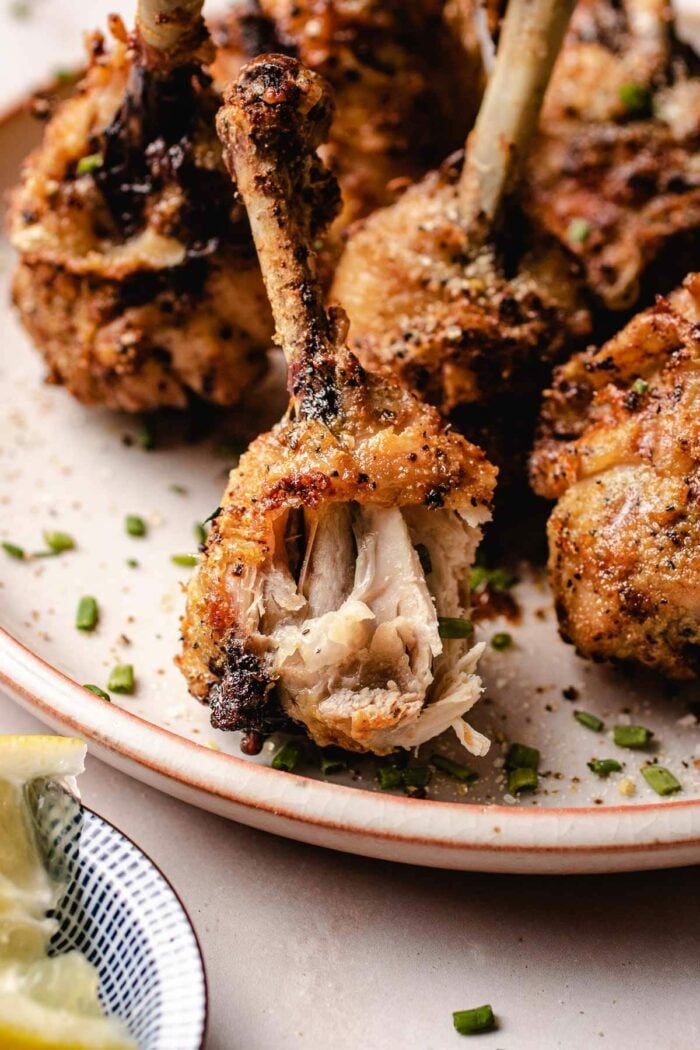 Chicken lollipop recipe
Chicken Lollipop made from chicken drumsticks with extra crispy skin! You can use store bought chicken lollipops, regular chicken drumsticks, or follow my how-to French drumsticks in the step-by-step guide for the best lollipop chicken legs!
Print
Pin
Rate
Ingredients
1.6 lbs chicken lollipops, 7 drumsticks
2 tsp coarse sea salt
1.5 tsp garlic powder
1.5 tsp lemon pepper seasoning
0.5 tsp onion granule
¼ tsp ginger powder
¼ tsp white pepper
Olive oil spray
1 whole lemon, sliced to wedges for serving
Instructions
(Optional) If you are making the lollipops from scratch, prepare the chicken drumsticks and slice them into lollipops. See detailed instructions in the blog post under the How to French drumsticks section.

In a small bowl, combine the seasonings from salt to pepper. Mix well.

Place the chicken lollipops on a large plate. Use one hand to hold the drumstick and the other hand (the clean hand) to grab the spices and season the chickens one by one.

Gently squeeze the chicken using the hand that's holding the drumstick to help them adhere. You'll have extra spices left and we will use them for garnish sprinkles.

Preheat your air fryer to 380F. Place the lollipops into the basket with some space between them and spray with oil.

Air fryer at 380F for 20 minutes, open the basket, flip, and cook for an additional 8 minutes. The chicken should be cooked through and golden brown on the outside. The internal temperature at the thickest part should reach at least 175F.

To serve, transfer the lollipops to a large serving plate. Sprinkle with extra dry spices and serve with lemon wedges on the side. Serve warm.
Notes
Oven method: Bake at 400°F for 30 minutes on the middle rack, turning the baking sheet pan around halfway through. Increase the oven to 420°F for an extra 10 to 15 minutes or until the chicken pop skin is crispy.
You don't need to French the drumsticks in order to make this recipe.
You can use store-bought lollipops or use regular drumsticks to make the dish.
Frenching the drumsticks allows them to be presented in a nice and elegant lollipop shape, and makes them easier to grab and eat.
Nutrition
Serving: 1chicken lollipop, Calories: 123kcal, Carbohydrates: 1g, Protein: 12g, Fat: 7g, Saturated Fat: 2g, Polyunsaturated Fat: 1g, Monounsaturated Fat: 3g, Trans Fat: 0.03g, Cholesterol: 64mg, Sodium: 738mg, Potassium: 171mg, Fiber: 0.2g, Sugar: 0.04g, Vitamin A: 34IU, Vitamin C: 0.1mg, Calcium: 11mg, Iron: 1mg
Made a dish and love it? Please remember to rate the recipe and leave a comment in the comment section below! It helps my blog grow organically so I can continue sharing free and awesome content with you. Thank you!