String Bean Chicken Panda Express
String bean chicken Panda Express recipe tastes even better than the original, and it's healthier too! This quick and easy copycat recipe takes only 20 minutes and features tender chicken breasts, string beans, onions, and a ginger garlic sauce.
Made with accessible ingredients, my copycat Panda Express string bean chicken is an easy one-pot recipe that's great for dinner and healthy lunch boxes! If you love this recipe, check out my black pepper chicken and Panda Express honey walnut shrimp!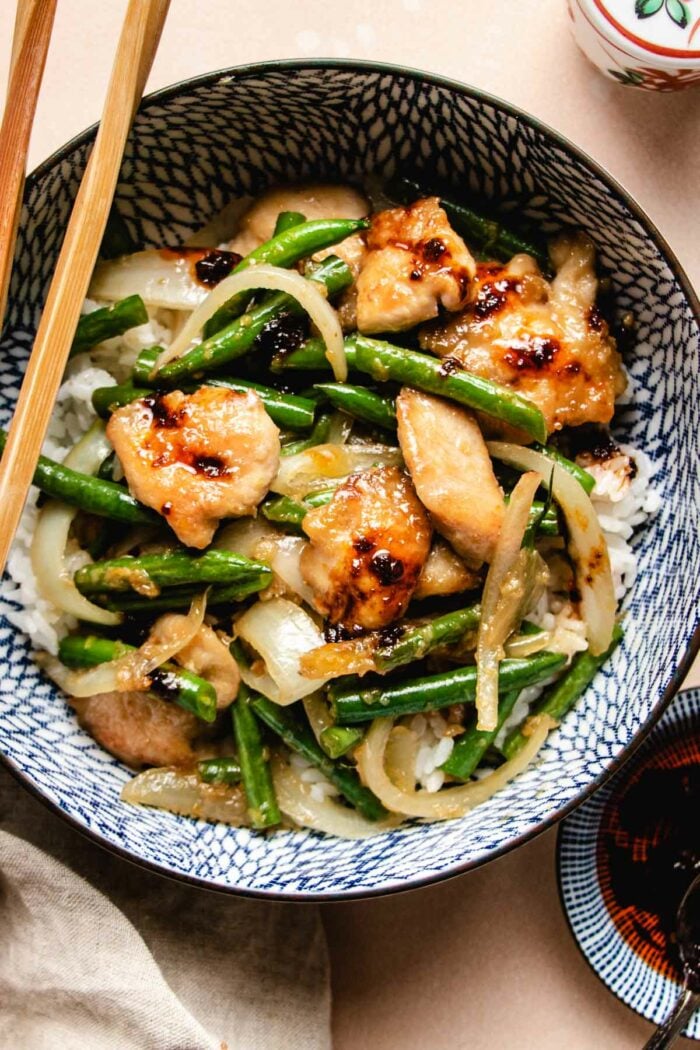 Why this will be your go-to recipe
Chinese green beans and chicken is a classic and nourishing dish the whole family can enjoy. But of course ordering takeout isn't always the healthiest option. This stringbean chicken recipe gives you all the flavor with none of the guilt!
One pot meal – My string bean chicken breast Panda Express recipe is perfectly balanced with lean protein and vegetables.
Chicken breasts – This dish features tender chicken breasts and my secret tips will help you prepare them without marinating in advance.
Crisp green beans – wok-seared string beans with a mild ginger soy sauce come together so easily. Plus, there's no added sugar.
Healthier – This Panda Express string bean chicken really does taste better than the original! And with simple ingredients, you can feel better eating this healthy version at home.
Ingredients
This string bean chicken breast dish uses simple and healthy ingredients that are easy to find in your local grocery store.
Chicken: chicken breast, salt, garlic powder, baking soda, olive oil, coconut aminos, and tapioca or arrowroot starch.
Ginger garlic sauce: grated garlic and ginger, chicken broth or chicken stock, coconut aminos, and sea salt.
Vegetables: French petite green beans and yellow or white onion
Other: Avocado oil for sauteeing the vegetables
Ingredient substitutions
Vegetable Variations: Substitute the string beans with broccoli florets, cauliflower florets, carrots, or bell peppers for an endless variety!
Soy Sauce: Use regular soy sauce if you don't have coconut aminos. Just remember soy sauce is a bit saltier!
Toasted Sesame Oil: Add a touch of toasted sesame oil to the sauce for added flavor
How to make the dish
Make yummy string bean chicken in 6 easy steps! Learn my secret tips for juicy and flavorful chicken (without having to marinate!) and perfectly crisp string beans every time.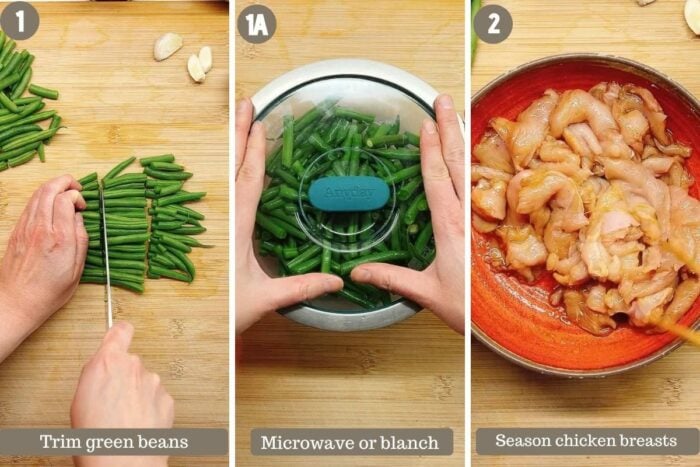 Trim and precook the green beans in the microwave or by blanching.
Slice and season the chicken breasts with the marinade ingredients then set aside.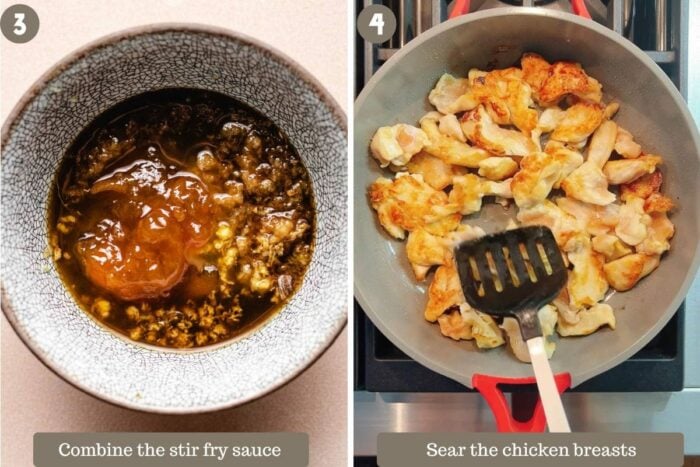 Combine the stir-fry sauce and set it aside.
Sear the chicken in a large skillet until golden brown and remove meat and juices from the pan.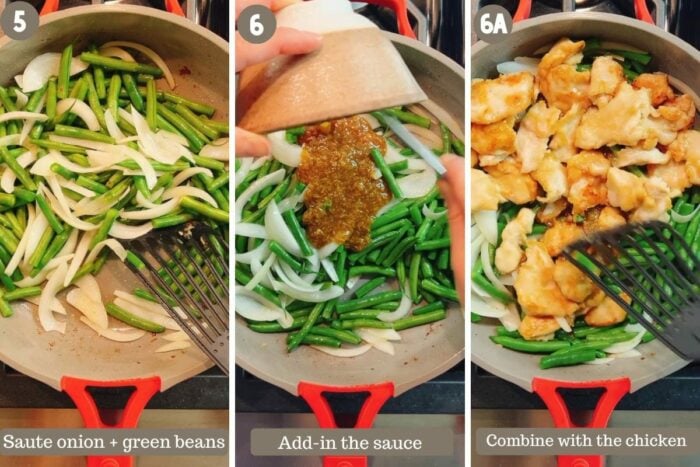 Saute the onions and green beans in the same pan over medium-high heat.
Add the sauce mixture and return the chicken to the pan to finish cooking.
Tips for crisp string beans
Use French petite green beans for crisp and tender texture.
If using regular green beans, hot water blanch the beans prior to stir frying for better taste and texture.
If you add extra vegetables, don't add too many or they will steam as opposed to being stir fried.
Variations
This is Panda Express green bean chicken is so good, you'll want to make it again and again! Luckily it's so easy to vary the recipe so you won't get tired of it.
Tips for tender stir-fried chicken breasts
Thinly slice the chicken (about ⅛-inch thickness)
Add a little baking soda to help tenderize the meat
A little starch will help retain the meat juice. We use tapioca or arrowroot here, but potato starch would work too.
Sear the meat on medium-high heat in a large-sized wok, cast iron, or stainless steel saute pan.
Is string bean chicken from Panda Express healthy?
String bean chicken is healthier than other items on the panda express menu because it has less starch and sugar. String bean chicken Panda Express calories for 1 serving (5.6 oz) is 190 calories, with 13g of carbs. This does not include the rice served on the side.
What is string bean chicken breast from Panda?
It's a chicken and green beans Chinese stir-fry dish with yellow onion, tossed in a garlicky and gingery stir-fry sauce.
How many calories are in Panda Express green bean chicken?
The restaurant version of Panda Express string bean chicken nutrition: 1 serving (5.6 oz) of Panda Express chicken with green beans has 190 calories, 13g of carbs, 4g of fiber, and 4g of sugar (source). The homemade version is much healthier and with fewer carbs and sugar.
What's the difference between string beans and green beans
They are the same. Both of them belong to the same legume family. (source)
Storage, make-ahead, and reheat
This chicken with string beans Chinese dish stores well in the fridge in a glass container for up to 4 to 5 days. The dish can be reheated in a microwave on high for 1 minute.
To prepare the chicken and string bean recipe ahead of time, trim the green beans and slice the chicken in advance, and when you are ready to cook, just stir fry them together.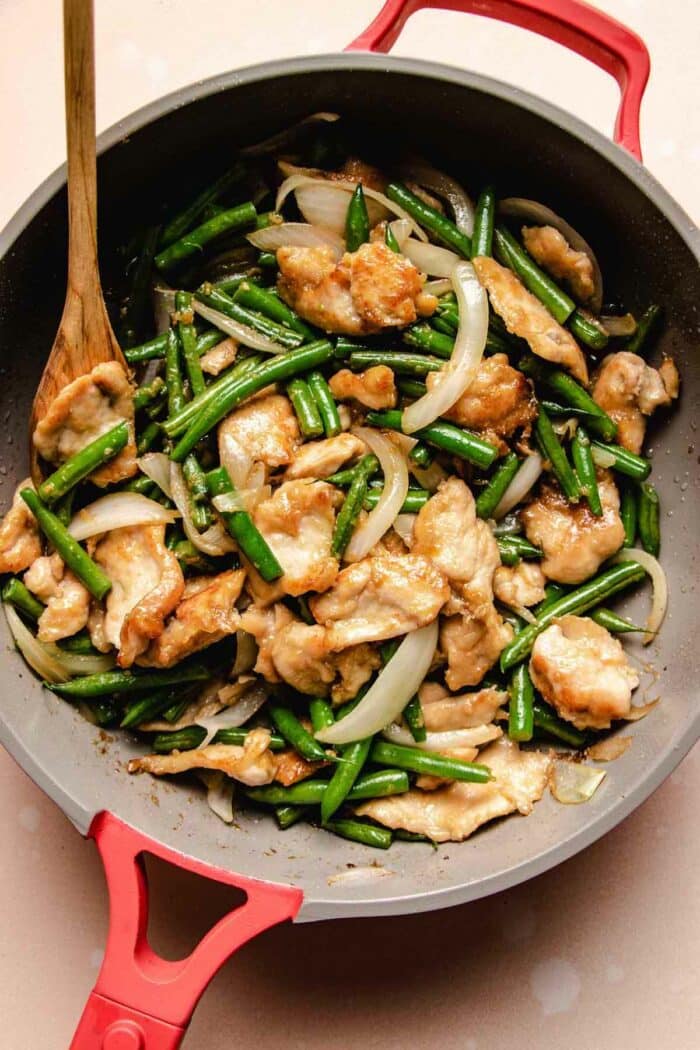 Umami Tips
No need to marinate the chicken ahead of time. Soaking in the chicken marinade makes the meat wet and it affects the sear, resulting in a watery texture. Follow my recipe instructions to save time!
Stir-fry the ingredients in layers for a crisp, tender, and fresh texture.
Get your pan hot and use a large saute pan or wok.
Pay attention to your timing! Don't let ingredients sit in the pan for too long.
Don't overcrowd the skillet or the vegetables and the chicken will "steam" in the pan.
String bean chicken panda express recipe
Panda express string bean chicken with green beans, onions, and tender chicken breasts is the perfect stir fry for healthy homemade takeout!
Print
Pin
Rate
Ingredients
For the sauce:
0.6 oz garlic clove, grated, about 4 medium
0.25 oz ginger, grated
2 tbsp chicken stock
1.5 tbsp coconut aminos
1 to 1.5 tbsp peach jam, or orange jam
Other:
0.5 lb French petite green beans, trimmed and diced into 3 sections
3 oz yellow onion, thinly sliced
2.5 tbsp avocado oil, divided
0.25 tsp coarse sea salt, or to taste
Instructions
Trim and dice the green beans into 3 equal-sized sections. In a microwave-safe bowl, microwave the beans with 1 tbsp water on high for 1.5 minutes. Rinse the beans under room temperature water and set them aside to drain well. The beans aren't completely cooked. They should still be a bit firm and crisp.

Thin slice chicken into about ¼ and ⅛ inch thin pieces. Add the seasonings from salt to starch, mix well, and set aside in the fridge.

In a well-heated large skillet, when hot, add 1.5 tbsp oil. Sear the chicken in a single layer over medium-high heat without disturbing them until they are in golden brown color, about 2-3 minutes, then use a spatula with a firm tip to flip and sear the flip side, about 1-2 minutes. The chicken should be almost cooked through before transferring it out of the pan, along with the pan juice and oil in the skillet.

Use the same skillet, and add 1 tbsp avocado oil. Saute the onion over medium-high heat until they are almost translucent, about 1 minute. Add the green beans with coarse salt. Saute for an additional minute.

Add the sauce and return the chicken to the pan. Turn the heat up to high and toss to combine for about 15 seconds. Turn off the heat. Serve hot or at room temperature.
Notes
This dish comes together fast. I recommend having all the ingredients ready before you start stir-frying.
You should hear the sizzling sound throughout the whole entire stir-fry. If not, that means your pan is not hot enough or you need to turn the heat up higher.
The beans should be tender and crisp and not mushy texture. I recommend using French petite green beans for their crisp and tender texture. If using beans with a very firm texture, I recommend hot water blanching the beans for a few minutes (as opposed to microwaving them), then sock them in cold water and pat dry before adding them to the pan.
Use 1 tbsp jam for a lesser sweet sauce. Use 1.5 tbsp jam if you prefer a sweeter sauce.
Optional, drizzle with a few teaspoons of Garlic chili sauce.
Nutrition
Serving: 1serving, Calories: 321kcal, Carbohydrates: 12g, Protein: 32g, Fat: 16g, Saturated Fat: 2g, Polyunsaturated Fat: 2g, Monounsaturated Fat: 10g, Trans Fat: 0.02g, Cholesterol: 91mg, Sodium: 914mg, Potassium: 711mg, Fiber: 2g, Sugar: 4g, Vitamin A: 435IU, Vitamin C: 12mg, Calcium: 42mg, Iron: 1mg
Made a dish and love it? Please remember to rate the recipe and leave a comment in the comment section below! It helps my blog grow organically so I can continue sharing free and awesome content with you. Thank you!