Panda Express Super Greens
This copycat Panda Express Super Greens recipe is the healthy side dish you're craving! Crisp yet tender cabbage, broccoli, and kale—bursting with nutrients—are coated in a mouthwatering garlic ginger sauce that will have the whole family asking for seconds.
This paleo dish comes together quick, and with just a few healthy ingredients, it's SO easy. It goes with just about anything. For more delicious takeout at home, check out my String Bean Chicken Panda Express and Panda Express Honey Walnut Shrimp!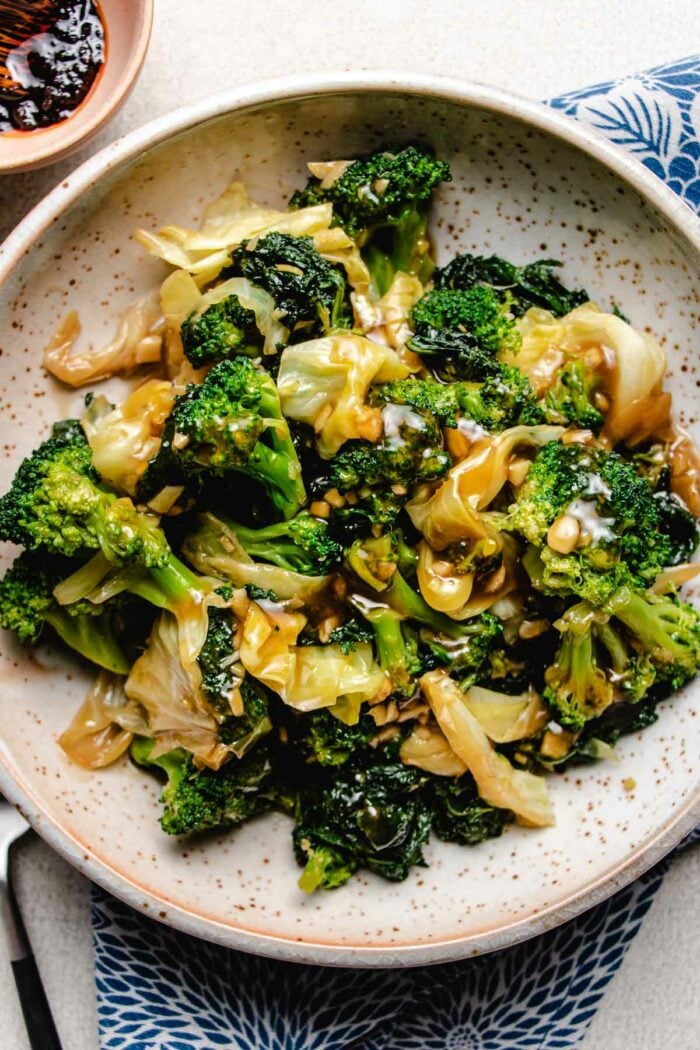 Why this will be your go-to recipe
The super green at Panda Express dish is an unsung hero of their menu, and I know you're going to love making it at home! These gluten-free, vegan-friendly Panda Express vegetables are a healthy superstar side dish packed with flavor that can help balance out any meat or carb-heavy meal.
Simple and fast: The recipe uses simple, accessible ingredients, and it comes together fast!
Crisp and tender veggies: Follow my quick and easy two-step cooking method for perfectly tender yet crisp (not overcooked!) veggies.
Thick, flavorful sauce: The greens are coated in a salty-sweet garlic and ginger-infused sauce that will have the whole family asking for more!
Packed with nutrients: This Panda Express super greens recipe is full of vitamins, high in fiber, and low in calories, with all the anti-inflammatory benefits of garlic and ginger.
Ingredients
So what are super greens at Panda Express, you ask? This simple dish contains three hearty veggies coated in a savory sauce thickened with starch. Here are the ingredients you'll need to get started for this copycat recipe: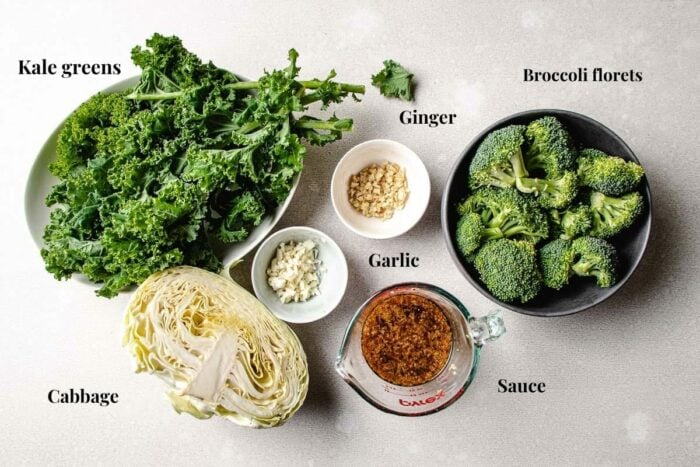 Vegetables: Broccoli florets, kale, and green cabbage (I prefer Taiwanese cabbage for sweetness and crunch!)
Aromatics: Garlic and ginger are sautéed with the veggies AND infused into the sauce for a deeper flavor profile.
Liquids: Vegetable broth or chicken stock (if not vegan), coconut aminos (or soy sauce), and avocado oil for sautéeing.
Other: Tapioca or arrowroot starch for thickening, salt to taste (omit for low-sodium), toasted sesame oil to taste (optional)
Ingredient substitutions
Greens: You can use green cabbage in place of Taiwanese cabbage or Chinese broccoli in place of broccoli florets. bok choy, spinach, and Swiss chard are also great options.
Oil: You can use olive oil if you prefer, or to stay truer to the flavor of the restaurant version, you can cook with ghee or butter (regular or vegan).
How to make the dish
Ready to learn how to make panda express super greens? It's as easy as prep, saute, and steam! This delicious super greens recipe comes together in minutes, and it's easy to prep ahead of time.
Prep veggies: Tear the kale leaves, separate broccoli florets, and dice the cabbage.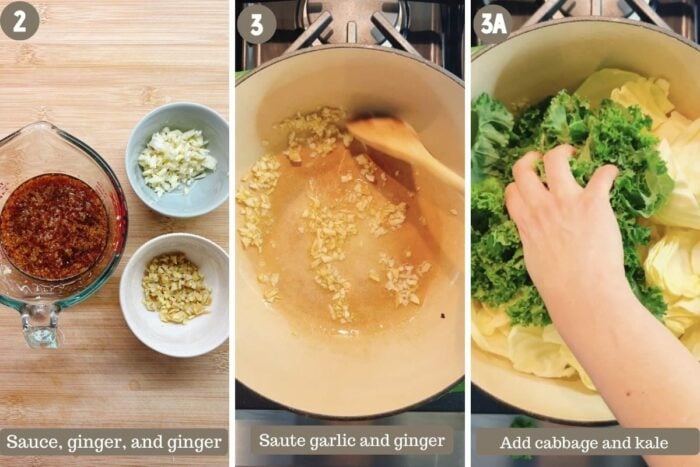 Prep sauce: Mince and grate aromatics; mix the sauce.
Sauté veggies: Sauté minced garlic and ginger, add cabbage and kale and sauté for one minute.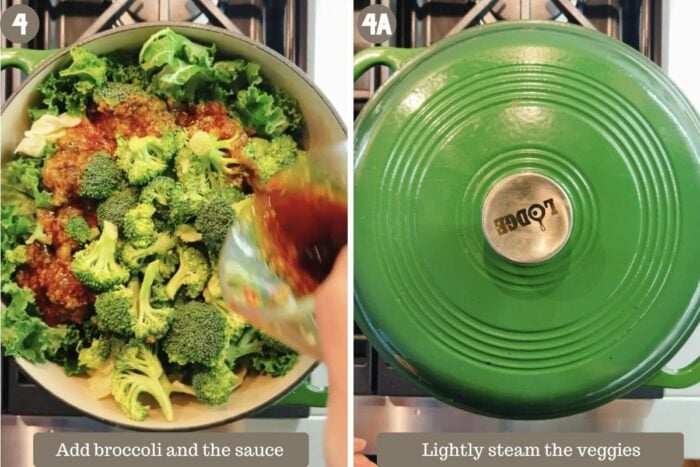 Add sauce and steam: Add broccoli and pour in the sauce and steam the veggies for 3 minutes.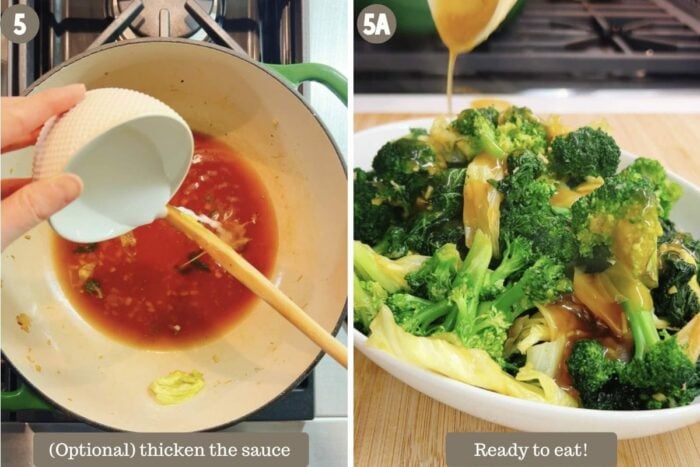 Thicken sauce (optional): Transfer the vegetables to a large serving plate and thicken the sauce with a starch flurry. Pour over the cooked greens. If you're watching your carbs, you can skip this step.
Tips for extra flavor
For super crisp veggies: Saute then steam the greens, but don't overcook them! Because they have different cook times, you risk overcooking the veggies if you simply saute them.
Split the aromatics: In this recipe, I mince and saute half of the garlic and ginger and grate half to infuse in the sauce. This gives the dish a deeper flavor profile.
Thicken the sauce: I prefer to thicken the sauce with starch so it coats the veggies more evenly, rather than pooling at the bottom of the dish.
Variations
This Panda Express super green recipe is perfect as it is, but that doesn't mean you can't have fun with it! In fact, it's a super versatile recipe. Let's review some fun and delicious variation ideas!
Make it a medley: Turn these super greens from Panda Express into a Panda Express steamed veggies medley by adding any of your favorite vegetables! I like using zucchini, brussel sprouts, cauliflower, carrots, and even green beans!
Spice it up: You can add any spices and seasonings you like while sauteeing the greens—like Chinese five spice, cumin, or coriander, to name a few. Or top it off with my garlic chili sauce, some cayenne, or red pepper flakes for some extra heat.
Switch up the sauce: You can use ghee or regular or vegan butter in place of the oil for a more buttery flavor. This dish would also taste great with my vegan oyster sauce!
Add a protein: To turn this Panda Express mixed veggies side into a main, you can add a protein like chicken, beef, or tofu.
Serving suggestions
Panda Express power greens are a side dish that pairs well with just about anything! I recommend serving with a grain like rice or noodles and a protein of your choice such as Panda express mushroom chicken for a balanced and nutritious dinner or lunchbox meal.
Some of my favorite protein dishes to serve with these Panda Express supergreens are my black pepper chicken and moo goo gai pan or pair the veggies with healthy omega 3 like air fryer teriyaki salmon — the possibilities are endless!
Common FAQ
What is Panda Express super greens nutrition?
Panda Express Super Greens side at the restaurant contains 90 calories, 2.5 grams of fat, and 10 grams of carbohydrates. (source)
What is super greens at Panda Express?
Chinese American healthy side dish comprised of cabbage, kale, and broccoli in a garlicky sauce.
What is in panda express super greens?
In addition to the cabbage, kale, and broccoli, Panda Express uses a stock-based garlic sauce thickened with starch. Veggies are sautéed in butter and seasoned with salt.
Storage and make-ahead
Another big bonus of this Panda Express broccoli and greens recipe is that the veggies and sauce can easily be prepped up to 2 days in advance for an even faster cooking experience. Store the prepped veggies in a crisper drawer for maximum freshness.
You can store the sauce separately in an airtight container for about a week—it goes well with any stirfry, so you can use any extra sauce with other meals as well.
And the leftovers of this dish are DELICIOUS, even served cold! Store leftovers in an airtight container in the fridge for up to 5 days. It's perfect for meal prep for the week!
Umami Tips
For super crisp veggies: Don't overcook the greens! Due to different cook times, briefly sauté them and then finish cooking by steaming them in the sauce.
For depth of flavor: Use half of the aromatics to sauté the veggies and grate the other half into the sauce.
For a thick sauce: Use a tapioca or arrowroot starch slurry to thicken the sauce. You can skip this step if low-carb, but the thicker sauce coats the veggies more evenly.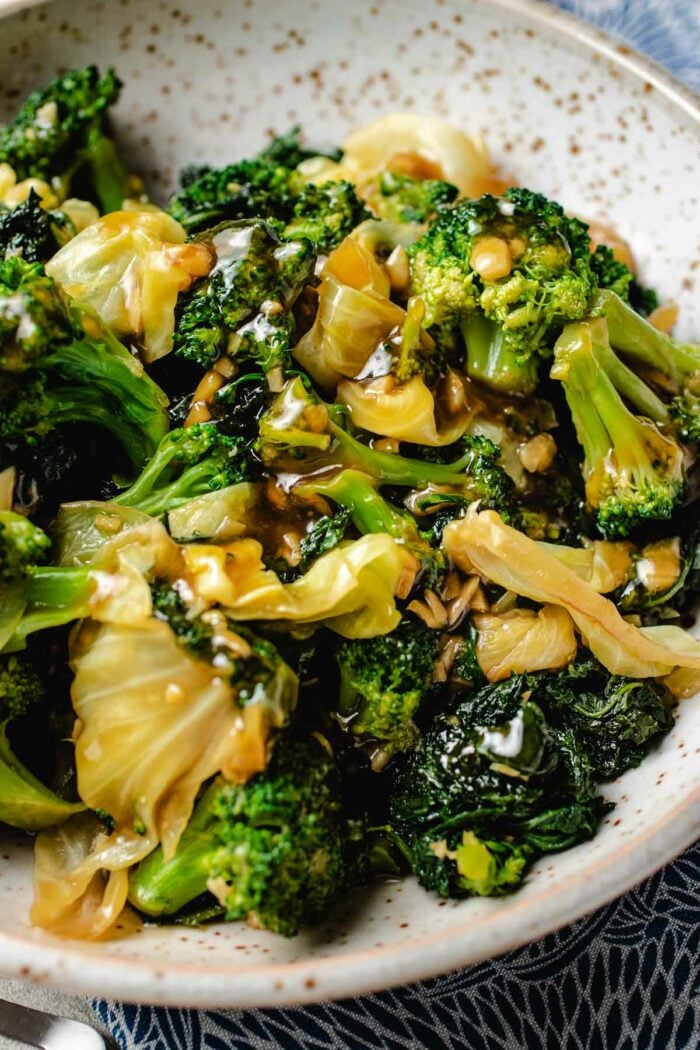 Panda express super greens recipe
Panda express super greens copycat recipe made gluten-free with kale, broccoli, and cabbage lightly sauteed & steamed in ginger garlic sauce.
Print
Pin
Rate
Ingredients
10 oz. Taiwanese cabbage, 6 cups, or green cabbage
12 oz. broccoli florets
8 oz. kale leaves, 8 cups
1 oz. garlic clove, divided
0.5 oz ginger root, divided
¼ cup coconut aminos
⅓ cup vegetable stock, or chicken stock
2 tbsp avocado oil
3 pinches coarse sea salt
2 tsp tapioca starch, or arrowroot starch, optional
Drizzle Toasted sesame oil, optional
Instructions
To prepare:
Cabbage – Remove the core of the cabbage. If use Taiwanese cabbage, dice it into 2-inch chunks. If use green cabbage, dice it into 1-inch sections.

Broccoli – For larger broccoli florets, separate them in half. Keep the florets in similar sizes so they cook evenly.

Kale – Pull the kale leaves from their stems and roughly tear them to pieces. Wash and prepare the vegetables and pat them dry.

Garlic, Ginger, and Sauce – Finely mince half of the total amount of garlic and ginger root. Set them aside on a small plate. For the remainder half the amount of the ginger and garlic, grate and add them to a glass measuring cup with coconut aminos and stock. This will be the sauce.
To cook:
Saute – Preheat a large 6 qt. Dutch oven or wok over medium heat until it feels warm. Add the oil and minced garlic and ginger with a pinch of salt. Saute for 10 seconds.

Add the cabbage and kale. Turn the heat up to medium-high. Keep stirring, scooping, and sauteing for 1-minute only. Please do not overcook them. It will seem like a lot of vegetables but they will cook down after being steamed in the next step.

Steam – Add the broccoli and pour in the sauce mixture with 2 pinches of salt. Cover with a lid and reduce the heat to medium. Steam the vegetables for 3 minutes.

Toss – Open the lid, give the vegetables a quick stir and then turn off the heat. Scoop out the entire pot of vegetables into a large serving plate and leave the liquid behind.

Thicken (optional) – To thicken the liquid, mix 2 tsp starch with 1 tbsp cold water in a small bowl. Bring the liquid in the pot back up to simmering, then stir in the slurry. Stir with a wooden spoon to thicken in 1 minute. Pour the sauce over the vegetables. Drizzle with a touch of sesame oil. Serve hot or warm.
Notes
Taiwanese cabbage is also known as white cabbage. It has a less dense texture and a more sweet juicy flavor than green cabbage. You can find this veggie in farmers' markets, H-mart, or Japanese/Chinese grocery stores.
To make ahead – prepare, chop, wash, and dry the vegetables up to 2 days in advance. Store in a vegetable crisp drawer.
To reheat – this dish tastes great even when cold therefore it makes sense to make a larger batch at once. 🙂
Keep it low carb – skip the last step to thicken the sauce.
Tip for crisp and perfectly tender vegetables: Do not over-saute the vegetables. Lightly saute and finish cooking by steaming them.
If you use soy sauce, you'll need to balance the salty flavor with sugar in the sauce. It should taste savory and sweet. 
Nutrition
Serving: 1serving, Calories: 97kcal, Carbohydrates: 10g, Protein: 3g, Fat: 6g, Saturated Fat: 1g, Polyunsaturated Fat: 1g, Monounsaturated Fat: 3g, Sodium: 356mg, Potassium: 315mg, Fiber: 3g, Sugar: 2g, Vitamin A: 3153IU, Vitamin C: 79mg, Calcium: 113mg, Iron: 1mg
Made a dish and love it? Please remember to rate the recipe and leave a comment in the comment section below! It helps my blog grow organically so I can continue sharing free and awesome content with you. Thank you!