Homemade Thai Red Curry Chicken
Homemade Thai Red Curry Chicken
I remember years ago when I was a grad student in New York. A friend of mine gave me a small 20" old television and I felt in love with a show that used to be on Foodnetwork – Sandra Lee's semi-homemade cooking and this Semi-Homemade Red Curry Chicken is inspired by her show.
At that time, the 20-something-me thought it was entertaining to watch Sandra cook because she just seems so smart – use semi store-bought ingredients to cut cooking time in half. How neat !
But I didn't fully appreciate her wisdom until I started my own family. And this semi-homemade red curry chicken was born based on Sandra's ethos.
Speaking of my semi-homemade red curry chicken recipe –
The store-bought red curry paste from Thai Kitchen is good however, it misses that little something something to push it to the next level – like a really good Thai or Malaysian restaurant-level curry.
I went ahead and started adding fresh herbs and some "uncommon" ingredients like lemongrass, grated ginger, and lime zest because I want my readers who don't have access to exotic ingredients to be able to replicate my recipes at home easily. I call this little invention my Curry Flavor Booster.  You can see a similar version for a green curry called my freezer-friendly green curry chicken.
The result is a much more complex flavor of chicken curry. Full of depth, and what a comforting and soul warming feeling every single bite!
You can freeze my Curry Flavor Booster in an ice cube tray and when you are home from work,  just pop 2 of the cubes in the pot with your favorite store-bought curry paste when you make semi-homemade curry next. My curry flavor boosters are good for about 4 weeks in the freezer before they start to lose fragrance.
Pair the chicken curry with my Chinese steamed eggplant with garlic sauce or Chinese smashed cucumber salad for a flavorful healthy homemade meal!
Be sure to check out the video below where I demonstrate how quick and easy it is to make this sinfully delicious pot of Semi-Homemade Red Curry Chicken.
And if you are on Pinterest, click the Pinterest logo to your left (or to the top of your mobile screen) to save my long and beautiful pins to as many boards as you like. They are designed specifically for you only !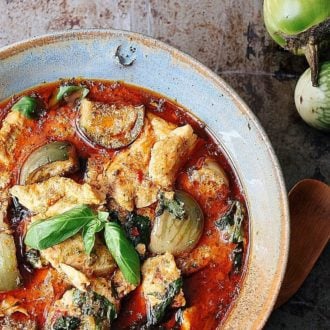 Semi-Homemade Red Curry Chicken
A quick and easy way to make Super Flavorful Red Curry Chicken. Freeze the extra homemade curry booster in the freezer for a super quick curry meal. No added sugar cooking. Your family will love it!
Print
Pin
Rate
Ingredients
1 ½ lbs chicken breast, skinless & boneless, slice into thin/bite-sized pieces
2 tbsp coconut oil, sauteing
14 oz full fat coconut milk, 1 can
2 tsp Red curry paste, from the Thai kitchen brand
4 Thai eggplant, diced (alt. 1 medium size Italian eggplant, cubed)
2 tbsp fresh pineapple juice, optional
Handful Italian basil, best. Thai sweet basil
My curry flavor booster: (store extra in ice cube trays in the freezer for up to 4 week.)
5 cloves garlic
Half one whole shallot
1 ½ tbsp sliced ginger
1 cup fresh cilantro
2 red Fresno chili pepper, remove seeds
Half one whole lime zest
Half one whole lime juice
1 tsp sea salt
½ tsp Red boat fish sauce
2 tbsp extra virgin olive oil
Instructions
Blend everything under "my curry flavor booster" in a food processor. Blend until a fine mixture.

Heat 2 tbsp coconut oil over a wok/saute pan, when hot, add 3 ½ tbsp curry flavor booster. Stir the ingredients with a wooden spoon. Add 2 tsp store-bought red curry paste. Keep stir-frying over medium/medium-high heat until fragrant.

Add 1 can full-fat coconut milk. Turn the heat down to medium. Cover with a lid and let the broth simmer until it's slightly thickened.

Add sliced chicken breast. Turn the heat up to medium-high. Cook until the chicken is cooked through. About 8-10 minutes. *Note: you'll see a light layer of red color oil surface to the pot during the cooking process. That's the oil from the homemade curry flavor booster, mixed with tons of herbs and aromatics.

Add diced eggplants. Turn the heat to medium and cover the wok/saute pan with a lid. Cook until the eggplants turn softer.

When the eggplants are cooked through/turn softer, taste and see if more salt or fish sauce is needed. If you like, add 2 tbsp fresh pineapple juice to make the curry slightly sweeter. Add basil to the curry pot, give a quick stir, and then turn off the heat.

Before serving, garnish with more basil (optional), and a bit more lime zest.
Notes
*Note My curry flavor booster is meant to be a bit salty. This mixture will enhance any store-bought curry paste (red, green, or yellow curry paste). If your store-bought curry paste is very salty, please start from adding smaller quantity of the store-bought curry paste first before adding more. When you mix a few tablespoons of my curry flavor booster in the curry pot, it will make your curry taste amazingly delicious !
Nutrition
Calories: 564kcal
Also check out my Chiang Mai Noodles (Thai Chicken Curry Noodles), Thai coconut curry meatball soup, Instant Pot pumpkin chicken curry, Thai green curry chicken, Dutch oven roasted red curry whole chicken, and Grilled green curry chicken.