Dutch Oven Roasted Red Curry Whole Chicken
Dutch Oven Roasted Red Curry Whole Chicken that's half baked and half simmered in rich homemade curry sauce and coconut milk. The chicken is savory, juicy, and roasted with sweet squash and vegetables. This is the ultimate one-pot comfort food for everyday as well as holiday.
Slow roasted and simmered Dutch oven roasted red curry whole chicken
My love affair with Dutch oven started the first winter I was writing my blog. The first Dutch oven I had was a 6 qt. Lodge which is still my favorite every winter. It's big enough to roast an entire 4.5 lbs plus bird and with room to add vegetables like carrots and celery.
This winter, I decided to get a smaller one – 4 qt. Cocotte from Staub. It's a birthday gift I gave to myself and also a much more practical size for just Nate and me.
A perfect everyday as well as holiday dish
Most of my long term readers know that I prefer making my own curry paste – I call it my curry flavor enhancer. It depends on the dish, but sometimes I incorporate my curry enhancer with store bought paste and other times I make whole dish from scratch.
But none the less, I can never make a pot of Thai-inspired Paleo curry without using my own curry flavor enhancer. It's easy and quick to blend and transcends ordinary store-bought pasta to delicious wonders.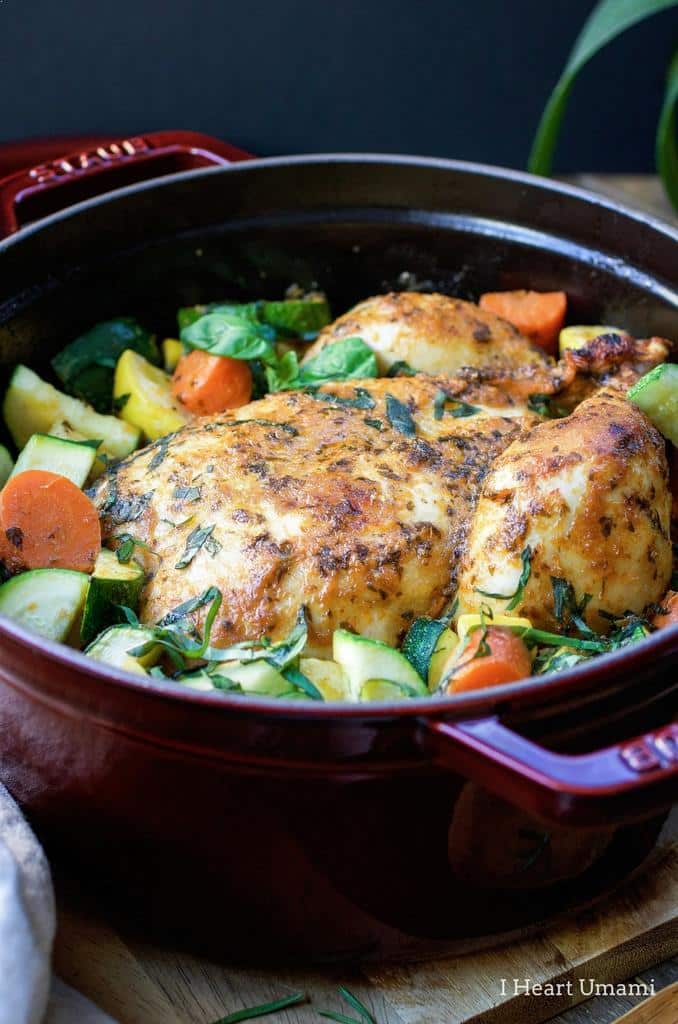 The cooking method is inspired by what I learnt while traveling in Thailand. Here's what you do to roast and simmer an entire chicken in a Dutch oven:
First saute the curry paste in a well-heated Dutch oven. This deepens the curry flavor and be careful not to burn the delicate herbs.
Lightly brown the bird on all sides before adding stock to the pot. Scrape anything underneath the Dutch oven so that nothing is burnt underneath before sending into oven.
Slow bake and simmer the bird with a lid on at 400/410F for 40 mins (3.5 lbs), basting the bird periodically so that the breast side up maintains moist and juicy (see more info in the recipe notes).
Uncover and turn up the oven to 410/420F for an additional 10-15 mins.to give the bird a nice and lovely golden brown color and use a thermometer to check the internal temperature. The thickest part of the inner thigh should reach 165F.
You can either reduce the stock to make sauce/gravy or let it cool to room temperature and congeal further. It makes the best stockpot for the next day's curry chicken broth: just add more liquid and shred the leftover chicken. :))
[clickToTweet tweet="Coconut milk roasted whole chicken: Dutch Oven Roasted Red Curry Chicken @iheartumami !" quote="Coconut milk roasted whole chicken: Dutch Oven Roasted Red Curry Chicken @Iheartumami!" theme="style3″]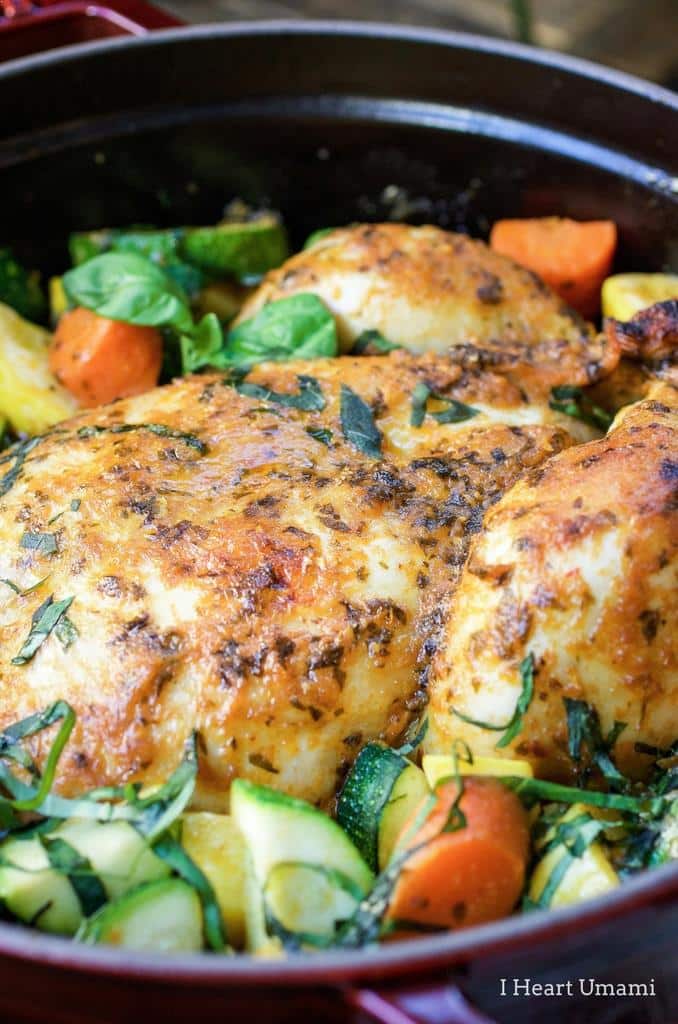 Are we connected on Instagram?
I have met so many friends and readers like you through my Instagram account. The video below is a insta story did with my iPhone for Dutch oven red curry chicken. I do stories almost daily so come follow me there !
[embedyt] https://www.youtube.com/watch?v=07aJ7Flse3Y[/embedyt]
Looking for more simple comfort food ?
Creamy delicious Paleo Lamb Korma recipe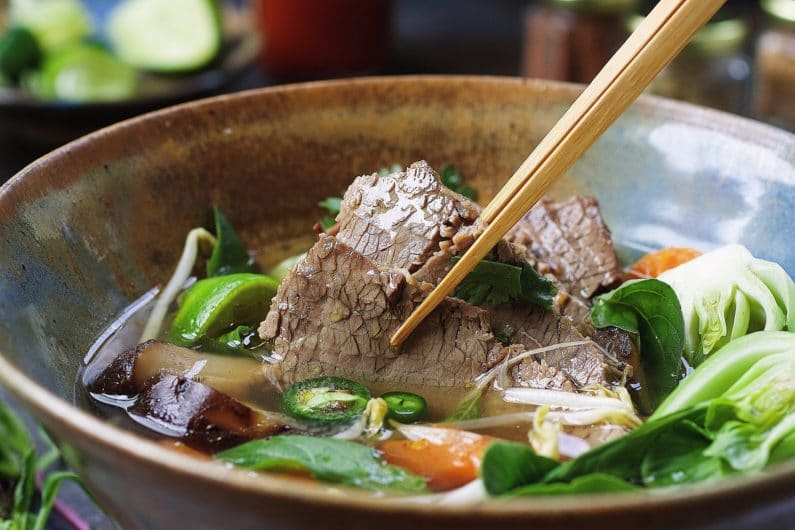 Put your instant pot to good use – Paleo Beef Brisket Pho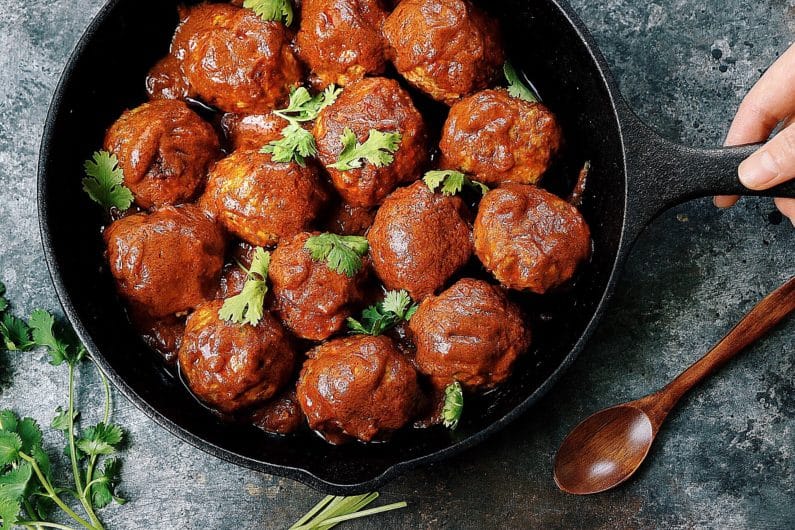 This is the original video footage from my Youtube channel – Dutch oven roasted red curry chicken !
[embedyt] https://www.youtube.com/watch?v=LVxVRXIm3AA[/embedyt]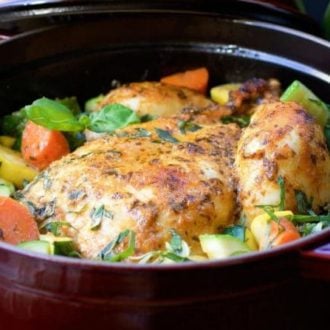 Dutch Oven Roasted Red Curry Whole Chicken
Half roasted and half simmered Paleo Dutch Oven Roasted Red Curry Whole Chicken with coconut cream & homemade curry paste. Follow the instruction to make this healthy creamy one pot meal!
Print
Pin
Rate
Ingredients
3 ½ lbs whole chicken – for a 4-6 qt. Dutch oven., remove giblets inside
3 tbsp store-bought red curry paste, such as Thai kitchen
4 heaping tbsp "my homemade red curry flavor booster", see below
1 can full-fat coconut milk, 14 oz can
1 cup chicken stock or chicken broth
1 tbsp red boat fish sauce
3-4 medium size loose carrots, diced to large chunks
2-3 zucchinis, diced to bite sizes
½ tbsp ghee, for saute use
Lime zest, before serving
chopped basil (Thai or Italian basil), before serving
My curry flavor booster: (blend everything into a smooth paste and store extra in ice cube trays in the freezer for up to 4 week.)
5 cloves garlic
Half shallot
1 ½ tbsp sliced ginger
1 cup fresh cilantro or parsley
2 red fresno chili pepper, seeds removed, alt. 1/2 tsp dry red pepper flakes
Half lime zest
Half lime juice
1 tsp sea salt
½ tsp Red boat fish sauce
2 tbsp extra virgin olive oil
Instructions
Blend ingredients listed under "My curry flavor booster" until it becomes a fine paste. Rub the paste over an entire chicken (about 2 ½ heaping tbsps for a 3 ½ lbs bird).

Over a stovetop, heat 1 tbsp ghee in a 6 qt. Dutch oven over medium heat. When hot, lower the heat to medium, add 2 heaping tbsp store-bought red curry paste + 4 heaping tbsp "my curry flavor booster". Saute the paste until fragrant (about 10 seconds). In the meantime, preheat oven to 410 F*.

Add an entire chicken to the dutch oven – breast side down first. Slightly brown the surface of the chicken then flip the bird to brown the other side (about 3-4 mins total). (*Note: if the dutch oven temperature is too hot, lower the heat. Be careful not to burn the bottom of the pot).

Add coconut milk, chicken stock, and fish sauce to the pot. Give it a gentle stir. Cover with a lid. Turn off the stovetop.

To bake the chicken:
Bake at 410F* . Breast side up and with a lid on for 40 mins. After 40 mins, add diced carrots and squash. Scoop a few tablespoon of the broth over the chicken breast to keep it moist. Send the pot back to the oven to bake for another 20 mins (with a lid on)

After 20 mins., remove the lid. Turn the oven to 420F, bake for 10 additional mins or until the thickest part of the internal temperature of the chicken reaches 165F.

To saute the veggies:
While the chicken is baked in the oven, heat 1 tbsp coconut oil in a large saute pan. When hot, add diced zucchini. Season with salt to taste. Saute until the zucchinis turn softer but still have some crunchy texture. Set aside.

To serve:
When the chicken is completely cooked through, remove dutch oven from the oven and add sauted zucchini squash to the pot. Serve with chopped basil leaves and lime zest before serving.
Notes
*Oven temperature vary, if your oven tends to get heated very quickly roast the bird at 400F and turn up the heat to 410F for the last 10-15 minutes.    *The safe internal temperature for cooked chicken is 165° Fahrenheit(75° Celsius). A meat or instant-read thermometer is your best bet for determining the temperature of your chicken, and if you're cooking a whole bird, it should be inserted into the thickest part of the thigh but not touching bone.
Nutrition
Serving: 629g, Calories: 786kcal, Carbohydrates: 7g, Protein: 60g, Fat: 52.8g, Saturated Fat: 24.6g, Cholesterol: 180mg, Sodium: 856mg, Sugar: 11g, Vitamin C: 64.4mg, Calcium: 110mg, Iron: 4.9mg
Also check out my Chiang Mai Curry Noodles with chicken, Thai coconut curry meatball soup, Homemade Thai red curry chicken, Instant Pot Pumpkin chicken curry.