Thai Coconut Curry Meatball Soup
I did a little testing on Instagram the other day about this Paleo Coconut Curry Meatball Soup and everyone immediately asked for the recipe!
Another reason I'm sharing this post with you today is that this Sunday – besides super bowl Sunday – is also Chinese New Year's Eve !
Any food that's a round shape – like this wonton soup and Chinese dim sum buns – is considered lucky, and hence is a great food for Chinese New Year.
So when you gobble up these yummy and umami asian meatballs you are also bringing good luck to yourself and the whole family.
Another thing –
I'd like to write more recipes for the Whole30 folks.
Any thoughts on this? Have you tried Whole30 before or know anyone was in the program ?
Let me know what you think.
Tag me on Instagram, find me on Facebook, or tweet me on Twitter.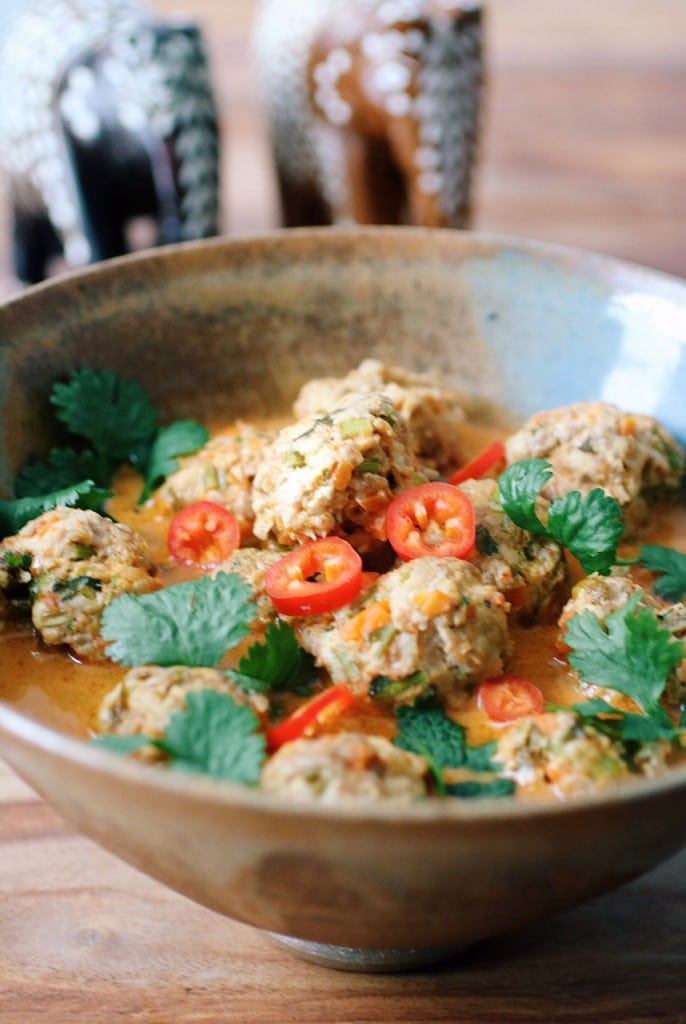 Paleo Coconut Curry Meatball Soup
If you love curry and meatballs, you'll love this Paleo coconut curry meatball soup. Enjoy Paleo Thai food and Thai curry in one delicious bowl.
Print
Pin
Rate
Ingredients
1 ½ lbs ground pork – 80% lean, 20% fat. If use turkey or chicken, 50% breast; 50% thigh meat
Extra cilantro leaves before serving
Meatball seasonings:
¾ cup chopped cilantro, including stems and leaves
2 small shallots
¾ cup diced carrots
1 tbsp grated ginger
2 tbsp olive oil
1 tbsp fish sauce, Red Boat
½ tsp salt
½ tsp cumin powder
¼ tsp black pepper
Curry broth:
3 tbsp red curry paste, I use a store bought version this time from Thai Kitchen
1 tbsp coconut oil
14 oz full fat coconut milk, 1 can
½ cup chicken stock/veggie stock/or water, for a thinner broth use ¾ cup to 1 cup broth
1 tbsp fish sauce
Half one whole lime juice, Taste and see if more lime juice is needed
Instructions
Meatballs:
Place the first 5 items under the "meatball seasonings" into a food processor. (i.e. Cilantro, shallots, carrots, ginger, and olive oil)

Pulse a few times until finely chopped.

Mix ground meat with Step 2 ingredients and the rest of meatball seasonings – fish sauce, salt, cumin powder, and black pepper.
Curry broth:
Heat 1 tbsp coconut oil over a medium-large size soup pot (or a wok) over medium-high heat. When hot, add 3 tbsp red curry paste and stir-fry for a few seconds.

Pour in coconut milk and bring it to a boil, then reduce the heat to medium and cook, stirring occasionally until the red oil rises to the surface.

Add meatballs (one-by-one) and cook for about 10 minutes until they are done.

Season the broth with 1 tbsp fish sauce, ½ lime juice. Taste and see if more lime juice is needed.

Turn off the heat and add cilantro leaves. Serve hot & enjoy !
Nutrition
Calories: 410kcal
Also check out my Chicken Khao Soi (Chiang Mai Curry Noodles), Creamy coconut meatballs, Chicken Spinach Meatball soup, Easy Thai green curry chicken and Instant Pot Pumpkin Chicken Curry.