Hibachi Vegetables
Hibachi vegetables are a Japanese steakhouse staple bursting with buttery garlic flavor! This elegant side dish is packed with colorful veggies and coated in a savory umami sauce. Healthful and versatile, this dish is ready in under 30 minutes with no special equipment required!
These saucy hibachi veggies pair perfectly with my hibachi noodles or this garlicky shirataki fried rice. Serve them up with the protein of your choice for a proper Japanese-inspired feast!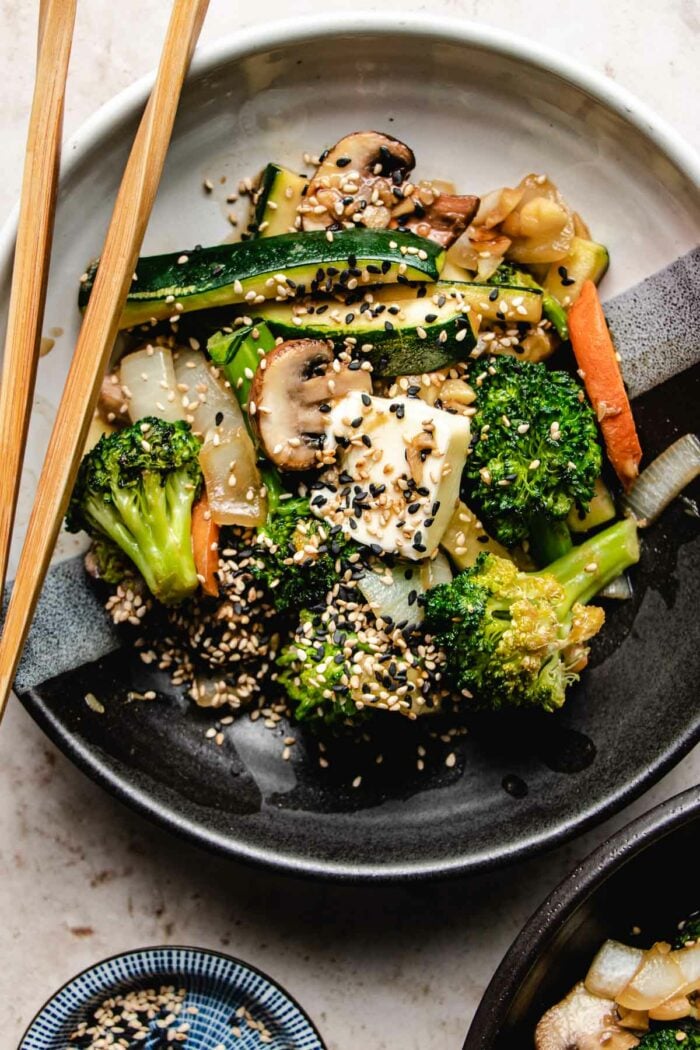 Why this will be your go-to recipe
I know you're going to love this recipe for hibachi vegetables for a quick and easy dinner or meal prep for the week. The perfectly cooked, crunchy veggies and buttery sauce are a match made in heaven! You'll love these hibachi stir fry vegetables because they're:
Simple and quick: Minimal ingredients come together in less than 30 minutes! It's even faster if you prep the vegetables ahead of time or use pre-cut.
Easy on the wallet: This dish gives you the flavors of a steakhouse dinner without the expense.
Healthy and delicious: Crunchy, nutrient-dense vegetables are dressed up nicely with a buttery, garlicky, sweet, and savory sauce that is truly finger-licking good.
What is hibachi-style food?
Hibachi is a Japanese word meaning bowl of fire, as this style of cooking uses an open-flame grill called a shichirin. Hibachi-style food is flavored with lots of garlic, in addition to ginger, sesame, and soy sauce.
American Japanese steakhouses such as Benihana and Kobe popularized this style of meat, seafood, vegetables, rice, and noodles. Although these chains cook on large electric griddles, which is actually known as "teppanyaki grilling," the two have become interchangeable in the US.
What vegetables are in hibachi?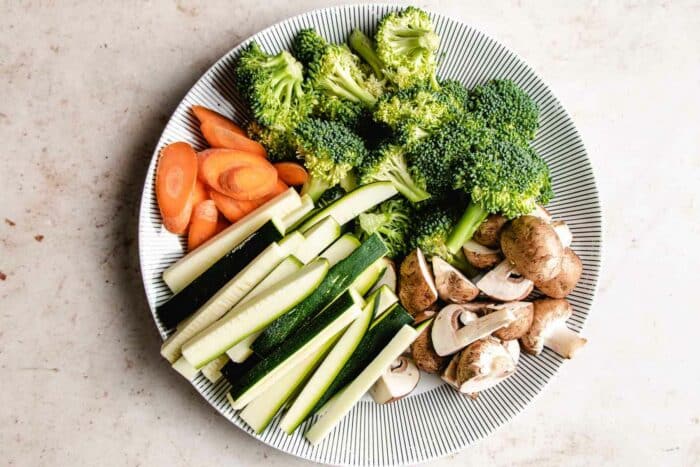 Because hibachi refers to the cooking method and not the veggies themselves, you can use any type of produce you enjoy for these Japanese steakhouse vegetables. I use onion, carrot, zucchini, broccoli, and mushroom when I make these easy hibachi vegetables at home.
Some other popular vegetables for teppanyaki or hibachi are bell pepper, bok choy, cabbage, snow peas, yellow squash, and bean sprouts. It's a great "cleaning out the fridge" recipe, so don't be limited by what's on this list!
Ingredients
This hibachi vegetables recipe is great because it doesn't require a lot of ingredients, yet the flavor profile is so rich. Here's what you need to get started: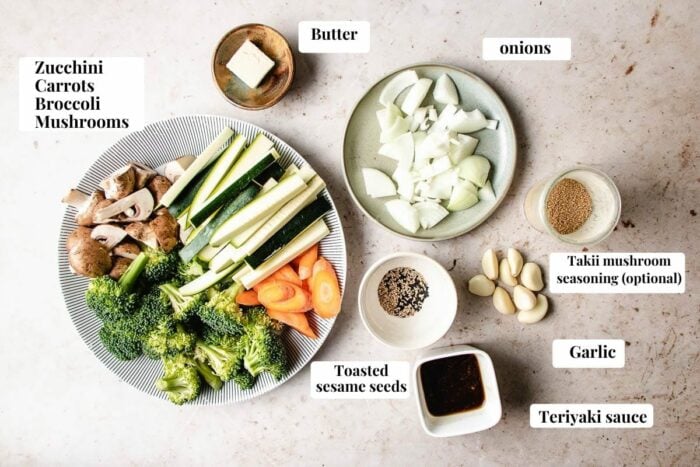 Vegetables: Garlic, yellow or sweet onion, carrots, broccoli florets, baby bella mushrooms, zucchini
Seasonings: Olive oil, sea salt, Takii mushroom seasoning (or more salt), unsalted butter
Hibachi Sauce: Teriyaki sauce, coconut aminos
Garnish: Toasted sesame seeds.
Cookware
You don't need any special equipment to make this meal! While you could make these hibachi vegetables on a griddle or Blackstone grill, all you really need is a sauté pan or wok that is big enough.
Ingredient substitutions
Mushrooms: Crimini or white button mushrooms would also work.
Vegan Butter: The buttery flavor is critical to this dish, but you can make this a vegan hibachi recipe use by swapping it for a dairy-free substitute.
Soy sauce: If you don't have teriyaki, soy sauce will work too. Be sure to add a pinch of sugar to balance the flavor though. Or you can use extra coconut aminos.
How to cook the dish
This is one of my favorite Japanese vegetable recipes because it's truly so fast and easy. Here's how to make hibachi vegetables in under 30 minutes!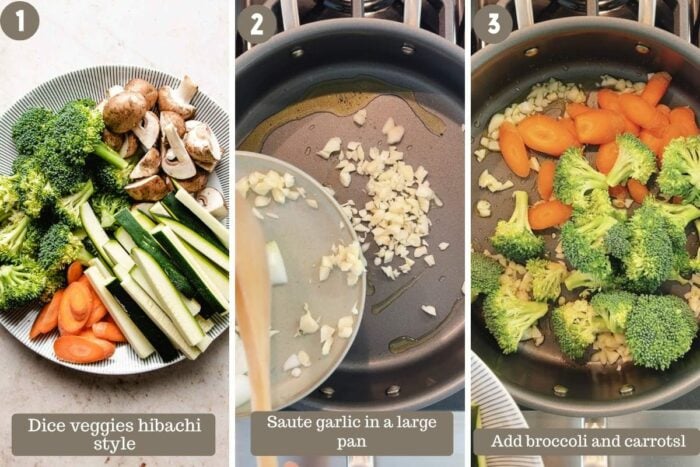 Prepare the veggies and sauce. (See the next section for how to cut the veg in hibachi style.)
Add oil and garlic to a large cast iron skillet on medium-high heat.
Add carrots, broccoli, and a pinch of salt. Cover and steam for 1 minute.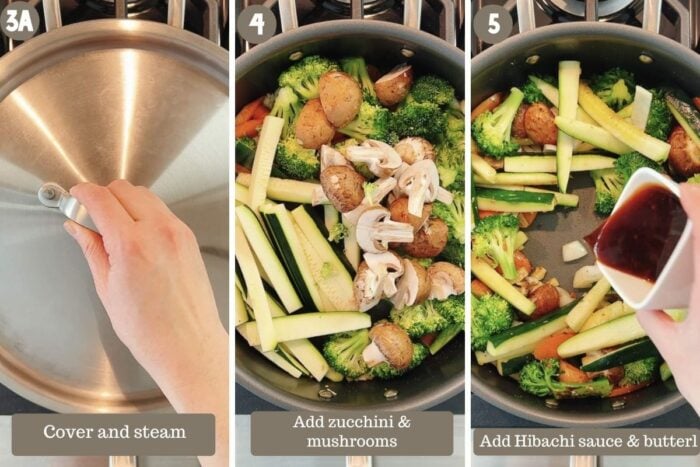 Add mushrooms, zucchini, oil, and a pinch of salt.
Push the vegetables to the side of the pan, adding the sauce and butter in the middle. Transfer to a serving plate and garnish before serving the dish hot.
How to cut the vegetables for hibachi
Hibachi veggies should be cut into easy-to-eat pieces. Here is how I cut my vegetables to match the style used in a steakhouse.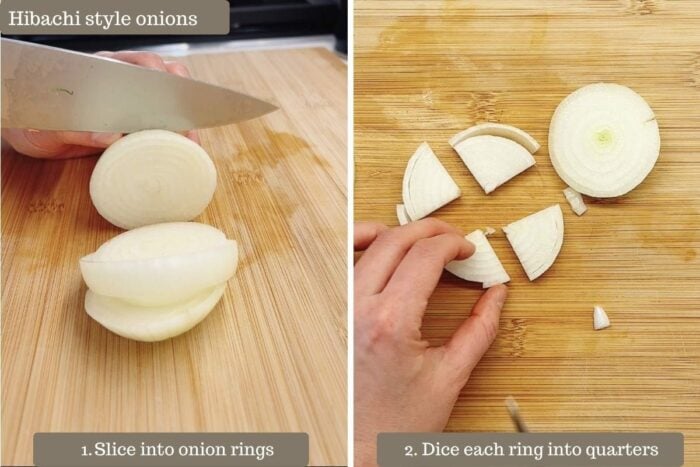 Onions: Peel the onion and trim the ends. With the onion on its side, make three even cuts resulting in four equal segments of onion rings. Lay each segment flat and cut it into quarters.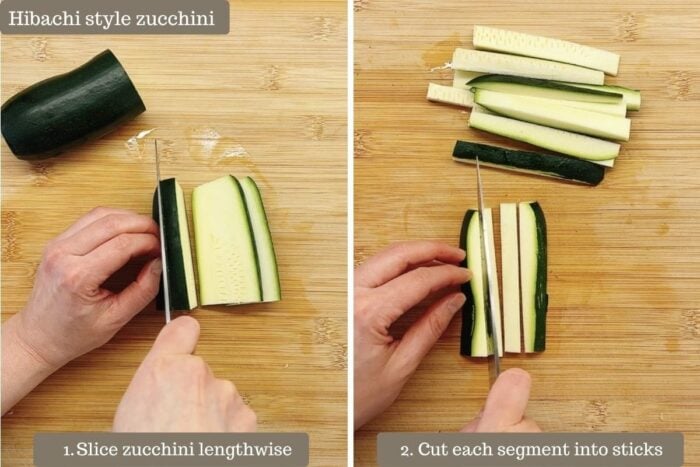 Zucchini: Cut zucchini for hibachi into even-sized matchsticks. Halve the zucchini along the width, slicing each half lengthwise to make 4 equal segments, and cut each quarter into sticks.
Carrots: Cut the carrots on a diagonal, making ¼-inch slices.
Broccoli and mushrooms: Half or quarter them depending on the size of the mushroom or floret. Remember that these will shrink during cooking.
Expert Cooking Tips
Large, hot pan: Make sure the pan is large enough so the veggies don't crowd and steam. High heat is crucial in Asian stir fries to get a nice, crisp texture in the vegetables.
Cook in layers: Add the veggies to the pan in layers according to cook time so you don't end up with watery mush. If adding bean sprouts, toss these in at the end.
Uniform veggies: The veggies should be uniform in size and shape to ensure they have the same cooking time and remain crisp. If you want to save time, you can use pre-cut vegetables.
Add butter: Adding a bit of butter at the end of cooking does so much for the texture and creaminess of the sauce. Don't skip it!
Variations
HIbachi is all about the flavor and crispy grilled texture, and this recipe really hits the mark! But one of the joys of a simple recipe is how easy it is to play around with the flavors. Here are some ideas:
Spice it up: Add some chili flakes and black pepper if you're craving some extra heat!
Add a protein: This is a classic steakhouse side and definitely pairs well with protein! Mix it up with chicken, steak, shrimp, or tofu.
Veggie swap: For more fiber, toss in any of your favorite vegetables. Bell peppers, bean sprouts, and water chestnuts are some of my favorite stir-fry add-ons!
Fresh lemon juice (optional): add a drizzle of lemon juice before serving for a pop of refreshing flavor!
Serving suggestions
These Japanese veggies are a perfect side for any Asian fusion meal! They pair perfectly with hibachi chicken or hibachi steak — keep an eye out for these and other hibachi recipes which will be posted soon!
I also really love these veggies with my bang bang sauce, which is really similar to the yum yum sauce that's often served with hibachi. Top them with these bean sprouts for some added Japanese flare!
Common FAQ
What are hibachi vegetables?
Hibachi or "Benihana vegetables" are Japanese grilled veggies in a rich, buttery sauce. They are often served with hibachi rice and proteins, like chicken or steak.
What is in hibachi vegetable sauce?
Recipes can differ, but generally, the base is soy sauce. I use coconut aminos here to keep it gluten-free and lower sodium.
What is the best hibachi cooking oil?
In a restaurant, they use vegetable oil. I prefer olive oil or avocado oil when cooking at home for health reasons. Sesame oil also works well for stir-frying due to a high smoke point.
Are hibachi vegetables vegan?
This is a vegan-friendly recipe. Just be sure to swap out the butter for a dairy-free alternative if you are strictly vegan.
Storage and make-ahead
Leftovers can be stored in an airtight container in the refrigerator for up to 3 days or in the freezer for up to 2 months. Reheat in a large skillet on high heat for 2 minutes or until vegetables are heated completely.
The teriyaki sauce and vegetables can be prepped ahead of time and kept in separate containers until it's time to cook and serve.
Related recipes
Want to kick your dish up a notch? Whip up some of my homemade keto teriyaki sauce to use in this recipe!
If you love these steakhouse veggies and my hibachi noodles recipe, be sure to keep an eye out for my hibachi shrimp and hibachi salmon, coming soon!
Umami Tips
Don't overcook the veggies: Stir fry the vegetables in layers and with high heat to make sure they stay crisp and delicious, not mushy!
Pair with protein: For a balanced meal, pair this classic Japanese steakhouse side with hibachi chicken, steak, or salmon.
Serve it hot: This dish is definitely best served hot! Reheat leftovers in a skillet for best results.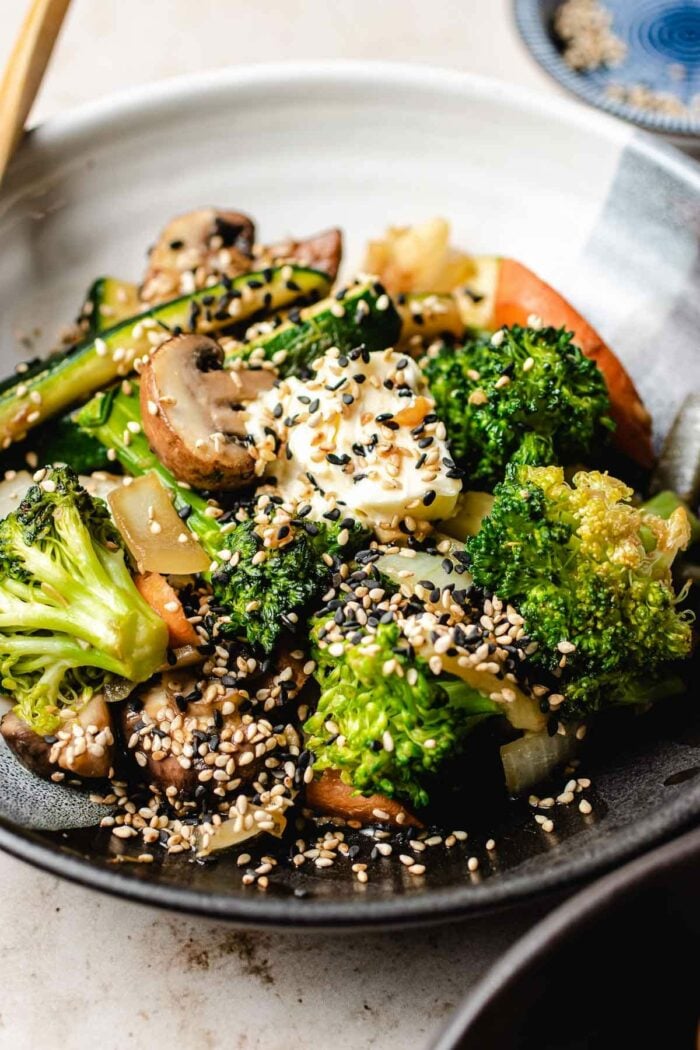 Hibachi vegetables recipe
Hibachi vegetables are a Japanese steakhouse staple bursting with buttery garlic flavor. Make this delicious teppanyaki veggies at home easily!
Print
Pin
Rate
Ingredients
1 oz garlic, finely minced, 5 large cloves
4.3 oz yellow onion, or sweet onion, peeled and sliced into rings
2.6 oz carrots, sliced on a diagonal into ¼ inch thick, 1 large
6 oz broccoli florets, halve or quarter them
5.3 oz baby bella mushrooms, halve, 7-8 pieces whole mushrooms
10 oz zucchini, slice into ½ inch matchsticks, 2 medium
2 tbsp olive oil, divided
2-3 pinches coarse sea salt
1 tsp Takii mushroom seasoning, optional
2 tbsp unsalted butter, plus a little more for serving
Instructions
To prepare:
Finely mince the garlic. For hibachi-style onions, peel the onion and trim the root ends. Turn the onion on its side and make three cuts to slice it into 4 equal rings, then cut each ring into 4 segments.

For the carrot, slice it on a diagonal into ¼ inch thick. For smaller broccoli florets, halve them. Larger florets, quarter them. Halve the mushrooms.

For hibachi style zucchini, trim the bottom ends. Slice the zucchini into half at width, then take each segment and slice it lengthwise into 4 equal-sized slices. Finally, cut each slice lengthwise into matchsticks.
To cook:
Preheat a large 12-inch saute pan over medium heat until it feels warm. Add 1 tbsp oil and garlic. Saute for 5 seconds.

Add carrots, broccoli, and a pinch of salt. Saute for 15 seconds. Cover the pan with a lid to allow the vegetables to cook for 1 minute.

Add the mushrooms, zucchini, 1 tbsp oil, and a pinch of salt. Turn heat up to medium-high and saute for 1 minute. Add the onions and mushroom seasonings (or a pinch of salt), and saute for 30 seconds.

Push the veggies to the side of the pan and add the butter and pour in the sauce. Saute for another minute. The sauce should turn a bit glossier and creamer because of the butter. Turn off the heat.
To serve:
Transfer the vegetables to a large serving plate and garnish with sesame seeds. Add a small slice of butter on top of the veggies to allow it to melt, if desired. Serve hot.
Notes
Pay attention to how to cut each vegetable differently for Hibachi use. (Cut each veggie into a uniform shape/size to maximize crisp texture.
Stir fry in LAYERS. Add the vegetables into the pan in layers because they have different cook times. Don't add all of them in at once.
Use a large (12-inch) saute pan at home to mimic the griddle (blackstone) in restaurants. (i.e. easier to allow the moisture to vapor on a larger flat cooking surface.
Add a touch of Takii shiitake mushroom seasoning for an extra flavor boost (used to replace msg in the shaker bottle)
In hibachi restaurants, the "salt" shaker the chefs use is a combination of salt, white pepper, and msg.
Nutrition
Serving: 1serving, Calories: 121kcal, Carbohydrates: 10g, Protein: 3g, Fat: 9g, Saturated Fat: 3g, Polyunsaturated Fat: 1g, Monounsaturated Fat: 4g, Trans Fat: 0.2g, Cholesterol: 10mg, Sodium: 200mg, Potassium: 414mg, Fiber: 2g, Sugar: 4g, Vitamin A: 2441IU, Vitamin C: 37mg, Calcium: 44mg, Iron: 1mg
Made a dish and love it? Please remember to rate the recipe and leave a comment in the comment section below! It helps my blog grow organically so I can continue sharing free and awesome content with you. Thank you!