Brisket Pho
This brisket pho is comfort and nourishment in a bowl!! Perfectly tender brisket in an aromatic and flavorful golden broth is ladled over rice noodles and topped with fresh herbs and vegetables in this classic Vietnamese beef pho soup.
Pho is a labor of love and can take all day to cook using traditional methods. I use an instant pot to make a perfect umami-rich beef broth in a quarter of the time. If you love this immune-boosting soup, check out my chicken pho soup with tomatoes and tomato beef soup too!
Why this will be your go-to recipe
There are few foods that feel as nourishing and healing as a delicious brisket in pho! Pho bo, or pho brisket in Vietnamese, SO delicious and comforting that this national dish of Vietnam is popular all around the world.
Good pho is all about the broth, and this recipe has everything you need to make the perfect broth in a quarter of the time. Here's why I know you'll love this pho with brisket recipe:
Light, golden, aromatic broth: I give you the tips you need to make a gold-standard pho broth in a fraction of the time using an instant pot.
Tender brisket: Thin-sliced, tendre brisket will melt in your mouth!
Flavorful, nourishing, and healthy: By char-grilling the aromatics for the bone broth and topping with fresh herbs and vegetables, this dish is packed full of flavor AND nutrition!
---
Ingredients and tools
Pho can feel daunting to cook because there are many ingredients. But this brisket pho recipe is easy to follow and delivers big on flavor! Here's what we'll need to get started:
Ingredients:
Beef and shitake: Dry shitake mushrooms, beef brisket, beef knuckle or shank soup bones
Herb combo: Ginger, whole star anise cloves, cinnamon sticks, cardamom pods, shallots, cilantro roots, coriander seeds or fennel seeds.
Other ingredients: Leek, yellow onion, carrots, sea salt, fish salt, five spice powder
Optional for serving: rice noodles, bean sprouts, chili peppers, mint leaves, bok choy, thai basil leaves, cilantro, spring onion, and lime wedges
Tools
Large disposable tea bags, cheesecloth, or spice bags
6-quart instant pot
A cast iron skillet
Ingredient substitutions
Alternative noodles: For low-carb or truly paleo beef pho, you can omit the noodles or swap out for zucchini or kelp noodles.
Cuts of beef: Add flank or beef shin for a steak and brisket pho, or try beef belly pho for a cheaper option or to make a more fatty brisket pho. You can also incorporate oxtail or beef ribs when making the broth.
Fish sauce substitutions: If you don't like fish sauce or can't find it in your grocery store, you can use soy sauce, tamari, vegan oyster sauce, or coconut aminos for that umami flavor in the broth.
Little spicy: Add some fresh chillies and a few rounds of black pepper to the soup before serving.
How to make the dish
Now that we've got our ingredients and tools together, let's walk through the process. Following these steps will give your beef brisket pho a clear golden broth bursting with flavor!
Before Cooking
Soak the dry shiitake mushrooms overnight
Pre-boil the marrow bones and brisket in a large stockpot
Pan-grill and lightly toast the herb combo ingredients
Wring out mushrooms and save the water
Instant Pot
Pressure cook to simmer the beef bones, brisket, herb combo, mushroom water, and other ingredients. Release pressure naturally.
Remove brisket and soak in cold water for 10 minutes
Serving
Prepare noodles if using. Season the beef pho broth.
Prepare the bowls, adding noodles, bean sprouts, chili peppers, mint leaves, baby bok choy, Thai basil, and cilantro.
Slice and add brisket, then ladle broth over the contents of the bowls
Tips for clear pho broth
Pre-boil the meat/raw bones is an important step in brisket meat pho. This helps to remove the blood and other small bone fragments/impurities, leaving a clear broth.
Variations
This Vietnamese brisket pho is perfection in a bowl, but like any good soup, it's so easy to modify to fit your tastes and dietary needs. Here are some ideas for switching it up!
Add a sauce: Make it traditional southern-style pho by adding my gluten-free hoisin sauce, or spice things up with this blue agave sriracha by Yellowbird.
Low carb: Skip the noodles altogether or use zucchini or kelp noodles to keep it low-carb.
Beef it up: Try a brisket and flank pho or beef rib pho, or add other cuts like oxtail and meatballs. Add beef belly for a fat brisket pho.
Make it sweeter: Add daikon and rock sugar for a sweeter broth.
---
Serving suggestions
Well done brisket pho is traditionally served over rice noodles as a standalone dish.
Garnishes for traditional pho vary from north and south, but some of my favorites are bean sprouts, red or green Fresno chili peppers, mint leaves, baby bok choy, scallions, and lime wedges.
For sauces, I really love adding my gluten-free hoisin sauce or garlic chili sauce!
To round out a full Vietnamese-inspired meal, try serving this dish with my mung bean sprouts salad, rice paper dumplings, and Vietnamese pizza!
FAQs
Is Pho healthy?
A great source of protein, pho has bone broth for gut and joint health, ginger and spices to reduce inflammation, and nutrient-rich herbs and vegetables.
What is beef brisket in pho?
Pho is a Vietnamese broth served with beef, chicken, or vegetables. Using brisket for pho makes a lower fat content than some cuts. Lean brisket pho is a very popular soup in Vietnam. It is simmered for hours to extract maximum beef essence into the broth.
What beef is best for pho soup?
A combination of beef brisket and marrow/knuckle bones is best for pho soup. The brisket provides deep beef flavor and tender meat. Marrow and knuckle bones give body, richness, and clarity to the broth when charred and simmered for hours. This bone-brisket balance makes the signature beefy, aromatic pho broth.
Is brisket or steak pho better?
Brisket and flank steak each shine in pho. Brisket lends deep beef flavor, tender texture, and fat to the broth. Flank steak's leanness provides hearty, beefy slices. Brisket pho highlights the refined broth while flank steak beef pho offers more chew. Blending both creates an aromatic broth with complex flavors and varied textures in each mouthful. The two meats perfectly balance each other in pho.
Is brisket pho cooked?
Yes, brisket pho is cooked. The brisket is simmered for 2-3 hours until fork tender to extract flavor into the broth. After cooking, the brisket is soaked in cold water and then sliced thinly against the grain. These brisket slices are added raw to the piping hot pho broth when served, which cooks them to a perfect medium-rare texture. The hot broth gently cooks the raw brisket slices without toughening them.
Do you need fish sauce for pho?
Fish sauce will give the pho a hint of salty, fishy flavor. It's authentic. But if you don't like the flavor, you can substitute it with soy sauce, tamari, coconut aminos, or oyster sauce.
Storage and make-ahead
Pho is best enjoyed fresh! If storing in the fridge, keep the broth, beef, toppings, and noodles in separate containers for up to 5 days. Cooked rice noodles can be tossed in a neutral-tasting oil and stored for about a day.
The broth can be prepared ahead of time and kept refrigerated for 5 days or frozen for up to 3 months. For extra clear broth, remove the fat that hardens on top when it's in the fridge.
Umami Tips
Beef cuts: Use a combination of brisket and beef bones (marrow, knuckle) for maximum flavor.
Pre-boil the meat/raw bones is an important step in brisket meat pho. This helps to remove the blood and other small bone fragments/impurities, leaving a clear broth.
Char aromatics like onion and ginger to add subtle smokiness to the broth.
Use a spice bag: Add whole spices like cinnamon, star anise, and coriander in a bag for easy removal.
Simmer the broth for 2-3 hours minimum or pressure cook for 40 minutes to fully extract flavors from brisket and bones.
Soak the cooked brisket in cold water for at least 10 minutes to prevent it from turning dark color and drying out.
Slice brisket against the grain for tenderness.
Faster: Use Instant Pot or pressure cooker to reduce cook time to 40 mins-1 hour.
Paring: Cook rice noodles just before serving to avoid overcooking.
Serving: Keep fresh garnishes like herbs, sprouts, and chili peppers on the side to add as desired.
Serve hot: Enjoy pho immediately while the brisket is tender and broth hot.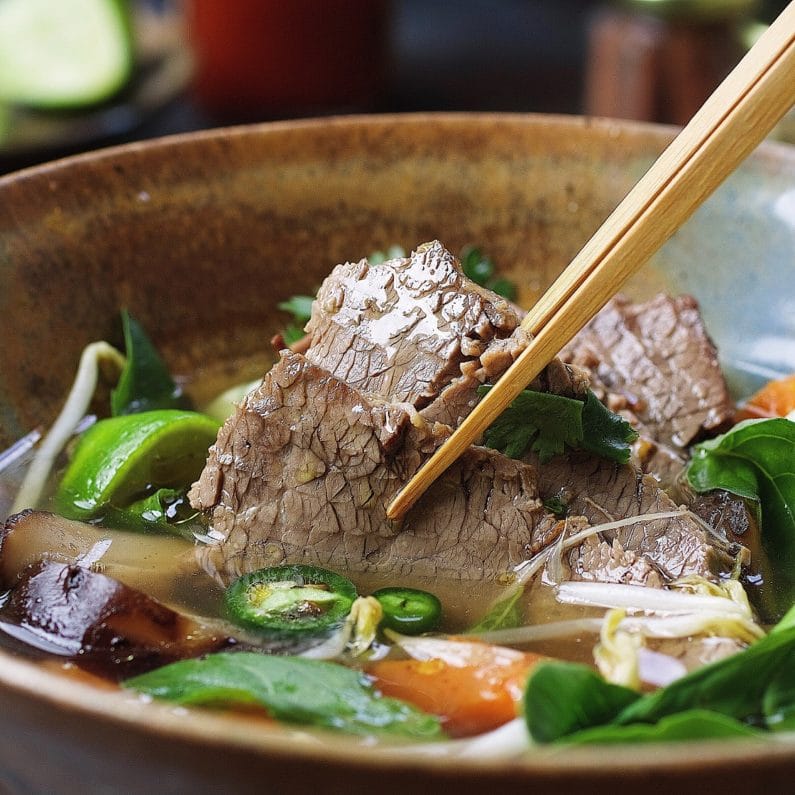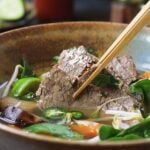 Brisket Pho recipe
Beef Brisket pho recipe made easy at home with Instant Pot. With fresh herbs, tender brisket, and flavorful pho broth, takes only 40 minutes to cook!
Print
Pin
Rate
Ingredients
For the beef and shiitake:
1 ¼ cups dry shiitake mushrooms, rehydrate overnight in room temperature water
1.75 – 2 lbs. Beef brisket
1-1.25 lbs beef shank soup bones, beef knuckle bones, or a combination
Herb combo:
2 fat thumb-size ginger, scrub clean, no need to peel
4 pieces star anise
2 whole cinnamon sticks
8 pod green cardamom
3 whole shallots, medium-size
4-5 cilantro roots, or 1 ½ tsp coriander seeds
Other:
1 large whole leek, roughly diced into segments
1 medium yellow onion, peeled but not sliced, leave it as a whole
3 loose carrots, roughly chopped
2 ½ tsp coarse sea salt, or to taste
1 tbsp fish sauce, or to taste
1 tsp five spice powder, optional
Serving (pick-and-choose):
16 oz. rice noodles, optional
Bean sprouts
Red or green Fresno chili peppers
Mint leaves
Baby bok choy, quartered or diced
Thai basil, optional
Cilantro, optional
Lime wedges
Tools:
Spice bags, or cheesecloth
6 quart instant pot
A cast iron skillet
Instructions
Before cooking:
Soak the dry shiitake mushrooms overnight in room-temperature water. If rush on time, soak in warm water until the mushrooms are soft and tender.

Pre-boil the bones and brisket: add the bones and brisket to a large stockpot and cover with water. Bring the water to a boil over high heat, then reduce to medium and simmer for 10 more minutes. Rinse the bones and meat over room temperature tap water. Set aside. Discard the broth.

Pan-grill the ingredients under "herb combo" in cast iron over medium heat with no oil added. Rotate and flip the ingredients frequently until you can smell a nice aroma. Take care not to burn the ingredients. A little charred outer surface is okay but not burnt.

Squeeze the mushroom to wring out the liquid, slice them, and save the mushroom water. Add the aroma combo and leeks to large tea bags.
Instant Pot:
In a 6-quart instant pot, add beef bones, brisket (with the fatty side up), mushroom, onion, carrots, and the herb combo in the tea bags. Strain the mushroom water through a sieve as you add the liquid to the pot. Fill the pot with more tap water until it reaches the 4-liter mark. Close the lid in the Sealing position – Press Soup – Adjust to 40 minutes/High pressure/More.

Allow the instant pot to come to natural pressure release (valve dropped), and discard the tea bags.

Carefully remove the brisket and soak it in cold water for at least 10 minutes. This will prevent the meat from turning a dark color. Discard the bones and the onion. Season the broth with salt, fish sauce, and five-spice powder, if using.
To serve:
If served with rice noodles, follow the package instructions to boil the noodles in a separate pot.

Prepare 4 large soup bowls. Add noodles, bean sprouts, chili peppers, mint leaves, baby bok choy, Thai basil, and cilantro to the bowls.

Thin slice the brisket at a 45-degree angle against the grain and add them to the bowls. Ladle the broth over each bowl. Serve hot with lime wedges on the side.
Notes
The ingredient measurements and cooking time are written for a 6-quart instant pot. If your instant pot size is smaller than 6-quart, please reduce the beef bone and brisket quantity by a ¼ to ½ lb less. Please make sure not to overfill the soup pot. Leave some space to allow liquid to come to a boiling state without spilling over.
For a smaller size instant pot (smaller than 6-quart), adjust the quantity to 1 cup dry shiitake mushrooms, and 2 loose carrots, and season the broth with 1 ½ tsp coarse sea salt or to taste.
Pre-boil the meat/raw bones is an important step to produce a clear pho broth. The boiling process will remove the blood and other small bone fragments/impurities.
Use large tea bags to hold the aroma combo and leeks. It's easier to discard them after cooking. If using cheesecloth tied with a string, be sure the cloth is not too thick so that the aroma flavor can come through.
If you follow the steps above, there's no need to strain the broth after cooking. The broth should be clear (not muddy) and in beautiful golden brown color.
The popular condiments for pho are sriracha sauce and hoisin sauce. You can serve these sauces on the side. Personally, I prefer enjoying my pho without these condiments so that I can taste the original flavor of the delicious broth.
Nutrition
Serving: 257g, Calories: 375kcal, Carbohydrates: 15g, Protein: 30g, Fat: 22g, Saturated Fat: 3g, Polyunsaturated Fat: 0.4g, Monounsaturated Fat: 5g, Cholesterol: 82mg, Sodium: 1336mg, Potassium: 748mg, Fiber: 3g, Sugar: 3g, Vitamin A: 5381IU, Vitamin C: 6mg, Calcium: 55mg, Iron: 5mg