Paleo Beef Brisket Pho
Paleo Beef Brisket Pho: Paleo beef pho instant pot recipe with tender brisket in light and aromatic broth. Perfect light supper that everyone in the family can enjoy !
Have you had Paleo Beef Brisket Pho ? Click Play to see how you too can make this famous Vietnamese dish at the comfort of your home !
Paleo Beef Brisket Pho & Lucy's Kitchen
I first visited Lucy's shortly after we moved to Brooklyn.
According to Lucy's granddaughter (the owner), the Pho recipe comes from her grandmother, and is made with shiitake mushrooms and simmered hours over a stovetop with tender beef brisket.
The broth is a light, aromatic, and has a gorgeous golden color. I was hooked after one sip.
And this recipe is inspired by Lucy's. It's Paleo, Whole30, and Keto friendly.
Secret to a gorgeous & clear pho broth
Similar to my Chinese chicken and sparerib soup, if you pre-boil the raw bone and meat and rinse them in room temperature water before placing them into soup stew, it will produce a much cleaner and gorgeous broth.
The pre-boiling step removes the blood and small bone fragments that come with butchering, and which dilute the broth.
Watch the video demo above and follow the recipe instructions below. You'll learn how to make a clean and gorgeous golden colored Pho broth like a pro.
Pho Aroma Combo + Dry Shiitake Mushrooms
The pho aroma combo is what makes Pho taste unique than regular bone or chicken stock.
Here I grill my pho aroma combo over a cast iron skillet with no oil added to release the aroma. I like how cast iron produces even and steady heat that brings out the best aroma. You can also use the sauté function in an instant pot with no oil added. Flip the ingredients constantly until you smell the amazing pho aroma.
I used dry shiitake mushrooms as opposed to fresh ones. The dry shiitake mushrooms have way more concentrated umami flavor that's perfect for soup stock. Just rehydrate them in a large bowl of room temperature water overnight until they are soft and tender. Save the mushroom broth for stock.
If you aren't familiar with how to use and select dry shiitake mushrooms, you can watch my YouTube video here for more info.
Time to Enjoy Paleo Beef Brisket Pho !
Feel free to add veggie noodles to my Paleo beef brisket pho for a low carb option. For my husband and I, we love sipping the light and aromatic broth and sinking our teeth into thin sliced brisket with herbs, bean sprouts, and drizzled with lime juice.
Think of it as a light yet slightly hearty beef brisket soup broth. I bet there are many wonderful pairings you can use.
So my dear readers, I hope you'll save this recipe, try it, and bring it to the next level to make whatever you fancy.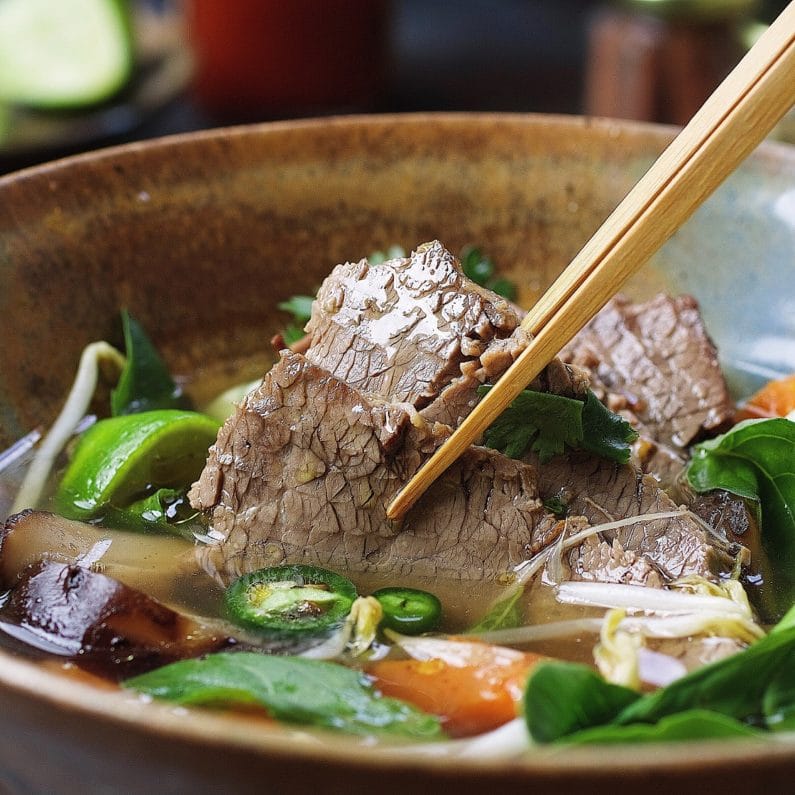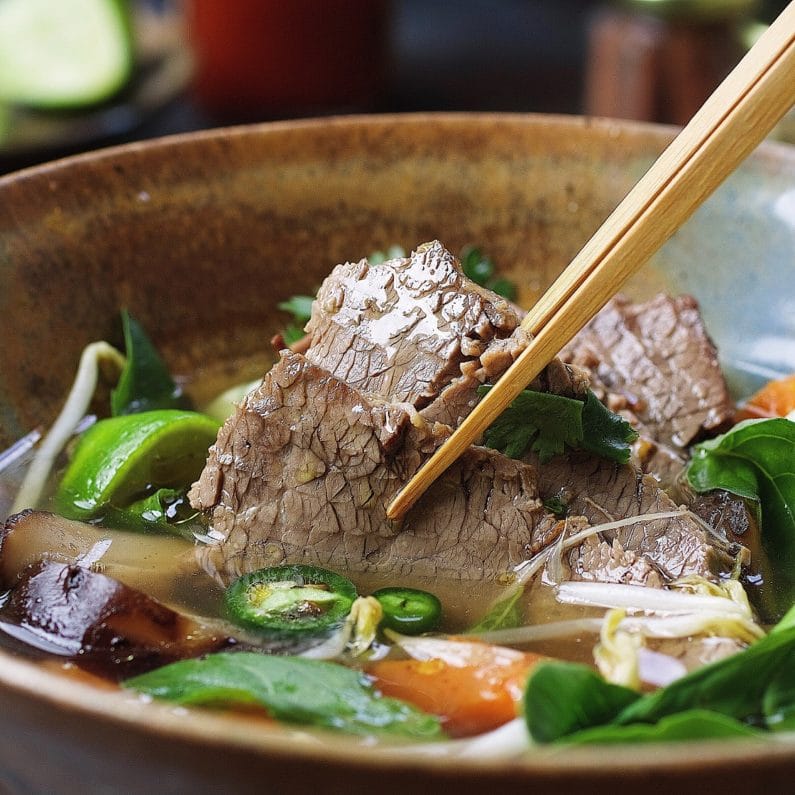 Paleo Beef Brisket Pho (An Instant Pot Recipe)
The following ingredient measurements and cooking time are for a 6-quart size instant pot (electric pressure cooker). If your instant pot size is smaller than 6-quart, please reduce the beef bone and brisket quantity by a ¼ to ½ lb less. Please make sure not to overfill the soup pot. Leave some space to allow liquid come to a boiling state without spilling over.
Print
Pin
Rate
Ingredients
1.75 - 2 lbs Beef brisket
1-1.25 lbs beef shank soup bones, , beef knuckle bones, or a combination
1 ¼ cups dry shiitake mushrooms*, (rehydrate overnight in room temperature water)
3 loose carrots, , roughly chopped*
1 medium size yellow onion, , peeled but not sliced (leave it as a whole)
1 large size leek, , roughly diced into segments
Water
2 ½ tsp fine sea salt*
1 tbsp Red Boat fish sauce
1 tsp five spice powder, (optional)
Tea bags or cheese cloth
Pho Aroma Combo:
2 fat thumb size ginger, (scrub clean, no need to peel)
4 star anise
2 cinnamon sticks
8 green cardamom
3 medium size shallots
4-5 cilantro roots, (alt. 1 ½ tsp coriander seeds)
Garnish:
Lime wedges
Baby bok choy
Bean sprouts
Red or green fresno chili peppers
Mint leaves
Asian/Thai basil, (optional)
Cilantro, (optional)
Hot chili pepper sauce, (optional)
Instructions
Pre-Cooking:
Pre-boil the bones and brisket: add the bones and brisket to a large stockpot and cover with water. Bring the water to boil over high heat, then reduce to medium and simmer for 10 more minutes. Rinse the bones and meat over room temperature tap water.* Set aside. Discard the broth.

Grill the ingredients under "Pho Aroma Combo" in a cast iron over medium heat. No oil added. Rotate and flip the ingredients frequently until you can smell a nice and lovely fragrant. Be careful not to burn the aroma combo. Slightly charred outer surface is okay but not burnt.

Slice the mushrooms. Save the mushroom water. Roughly dice leek. Add aroma combo and leeks to large tea bags or cheesecloth tied with a string.*
Instant Pot Cooking:
In a 6-quart size instant pot, add beef bones, brisket (fatty side up)*, slicedd shiitake, diced carrots, aroma combo, onion, and leeks (in tea bags). Strain the mushroom water as you add the liquid to the pot. Fill the pot with more tap water until it reaches the 4 liter mark. Close the lid in Sealing position - Press Soup - Adjust to 40 minutes/High pressure/More.

Allow the instant pot come to natural pressure release (valve dropped), discard the whole onion and aroma combo in tea bags.

Remove the brisket and soak it in cold water for at least 10 minutes. This will prevent the meat from turning dark color. Discard aroma & leek tea bags, yellow onion, and beef bones. Season the broth with 2 ½ tsp fine sea salt, 1 tbsp fish sauce, and 1 tsp five spice powder (optional).

Thin slice the brisket in 45 degree angle and against the grain. Ladle the broth over bean sprouts, carrots, mushrooms, mint leaves, Asian basil, chili peppers, and sliced brisket. Serve hot with lime wedges.
Notes
* For smaller size instant pot (smaller than 6-quart), adjust the quantity to 1 cup dry shiitake mushrooms, 2 loose carrots, and season the broth with 1 ½ tsp fine sea salt. Taste and see if more salt is needed.   * Pre-boil the meat/raw bones is an important step to produce a clear pho broth. The boiling process will remove the blood and other small bone fragments/impurities.   * Use tea bags to hold the aroma combo and leeks. It's easier to discard them after cooking. If use cheesecloth tied with a string, be sure the cloth is not too thick so that the aroma flavor can come through.   *Please be sure to submerge the entire brisket in liquid/water. * If follow the steps above correctly, there's no need to strain the broth after cooking. However, you may choose to do so if desired.
Nutrition
Serving: 257g, Calories: 348kcal, Carbohydrates: 34g, Protein: 42g, Fat: 7.1g, Saturated Fat: 2.6g, Trans Fat: 0.3g, Cholesterol: 113mg, Sodium: 675mg, Fiber: 6g, Sugar: 3g, Vitamin A: 3350IU, Vitamin C: 7.4mg, Calcium: 50mg, Iron: 5mg