Vietnamese Pho-Inspired Tomato Beef Soup
A simple and delicious Vietnamese Pho-Inspired Tomato Beef Soup that's perfect for colder months. Check out how to make this quick and simple Pho to keep your tummy happy and healthy !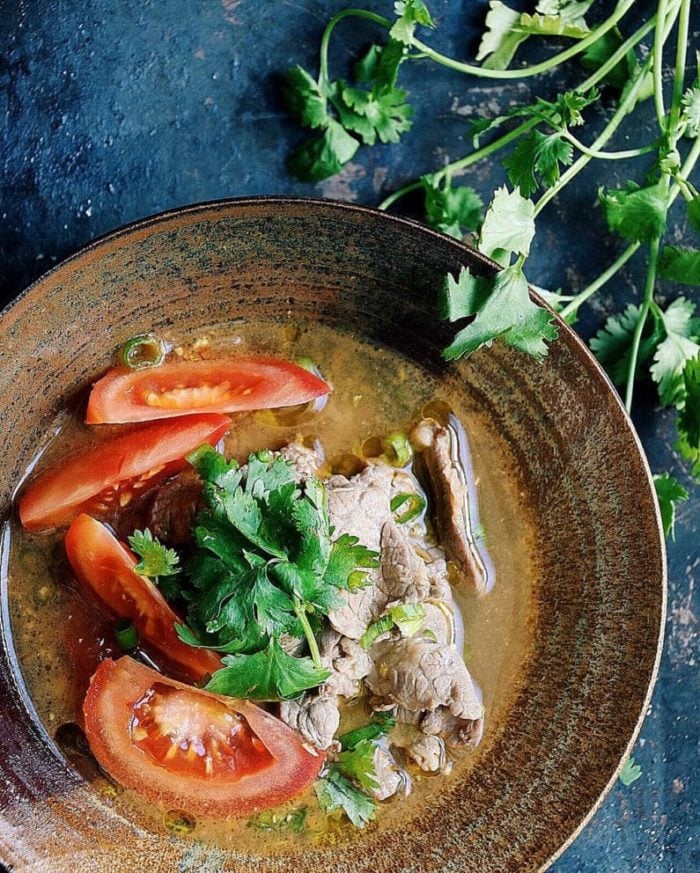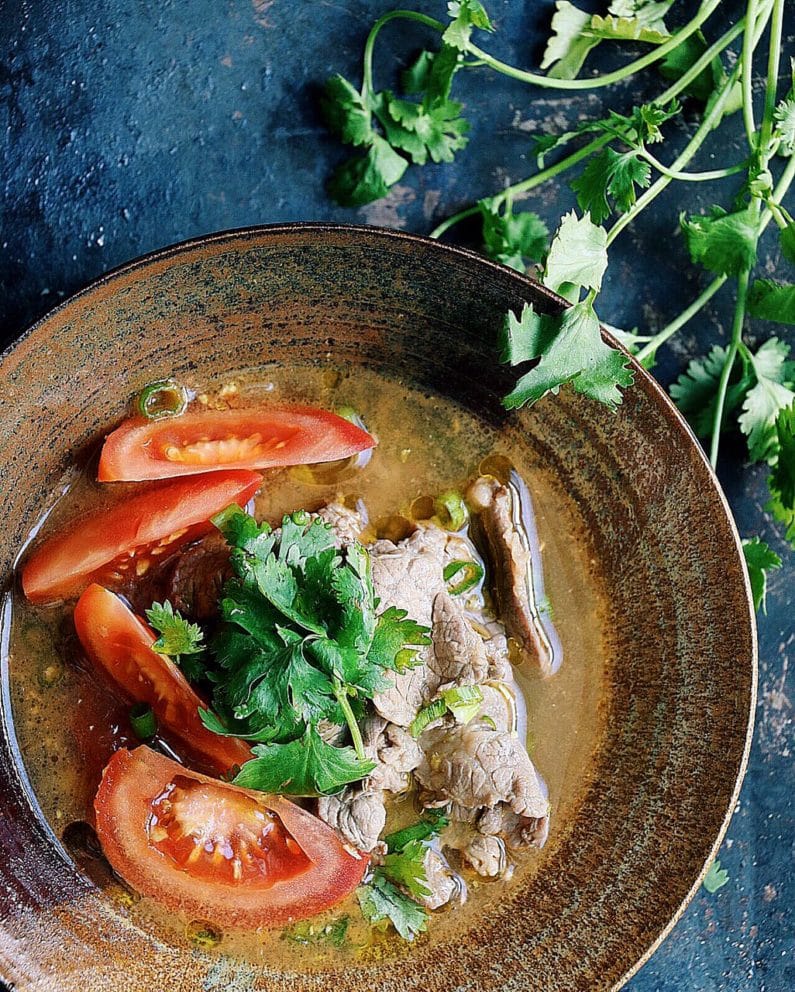 Vietnamese Pho-Inspired Tomato Beef Soup
I am a soup girl. And my love affair with soup began early on…I mean really early on.
Accordingly to my mom, before I even was born, I was the happiest baby when I drank Chinese egg drop soup, chicken bone broth, or Vietnamese Pho with tender beef brisket. Ha ! not bad for an unborn baby's taste buds. 🙂 And my soup tastes haven't changed a bit even after several decades…
Perfect fall and winter comfort food – Tomato Beef Soup
There are a few reasons why I love a good bowl of Tomato beef soup.
It's nutritious (the broth is nutritional and very good for your skin, ladies).
It tastes good.
It reminds me of my favorite Vietnamese pho restaurant in Bushwick, NY but my version is much quicker and easier to put together.
Imagine a bowl of savory yet slightly citrus broth that warms up your body and smooths your tummy on a cold winter evening.
Tips on making Pho-Inspired Tomato Beef Soup
The trick to make the tomato beef soup tasty besides building a basic aromatic base is that you need to thin slice the beef to paper thin. I mean really really thin – think thinner than sashimi and slightly thicker than shaved beef.
This tomato beef soup is perfect for an early fall light supper. You can pair it with mashed carrots or baked sweet potato and yam for an even heartier meal.
And if you'd like to incorporate this soup into your weekly meal prep, I discuss further tips in my cooking video above.  If you give this Whole30 Breakfast Sandwiches a try, let me know ! Leave a comment and rate the recipe. And don't forget to take a picture and tag it #IHeartUmami on Instagram. I'd love to see what you come up with. XOXO !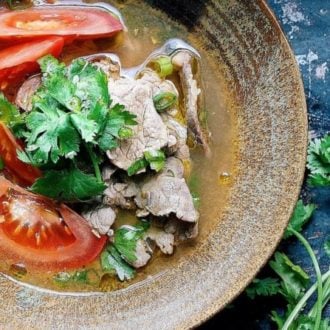 Vietnamese Pho-Inspired Tomato Beef Soup (Paleo, Whole30, Keto)
Simple and super delicious Paleo Vietnamese Pho-Inspired Tomato Beef Soup. This Easy Pho Recipe is quick, Paleo, Whole30, Keto, and Gluten-Free. It'll keep you warm throughout colder months!
Print
Pin
Rate
Ingredients
¾ to 1 lb beef sirloin, chill in the freezer for 20-30 mins then slice into paper thin
Cooking fat of your choice
Beef seasonings (after sliced to paper thin):
Aromatics (A):
3 large cloves garlic, finely chopped
3 tsp fresh ginger, finely chopped
2-3 bulbs scallions, chopped (use white parts for sauteing, green parts for garnishing before serving)
Aromatics (B):
Half one whole lime zest
Half one whole lemon zest
Before serving:
Cilantro for garnishing, optional
half one whole lime juice
Instructions
Beef:
Thin slice the beef to paper thin and marinade the beef with ingredients under "beef marinade". Mix well and set aside in the fridge until ready to use. You can also chill the steak in the freezer once it's more firm it'll be easier to slice.
Soup base:
Heat 1 1/2 tbsp avocado oil in a wok/medium size soup pot. When hot, lower the heat to medium. Stir-fry "Aromatics (A)" group. Season with a small pinch of salt. Saute until fragrant about 1 ½ mins.

Add ingredients under "broth". Cover the pot with a lid. Bring the broth to boil then lower the heat and simmer for about 5 mins.
Before serving:
Just before serving, bring the soup to hot simmering again. Add thin sliced beef and simmer for about 15-30 seconds or until the beef slices turn slightly pink but not cooked through. Turn off the heat. Add ingredients under "Aromatics (B)".

Taste and see if more lime juice is needed. If your palate prefers stronger flavor, add another ½ tbsp coconut amino or salt. Garnish with cilantro (optional) and green parts of scallion. Serve hot and immediately.
Nutrition
Serving: 109g, Calories: 169kcal, Carbohydrates: 3g, Protein: 16g, Fat: 10g, Saturated Fat: 3.6g, Cholesterol: 54mg, Sodium: 199mg, Sugar: 1g, Vitamin A: 100IU, Vitamin C: 11.6mg, Calcium: 30mg, Iron: 1.4mg
More Vietnamese-Inspired Recipes!