Ginger Chicken With Summer Squash
Easy Ginger Chicken Stir-Fry Recipe with summer squash, tossed in an irresistibly delicious sweet and tangy rice vinegar and ginger garlic sauce. This dish is super simple and I promise you'll like it more than the restaurant version!
This post is sponsored by Mizkan™. I've been using their rice vinegar and condiments for years and I'm so happy to share the brand I love with you today.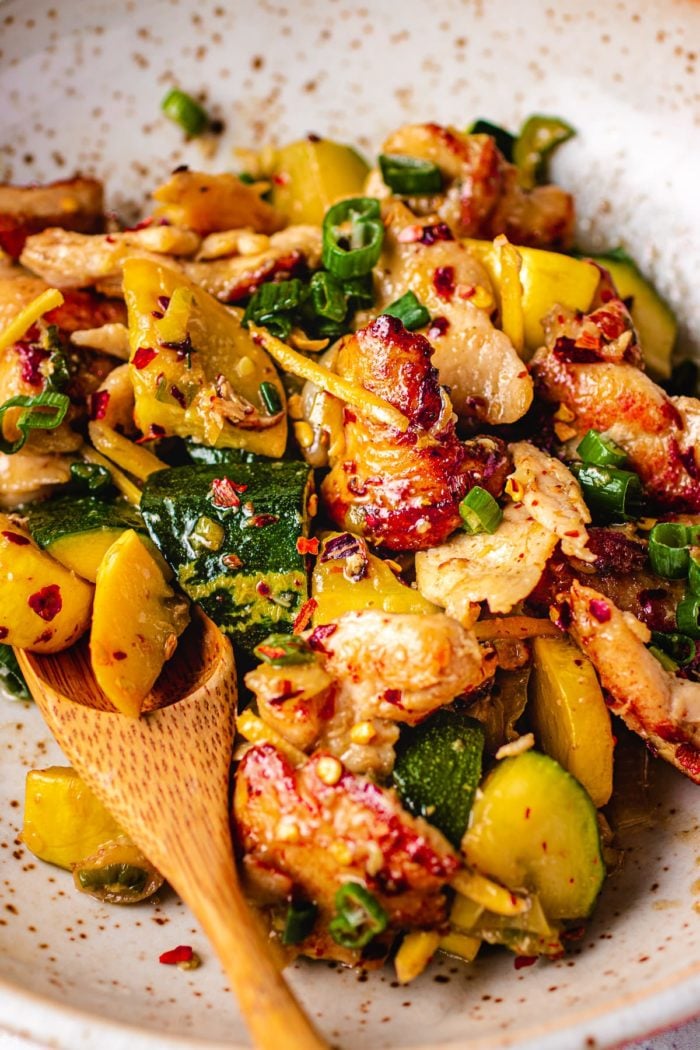 This healthy ginger chicken dish is seriously a no fuss dish. If you have chicken, zucchini and/or yellow squash, ginger, rice vinegar, and coconut aminos or gluten-free soy sauce, you are good to go! It's the perfect one skillet meal, balanced with protein and vegetables, and with just a handful of ingredients you just can't beat how good the flavor turns out – thanks to my secret sauce combo, using Mizkan's Organic Rice Vinegar.
For over two centuries, Mizkan has been helping chefs and families around the world delight in The Flavor of Japan. Now the taste is at your table – helping you create deliciously authentic meals that your whole family will love – from Japan's #1 rice vinegar and Ponzu brand**.
Mizkan sauces and vinegars are crafted with care by a family-owned company with eight generations of vinegar-brewing expertise. It's part art and part science; the brewers of Mizkan have spent their careers crafting our rice vinegar, perfecting every drop from start to finish. Using only the finest ingredients, each of our vinegars is brewed according to traditional practices, creating a clean flavor that is mild and mellow.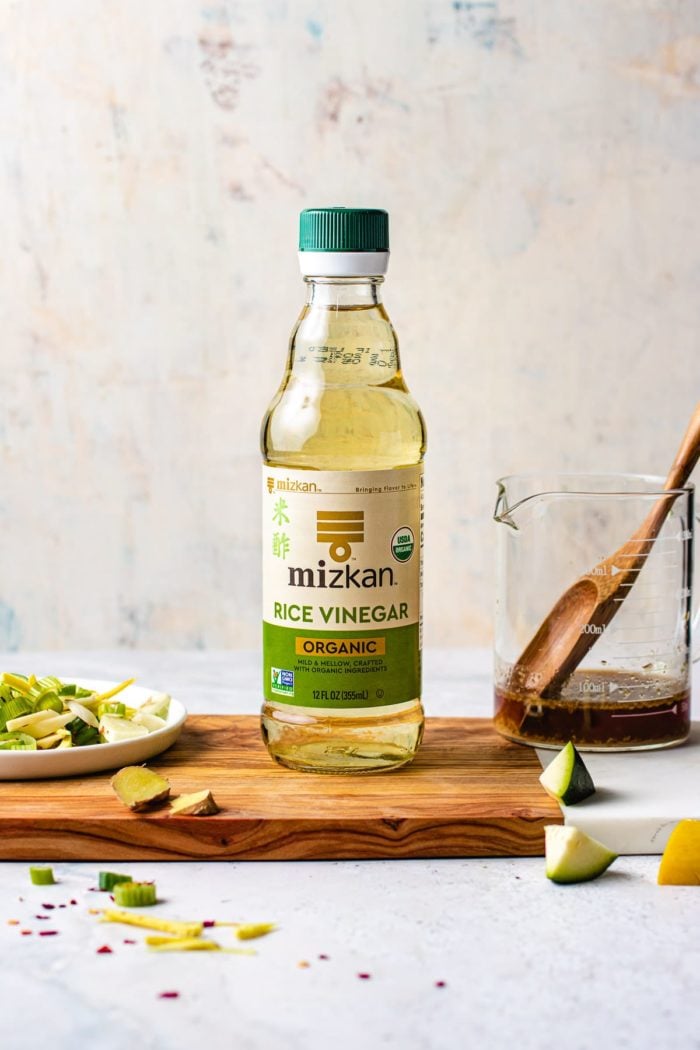 Why I love this recipe so much –
This ginger chicken recipe is straightforward. Not complicated. And use accessible ingredients – chicken, zucchini, ginger, and rice vinegar.
Perfect for meal planning. One skillet meal, balanced with protein & vegetables!
It's flexible – pair it with steamed rice, low carb fried rice, gluten-free spaghetti noodles, zoodles, or sweet potatoes.
The umami flavor you love – naturally sweet and tangy flavor from Mizkan's Organic Rice Vinegar + fresh grated ginger and garlic flavor = Umami YUM!
Mizkan premium Japanese condiments are the secret ingredient to help you easily create authentic Japanese recipes and flavors at home.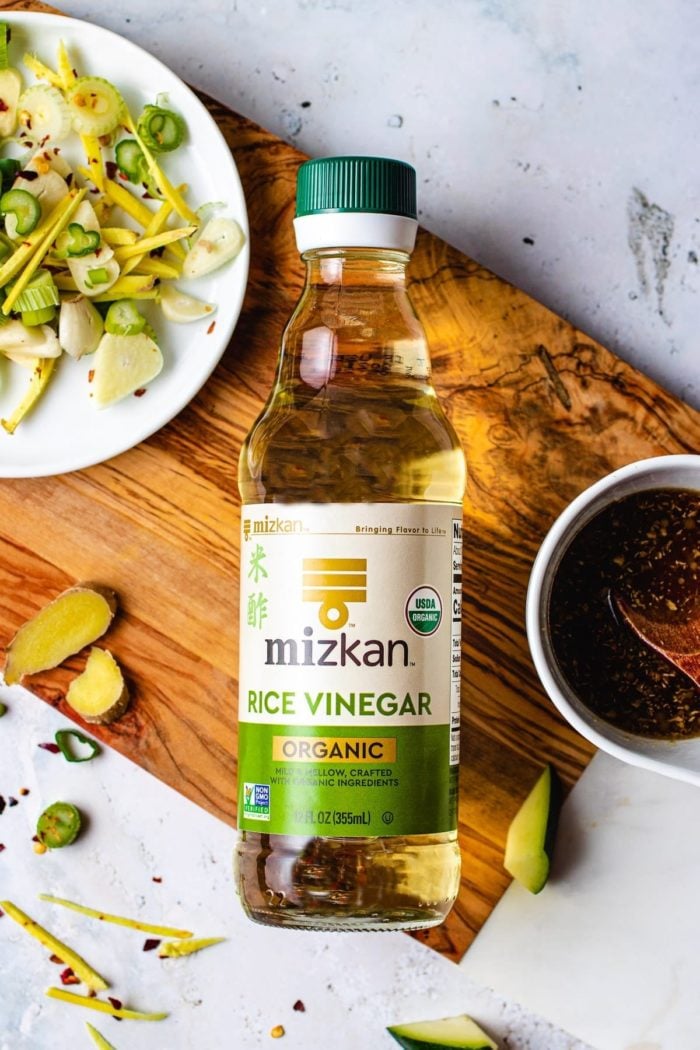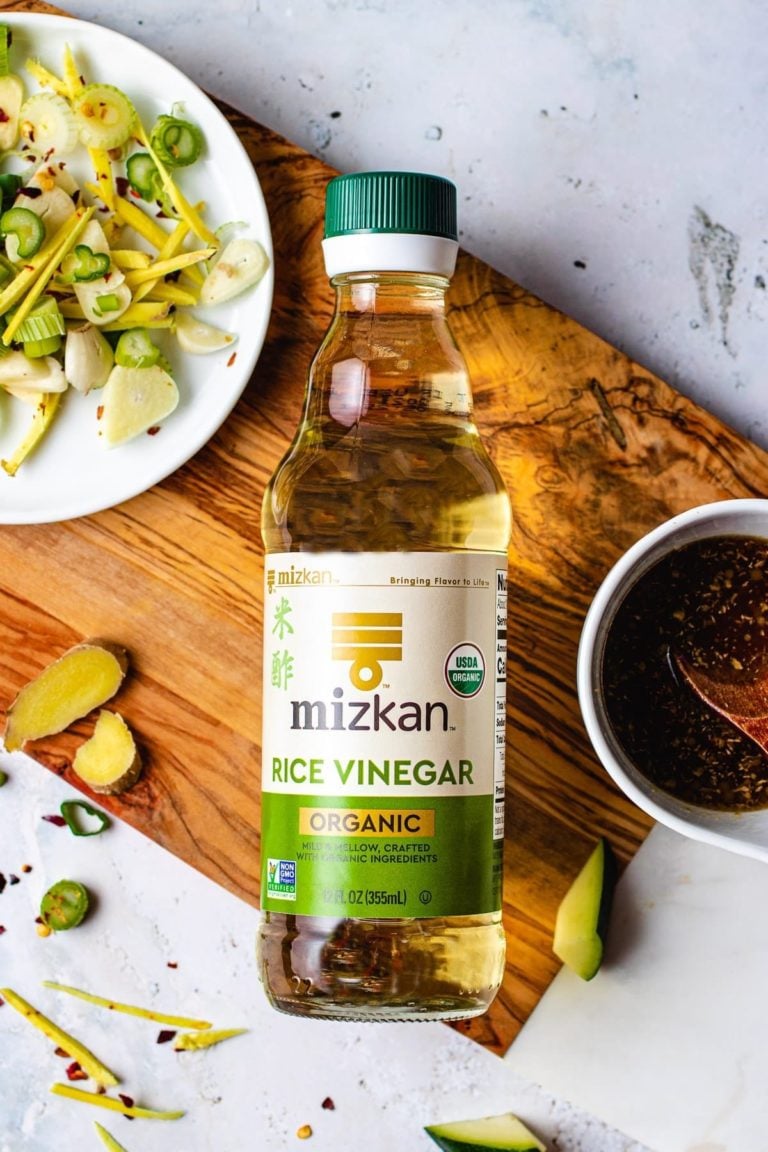 The Mizkan Organic Natural Rice Vinegar used in the ginger chicken recipe is genuinely crafted with real, certified organic ingredients, Mizkan's Natural Organic Rice Vinegar is the perfect accent to any dish. Use it for sushi, marinades, salad dressings or wherever else your creativity takes you.
Why use chicken breast AND how to make it juicy tender?
I use chicken breast in my ginger chicken because it's perfect for quick stir-frying. Chicken thighs will be more suitable for stew.
Thinly slice the chicken breast – picture sashimi thin slices – and season with salt, pepper, olive oil, arrowroot or tapioca starch, and little baking soda. The starch helps sear the moisture inside and the baking soda helps tenderize the meat so don't skip them!
Do you need a wok to make ginger chicken?
No you don't. I have a wok at home. However, you can absolutely make this ginger and chicken stir-fry in a large stainless steel or cast iron skillet or even a large 6 qt. Dutch oven.
The key point is to get your skillet real hot before you add the chicken. Check out a Youtube video I made on how to stir-fry beef. The same technique applies to stir-fry chicken.
How to make Ginger Chicken
Thinly slice the chicken breasts and season them.
Prepare the squash and aromatics.
Mix the sauce in a bowl.
Pan fry the chicken until golden and almost cooked through. Set aside.
Sauté the aromatics squash until they turn softer.
Add the chicken and sauce. Toss to combine.
What to serve with Ginger Chicken?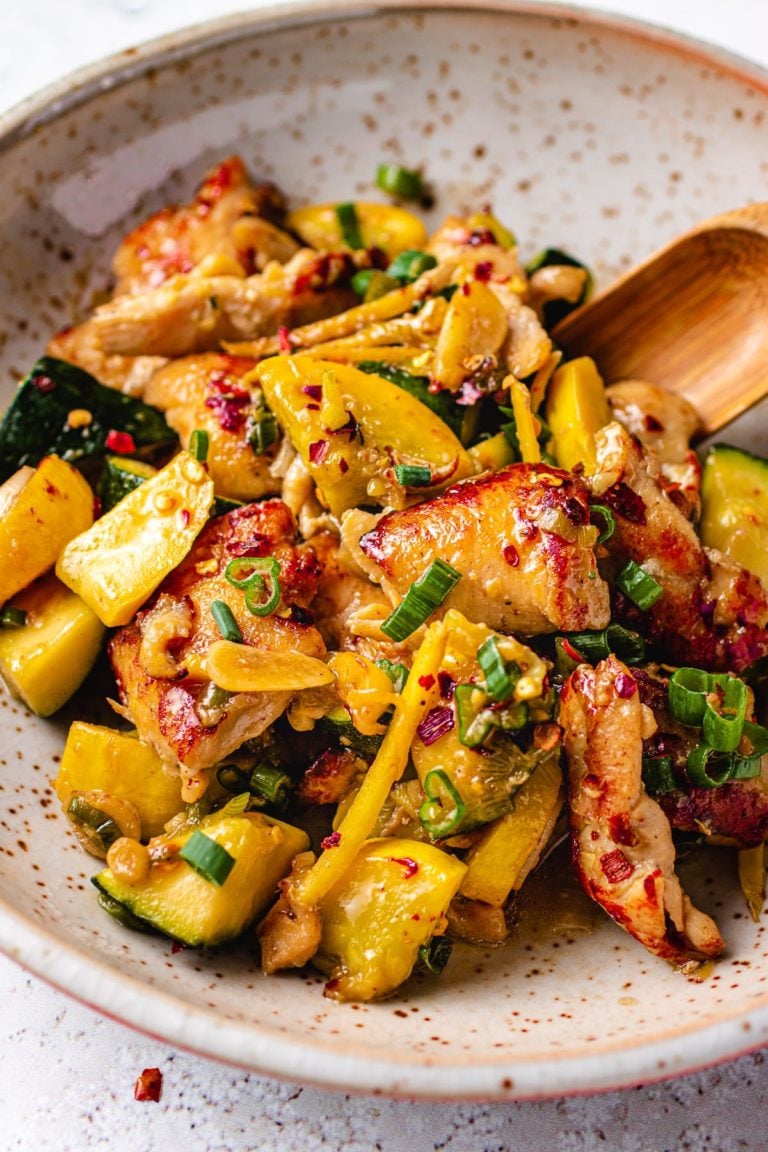 More Healthy Chinese Chicken Recipes –
This homemade ginger chicken is a great alternative to takeout. The sweet and tangy flavor from Mizkan's Organic Rice Vinegar sauce pairs perfectly with the juicy chicken and crunchy vegetables. The flavor is truly excellent. Everyone in the family will be asking for this dish all the time!
This is a sponsored post written by me on behalf of Mizkan™ Rice Vinegars and Sauces, available nationwide at Walmart and select retailers. Follow Mizkan on Facebook, Instagram, Twitter, and Pinterest.
* Source: INTAGE SRI. Rice Vinegar Accumulated Sales Revenue 2015 to 2019
**Source: INTAGE SRI. Ponzu. Sales Revenue Share. 52 Weeks Ending 12/29/2019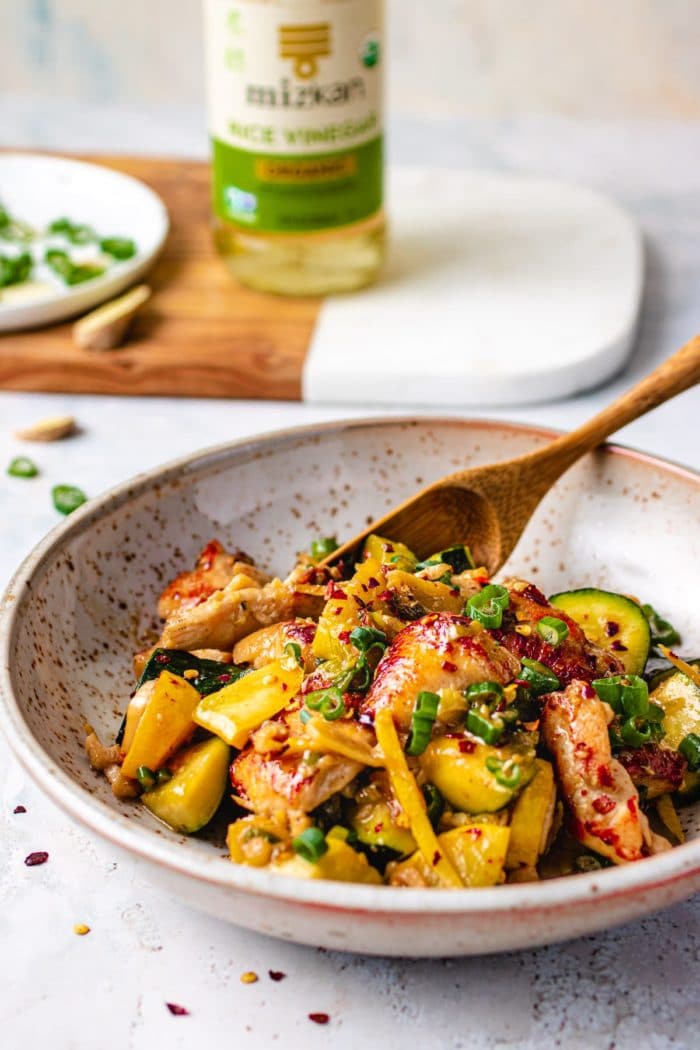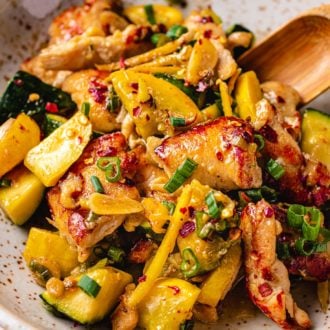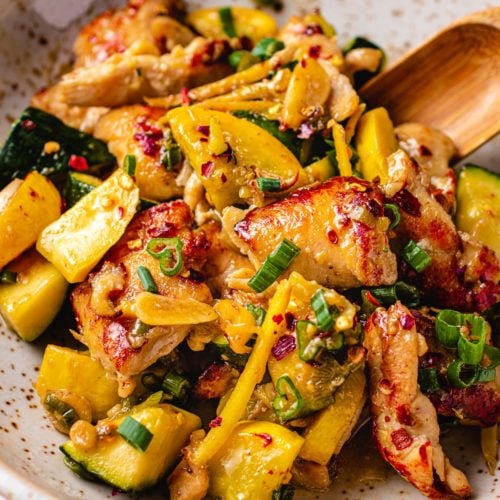 Ginger Chicken Stir-Fry with Summer Squash (Paleo, Whole30, Low Carb)
Ginger Chicken recipe stir-fried with summer squash is a healthy Chinese chicken recipe with a sweet tangy sauce. It's paleo, low carb, and gluten-free!
Print
Pin
Rate
Ingredients
For the chicken:
1 ¼ to 1 ½ lbs. chicken breast
1 tbsp coconut aminos, or gluten-free soy sauce
⅛ tsp black pepper
¼ tsp coarse sea salt
2 tbsp olive oil
1.5 tsp arrowroot starch
0.5 tsp baking soda
7 oz. zucchini, about 1 medium-large size
7 oz. yellow squash, about 1 medium-large size
4 tbsp avocado oil
3-4 pinches of coarse sea salt
For the aromatics:
0.4 oz cloves garlic, about 2 cloves
0.3 oz ginger, julienned
2 bulbs scallions, diced and separate to pale green and green parts
¼ tsp dry red chili pepper flakes, optional
Instructions
Thinly slice the chicken to between ⅛ and ¼ inch thin. In a large bowl gently mix and combine the chicken with ingredients from coco aminos to baking soda. Set aside in the fridge.

Dice zucchini and squash to a triangle cube shape that's a little larger than ½ inch at the widest point. Try to dice them to similar size.

Prepare garlic, ginger, scallions and dry pepper flakes. Set them aside in one bowl.

In a bowl, combine and mix-well stir-fry sauce from rice vinegar to ginger. Set it aside ready to use.

Preheat a large stainless skillet over medium heat until it's too hot to place your palm near the surface, about 2 to 3 inches away. Add 2 tbsp oil and swirl it around the skillet. Pan fry the chicken slices in one even layer over medium-high heat without disturbing until they are in golden brown color, about 3 mins. then use a fish spatula to flip and sear the flip side, about 2 mins. The chicken should be almost cooked through before setting them aside along with the pan juice and oil in the skillet.

Use the same skillet over medium to heat, add 2 tbsp oil. Sauté the aromatics with a pinch of salt until fragrant, about 8-10 seconds.

Turn the heat up to medium-high. Add the zucchini and yellow squash. Season with 2 pinches of salt. Keep tossing and scooping until the squash turns softer but still remains a crunchy texture, about 2 minutes.

Add the chicken back to the skillet. Quickly stir the sauce again then pour it into the skillet. Toss and stir-fry for about 30 seconds to 1 minute until the sauce thickens.

Off heat. Taste test to see if more salt is needed. Garnish with green scallions parts and a small dash of toasted sesame oil, if desired.
Nutrition
Serving: 1serving, Calories: 409kcal, Carbohydrates: 11g, Protein: 32g, Fat: 26g, Saturated Fat: 4g, Polyunsaturated Fat: 1g, Monounsaturated Fat: 1g, Trans Fat: 1g, Cholesterol: 91mg, Sodium: 1016mg, Potassium: 804mg, Fiber: 1g, Sugar: 2g, Vitamin A: 241IU, Vitamin C: 20mg, Calcium: 28mg, Iron: 1mg