Taiwanese Popcorn Chicken (鹽酥雞)
One of my childhood favorites – Taiwanese popcorn chicken, is a must-eat food when you visit Taiwan! It's the one dish I often eat growing up, so you know that this recipe is authentic. Its crispy crunchy coating is incredible, and bursting with authentic, addictive flavors.
You'll love recipes similar to popcorn chicken, Taiwanese fried chicken cutlets recipe is one example. It's a bigger version of this dish, using thinly cut chicken breasts. Get ready for the ultimate crunch!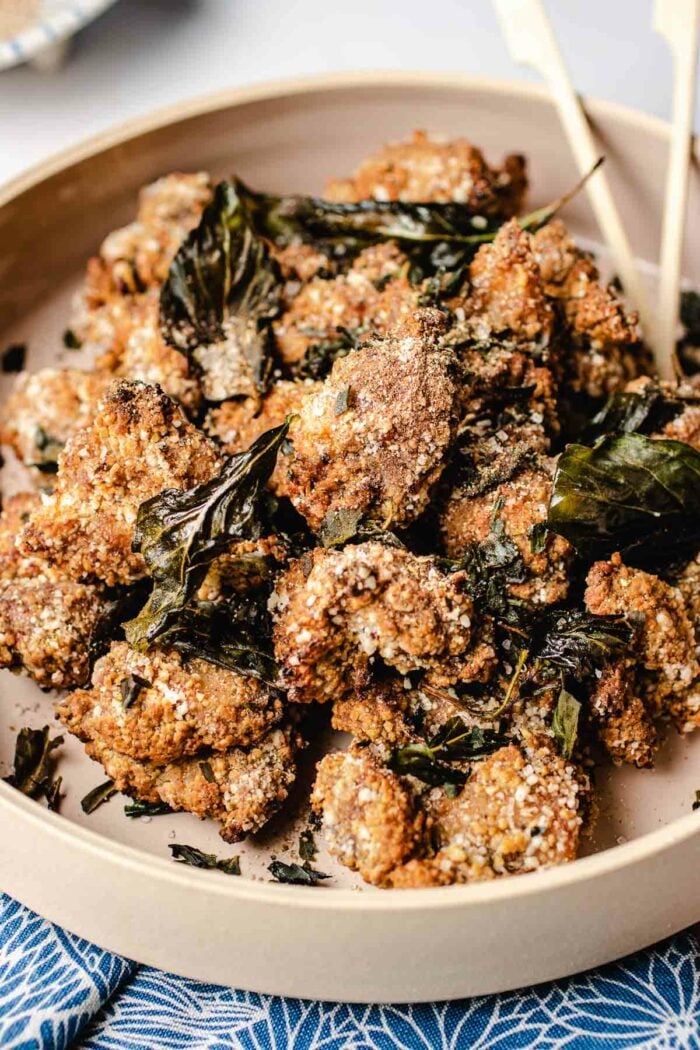 What is Taiwan popcorn chicken
Taiwanese call it yan su ji. Yan means salt, Su means crispy crunchy, and Ji means chicken. This dish comes from Taiwan night markets, making it a common street food.
The crunchy chicken bites are the size of popcorn, so you can pop them in your mouth in one bite.
Food from night markets is often served in a paper container with toothpicks. This makes it easy to take with you while you explore the market. You can then eat while you walk.
This dish has a distinct flavor due to combining cinnamon, star anise, and white pepper. Plus, it's infused with fried basil leaves, which results in a delectable aroma.
You can find this dish in Taiwanese boba tea stores as boba and popcorn chicken make the perfect snacking pair! Nowadays, you can even find them in Thai and other Asian countries as they have become so popular.
Why you'll love this dish
If you live in New York, you might be familiar with Quickly popcorn chicken when getting your boba fix. Although I think you'll love my homemade recipe more, and here's why:
Super crispy and light crust – A simple starch coating with the marinade creates a lighter and crispier crust. You don't need a batter to create this amazing texture.
Accessible ingredients – You can get everything you need from local grocery stores and online.
Not deep-fried: These basil popcorn chicken are air-fried, oven-baked, or shallow pan-fried – just as crispy!
Ingredients
Make your own Taiwan fried chicken popcorn with these ingredients you can easily get from your local Asian supermarket: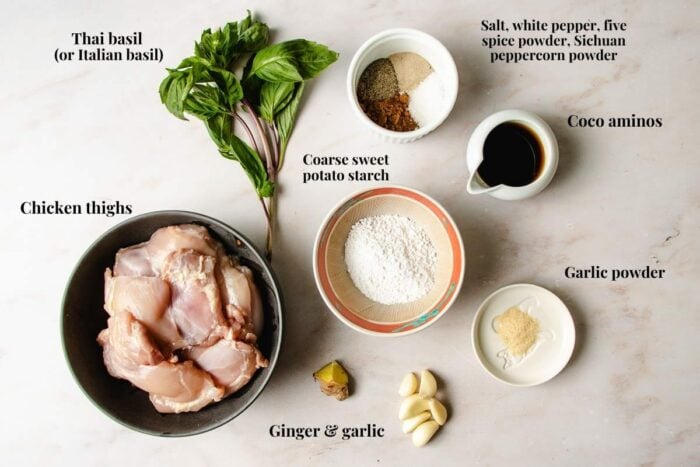 Chicken: Chicken thighs (boneless and skinless)
Marinade: garlic, ginger, coconut aminos, five-spice powder, coarse sea salt, white pepper, black pepper, untoasted sesame oil, mirin (optional)
Coating: coarse (thick) sweet potato starch
Seasoning salt: Coarse sea salt, five-spice powder, ground white pepper, garlic powder, Sichuan peppercorn powder (optional)
Ingredient substitutions
Chicken: To get the best results, use boneless chicken with skin on. You can also use chicken breasts but the meat tends to be drier and the chicken will be less crispy.
Starch: You can also use regular sweet potato starch (not sweet potato flour), tapioca starch, potato starch, or cornstarch.
Basil: If you can't find Thai basil leaves, use Italian basil leaf for a similar aroma,
Oil: Swap with any neutral oil with a high smoke point, such as peanut, canola, sunflower, or sesame oil.
Five spice powder: This must-have spice is what gives Chinese popcorn chicken its authentic taste. It's an aromatic blend of cinnamon, cloves, star anise, fennel seeds, and Sichuan peppercorns.
Others: Substitute coconut aminos with your everyday soy sauce and Chinese cooking wine (michiu) with Japanese mirin.
Some recipes suggest dipping the chicken in egg white, I find it unnecessary, especially if you use chicken thighs.
Secret to extra crispy Taiwanese fried chicken coating
Use coarse (thick) sweet potato starch. This is the secret to extra crispy Taiwanese pop corn chicken. The crumbly texture yields the crunchiest chicken! Find this starch in Asian grocery stores or online.
Coatings to avoid: Avoid using flour, including rice flour as it won't crisp up properly.
How to make the dish
This Taiwanese popcorn chicken recipe can be cooked in different ways. Follow these instructions to make your own crispy afternoon snack:
Slice: Chop the chicken into bite-sized pieces. Clean and pat dry basil leaves before frying them.
Marinate: The chicken chunks and seasonings for 30 minutes (or overnight) to soak up the flavors from the spices.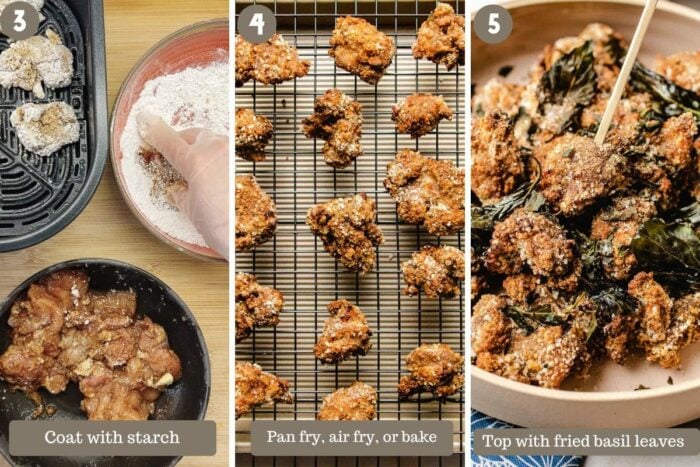 Coat the chicken: In a bowl of starch, coat the chicken pieces, making sure all sides are covered. Work in batches.
Cook: From here, you can choose to air fry, oven bake, or shallow pan fry them until they are golden brown. See my recipe for detailed instructions on how long to fry popcorn chicken by using different methods.
Toss & serve: In a large bowl, sprinkle the seasoning salt over the cooked chicken while they're hot. Top it off with crushed fried basil leaves.
Air-frying, Deep-frying, Shallow-frying, or Oven-baking
The deep-fried version is the original method, where the chicken is normally double-fried. As a result, it yields Taiwanese fried chicken popcorn with the crispiest coating.
The air-fried version is my preferred method. It uses the least amount of oil and there's less mess to clean up. Remember to spray the oil on all sides of the chicken and basket to make sure the chicken crisp up evenly.
The shallow-frying method uses a lesser amount of oil than deep-frying. You'll need a splatter guard for this, and I recommend using a Dutch oven for it. It yields good results but is a bit messy to clean up.
The oven version of Taiwan chicken nuggets is similar to air-fried. The only difference is that you'll need to line your tray with a baking sheet.
Variations
Make it spicy: Marinate the chicken with a dash of chili powder for a hint of heat.
Use chicken breasts: You can use chicken breast for this Taiwan fried chicken recipe. Just add 1 tsp baking soda to the marinade to help tenderize the meat. The chicken coating won't be as crispy otherwise, compared to using dark meat.
Serving suggestions
A bowl of Taiwanese popcorn chicken can satisfy your fried chicken craving. It can be enjoyed alone or with other dishes such as rice or noodles as part of a full meal.
The refreshing and tangy-tasting Asian cucumber salad makes a wholesome pairing when you need something quick. This silken tofu is another excellent cold dish that you can serve together.
If you want an authentic experience, having some tea eggs on the side would do the trick. This iconic savory snack brings back fond memories of buying popcorn chicken with boba after school as they're so filling.
The crunchy popcorn complements the mild creamy flavor of Paleo dan dan noodles. Additionally, hibachi noodles have a sweet and umami taste that goes well with popcorn.
If you like noodle dishes with a kick, spicy peanut noodles are always a good shout.
Common FAQ
What is used for coating the Taiwanese popcorn chicken?
Coarse (thick) sweet potato starch is used in popcorn chicken with basil to create an extra crunchy coating.
What is the origin of Taiwanese popcorn chicken?
It comes from the southern part of Taiwan. It's a popular street food, often found in night markets and boba tea stores.
Which spiced fried chicken is a staple in Taiwan's night markets?
Popcorm chicken (台灣鹽酥雞 – táiwān yán sū jī) is an iconic street food in Taiwanese night markets. Its unique fragrance comes from a mix of star anise, five-spice powder, cinnamon, garlic, white pepper, and basil-infused oil.
What country is popcorn chicken from?
Popcorn chicken originated in Taiwan, popularized in the south. It's an adaptation of Western-style fried chicken but was remade to suit local tastes and flavors.
Storage, make-ahead, and reheat
Once cooked, Taiwan chicken popcorn can last for 3-4 days in the fridge when stored in an air-tight container. For more intense flavors, you can marinate the chicken up to 24 hours in advance.
Reheat leftovers in the oven at 350°F for 10-15 minutes or air fryer at 360°F for 5-6 minutes.
More Taiwanese street food & chicken dishes
Can't get enough of this recipe for popcorn chicken? Well, you're in for a treat! I have street food ideas and chicken recipes lined up for you.
If you love street food as much as I do, these keto scallion pancakes or salt and pepper tofu air fryer are another great choice. Another Taiwanese favorite is Dan bing – a gluten-free breakfast and on-the-go snack.
Chicken katsu ramen is the perfect combo of chicken and noodles. These Vietnamese chicken wings are super flavorful (without marinating). You can make Vietnamese popcorn chicken using similar ingredients.
Save time in the kitchen and turn up the air fryer. A serving of air fryer lemon chicken bites is guaranteed to keep those midnight hunger pangs at bay. If you're up for something different, these air fried oyster mushrooms are basically vegan fried chicken karaage.
Umami tips for the best results
Coating: Use coarse (thick) sweet potato starch for the crispiest and crunchiest coating.
Chicken: I recommend using dark meat, such as boneless skinless chicken thighs.
Basil: Make sure you clean and thoroughly dry the basil leaves with paper towels before frying them.
Marinate the chicken for at least 30 minutes or overnight for extra flavor!
Popcorn chicken seasoning: Sprinkle in my seasoning spice mix while the chicken is still hot for extra authentic flavor!
Rest the cooked chicken on a wire rack before serving, so both sides remain crispy.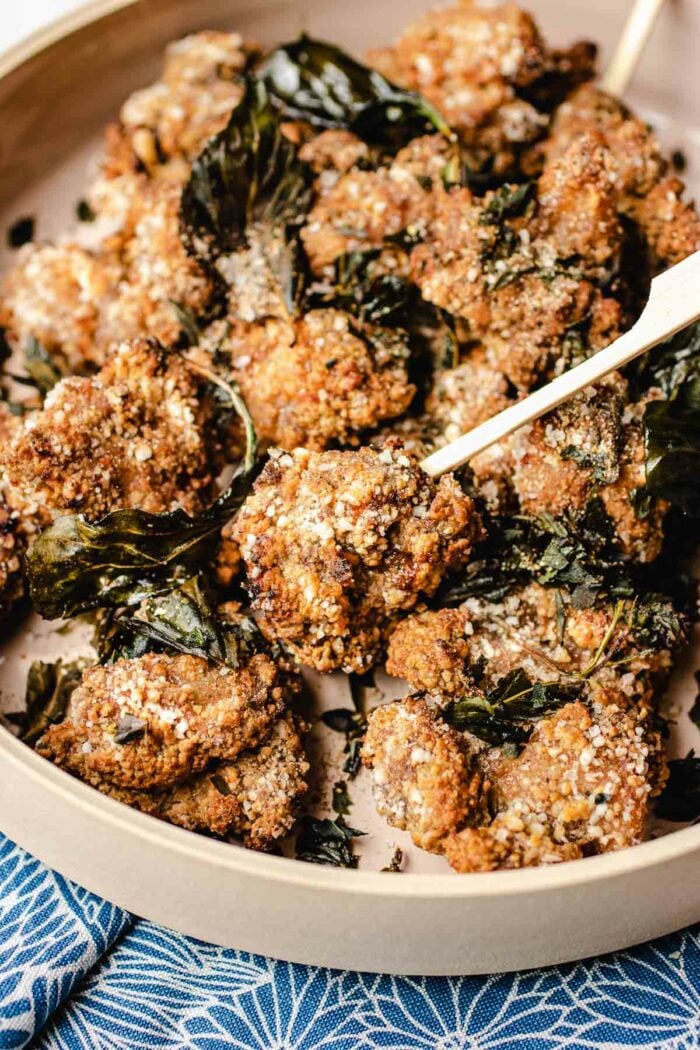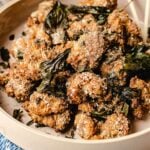 Taiwanese popcorn chicken recipe
Taiwanese popcorn chicken (AKA Yan Su Ji or Salt and pepper chicken) with a super crunchy coating, infused with basil flavor. This is an authentic Taiwanese fried chicken recipe and can be made in an air fryer, oven, or stovetop!
Print
Pin
Rate
Ingredients
For the chicken:
1.25 lb chicken thighs, skinless and boneless
0.85 oz garlic cloves, grated
0.3 oz ginger, grated
2 tbsp coconut aminos
1 tsp five-spice powder
1 tsp coarse sea salt
½ tsp ground white pepper
½ tsp ground black pepper
2 tsp untoasted sesame oil, or olive oil
½ tbsp mirin, optional
1 cup Thai basil leaves, or Italian basil
Coating and oil:
8 tbsp coarse, thick sweet potato starch
For serving – Taiwanese popcorn chicken seasoning mix:
Instructions
To prepare:
Dice the chicken to bite sizes, about 1.5-inch chunks. In a large bowl, combine the chicken with the seasonings from the garlic to mirin. Combine well and marinate for at least 30 minutes or overnight in the fridge.

Clean the basil leaves and make sure they are patted dry before frying.

When you are ready to cook, gather the starch in a large bowl, dip the chicken one by one in the starch, and make sure it's covered on all sides, place it over a large plate. Repeat the process until you finish the batch.
For Air fry:
Preheat the air fryer to 400F. Spray the basket with avocado oil. Add the chicken and leave some space between each piece. Spray with more oil on top. Air fryer for 6 minutes.

Open the basket, flip the chicken, add in the basil, spray with more oil on top, and air fryer for 4 more minutes.

Set the basil aside on a small plate. Rest the chicken on a cooling rack and repeat the process until you finish the batch.
To stovetop:
In a Dutch oven, preheat 1/2 cup avocado oil over medium to medium-high heat for about 3-4 minutes. Test the temperature with a wooden chopstick, if it shows bubbles around the chopstick when inserting it into the oil, the temperature is hot enough.

Over medium heat, pan-fry the first side for 3 minutes and the second side for 2-3 minutes further. Once cooked through, scoop out the chicken and set them aside to drain over a paper towel.

Lower the heat to medium-low, using a splatter guard, and carefully add the basil. Fry the basil for about 5 seconds, scoop them out using a slotted spoon, and drain on a paper towel.
To bake:
Preheat the oven to 450F. Line a large sheet pan with parchment. Spray a thin layer of oil on the paper then place the chicken pieces on top with some space between them.

Bake for 15 minutes, flip the chicken, and add the basil leaves. Spray with more oil on top and bake for 10 minutes further. The chicken should be in golden brown color and cooked through. The leaves should be crispy.
To serve:
Transfer the chicken onto a serving plate, while hot, sprinkle with the popcorn chicken seasoning mix generously. Crush the fried basil leaves and sprinkle them all over the chicken. Serve hot.
Notes
Chicken thighs have more crevices and therefore they grab the coating better and create a crunchier texture.
If using chicken breasts, add 1 tsp baking soda to the marinade to help tenderize the meat.
Rest the air-fried chicken over the cooling rack to keep the chicken crispy.
Make sure the basil leaves are patted dry before you air fry (or pan fry) them.
Nutrition
Serving: 1serving, Calories: 358kcal, Carbohydrates: 7g, Protein: 24g, Fat: 26g, Saturated Fat: 7g, Polyunsaturated Fat: 6g, Monounsaturated Fat: 11g, Trans Fat: 0.1g, Cholesterol: 139mg, Sodium: 15378mg, Potassium: 372mg, Fiber: 1g, Sugar: 1g, Vitamin A: 434IU, Vitamin C: 3mg, Calcium: 54mg, Iron: 2mg
Made a dish and love it? Please remember to rate the recipe and leave a comment in the comment section below! It helps my blog grow organically so I can continue sharing free and awesome content with you. Thank you!