Paleo Blackberry Lemon Jam Thumbprint Cookies
Sweet and tart homemade Blackberry Lemon Jam Thumbprint Cookies, that are gluten and dairy free, sweetened with raw honey. These Thumbprint Cookies with blackberry jam are perfect for thanksgiving, holiday, or everyday sweets. Every bite will leave you wanting for more !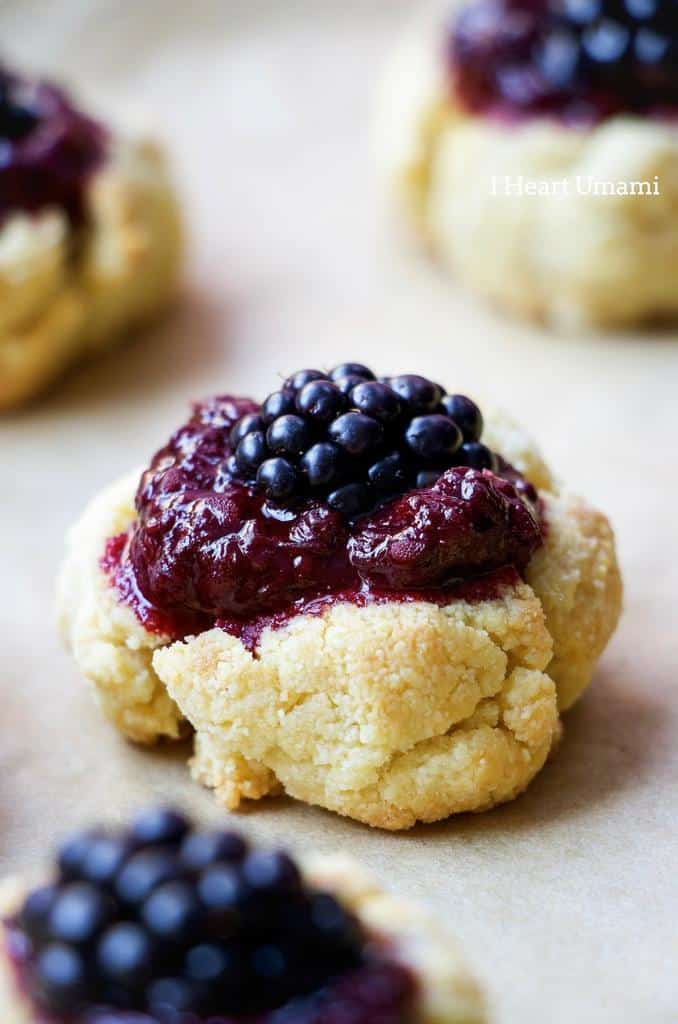 The best Thumbprint Cookies for health conscious folks who want some sweets every once a while 🙂
Most of my long term readers know that I don't share dessert recipes often. Part of the reason is because I feel savory recipes are more helpful to my readers and on a personal note, I almost always opt for sharing recipes that are balanced with protein and veggies.
But that doesn't mean that I don't have a sweet tooth. As a matter of fact, I'm a big sucker when it comes to dark chocolate. And thanks to today's recipe, I realized how much fun and easy it is to make my own jam. Who wouldn't love these mini bites of thumbprint cookies jam packed with big spoonfuls of blackberry lemon jam you can see melt with the oven baked warm cookies ?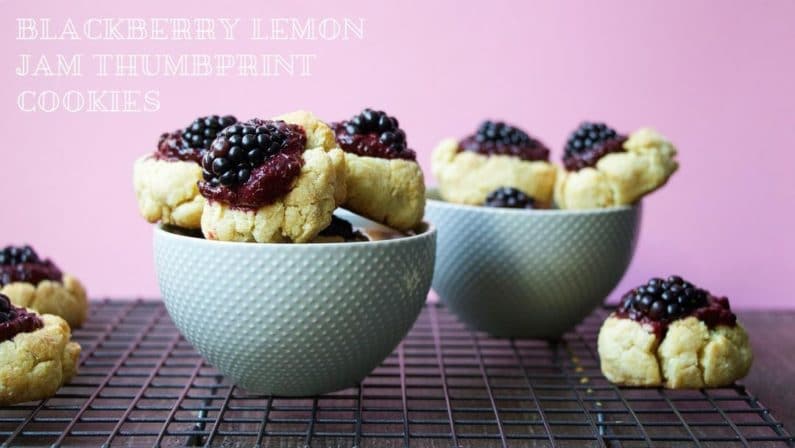 For people who can't bake – Super Easy Blackberry Lemon Jam Thumbprint Cookies
I recall during a live Facebook group call, in my meal prep challenge group a lady asked if there are dishes I don't know how to make and you guessed it…baking a cake !
Not that I can't bake but it just makes my head spin and gives me headaches whenever I think of making a cake. But making cookies ? Oh yes, that I can handle.
My house smells great, and the oven kept the house warm and everyone (even Nate my husband who doesn't eat sweets) can trust that these cookies are probably the healthiest (truly low sugar) you can find.
BFF – Blackberry Lemon Jam & Thumbprint Cookies
The lovely 3-Ingredient Blackberry Lemon Jam Recipe is a must for thumbprint cookies. There's no pectin and frankly speaking it couldn't get easier to make your own version.
Nate and I love our jam slightly tart and not too sweet. It balances well with the cookie dough so if you are serving them as a combo (why wouldn't you ?) as opposed to stand alone piece, a slightly tart blackberry lemon jam will keep the cookies light and refreshing :))
Be sure to check out the Blackberry Lemon Jam Thumbprint Cookies Video here I made with the help of my musician friends – Argonaut & Wasp. These Brooklyn dudes made my cookies even more hip ! ❤️❤️
Did you know ?
You can now rate the recipe by clicking on the stars ★★★★★! It'll help me and my blog tremendously if you love my recipes. Let me know how you are doing, thanks for your support, I read every comments ! XOXO !!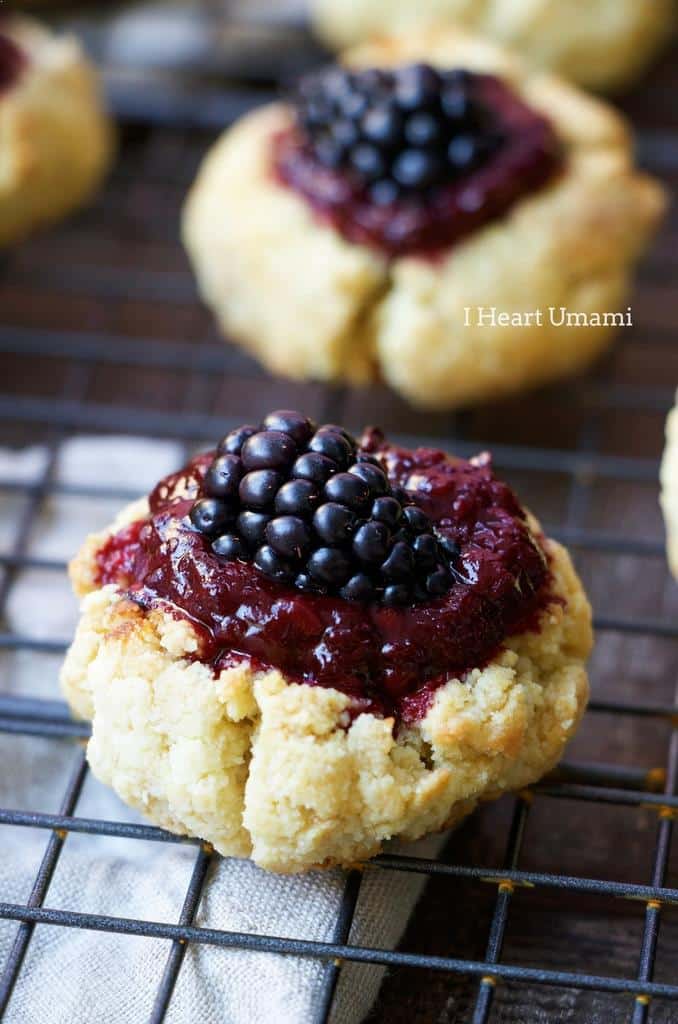 Blackberry Lemon Jam Thumbprint Cookies
Sweet and tart homemade Blackberry Lemon Jam Thumbprint Cookies, that are gluten and dairy free, sweetened with raw honey. Be sure to jam pack these cookies with a big spoonfuls of slightly sweet and tart blackberry jam and see them oozing out and melting with the oven baked warm cookies !
Print
Pin
Rate
Ingredients
Homemade 3-Ingredient Blackberry Lemon Jam
15 oz. frozen blackberries
half to one whole lemon juice
2 to 3 tbsp good honey
Thumbprint Cookies
1/3 to 1/2 cup fresh blackberries, sliced in half lengthwise
Homemade blackberry lemon Jam
Instructions
Blackberry Lemon Jam:
Cook the frozen blackberries, lemon juice, and honey in a heavy-bottomed pot over medium heat. Mash the fruit with a wooden spoon or fork into a chunky texture.

Bring the mixture up to a boil slowly over medium heat, stirring frequently. Continue to boil while keeping an eye on it, still stirring frequently, until the fruit is jammy and thick, about 20 minutes.

Once the jam is cool to room temperature, it will thicken a bit further. Store them in glass jars. Seal, label with the fruit and the date, and store it in the refrigerator for up to 3 weeks.
Thumbprint Cookies:
Preheat oven to 320F/160C. Mix all ingredients under "cookie dough" until the dough comes together. You might need to add a bit more melted coconut oil to help you form the dough.

Make 14 equal sized balls and place onto a lined large baking sheet pan. Gently press the center of the balls with your thumb to create a little well (indent) and use your hands to gently reshape the cookies (keep the dough stick with each other as much as you can) so they won't fall apart in the oven.

Bake for 10 minutes in the oven then reduce the heat to 300F/148C for 8 additional minutes. Let cool to room temperature and fill each cookie with spoonful of blackberry lemon jam and top with half fresh slice of fresh blackberry.

Serve immediately and enjoy warm cookies with chilled jam !
Notes
If your jam becomes too thick, add a little water or lemon juice. You can also return it to the stove and cook it longer if you want a thicker jam.
To make ahead – I recommend making the jam ahead of time and chill them in the fridge with airtight glass container. I haven't experimented with making the dough ahead of time but feel that fresh made cookie dough always taste better out of warm oven in my opinion. :))
Nutrition
Serving: 37g, Calories: 132kcal, Carbohydrates: 6g, Protein: 4g, Fat: 11g, Saturated Fat: 2.8g, Cholesterol: 13mg, Sodium: 68mg, Potassium: 61mg, Fiber: 2g, Sugar: 3g, Vitamin A: 95IU, Vitamin C: 7.4mg, Calcium: 46mg, Iron: 0.9mg
More healthy Paleo sweets!