Vietnamese Coconut Tapioca Pudding
Vietnamese Coconut Tapioca Pudding Recipe (Chè Chuối) may well be the best sago pearl dessert! It's creamy and milky yet Paleo, vegan, gluten, and dairy-free. Enjoy it cold or warm and it always leaves me wanting more…
This is a twist on the classic Vietnamese Tapioca Pudding made with no added sugar and with fresh mangoes to keep it light and refreshing. Naturally sweet, more fresh fruits, a more milky coconut flavor, and a beautiful creamy mouth feel.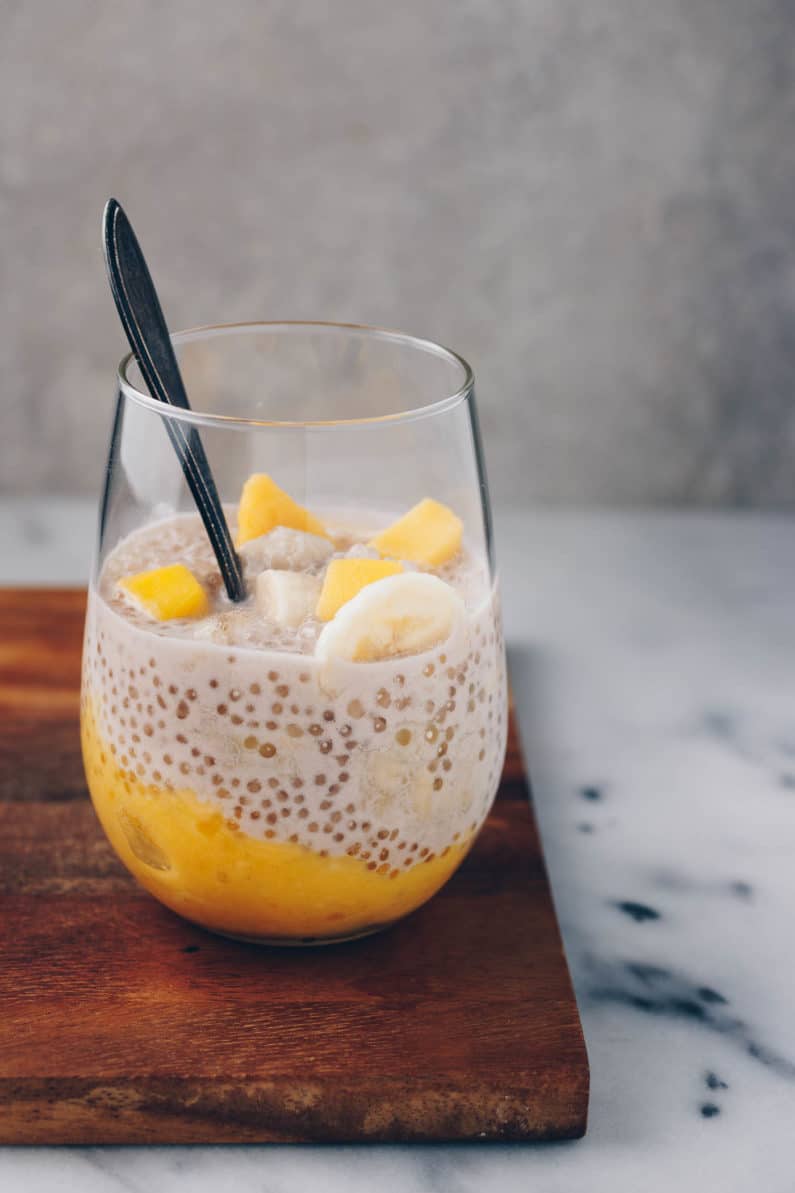 A Twist On The Classic Vietnamese Tapioca Pudding Recipe
This is a rewrite of a coconut tapioca pudding recipe that I shared a few years ago. Vietnamese tapioca pudding (Chè Chuối) is a quick and easy dessert. You can enjoy it warm or cold and that makes it great for all-year-round.
Traditionally, the recipes usually call for pandan leaves and use sugar as a sweetener. To make it easier, I replaced them with vanilla extract and skip the added sugar. The full fat coconut milk, mango, and banana add natural sweetness to the pudding and that makes this Paleo tapioca pudding much healthier yet just as yummy.
Do you have to soak tapioca pearls?
Soaking tapioca pearls will speed up the cooking process. The texture of the tapioca pearls will be softer and therefore easier to cook. If you are cooking with large amount of pearls, soaking is recommended. Typically soaking the tapioca pearls in warm water for a few hours should suffice.
What is tapioca pudding made of?
Tapioca is a starch extracted from the cassava plant. It is also called as sago or sabudana. Typically, tapioca pudding is made with full fat coconut milk, sweeteners, and toppings such as mango, banana, strawberry, or other fruits or fruit compote.
How long does homemade tapioca pudding last?
For fresh homemade tapioca pudding, in general, it's best to finish in 5 days. The pudding texture will become thicker. You can thin the pudding with a splash of dairy-free milk.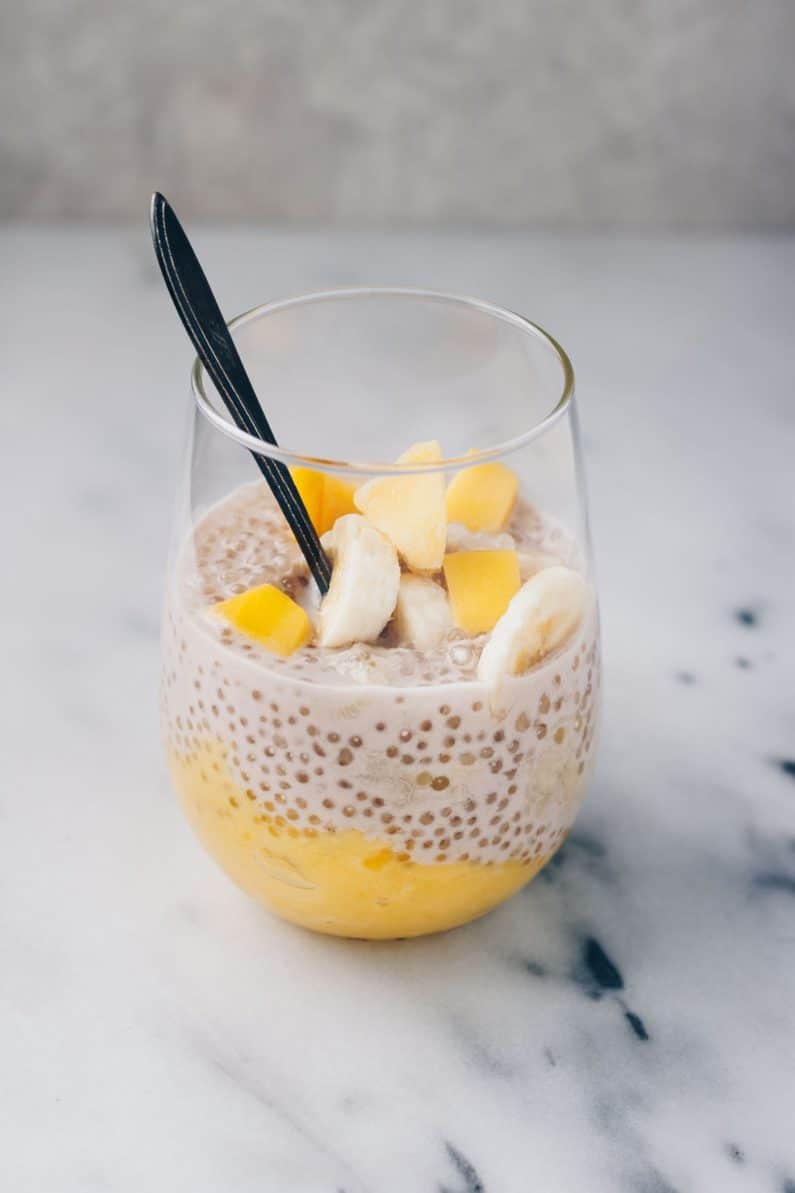 Is tapioca good or bad for you?
Tapioca is made from cassava plant and therefore it's higher in carb. For people who want to lose weight, I recommend enjoying tapioca desserts (such as tapioca pudding) in smaller serving quantity. Also look for recipes that have no added sugar. Homemade tapioca pudding will be the best because you can control the ingredients and type of sweeteners.
More Healthy Paleo Desserts!
Share and Subscribe!
Subscribe to my blog and you'll be making healthy and scrumptious Paleo Asian food in no time! Hit the social media share buttons to save this delicious tapioca pudding for later! You are gonna love it!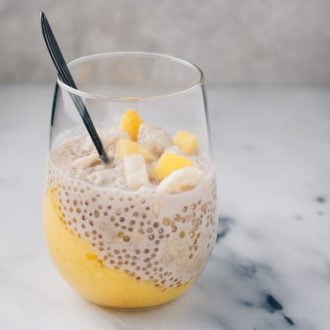 Paleo Banana Coconut Tapioca Puddings
Paleo Banana Coconut Tapioca Puddings ! This is a famous Tapioca pudding recipe from Thailand and I made it dairy free and paleo friendly. It tastes great in room or chilled temperature.
Print
Pin
Rate
Instructions
Dice the bananas to bite sizes and set them aside in a bowl. Dice the mango and reserve a few slices for later. Puree the rest of mango and set it aside in another bowl. Store them in the fridge.

In a medium size soup pot, add the ingredients from milk to sea salt. Uncover and simmer the pot over medium heat for about 4-5 minutes. Stir-often to prevent the milk from spoiling.

Add tapioca pearls. Lower the heat to low. Stir-often for about 6-8 minutes until the pearls turn softer and become more translucent.

Reserve a few slices of bananas and add the rest to the pot. Keep stirring over low heat for another 3-4 minutes. Try not to smash the bananas. The pudding texture will become thicker.

Off heat. Set it aside to let cool. To serve, layer a few tablespoons of mango puree at the bottom, ladle a few spoonful of tapioca pudding, and garnish with reserved mango and banana slices.
Notes
The consistency of the Vietnamese style tapioca pudding is much thinner than western style pudding. It's similar to porridge. Once the pudding is cool/chilled, the texture will become much thicker. 
To enjoy it warm (in the winter), skip the frozen mango and serve the banana tapioca pudding over a small bowl.
Store extra in the fridge. Best finish in 5 days. The tapioca pudding texture will become thicker. Thin with more milk before serving.
Nutrition
Serving: 1serving, Calories: 245kcal, Carbohydrates: 27g, Protein: 3g, Fat: 15g, Saturated Fat: 13g, Sodium: 126mg, Potassium: 444mg, Fiber: 2g, Sugar: 12g, Vitamin A: 445IU, Vitamin C: 17mg, Calcium: 72mg, Iron: 2.7mg