Strawberry Men
Paleo Strawberry Men. This is a recipe inspired by Mosogourmet – a famous dessert channel on YouTube in Japan. These strawberry men are so darn cute that I couldn't help but have to give it a try! I altered the original recipe and made it Paleo-friendly. If you have kids or nephews, this is a fun family project for the weekend. 🙂
If you are curious about where to get the mini melon baller, I got mine from Amazon in size 15mm. It should also work if you select one that's between 10mm and 15mm.
If you want to know how to make these cute strawberry men, be sure to watch and share my 1-minute video below. Have fun and enjoy!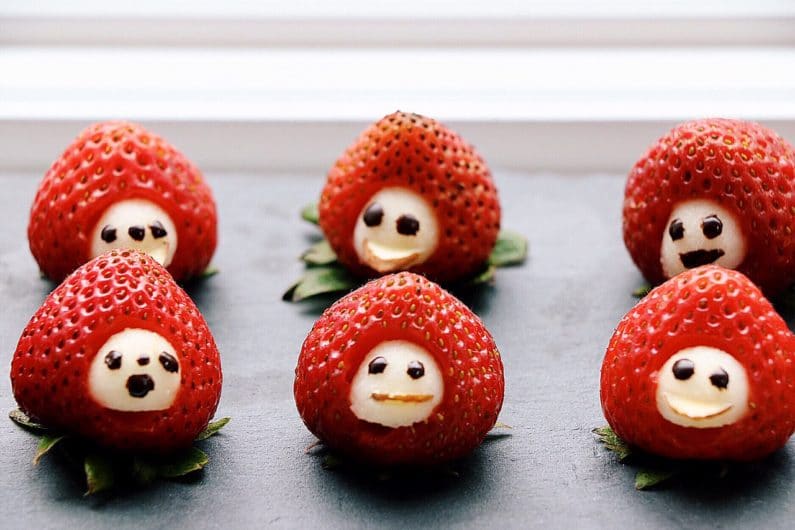 Strawberry Men
Adorable Paleo Strawberry Men ! Healthy and delicious Paleo snacks/dessert for the entire family. This is a recipe inspired by Mosogourmet.
Print
Pin
Rate
Ingredients
12 whole strawberries or as many as you like
3 apples
Unsweetened chocolate, no sugar added
Sliced almonds
1 melon baller, between 10mm and 15mm
Water
Salt
Instructions
Cut the apple in half. Use a melon baller (between 10mm and 15mm to scoop out the meat).

Soak the apple in salted water for a few minutes to prevent from browning.

Rinse them under fresh water and then drain.

Melt unsweetened chocolate in a microwave.

Use the melon baller to scoop out a hole from the strawberry.

Make the mouth with half slice of sliced almonds.

Make the eyes with melted chocolate.

Insert the apple ball into the strawberry.

Line them up and have fun.

*Note: the strawberry men are best consumed within the same day for best quality and freshness.
Nutrition
Calories: 35kcal