Black Sesame Latte
This creamy black sesame latte is one of my all-time favorites! It's perfect served hot or cold and is super easy to make, with only 5 ingredients. This black sesame coffee alternative is a dairy-free, caffeine-free beverage with a touch of sweetness and a delightfully nutty aroma.
To make this popular Asian drink, simply blend my 2-ingredient black sesame paste with the milk of your choice. For summer, simply pour it over a glass of ice for a milky refreshing drink!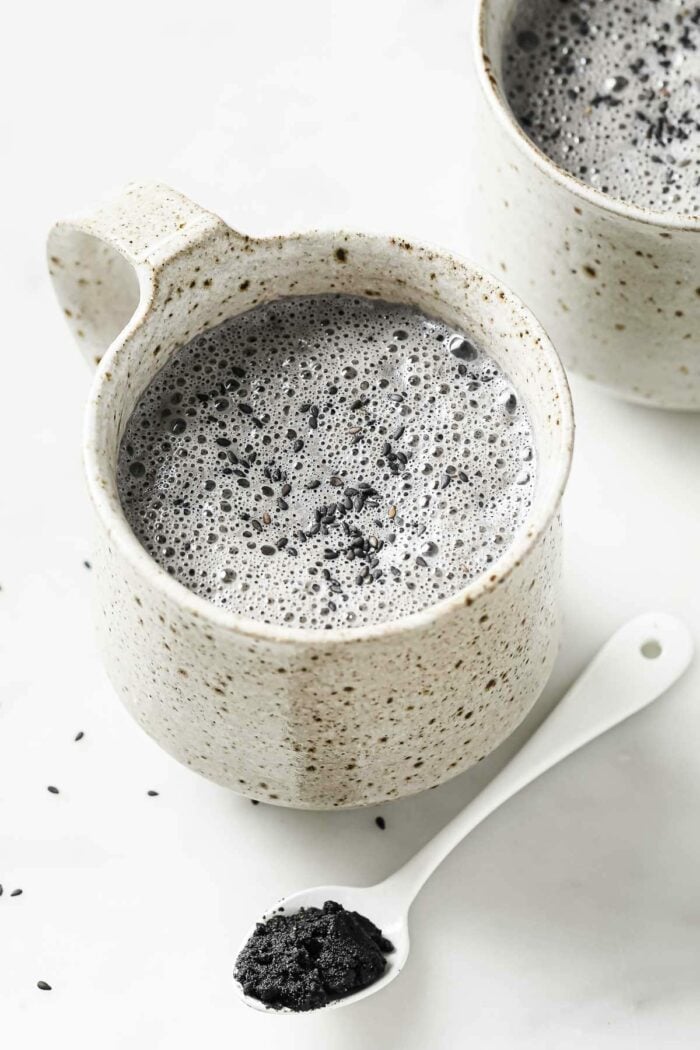 Why you will love this latte
This black sesame drink ticks all the boxes! If you're cutting down on caffeine yet still want to indulge in a luxuriously delicious hot (or cold) beverage, this latte is for you.
Black sesame cream latte, or kuro goma latte, originates in Japan (kuro = black; goma = sesame seeds) and is popular throughout Asia. In South Korea, it's called heugimja latte.
It's creamy, nutty, and rich, and the roasted sesame seed paste gives it a deep, earthy aroma.
A perfect swap for sesame oil coffee, this delicious latte has zero caffeine and is dairy-free.
The best part? It takes just 5 minutes to make!
Ingredients
My black sesame latte recipe uses just 5 simple ingredients and can easily be adjusted to suit your tastes and dietary needs.
Black sesame paste (toasted black sesame seeds and honey)
Unsweetened soy milk (Can sub oat or almond milk)
Dairy-free creamer
A pinch of pink salt (optional)
A sprinkle of toasted sesame seeds to garnish (optional)
Ingredient substitutions
Even though this recipe is perfect as is, it is so easy to make this sesame milk tea vegan, with dairy, or with store-bought paste.
Make it vegan: Use maple syrup instead of honey.
Use different milk: Unsweetened oat milk or almond milk work great.
Change the creamer: Heavy cream or coconut cream give a thick, creamy texture.
Use store-bought paste – The western version (black tahini) is a bit thinner and not roasted but would work. I prefer the Japanese version (Marumoto).
Use sesame powder: If you can't find black seeds, use black sesame powder.
How to make the drink
In order to make this beverage, we need to make my black sesame paste first. Luckily it's super easy to make and has only two ingredients! We can make this paste savory or sweet. For today's drink, we will use the sweet version.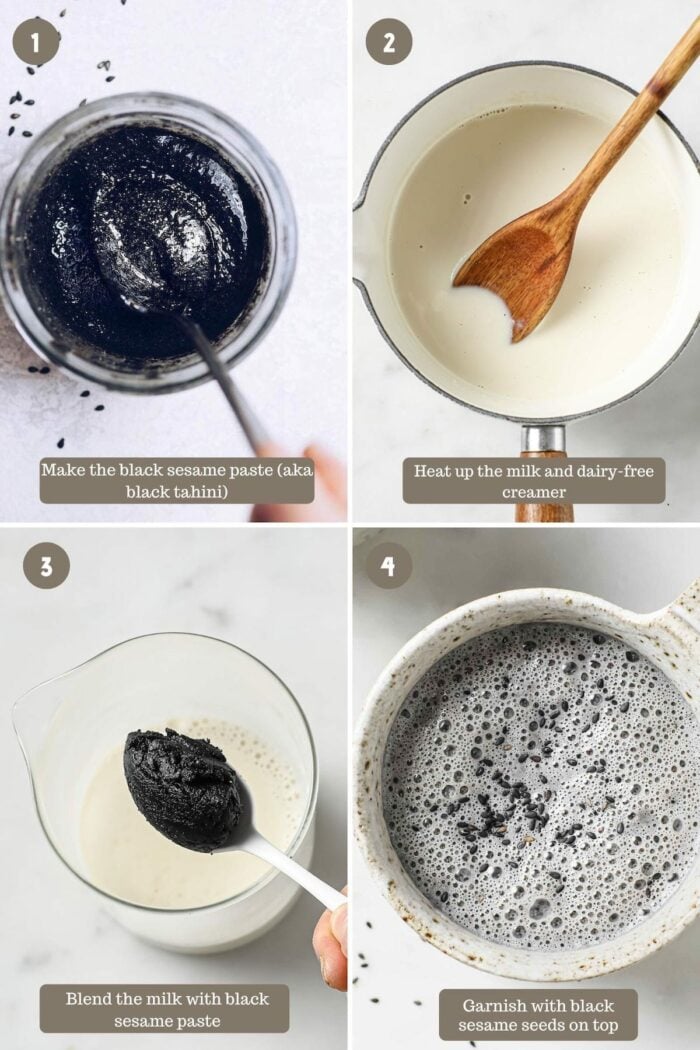 Make the sweet black sesame paste (Tip: Make extra to use next time!)
Heat your milk and creamer of choice
Blend sesame paste and salt (optional) into the hot milk with a milk frother
Garnish with toasted sesame seeds (optional)
Instant powder mix
For an even easier option, you can find instant packets of black sesame powder latte (sweetened or unsweetened) called Kuro Goma Latte in Asian supermarkets. These are made with black sesame seeds, soybean powder, salt, and sugar (in the sweetened version). The sweetened version is quite sweet, and the consistency is thinner than homemade. But it is super convenient!
Variations
I love this recipe as is, but it's so easy to switch it up. Check out these fun and delicious variations!
Make it Whole30 – Make the sesame paste with date syrup as opposed to honey.
Make black sesame boba – Garnish the drink with cooked boba. Kids will love this!
Make it with tea – Blend the beverage with hojicha tea powder for a hojicha sesame latte.
Make it cold – Simply serve over ice.
Serving suggestions
I suggest pairing this latte with cookies. It's a perfect combination for afternoon tea time or for holiday get-togethers with the family.
The latte goes perfectly with my Soot sprite cookies, which are also made with black sesame paste. Make the paste once and use it in two delicious recipes!
For a tart and fruity combo, my blackberry thumbprint cookies go so well with the nutty and earthy flavors of this latte.
Want to delight your holiday guests? Pair this beverage with my paleo Christmas cookies. They're simple, healthy, and delicious. Santa will love them, too!
Common FAQ
Is black sesame latte good for you?
Yes. Black sesame seeds have many health benefits. They are rich in antioxidants and may improve blood pressure and promote healthy skin and hair (source). You can control the level of sweetness if making it at home.
What does black sesame milk tea taste like?
Milky, creamy, and nutty with a rich roasted sesame aroma. In a word, delicious!
Does black sesame latte have coffee?
No. This beverage has no coffee. It's caffeine-free.
Can I use store-bought black tahini?
Yes. I recommend buying black sesame paste made in Japan. It has a thicker consistency and the seeds are roasted.
Storage and make-ahead
This is the perfect drink to prepare ahead because the paste stores well in the fridge. Make the paste first and store it in an airtight container. It will last for 1 month in the refrigerator or 6 months in the freezer.
Related recipes
Do you love this recipe as much as I do? Check out these related recipes for more yummy beverages and a vegan black sesame dessert idea!
For another holiday-ready hot drink, try my paleo hot chocolate or Paleo golden milk. It's keto-friendly, super creamy, and, once again, super easy to make.
Love this drink but craving some caffeine? You can't go wrong with my iced Vegan Vietnamese coffee or mango matcha tea. Save money by making these cafe favorites at home, and they are ready in minutes!
Last, but not least, put that black sesame paste to good use in my ​​black sesame ice cream. This dairy-free ice cream is a delightfully healthy treat any time of the year!
Umami Tips
Make the black sesame paste first. It stores well in the fridge or freezer.
This drink is caffeine-free and dairy-free and has a vegan-friendly option.
You can easily scale up the recipe quantity for a larger crowd.
Enjoy it hot or cold. Perfect all year round!
Black sesame latte recipe
Creamy black sesame latte made with 5 ingredients! This is the best frothy and milk drink for winter without the caffeine! Learn how to make a simple sesame milk tea recipe with options for vegan or keto choices. Makes 1 cup.
Print
Pin
Rate
Ingredients
Equipment:
12 oz mixing mug or pitcher
One stick blender
Instructions
Simmer the milk and creamer in a saucepan, uncovered, over low heat until simmering, about 2 to 3 minutes. Stir periodically.

Pour the milk into a 12 oz (1.5 cup capacity) pitcher. Add the sesame paste and salt. Use a stick blender to blend the milk with the paste until smooth and frothy.

Garnish with a small touch of black sesame seeds. Serve hot and immediately.

For summer, pour it over a glass of ice.
Notes
To make a larger quantity, you can scale up the recipe and blend the milk with the sesame paste in a blender until frothy.
A small pinch of pink salt will further enhance the flavor and bring out the sweetness.
1 serving = half cup for this recipe.
The nutritional value is estimated with homemade black sesame paste that's sweetened with regular honey. 
Nutrition
Serving: 1serving, Calories: 171kcal, Carbohydrates: 9g, Protein: 6g, Fat: 12g, Saturated Fat: 2g, Polyunsaturated Fat: 5g, Monounsaturated Fat: 4g, Sodium: 51mg, Potassium: 211mg, Fiber: 1g, Sugar: 4g, Vitamin A: 360IU, Vitamin C: 7mg, Calcium: 150mg, Iron: 1mg
Made a dish and love it? Please remember to rate the recipe and leave a comment in the comment section below! It helps my blog grow organically so I can continue sharing free and awesome content with you. Thank you!