Black Sesame Soot Sprite Cookies
Nutty and toasty delicious Soot Sprite Halloween Cookies are inspired by Japanese anime My Neighbor Totoro. These spooky and cute black sesame soot sprite cookies are dangerously easy to make and with no butter, low carb, and gluten-free. The hardest part is waiting for the cookies to cool. Watch the video for a quick how-to tutorial!
If you love black sesame recipes, you'll also love my black sesame paste and black sesame latte!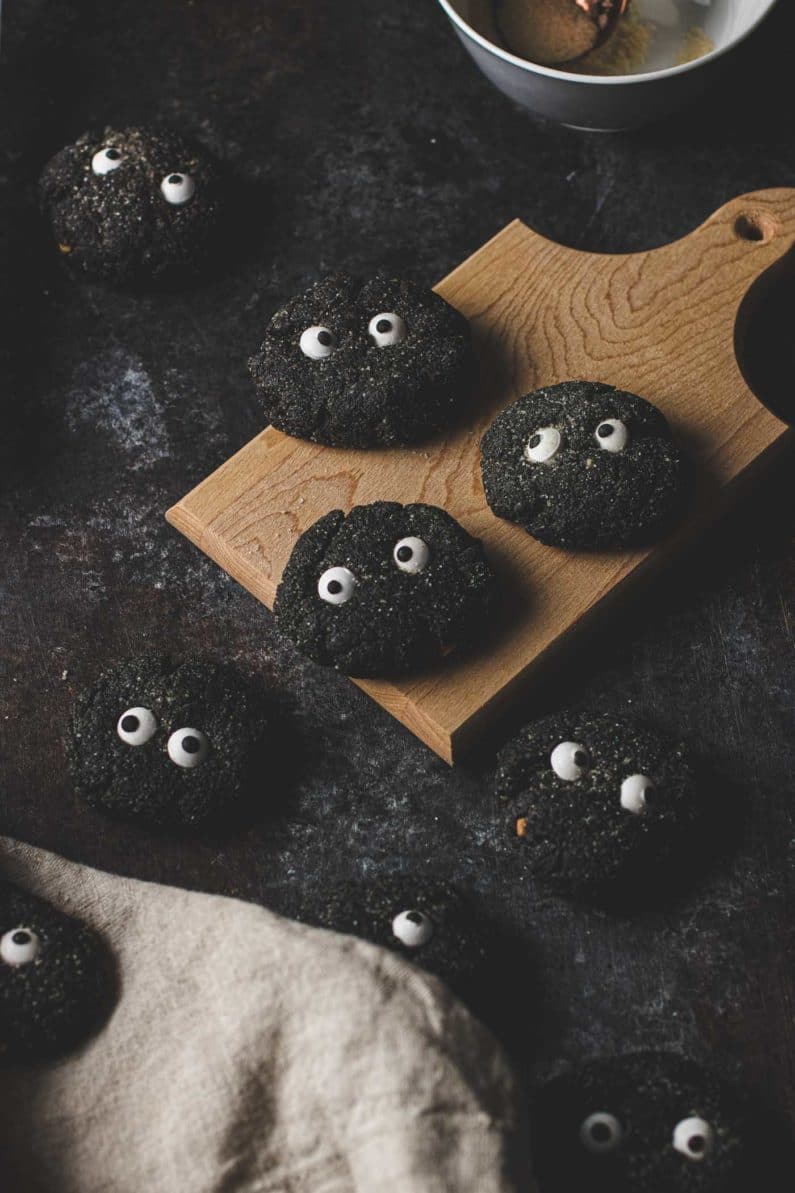 Soot Sprite Halloween Cookies (Keto, Paleo, Low Carb)
Soot Sprite (or Susuwatari) are pitch-black and fuzzy-haired beings with two large eyes and long, thin limbs from the Japanese anime Totoro. People love the story since it aired in 1988. Today's Halloween cookie idea is inspired by My Neighbor Totoro and I am a food blog.
The extra nutty sweet flavor from the toasted black sesame seeds combined with low-carb monk fruit maple flavored sweetener is a flavor that both adults and kids would love. The cookies are chewy inside and with just a touch of sweetness but not too much. Nate and I can quickly devour half a dozen of them no problem!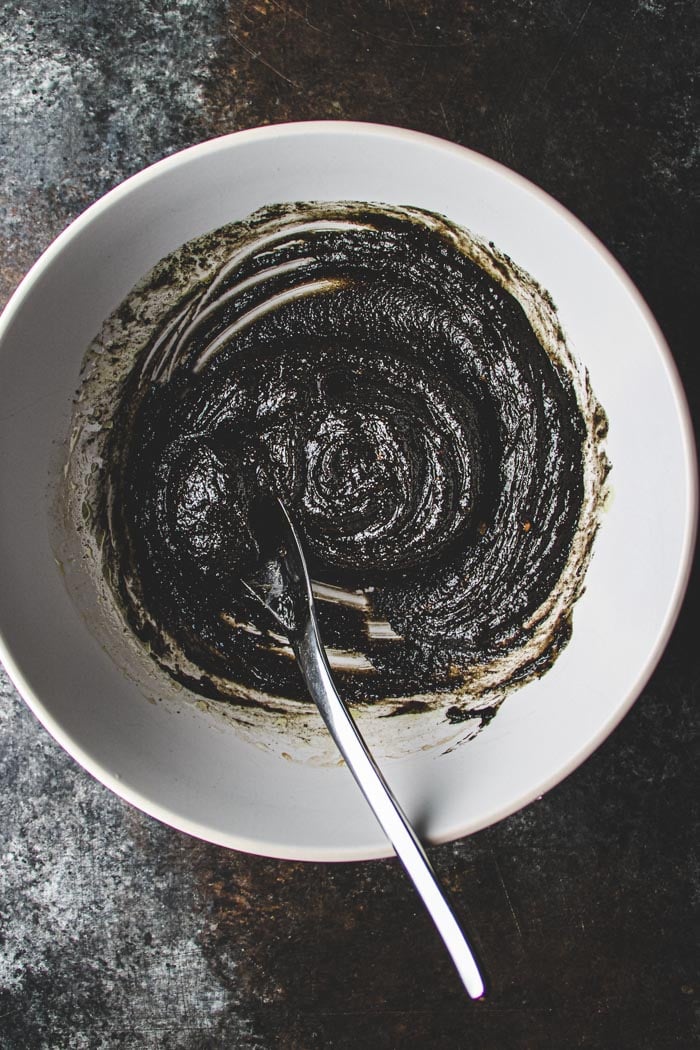 Who are Soot Sprites?
Soot sprites (also known as Susuwatari) are spirits in the Japanese anime My Neighbor Totoro. Soot sprites are these cute, black, and fuzzy beings that are a little smaller than tennis size balls and dwelled in old abandoned houses.
The first time I saw them, I thought they were tiny spiders but quickly I realize that these soot sprites are much cuter than the real spider. Just look at their cute big round eyes and fuzzy hair. No wonder kids adore them so much and they make the best-themed Halloween cookies.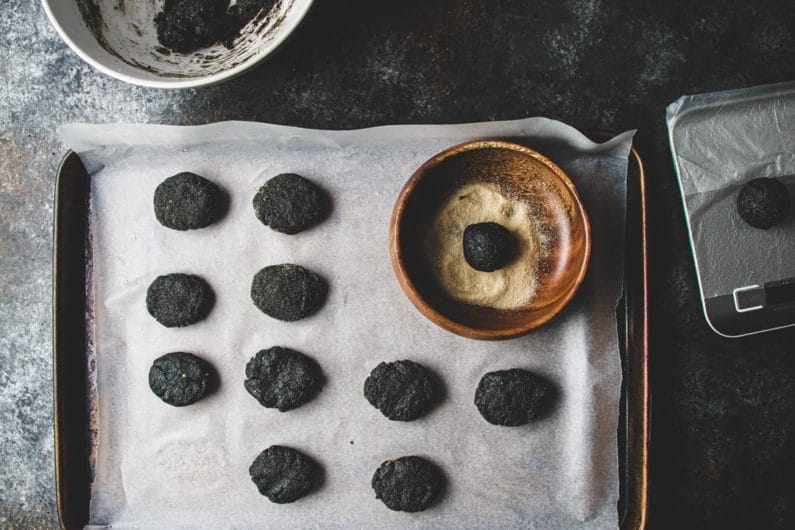 How to make low carb black sesame soot sprite cookies?
To keep my Halloween cookies low carb, I use black tahini paste that's made with black sesame seeds so that the cookies will be in a dark color like soot sprite!
Combine the wet and dry ingredients. I use almond flour to keep the cookies low-carb.
Shape them into individual cookie dough balls and flatten them into an oval-ish shape.
Bake at 350F for 8-10 minutes. Press-in the candy eyeballs.
Let cool and dust with more Keto brown sugar and enjoy!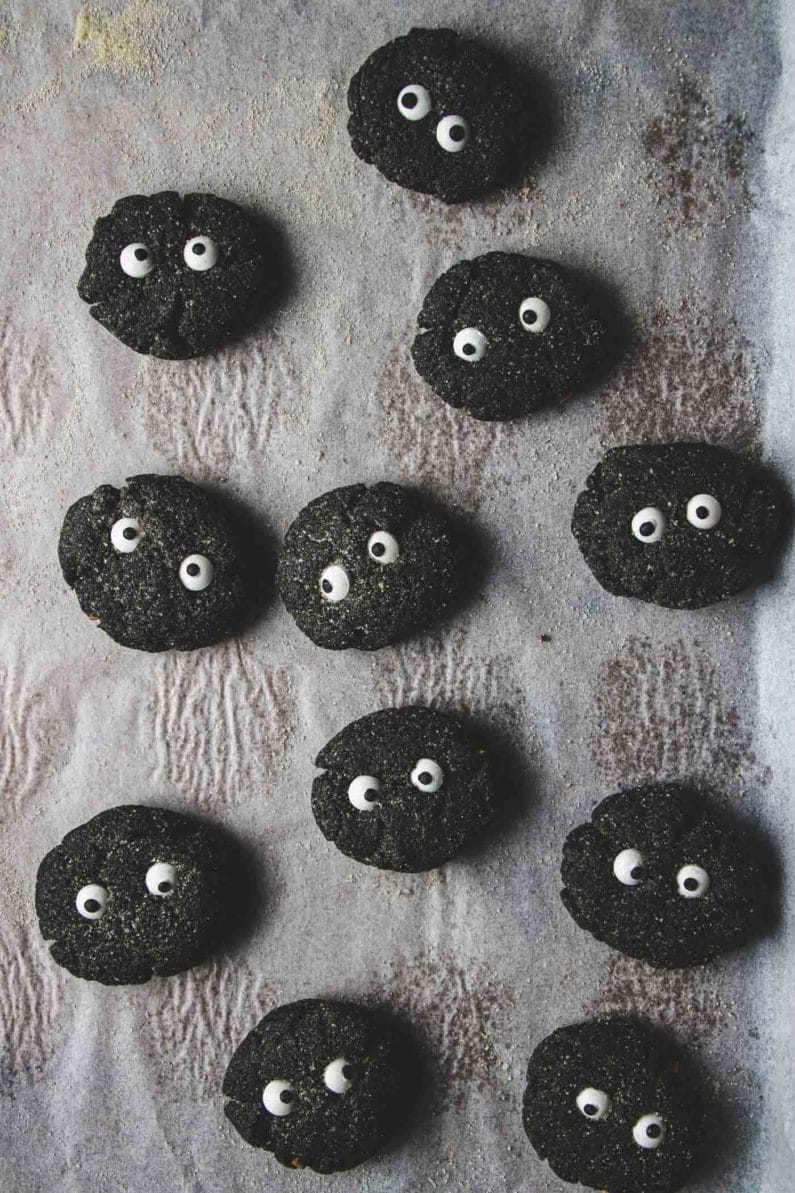 Will you taste the beef gelatin?
No. You won't. I learned this trick from my friend Christina that beef gelatin will make the cookies chewy. And because black tahini has rich toasty and nutty flavor, you will not taste the gelatin flavor. It only adds chewy texture to the cookies.
What is black tahini?
Black tahini (or black sesame paste) is a common ingredient in Asian desserts for example Tangyuan. Black tahini is made from unhulled sesame seeds. It's more nutritious and has a stronger flavor than the white sesame seed version.
Where to buy black tahini?
Most health food stores now carry black tahini. I have used Kevala and Maruhon. Both brands are great. Marunon is made in Japan and the Japanese version is sweetened with honey. You can order both via Amazon.
What does black tahini taste like?
I absolutely adore black tahini. Black tahini is more fragrant than the white sesame paste tahini. It has an earthy undertone and is extra toasty and nutty delicious.
Is black tahini better for you?
Black sesame seeds are a good source of energy because of its high healthy fat content like fatty acids and omega-6. They also contain fiber, iron, calcium, magnesium, phosphorus, and many other health benefits.
These soot sprites inspired Halloween cookies made with black sesame paste. They are not only adorable but also healthy and delicious. All you need is a big bowl and a spoon, your kids and family will LOVE these spooky yet cute cookies!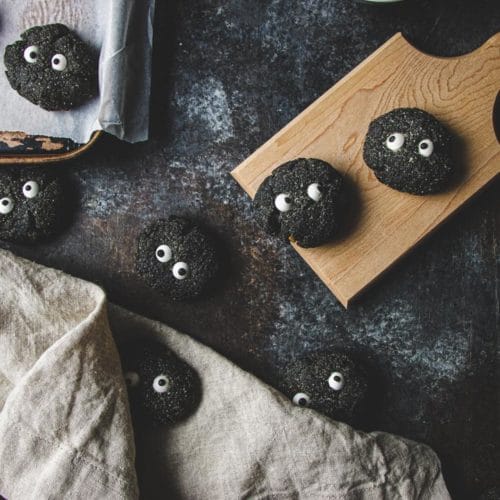 Black Sesame Soot Sprite Cookies (Keto, Low Carb)
Spooky cute Soot Sprite Halloween Cookies with black sesame paste (black tahini) are chewy inside with just a touch of sweetness. Keto, Paleo, Low carb. Each cookie weights about 0.6-0.7 oz.
Print
Pin
Rate
Instructions
Preheat oven to 350F.

In a large mixing bowl, combine the wet ingredients from black tahini to olive oil. Stir and mix well until the batter is well combined.

In a separate large bowl, sift the almond flour through a mesh strainer, add salt, gelatin powder, if using, and baking soda.

Combine the wet and dry ingredients. Slowly and carefully mix the wet and dry until you can no longer see the white color flour. The dough should feel not too wet and not too dry. If feels too dry, add a bit more olive oil. If too wet, add a bit more flour.

Set the keto brown sugar aside in a small bowl. Prepare a large sheet pan lined with parchment. To make the cookies, form small cookie dough ball that weighs about 0.6-0.7 oz per ball.

Dip the cookie ball in brown sugar and gently press it down to form an oval-ish shape, about a little over ¼-inch thick. You might need to pinch the dough a bit to fix some cracks.

Bake for 8-10 minutes over the middle rack. The cookies will be soft once out of the oven. Use the opportunity to press-in candy eyeballs. Carefully transfer them to a cooling rack.

Dust with more keto brown sugar before serving.
Notes
FYI – The candy eyeballs aren't keto friendly. They are for decoration only. Totally optional!
The nutritional label is calculated without the candy eyeballs.
Nutrition
Serving: 1cookie, Calories: 81kcal, Carbohydrates: 2g, Protein: 3g, Fat: 7g, Saturated Fat: 1g, Cholesterol: 14mg, Sodium: 35mg, Potassium: 67mg, Fiber: 1g, Sugar: 1g, Vitamin A: 20IU, Vitamin C: 1mg, Calcium: 27mg, Iron: 1mg
More low carb Paleo and Halloween treats!
Pair the Soot Sprite Cookies with These Low Carb Appetizers