Black Sesame Paste
Black sesame paste, also called black tahini, is super easy to make at home using just two ingredients. With a deeply rich, nutty aroma and earthy undertones, this thick black paste can be made sweet or savory depending on your taste.
My homemade black sesame sauce uses the best ingredients, and both savory and sweet versions are a staple in so many other recipes. Use the sweet version to make my black sesame latte or, for a black sesame paste dessert, try my black sesame ice cream!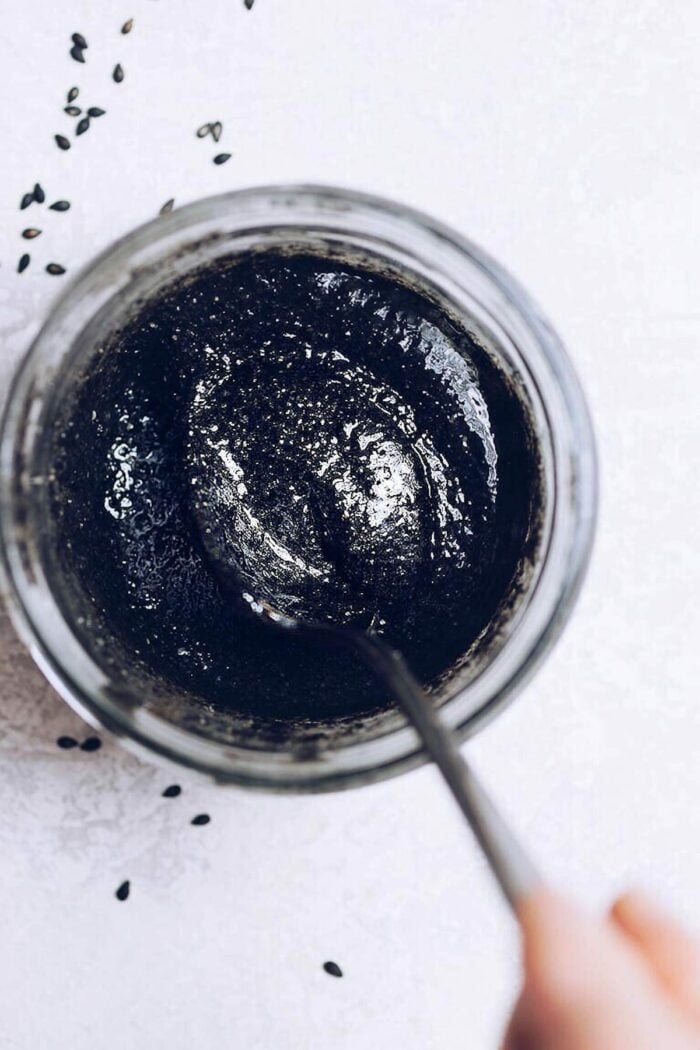 What is the paste
Black sesame seed recipes are very popular in Japanese, Asian, and Southeast Asian cuisines. Black sesame is a basic ingredient that can be used in three forms: as seeds, black sesame powder, or paste.
Japanese sesame paste is called neri goma, and in Mandarin, it's called 黑芝麻糊. The paste is made by toasting black sesame seeds and grinding them into a thick, glossy spread.
There are many black sesame paste uses, such as cooking, baking, and flavoring black sesame desserts.
How does it taste like
In this recipe for black sesame paste, you will dry roast black sesame seeds and grind them into a thick puree. The unsweetened paste is slightly bitter with an earthy undertone that balances well with sweet desserts.
The rich nutty flavor and deep aroma of the unhulled sesame seeds come through in the end product, adding a depth of flavor unique to Asian dishes.
How to use it
This black sesame recipe will quickly become a staple in your cooking. Not only is it super easy to make, but it's so versatile. Swap one ingredient to make a sweet or savory black sesame butter that will level up your Asian dishes.
You can use this paste in so many recipes with black sesame seeds!
Sweet: Black sesame dessert ideas using the sweet paste are my black sesame latte, my black sesame ice cream, tang yuan, black sesame mooncake, cookies, mochi, smoothies, black sesame pudding, milk, and sweet bread.
Savory: Black sesame seed recipes like tofu, black sesame soup, or salad dressing are a good choice for the savory paste.
Simple 2 Ingredients
My homemade paste is modeled after my favorite store-bought version Marumoto and uses just two simple ingredients.
Roasted black sesame seeds
Honey (for the sweet version) or toasted sesame oil (for the savory version).
Ingredient substitutions
This recipe is perfect as it is, but it's so easy to make adjustments to suit your needs.
Make it vegan by swapping out the honey for maple syrup.
For a thinner/spreadable texture, just add half to one tablespoon of water.
You can also use raw black sesame seeds. Simply toast them a little bit longer.
I do not recommend using white sesame seeds or powered sesame seeds as the flavor will not be the same.
How to make the paste
This black sesame paste recipe has just three simple steps. Here's how to toast black sesame seeds on stove and grind them into a smooth paste in just minutes.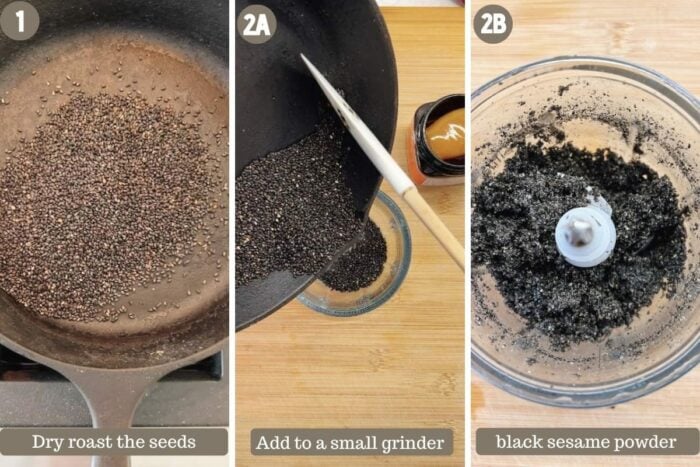 Roast the seeds in a dry pan on low-medium heat.
Grind roasted seeds into a sesame seed powder.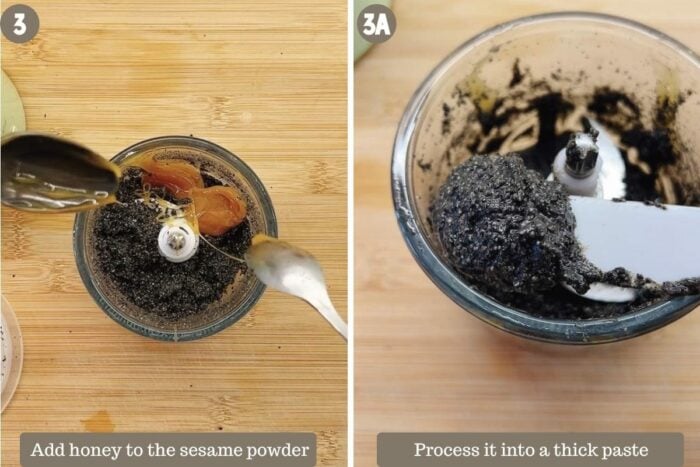 Add honey or oil to the sesame powder to make a thick paste.
Tips for extra flavorful paste
Dry roast the seeds over low heat to bring out an extra sesame aroma and a nuttier flavour.
Use a small food processor (mini work bowl) to grind into a fine powder.
Keep processing until the seeds start releasing their natural oil.
Variations
It's so easy to adjust the recipe to suit your taste buds and cooking needs. Here are some tips:
Make it sweeter: Add more honey (or maple syrup) to taste.
Keep it keto: Use keto-friendly honey or liquid sweeteners.
Thinner paste: Add a little water for a thinner black sesame spread.
Sweet or savory paste: Use honey for a sweet flavor or toasted sesame oil for a savory.
How to make ahead and store
This super versatile spread can be made in minutes and stored for months! In an airtight container, the paste will last for 1 month in the refrigerator or 6 months in the freezer.
Recipe Ideas
From savory salads and tofu dishes to deliciously sweet drinks and desserts, this sesame paste is going to get a lot of action in your kitchen! Here are some ideas to get you started.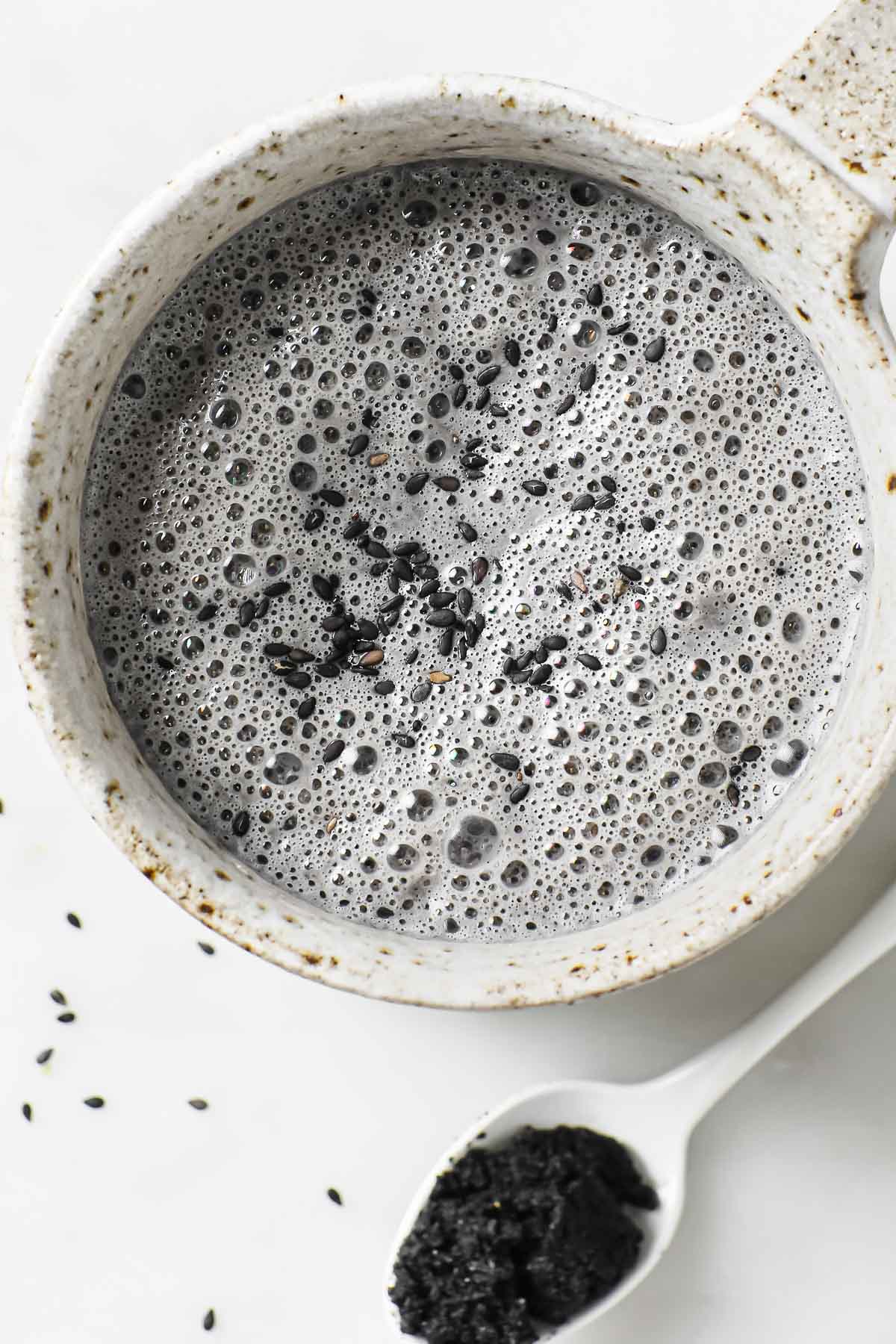 For the sweet paste, check out my sesame milk tea, black sesame ice cream, and
Soot sprit cookies. For the savory paste, try this savory dressing for roasted carrots from Serious Eats.
Stay tuned for my black sesame milk and black sesame cookies, coming soon!
Common FAQ
Is black sesame paste healthy?
Yes. Black sesame seeds are nutrient-dense and high in antioxidants and healthy fats. They may improve healthy hair and skin, improve blood pressure, and decrease oxidation in the body. (source)
What is black sesame paste used for?
It's used to flavor savory dishes, salad dressings, sweet treats, and drinks.
Is black sesame paste the same as black tahini?
Both are made from black sesame seeds. The black tahini is not roasted and is typically not sweetened. It also has a thinner texture.
What does black sesame paste taste like?
Black sesame seeds give the paste a rich, nutty taste with earthy undertones. The paste can be made savory with toasted sesame oil or sweetened with honey.
Umami Tips
Dry roast the seeds over low heat to enhance the flavor and take care not to burn them.
Use a small or mini food processor to grind the seeds.
The seeds will turn into powder and then release natural oil, becoming sticky.
Blend with honey for a sweet flavor or toasted sesame oil for a savory flavor.
Black sesame paste recipe
How to make black sesame paste with 2 ingredients! Homemade Japanese black tahini with roasted black sesame seeds are super easy to make, plus recipes you can use! Makes half cup.
Print
Pin
Rate
Ingredients
For sweet black sesame paste:
For savory black sesame paste:
Instructions
In a wide surface skillet, non-greased, start the pan cold and add the sesame seeds. Dry roast the seeds for 5 minutes over low heat. Toss the pan often to roast the seeds evenly. Take care not to burn the seeds.

Transfer the seeds to a mini processor to grind the seeds until they turn into a fine powder and with some natural oil released from the seeds, about 3 minutes. You'll need to scrape the bowl a few times to achieve this.

Add the honey (or sesame oil) and process again until the texture turns into a smooth paste, about 3 minutes. The final result of the paste should be a pretty thick, jet-black, glossy, and sticky texture but spreadable.

Store the paste in an airtight glass container in the fridge for up to 1 month. In the freezer for up to 6 months.
Notes
If you prefer a thinner texture paste, add 1 more table honey (or 0.5 more tbsp sesame oil for a savory paste).
If you prefer a thinner texture paste without making it sweeter, try adding 0.5 tbsp water to the blender and process it again to combine.
To make this recipe vegan, use maple syrup.
The nutritional value is estimated with regular honey.
How to use the paste:
Nutrition
Serving: 1tbsp, Calories: 70kcal, Carbohydrates: 7g, Protein: 2g, Fat: 5g, Saturated Fat: 1g, Polyunsaturated Fat: 2g, Monounsaturated Fat: 2g, Sodium: 1mg, Potassium: 47mg, Fiber: 1g, Sugar: 4g, Vitamin A: 1IU, Vitamin C: 1mg, Calcium: 92mg, Iron: 1mg
Made a dish and love it? Please remember to rate the recipe and leave a comment in the comment section below! It helps my blog grow organically so I can continue sharing free and awesome content with you. Thank you!